5 + Best Free WordPress Webinar Plugins 2023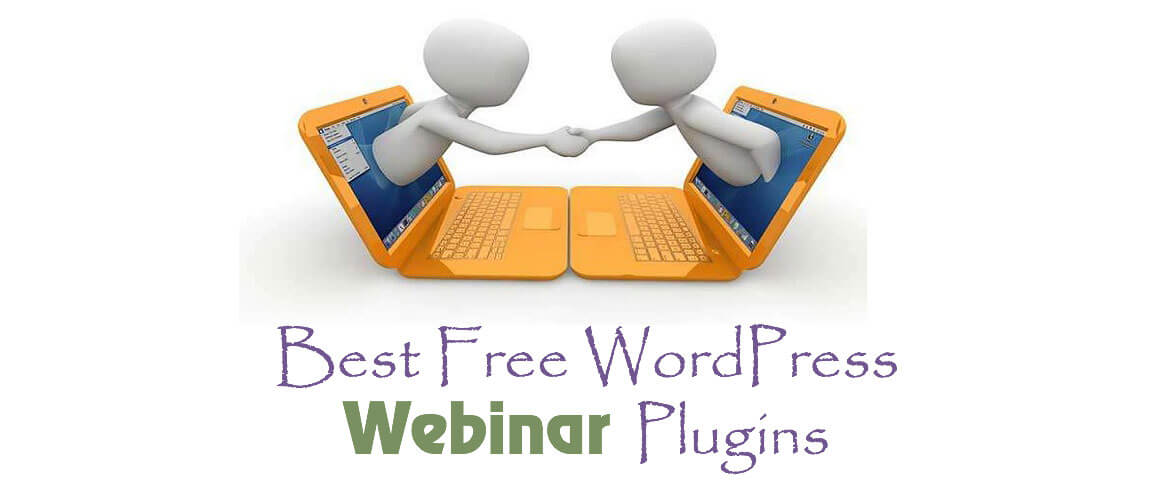 Are you interested to have Webinar feature in your WordPress website?
If you are a entrepreneur or someone who likes to share your knowledge, experience and any other things to a big mass of people through online then you might have heard the term Webinar. A Webinar is a combination of two words web and seminar. As it is known to all that seminar means any event, conference or meetings where people come together to share any particular news and ideas. Thus, webinar can simply be defined as hosting a seminar online in a web technology using devices like computer, laptop and smartphones. With webinar people can share chats, make discussions etc with one another.
What is the importance of Webinar in a website?
A Webinar has many benefits for your website. It's a saves a lots of time as attending any business seminar online can bring all important people in one place with just  single click on the site. People don't need to waste their time in setting or visiting certain place for it. Other advantage of webinar includes running online classes such as tutions, training and many other activities.
For a website that been build in WordPress platform, plugins has been developed to let you enjoy the feature of powerful webinar in your website.The plugins below are extremely good ones based on webinar. So, let's have a brief look on them:
---
Best Free WordPress Webinar Plugins for 2023
---
WebinarPress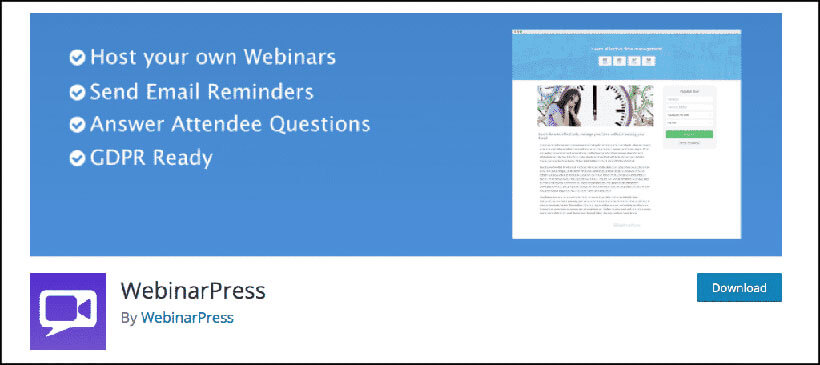 WebinarPress is one of the best plugin highly suggested for webinars. You will only need to install the plugin and soon you can get the amazing experience of showcasing a webinar in your website. Get your webinar shows ready by using Youtube livestream or Vimeo and other online mediums. The plugin is absolutely user-friendly and responsive so you can host webinars in a clear and proper manner in your smartphones and tablets.
Key Features:
Easy Customization
Mobile-Friendly
Export attendees to text or CSV file
Replay Available
Send Automatic Reminders
---
WP GoToWebinar

The plugin GoToWebinar is one amazing plugin made for implementing the feature of Webinar in your site. You can just add the shortcode and position the webinar or registration form in any of your best place like post, page etc. The plugins offers a wide range of shortcodes that lets you to have different functionalities. For example: Showing webinar in various format, sets timezone, and many other things. Users can also customizing the registration by adding more fields and modify its look and making it better.
Major Features:
Use Shortcodes
Loads Faster
Translation Ready
Highly Responsive
Google reCaptcha support
---
Video Conferencing with Zoom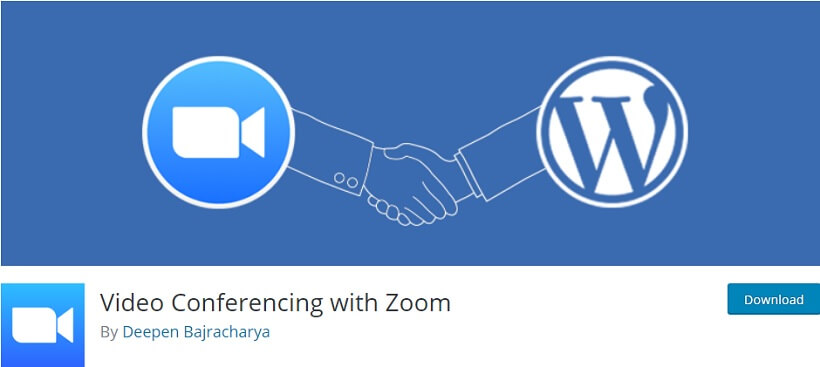 Video Conferencing with Zoom has been designed implementing Zoom meetings in your website. You can simply link Zoom meeting into your website directly promptly after installing the plugin in your WordPress. Users can manage the meetings online without any destruction. It will keep records of ongoing transactions and maintain reports each day.
Major Features:
Integration with WooCommerce and Zoom Meetings
Individual Booking Product Meetings
Integration with WCFM
Automated WooCommerce Booking meeting
Purchasable Single Meetings
Separate meeting list page
---
eRoom – Zoom Meetings & Webinar

eRoom – Zoom Meetings & Webinar WordPress Plugin is one the best webinar plugin highly recommended for business owners and entrepreneurs. It has been developed by StylemixThemes and is seemingly a powerful one for conducting online meetings. Using eRoom one can easily integrate the popular Zoom Meetings with your WordPress website. If you want to conduct online classes meetings, business conference with huge mass of people then you use this plugin and start away in minute. It has the ability to include about 10,000 participants which is something very exciting.
Major Features:
Provides integration of Zoom
Compatible with Zoom API
Allows to add and manage users
Enables Zoom video conferencing features
Includes Zoom performance
---
3CX Webinars

3CX Webinars is one amazing Webinar plugin designed for implementing webinar in a WordPress website. Users will need to place the shortcode into your site and start video conference whenever you want with just a single click. You can also edit the template of the plugin as it is customizable. Visitors anywhere around the world can subscribe for the webinar by sending their name, email and other details.
Major Features:
Link Webinar forms anywhere
Display Webinars linked to 3CX Extensions
No monthly subscriptions per user
Free Webinars Functionality
Enable visitors to subscribe to Webinars
---
Webinarignition

Weather Ingnition is another plugin developed particularly for webinar. Make your online meetings easy and productive using this plugin. The plugin is very user-friendly and anyone with less or no tech knowledge can use its plugin in their website without any difficulty. Manage the details of each and every attendees on the webinar in a accurate way. You are able to modify the registration, confirmation form and design them accordingly. With Weather Ignition users can embed any video feed such as YouTube Live, Live Stream and Ustream into your Live Webinar Page. The plugin offers better functionalities in its premium version.
Major Features:
Customizable Registration, Confirmation, & Live Pages
Email & Text Message Reminders
Q&A / Chat Integration
Add to Calendar
1-Click Registration
---
Lastly,
The above plugins has been carefully handpicked from the site WordPress.org itself so you don't have to worry about its quality. A Webinar is something for a website so if you own a website in WordPress then make sure you try these plugins to experiment something amazing.
Would you like share something with us regarding this article? If yes then please write in the comment section below: