15+ Best Free Blog WordPress Themes 2021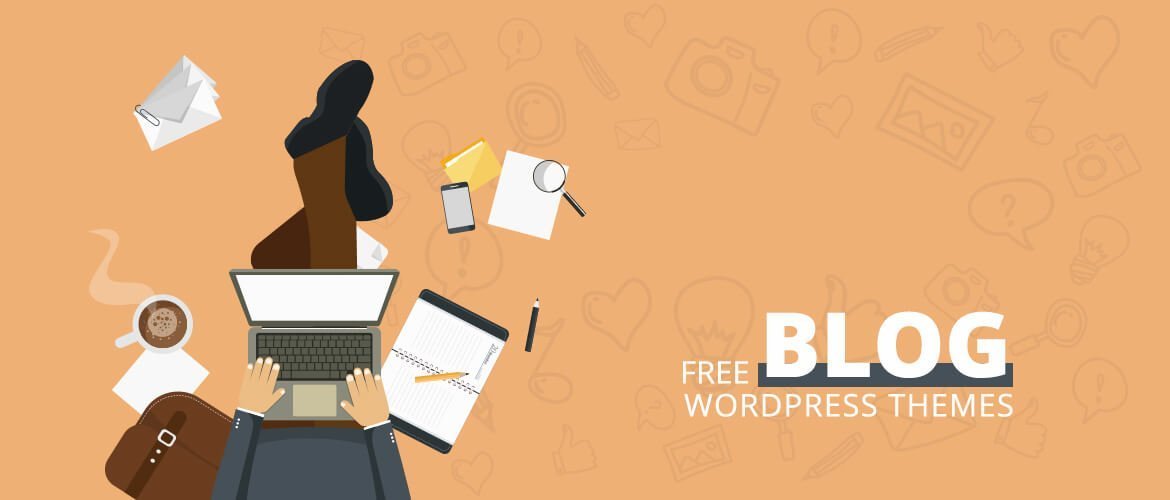 Blogging is one of the most popular activities of many. Everyone likes to blog about something that interests them. In the old days blogging was only considered to be a hobby or interest of so many. But as time passed it has become a popular and powerful profession. Today, we have different kinds of bloggers around the world who can contribute a lot to the world with their blogs. Since today's energetic and aspiring bloggers need an online presence to explore their blogs globally we have prepared a wonderful collection of free blog WordPress themes.
Nothing is as easy as building a website in WordPress. It is one of the simple platforms where you can build a website instantly. It also happens to be the chosen one by most of the bloggers. For a blog website, design matters a lot. As the quality of the layout design and appearance of the website is what attracts readers promptly while the blogs or contents is what comes next and hold the focus of their readers. Bearing that in mind we, have the list of awesome WordPress themes for blogs to help bloggers find some of quality WordPress themes for blogging.
---
Here we present you the Best Free Blog WordPress Themes for 2021!
---
WeBlog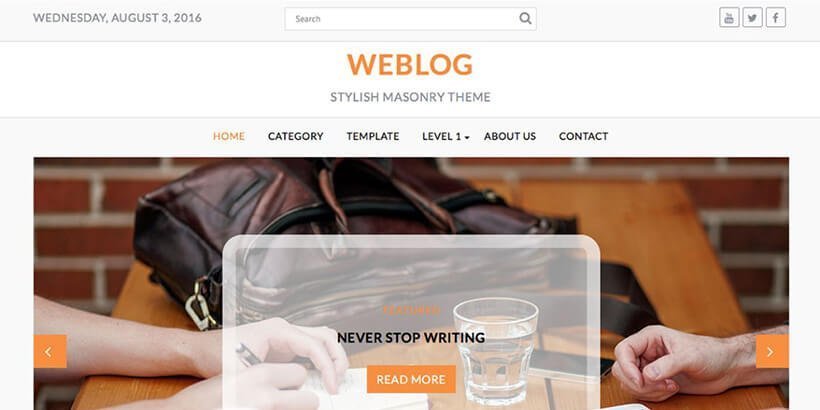 This sleek and presentable free WordPress theme is a perfect choice for building an awesome blog website. Yes, Weblog has the best and supreme layout design for any blog enthusiastic. Any bloggers would prefer to have a good looking design for their website as its the main thing which attracts visitors and readers for their site to read their blogs. The site loads faster than any other so readers are assured to get impressed while reading your blogs.
Features:
Custom Widgets
WooCommerce Ready
Translation Ready
Cross Browser Compatibility
Responsive
Fast Loading
SEO Friendly
---
Cream Blog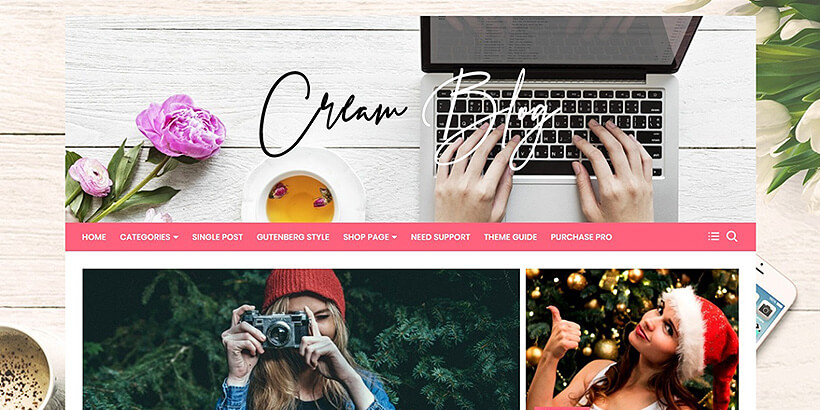 Cream Blog is a sleek, charismatic and flawless WordPress focused on blogs and articles. Build your awesome blog website with this theme and display your blogs and other stuff in an innovative manner. Bloggers are going to love its eye-catching and creative appearance in an instance. Being a responsive theme, it makes sure that it appear flawless and fits well in smartphones and tablets. Make your blog website more enchanting and flexible by adding its available widgets and plugins.
Features:
100% Responsive
Cross-Browser Compatible
Layout Controls
Footer Options
Header Options
Live Customizer
---
ReadMore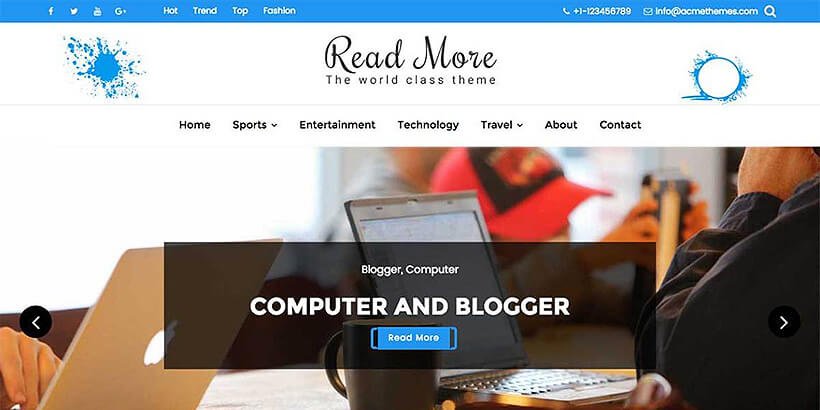 Read More in one awesome, clean and modern free blog WordPress theme that no one can ignore. The decent look of the theme is simply mesmerizing and can easily draw the attention of its viewers. Its layout design has been crafted professionally with latest and trendy outlook and powerful coding. As it is a translation ready theme, users will be able to get their site in many other languages like French, Spanish, Chinese, and others. So, Non-English speaking native people from other countries can also visit your blog website.
Features:
Unique Blog Design
Translation Ready
Colors Options
Layout Controls
Custom Sidebar Areas
Header Options
Custom CSS
---
Web Log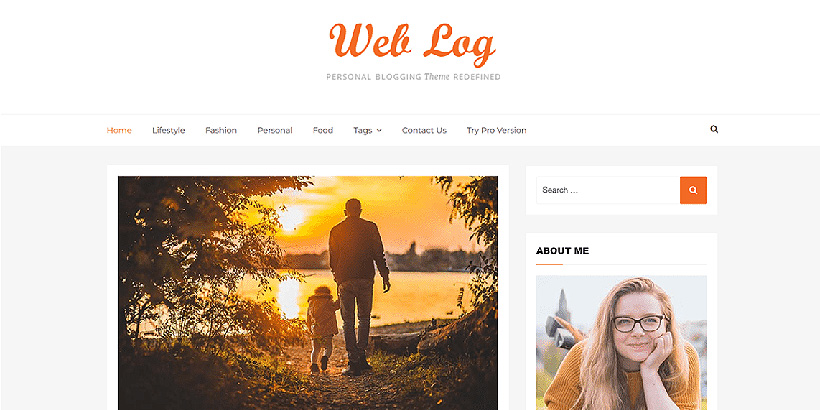 Web log is modern, fresh and creative WordPress theme developed for bloggers. This charismatic and highly responsive WordPress theme suits best for any blogging website. Usually, a blog website requires a simple and clean design so this theme fits perfectly. You don't require to work hard in preparing your website. It just needs one single one click to import the demo content and your website is ready promptly. It also allows you to translate your website in some other language such as french, spanish, japanes and many others.
Features:
100% Responsive
Speed Optimized
Sidebar Option
Numeric Pagination
Breadcrumb Options
Translation Ready
Demo Import
---
AcmeBlog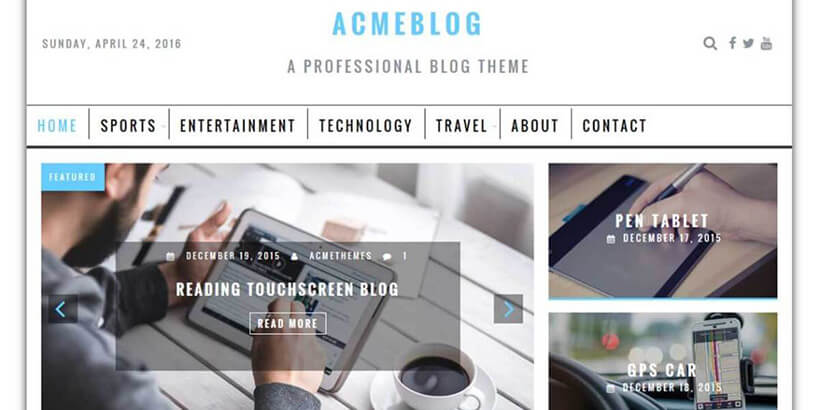 Acme Blog has a classic and modest outlook design yet it doesn't fail to impress people. Showcase your blog in a structural and organized way and that with style. You will find some amazing unique features that will your blog site a different look. This theme also happens to be a google friendly one. Being so, there is a high chance that your website will reach a good position in the google ranking. Some amazing option for post option included in the theme that makes it more interesting.
Features:
Layout Controls
Related Post Options
Breadcrumb Options
Social Media Integration
Search Placeholder
Date Display Options
Fast Loading
SEO Friendly
---
The Blogging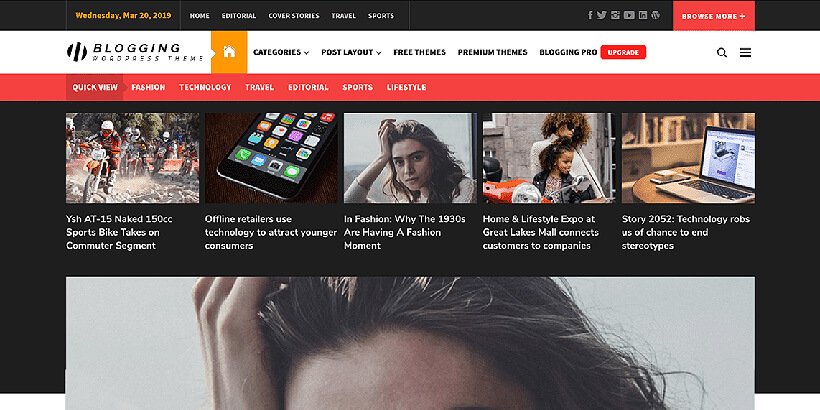 The blogging is a complete blogging based WordPress theme. The layout design of the theme is distinct from most of the other blog themes. It has a similar design with that of news and magazine theme design. With this theme, you can post your blogs and articles in a sensational way that it will be hard for visitors to leave your site very soon. Update the look of the website with by adding your own new logo, categories, and contents to enhance the appearance of your website.
Features:
Theme Customization
Responsive design
Logo upload
Social media links
Slider Settings
---
Light Blogify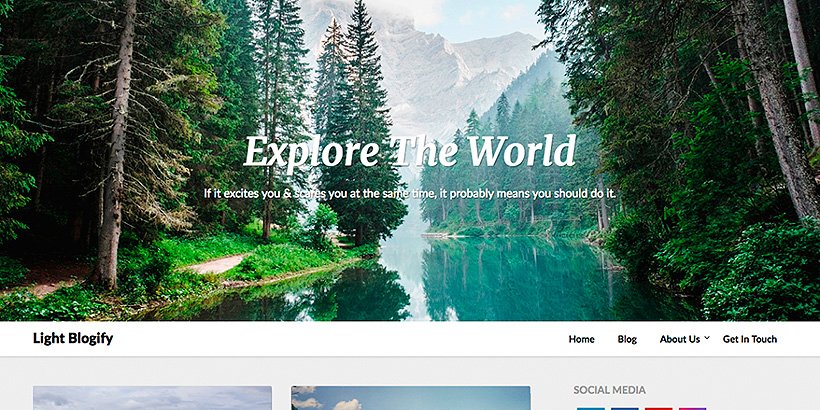 Light Blogify is beautiful and stunning free WordPress theme for blogging. The overall design is an ideal match for any blog website. The theme is absolutely light-weight and multi-purpose so it can be used for other purposes also. If you are non-techy then no need to worry about using the theme. The theme has live customizer where you can easily modify and update minor changes in your website such as changing the logo, tagline, header image, footer image, and others. Share your social accounts with your friends and families through your website.
Features:
Custom Site Title & Tagline
Custom Logo
SEO Optimization
Hide Title/Tagline
---
Blog Lover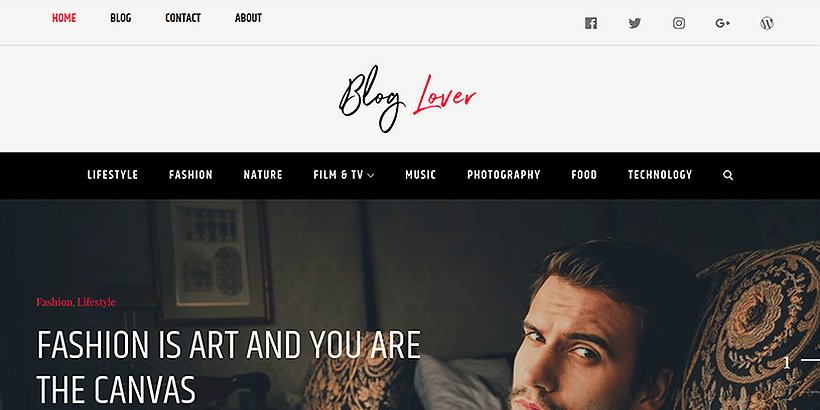 Blog Lover is a clean, minimalist and a complete blog based WordPress theme. Showcase all of your blogs and articles in an organized and professional manner. The layout has been designed with creativity and diligence so you can set up your blog website with ease. You can use its color option to alter the color scheme of your site and give it a new look. This theme will let you add the latest news and articles on your website in its latest news section. Not to mention, the video section where you can feature latest and trending videos in the market or of your own.
Features:
Advanced Color Option
Single Posts Option
Archives Option
Hero Slider Section
Latest News Section
Video Section
---
Bonsai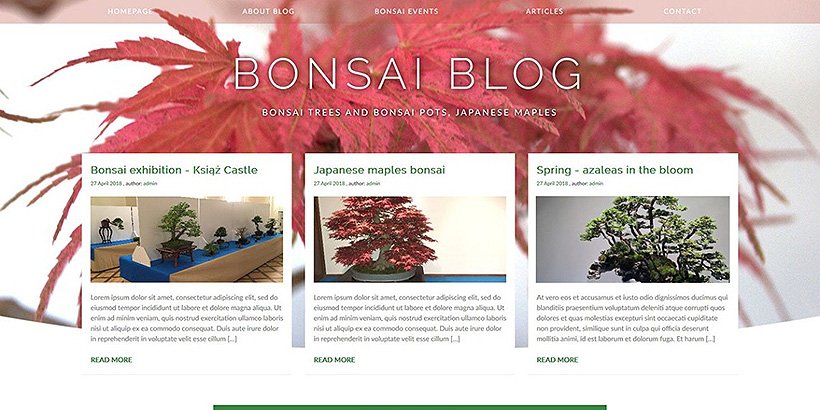 If you are a cheerful and casual blogger and looking for cool blogging WordPress theme then Bonsai is the one you should look for. Its lovely and appealing layout design makes it a hit and very popular one among others. Especially the front section where you can present your blogs and articles in the best manner. As it is a responsive theme, people can easily access your website in their smartphones and tablets. Of course, they won't have any disturbance while in checking out your site. You can get your site look great in most of the web browsers also like Google Chrome, Mozilla Firefox, Opera, etc.
Features:
Responsive
Original
Layout Option
Cross Browser Compatible
Custom CSS
---
Glaze Blog Lite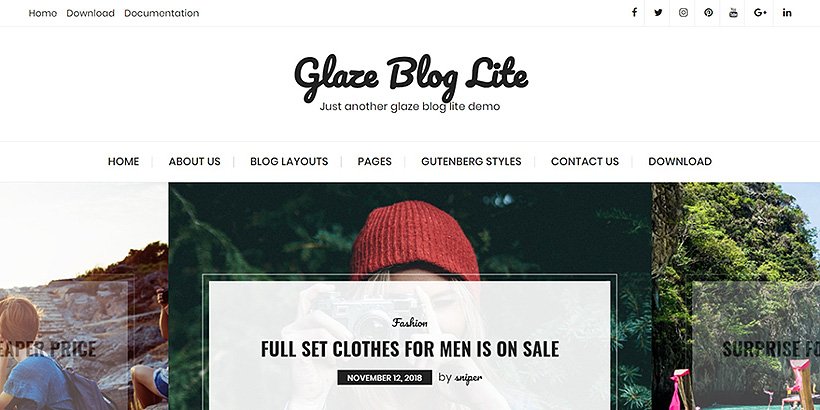 Glaze Blog Lite is a simple yet modern free blog WordPress theme. All the bloggers in the world can make good use of this theme to build their online presence. This light-weight and a clean theme is a good choice for anyone to display and share their blogs, stories, articles with people around the world.
Features:
Fast Page Loading
Responsive design
Carousel Layout Variations
Lazy Images Loading
Translation Ready
JetPack Ready
SEO Optimized
---
Fusion Blog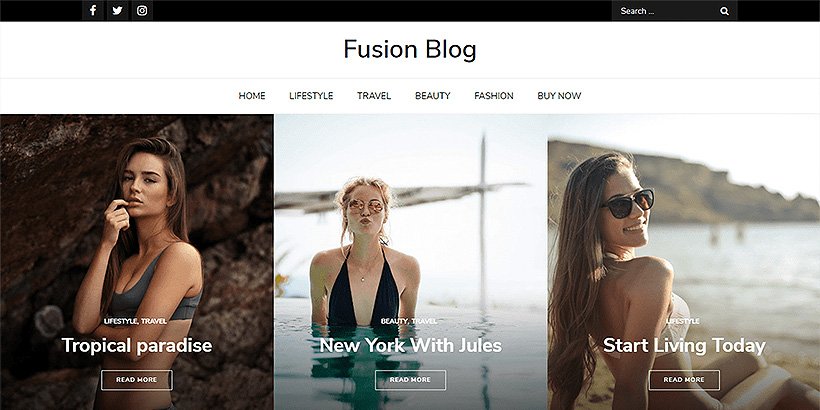 Fusion Blog is an astonishing and modern free WordPress theme. The colorful appearance of the theme is surely a captivating one and will certainly make a cool beauty promoting a website. The theme consists of some great features which you can utilize well while customizing the theme. If you have many social accounts like Facebook, Twitter, Instagram then you can link them through your website. Showcase your blogs feature slider to get it noticed among people promptly. You can modify the header, footer and sidebar section in your site easily with minimal effort. Moreover, you can add as many widgets as you want and simply different source of information of the event on your website. Also, it supports almost all kinds of plugins such as WooCommerce and many others.
Features:
4 Footer Widget Area Option
Choose Header Image Option
Global Page/Post Excerpt Length Option
Layout Options
Contact Form 7
Topbar Social Icons Option
---
Blog Page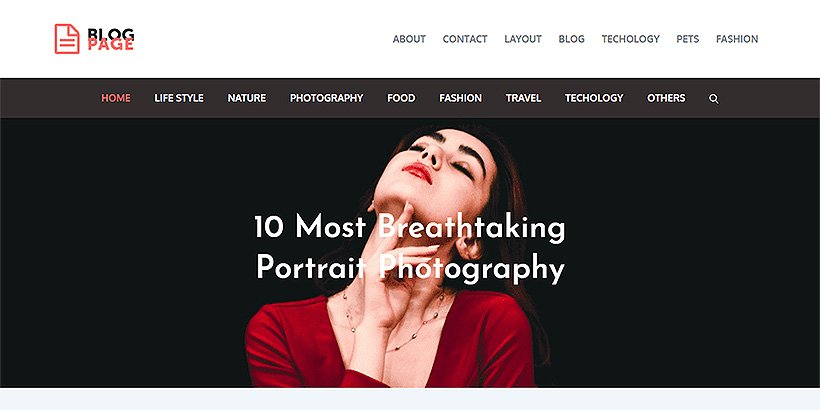 Blog Page is an astonishing free WordPress theme made for blogs and articles. It has been crafted with marvelous design and standard coding.   The website can be installed instantly and that with ease. The wonderful animations effects of the theme make it a distinct one. With the striking Font Awesome icons feature you can develop a perfect and tremendous website for yourself.  The also a good feature of having your website look awesome and flawless in all kind of mobile devices and tablets. Huge range of custom widgets available in the theme to experiment with the theme and make it look different and creative. Users can simply have their site look exactly they want.
Features:
Theme Options
Responsive Design
Site Layout
Custom CSS Option
List Articles Section
Recent Articles Section
---
BlogStart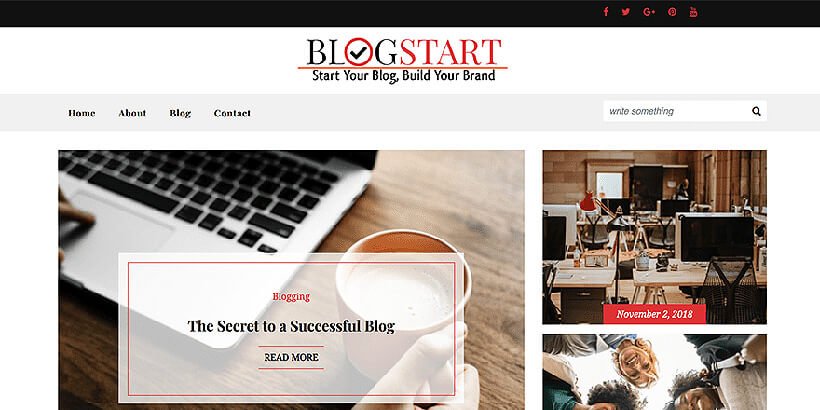 BlogStart is simple yet trendy and modern free blog-based  WordPress themes. The look and features make the theme an outstanding one. The lovely slider in the theme is amazing where you can share your popular blogs and show-off your skills. So many widgets available in the theme to experiment with the theme and enjoy making or more advanced and unique. It also happens to be an SEO friendly theme and certainly, your site will be at a good position on a google search. Besides that, it has good compatibility with almost all kinds of plugins available in the market. It will just take a few seconds to have your site look exactly like its demo. You don't even need to have any sort of coding knowledge for it.
Features:
Responsive Design
Easy to Customize
User Centric Design
Traffic Friendly
Blogger Friendly
---
X Blog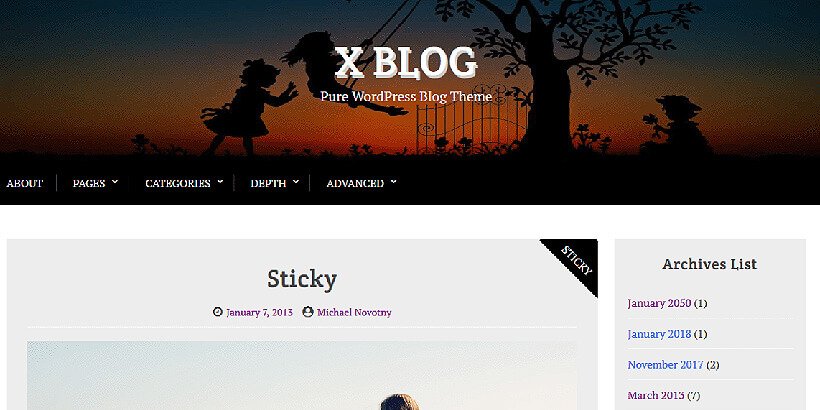 X Blog is a stunning WordPress theme tremendously focused on blogs, articles, and stories. A fabulous theme to build up a powerful online presence of professional bloggers. It has an extremely fantastic and fast loading speed. With every click, you can get the page load swiftly in no time. The layout of the theme has been designed beautifully making it a perfect for a photo collection. The theme is easily customizable and modification can be done instantly with minimal efforts. It has good compatibility with WooCommerce so if anyone who wants to display and promote their products to sell online can use the WooCommerce plugin and activate it in the theme. The theme comprises of fully made documentation which will provide you good guidance in developing your website.
Features:
Live Customizer
Header Image
Slider Settings
Sticky Header Navigation
Threaded Comments
Awesome Blog
---
Craft Blog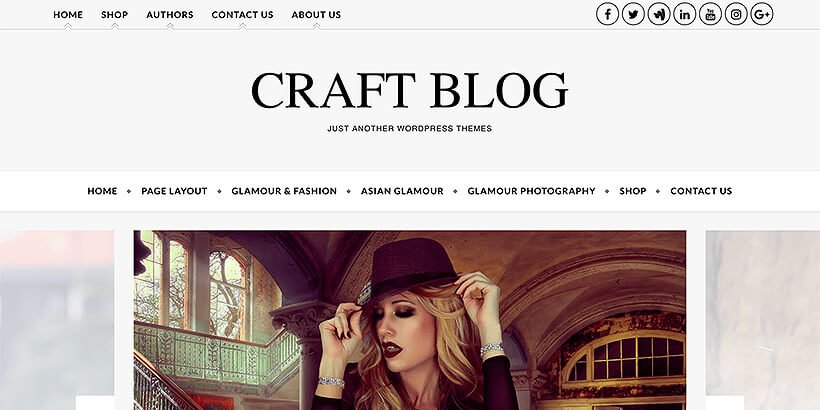 Craft Blog is a mesmerizing and tempting beauty based WordPress theme. This theme has been crafted elegantly primarily for showcasing blogs, articles, and news. The theme is comfortably customizable and you can modify every part of the theme by yourself with no difficulty. It comprises some best and amazing features to make your website look absolutely fabulous. You can create different pages for other titles and design its layout as you want. Modify the header and footer part of your site with color, text, and image of your choice. The theme is absolutely responsive and can be viewed flawlessly in smartphone and tablets of any screen size. Besides that, it is also google friendly and is able to bring your site at a good position in the google search.
Features:
Responsive Design
Quality Code
SEO Friendly
Translation Ready
Site Speed Optimized
WooCommerce Compatibility
---
Saraswati Blog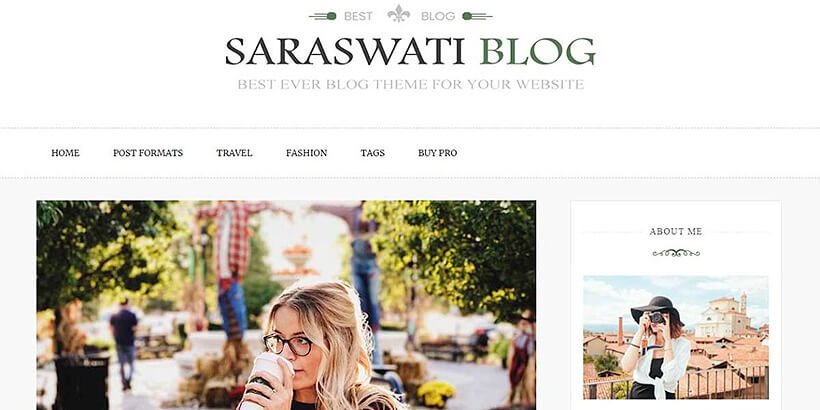 Saraswati Blog is a perfect and patently a good choice to build your blog based website. The theme works well on all kind of web browsers like Mozilla Firefox, Google Chrome, Safari, Opera, etc. It has been constructed strongly with the latest HTML5 and CSS3 so be happy to have your site with standard and quality coding. If you feel like changing the entire look and appearance of the theme then you can do it easily by adding extra custom CSS. This extremely responsive theme will allow you to check your website in any modern electronic devices such as smartphones and tablets correctly without any damage. This theme is also translation ready so you can get your website presented in many other languages such as French, Spanish, Italian, Russian, etc. This will be quite helpful if you are looking to have some visitors from different language speaking countries.
Features:
Theme Options
Responsive Design
Sidebar Layout Options
Pagination Options
Blog Layout
Translation
---
Creativ Blog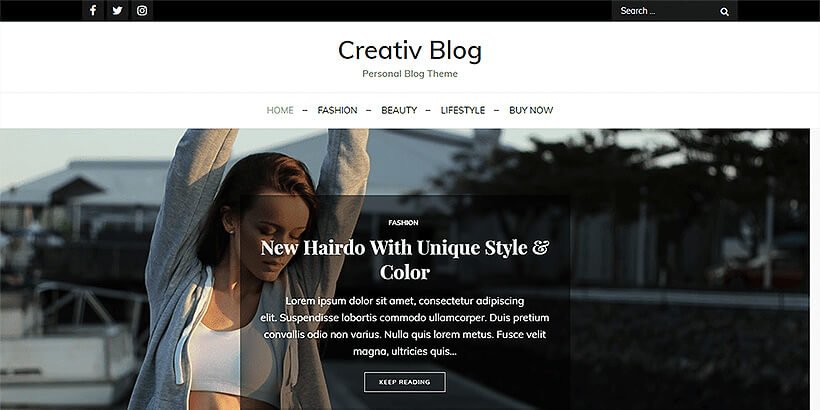 Creativ Blog is chic and simple looking blog WordPress theme built for blogging. The beautiful look of the theme is just thrilling and any bloggers who are looking for a great theme can take it. This theme offers some astonishing footer options that will let you play with the theme more. Give your visitors and viewers a great delight of a wonderful feel while reading your blogs and articles.
Main Features:
Contact Form 7
Layout Options
Global Page/Post Excerpt
4 Footer Widget Area Option
Feature Posts: Page
---
Blogists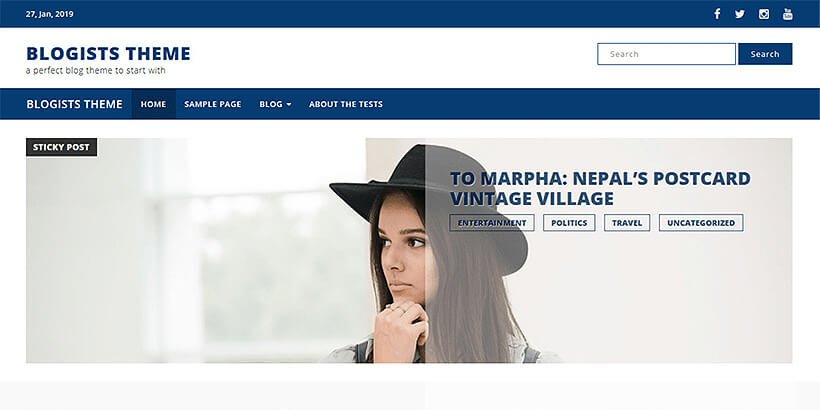 Blogists is a complete blog oriented free WordPress theme. Though the whole look of the theme is simple yet it proves to be impressive and modern one to make its users happy. With the beautiful layout design-build, you can showcase your blogs and express your feelings from the heart. You can even modify the layout design of the theme as you want and don't require to have any coding skills for it. People can even read your blogs in their smartphones and tablets as it is extremely responsive and adapts well in various screen sizes.
Main Features:
Awesome Featured Section
Header Image
Custom Sidebar Areas
Layout Controls
Advanced Slider Options
Translation Ready
Browser Compatibility
Responsive
---
Optimistic Blog Lite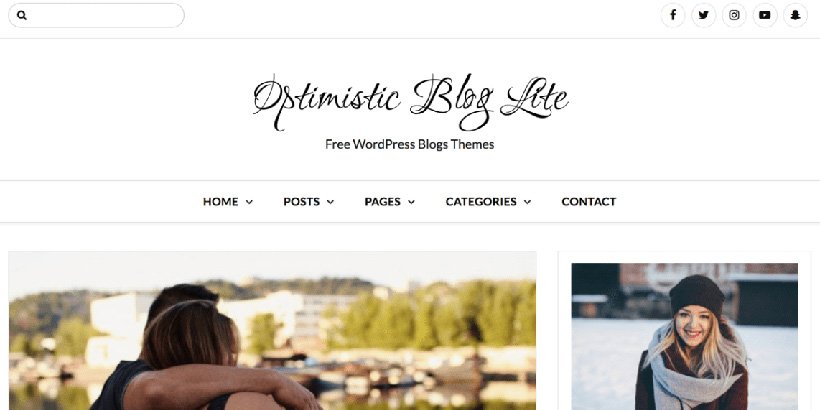 This catchy blog theme is particularly made for blogging sites. It's simple and refreshing layout design is something that every blogger fantasize about. Undeniably, people will get attached to your site instantly one they visit them. As a blogger, you can display your best and powerful blogs and articles on your site. The theme comes with more than one layout design to lets users have many options for the webpage.
Features:
Lifetime Updates
Responsive Design
Multiple Layouts
Browser Compatibility
Standard Coding
---
Cenote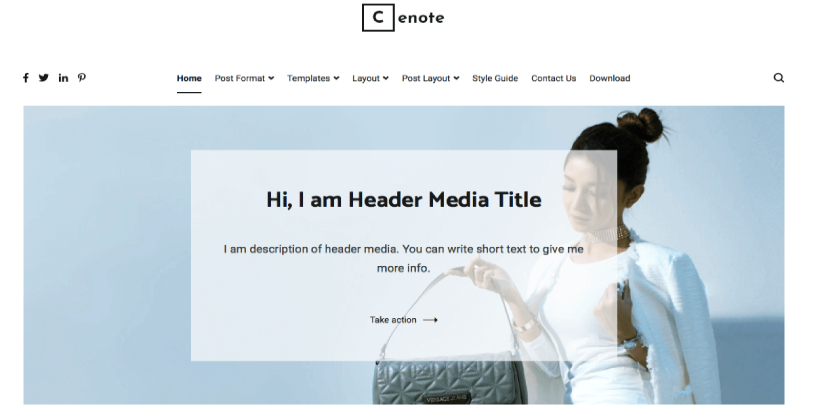 Cenote is a clean, plain and charismatic WordPress theme. Basically the theme is a multi-purpose theme and it looks most suitable for blog websites. Made with robust and stunning design bloggers from amateur to professional can get this theme for their website. You will find some wonderful features that help you to play with the theme. Use widgets such as testimonial, gallery widget that enhances the value of your website.
Features:
4+ Widget Areas
Cross-Browser Compatible
Primary Color Option
Search Engine Optimization
Post Slider
RTL Support
---
Reef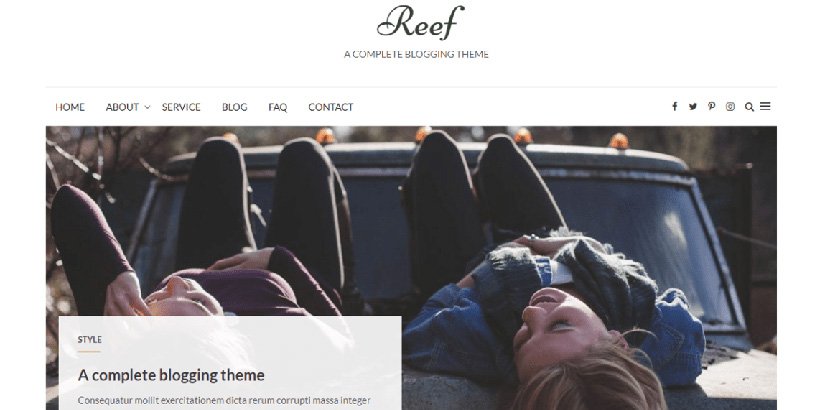 Reef is a simple and plain WordPress theme which is a multi-purpose theme. The theme has been designed for a blog website. Just a blog website requires, it has everything that makes it best for blogging. You can include your blogs, articles, stories and many other things in your site. If you have your social media accounts then you can share them or link them to your site. It responds well to all kinds of mobile devices, tablets, and iPods so people around the world can access your site easily.
Features:
Multiple Custom Widgets
Social Media Integration
Threaded Comments
KFI font icons
WPML ready
Multiple Color Schemes
100% Translatable
---
Bloggo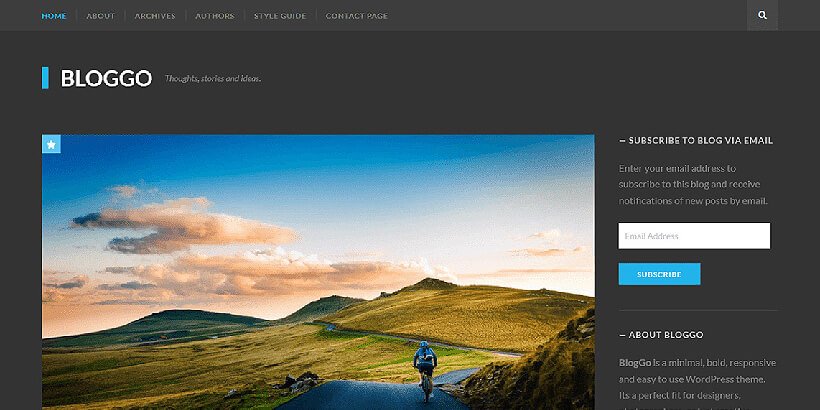 Bloggo is a lovely blog based WordPress theme. Yes, the name says for itself that the theme is entirely based on blogging. The magnificent look of the theme is an ideal one for creating a blog website. Anyone can customize the layout design of the theme by going through the live customizer and coding knowledge is necessary for it. With this theme, your site will come out perfectly in all kinds of electronic devices like smartphones and tablets.
Features:
Easy Translations
Effortless Customization
Fully Responsive Design
Safe and Secure
Spotless Support
---
Style blog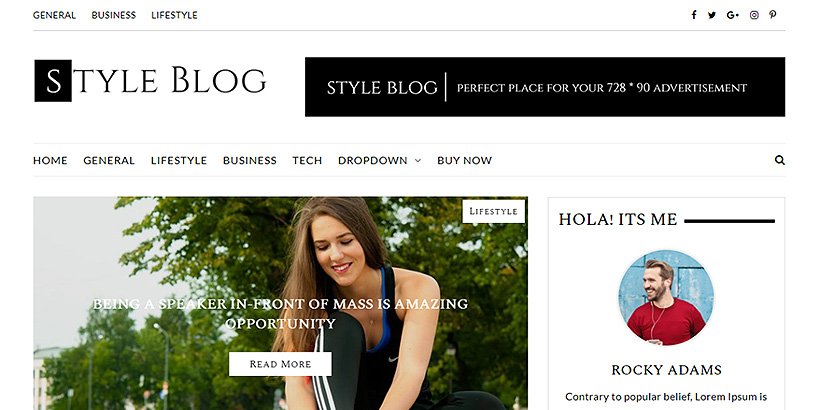 The glamorous appearance of Style Blog can't be kept hidden from anyone. It has a striking and mesmerizing look that just attracts users promptly and will definitely enjoy reading your blogs and articles. The theme is absolutely user-friendly and is very easy for anyone to modify the layout design. It is extremely responsive and works well in smartphones, tablets and electronic devices of any screen sizes.
Features:
Responsive
Header Layout Variations
Custom Widgets
Mailchimp Ready
Contact Form 7 Ready
Retina Ready
Cross-Browser Compatible
---
Agency Lite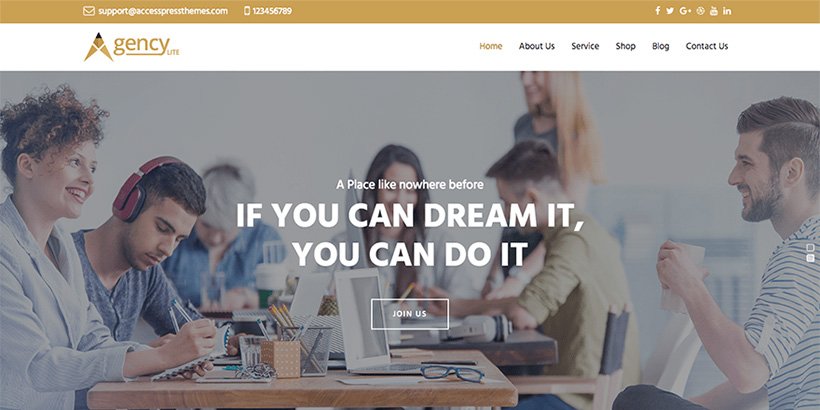 Agency Lite is a modest and sleek WordPress theme that can be taken as a good choice for a blog website. It has a mesmerizing appearance where you can display your blogs and articles. People all around the world can visit your site and see what you have to offer with your blogs and articles. It has a very good loading speed which visitors love. With some great compatibility with SEO, it is very helpful in bringing your website in a good position in Google rankings.
Features:
Fast loading
Responsive design
Fully SEO optimized
Woocommerce Compatible
Detailed Documentation
---
Infinity Blog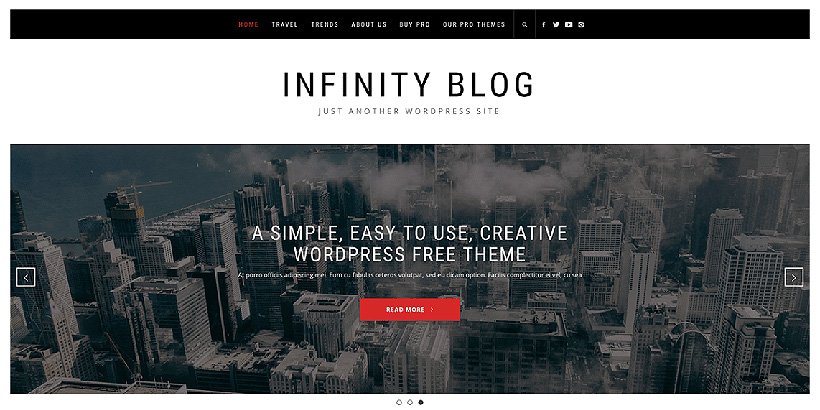 Infinity Blog is a clean, plain and perfect WordPress theme for a blogging website. Users can display their blogs on their websites to people around the world. The theme's striking look helps visitors to get hooked on your site for a longer period of time. Being a responsive theme, it responds well to all kinds of mobile devices and tablets. You can even add widgets to
Features:
Theme Options
Responsive Layout
Footer Widgets
Pagination Option
---
Head Blog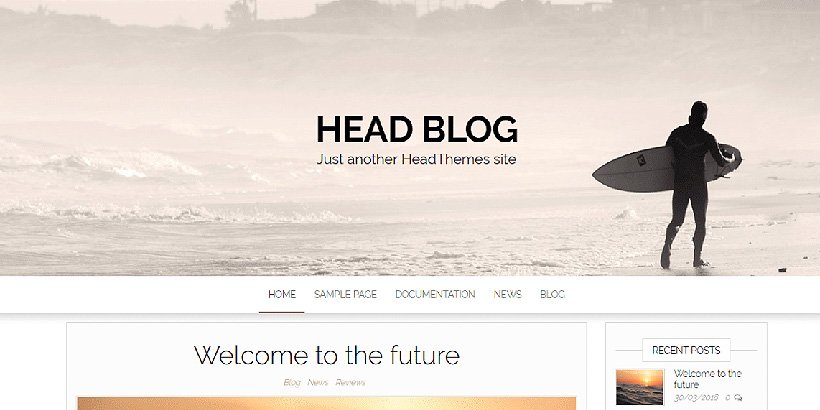 Yet another stunning WordPress theme for blogs is Head Blog. The modern and fascinating appearance of the theme can easily capture the attention of its visitors. Even if you are a newbie to tech you won't face any problem in modifying the theme's layout design. By just going through its live customizer, you can edit minimal changes like adding a new header, footer, sidebar, and many other things.
Features:
Custom Widgets
Google Fonts
Footer Credits Editor
New Menu Sections
Content Width
Lazy Load Images
---
Mega Blog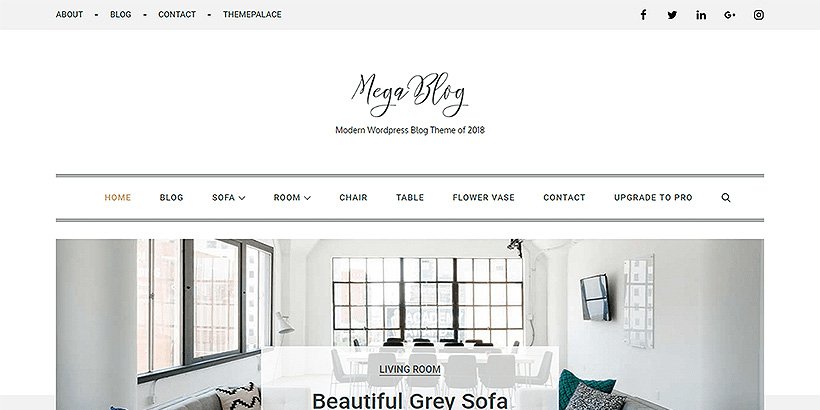 Mega Blog is a clean, sleek and creative WordPress theme for creating beautiful blog websites. The theme is very user-friendly and can be modified very easily. It's not necessary for users to have skills in coding to work with the theme. It has many options for enhancing the way your website looks. Like you can update new and latest fonts and colors on your website.
Features:
Easy Customization
Fully Responsive Design
Layout Options
Color Option
Translation Ready
---
Blog Mantra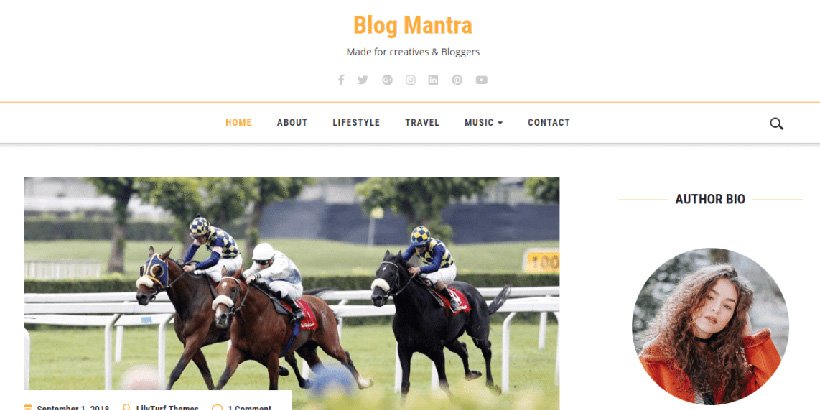 Blog Mantra is one WordPress that has a magnificent and appealing appearance for a blog website. The theme has been powerfully built with coding and looks flawless in both desktop and mobile devices. You will find many options for layout design so have fun with your site. You can change the entire layout of your site whenever you desire. It looks great and fitting in all hand-held devices regardless of their screen size.
Features:
Responsive Design
HTML5 and CSS3
Page Layout Options
Pagination Options
SEO Best Practice Build
---
Envo Blog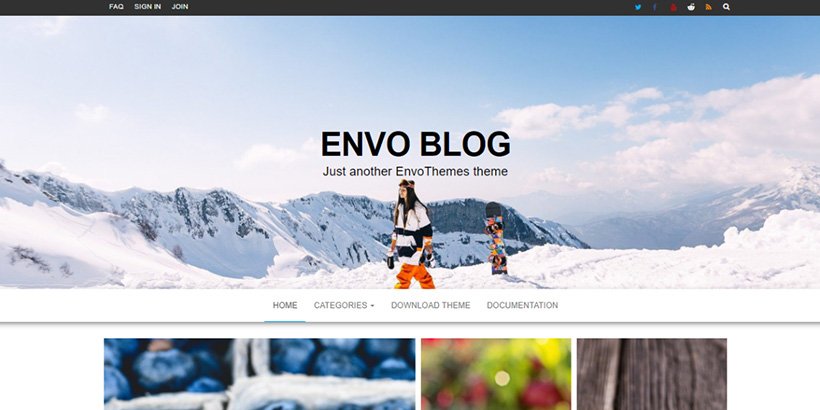 Envo Blog is a charismatic and graceful WordPress theme that will give visitors a great experience in viewing a splendid blog website. Make your site more creative and innovative by showing off your blogs and articles. Hence, let people around the globe can visit your site and appreciate your blogs. The theme is easily customizable and every section of the website can be easily customized and modified.
Features:
RTL Support
Focused on Speed
SEO Optimized
Translation Ready
Well Documented
---
Wrapping Up,
So, this article of best free blog WordPress themes ends here. We profoundly hoped that you liked reading it and find the list of themes helpful. If you are interested in sharing your blogs then you can pick anyone from them and start your blog website.
Was this article helpful? Let us know your thoughts and suggestions. Please share with and write it down in the comment section below: