8 + Best Free WordPress Calendar Plugins 2023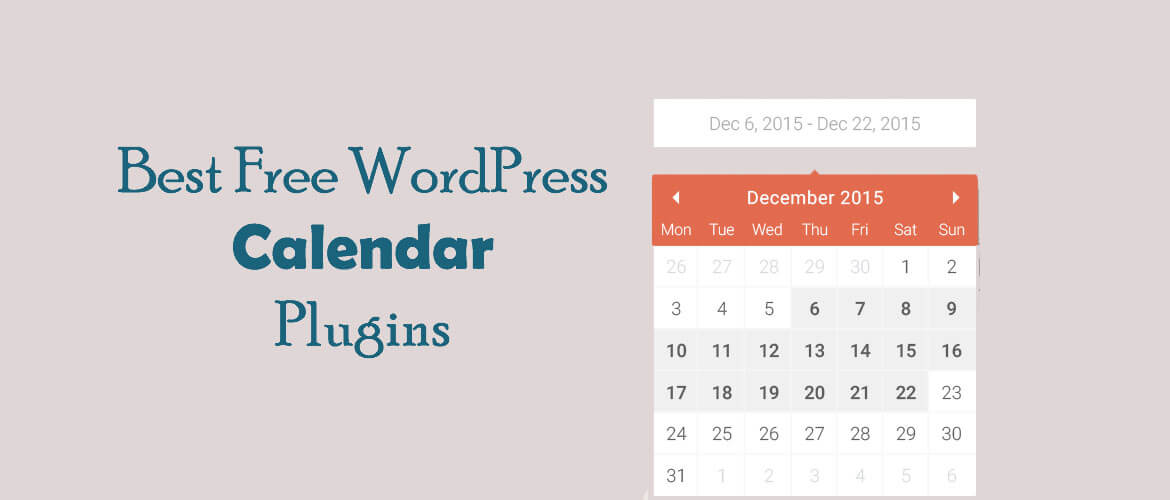 Would like to have a calendar widget in your WordPress website?
If you are a WordPress user, then you might be very much interested in having features like calendar in your website. A calendar adds more beauty to your site as it not only look good but also signifies a great functionality. By default WordPress already has the calendar widget within the admin panel. But to bring advancement in the calendar design WordPress offers some awesome plugins for users.
Using such plugins you can basically add calendar widget in any part of the website weather it's page or posts. These plugins comes with attractive features so that you can do many more things with them. So, let's not wait and check out these plugins.
---
Best Free WordPress Calendar Plugins for 2023
---
The Event Calendar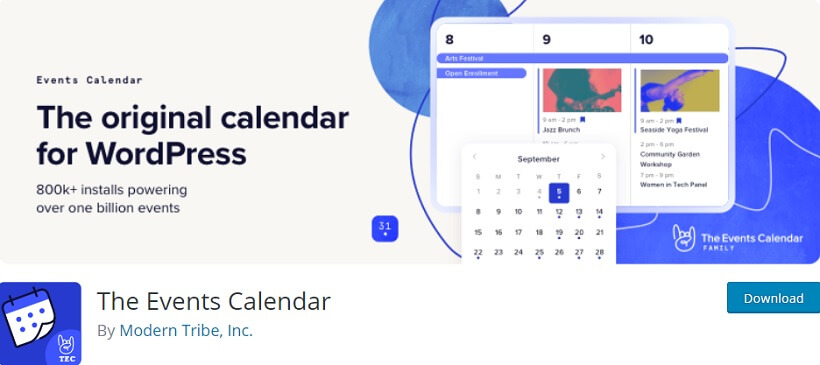 The Event Calendar is one plugin that can be suggested as the best one for a calendar plugin. Users can set beautiful rich -functional calendars in their website in a simple way. Though WordPress already consists of calendar widget but installing any plugin will help you enhance the look of the calendar. The plugin comes with some amazing functionalities that people will love.
Major Features:
Calendar month view with tooltips
Google Calendar and iCal exporting
Internationalized & translated
WP REST API endpoints
Widget: Upcoming events list
---
Modern Event Calendars Lite

Modern Events Calendar is undeniably one fine plugin with a reasonable number of active installs for displaying calendar in a site. This well-built plugin is very responsive and works good in any modern hand-held devices such as smartphones and tablets. Utilize its features and functionalities to get the enrich and enhancing look for the calendar. The plugins provides around 40+ impressive templates to let users make their choice and choose the one they prefer.
Major Features:
Import from "The Event Calendar" Plugin
Single day events
Multiple day events
Event locations system
Reminders notification
---
Event Calendar WD

Event Calendar WD has been designed to let you create a event based calendar. This plugin is very helpful for any event related website. People can now schedule their important dates for any event and set them in the calendar widget. Hence, they will be automatically notified when they the event will be held. Write a detail description of the event so to make everything get easier. Users can also share the up coming events via social media like Facebook, Twitter etc.
Major Features:
Google Calendar Integration
iCal Integration
Print the code inline
Facebook Integration
Countdown
Upcoming Events Widget
---
My Calendar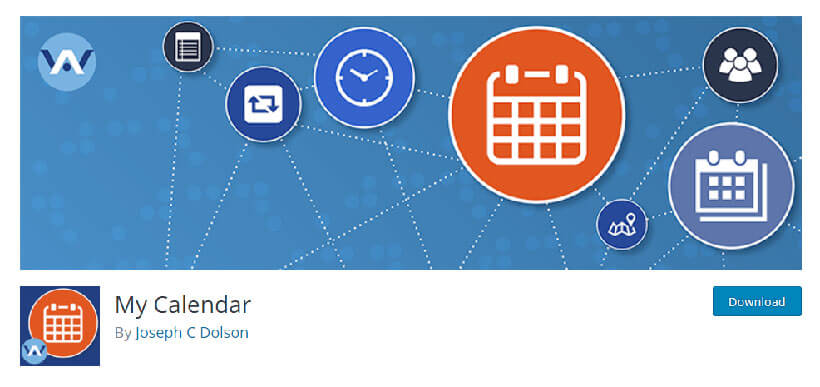 With My Calendar plugin you can create events and display them in posts, pages, and widgets. The plugin is extremely configurable, and using the event custom post type, you can add descriptions, host, start and end time / date, and much more thing. Users can also choose the exact location of the event and display it on a map. My Calendar braces varieties of calendars, categories and locations.
Major Features:
Schedule recurring events
Calendar grid and list views of events
Email notification
Multisite-friendly
Custom templates
---
All in One Event Calendar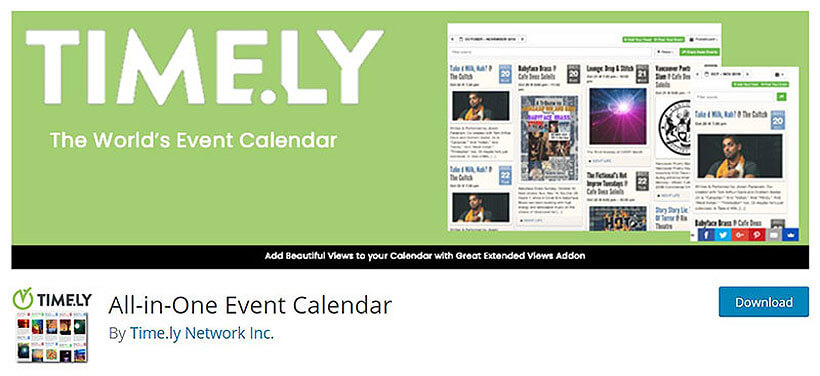 All-in-One Event Calendar plugin consists of three themes for calendar display, and you can customize each of them by altering colors. The built-in calendar theme editor helps you to change the appearance of the calendar. Theme options are available that help for extended customization. It's a great choice for anyone who wants to have events calendar.
Major Features:
Embedded Google Maps
Easy sharing with Google Calendar etc
Recurring events including complex patterns
Upcoming Events widget
Inline Calendar Theme editor
---
Events Calendar Shortcode

Events Calendar Shortcode is one of the widely used plugins to manage your events from a calendar based format. It allows you to configure settings to match your needs, and supports recurring events, all day events and multi day events. You can manage bookings efficiently, approving and rejecting bookings, exporting bookings in CSV format and more. You can have advanced permission levels are available to restrict user management of events and locations.
Major Features:
Use Shortcodes
Easy to customize
Custom Design
---
Editorial Calendar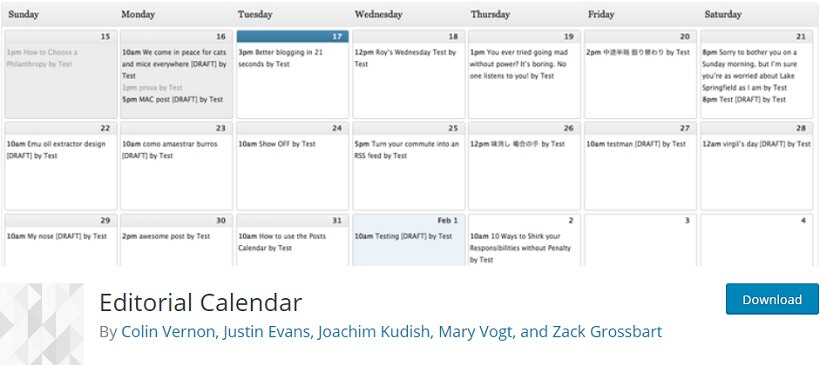 Editorial Calendar comes with a lovely user interface from where you can set a whole lot of settings. You can set event information such as time and date of the event, location details, organizer details, event website and cost details. Users can also slot events into categories and tags, display all-day events and import data from CSV files. The plugin consists of an Ajax enabled calendar that can be searched and filtered for events.
Major Features:
Manage posts or drafts
Check status of your posts
Update post titles, contents etc
Easily Customization
---
WP FullCalendar
This WordPress calendar plugin WP Full Calendar helps you in making appointments and bookings. Offer your potential clients an simple way of booking your services or setting up an appointment with you. Regardless of the industry, you are in, this plugin easily caters to it, making sure everyone gets the most out of the tool.
Major Features:
AJAX powered
Filter by taxonomy, such as category, tag etc.
Integrated to Event Manager plugin
Style & Customize Calendar
Popout post summaries and thumbnails
---
Calendar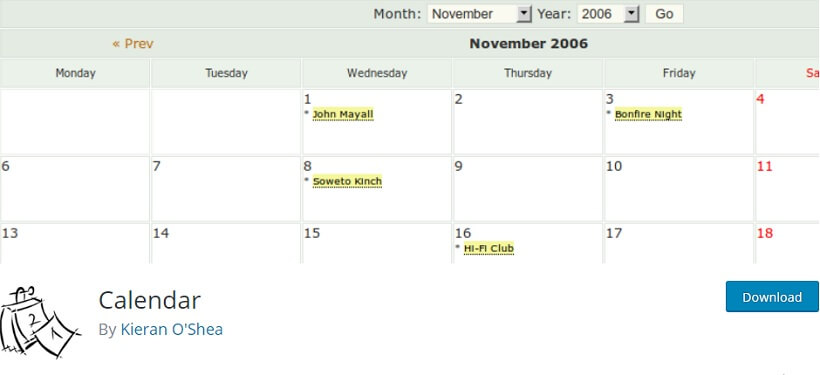 Calendar is a good option in the matters of plugin for arranging bookings for hotels, car rentals, appointments, and many other things. With this plugin or using its shortcode, you can insert the calendar into your website. The feature list for the free plugin is little limited, and to experience the extended benefits of this plugin, you'll need to go further to the premium version one.
Major Features:
Easy to use events manager
Comprehensive options panel
Optional drop down boxes
Pop up javascript calendars
Comaptible with WordPress MU
---
To Conclude,
If you are interested in adding calendar in your website then don't hesitate to experiment with anyone of the above WordPress calendar plugins. They are user-friendly and anyone can use them in their site.
Do you have anything to share regarding the article above? Please write it down in the comment section below: