5+ Best Free WordPress Voting Plugins 2023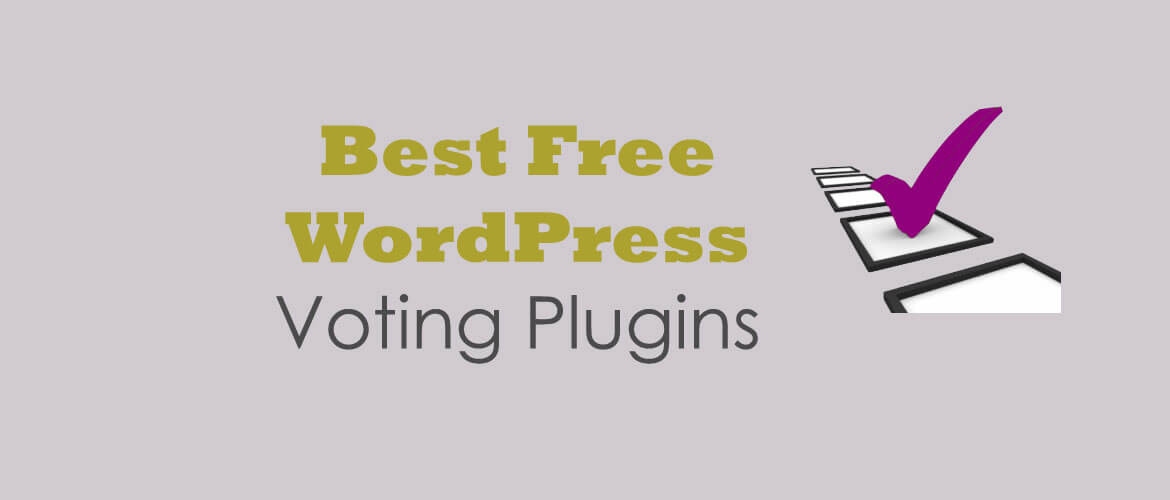 There are different kinds of websites being made in recent times. More feature is being developed and added in a website. A voting system is something that is slowly trending and has been able to grab the attention of many site owners. Mainly websites related to education, politics, law office, fashion, and many others are having voting features on their websites. In this article, we would like to showcase our collection of the best free WordPress voting plugins.
By using these plugins, site owners can implement voting polls on their website and collect the views of many people regarding any matter. Such data can be very vital for any companies and guide them in making a better decision for the future. So, we like to present you with the list below:
---
Best Free WordPress Voting Plugins for 2023
---
YOP Poll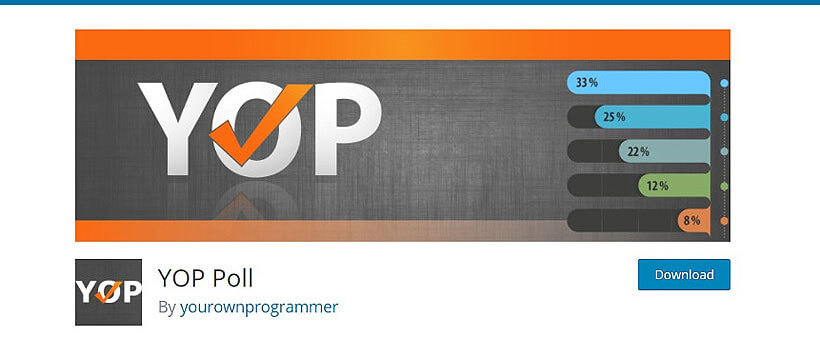 YOP Poll is one finest WordPress plugin for voting and poll feature. Create amazing polls in your website and even re-design them as you need. You can manage all the actions for poll like showcasing the polls, record the no. of answers, the result of the pools and others. Yes, you can do it in such a systematic manner. You are allowed to update the poll questionnaire with some more questions of your choice.
Major Features:
Customize Poll
Poll scheduling
Add custom fields
Poll answers & Results
Vote permissions
---
bbPress Voting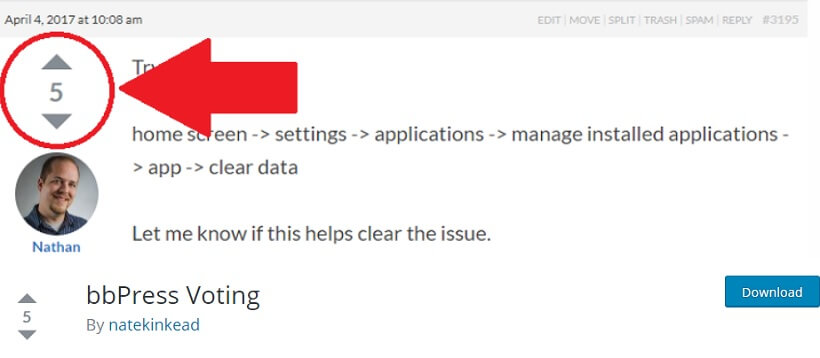 bbPress Voting is basically a plugin based on bbPress plugin. This plugin is like a add-ons for the bbPress plugin with the feature to makes votes. As it is certainly known that bbPress consists of discussions with lots of topics and replies. Using this plugin user will be able to give their upvote or downvote to any topics or replies. There is no restriction over no. of votes so anyone is allowed to give any number of votes they want.
Major Features:
Simple to Use
Uses Ajax
AMP compatible
---
WP Voting Contest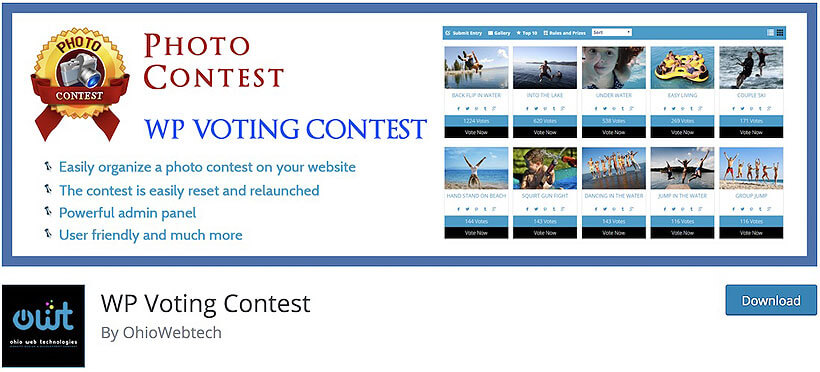 WP Voting Contest is undeniably one of the most popular plugin for today's website. It is well-known among WordPress users and also has an attractive number of downloads in WordPress.org. This user-friendly plugin has a specialty of quick installation and implementation. Modify the overall design of like adjusting its width, height, etc. Alter the color, size, label for the voting polls with your own choice.
Major Features:
Simple to Use
Requires no coding knowledge
Mobile-friendly
Supports multilingual
---
WP Poll Survey & Voting System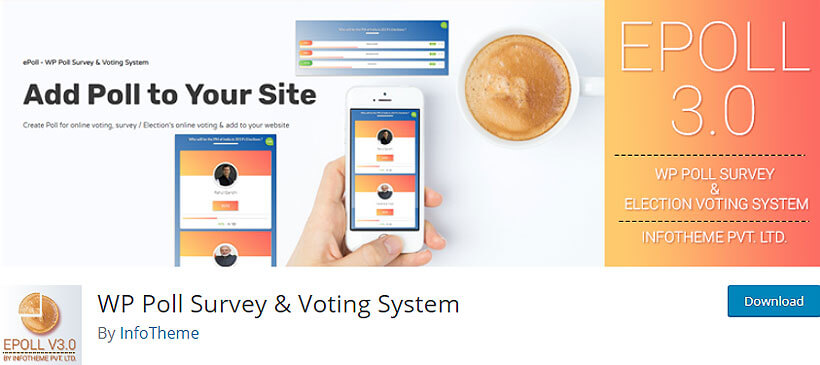 Another effective WordPress plugin for voting polls is WP Poll Survey & Voting System. No need to be a tech expert to use the plugin into your website. You can enter the shortcode in the widget into your website. Since the plugin is immensely responsive the voting polls will look great and organized on your website. Use the available map marker to the exact location you desire. The plugin comes with a well-made documentation for guidance along with dedicated support service.
Major Features:
Use Shortcodes
Online Documentation
User-friendly
Responsive
---
Poll, Survey, Questionnaire and Voting system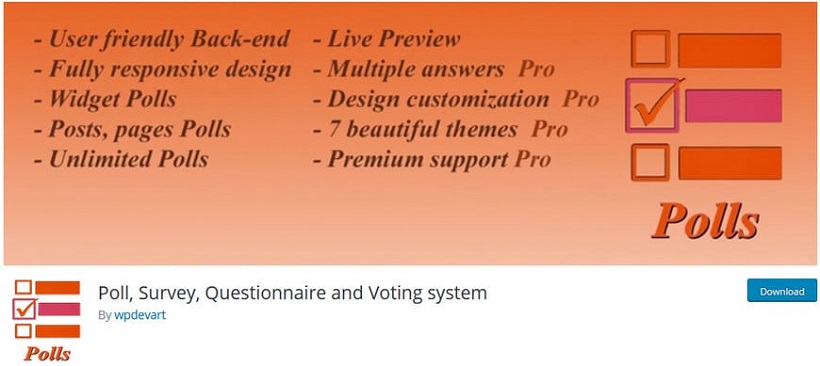 Poll, Survey, Questionnaire and Voting system is again one famous and useful plugin for a poll or survey system. It is one of the easy to use plugin through which one can create a voting poll on a website. You can place the voting poll in any section of the website like posts, page and any other part.  It is draggable and can update the height and width of the voting polls design.
Major Features:
Easily Create Polls
Button to add shortcode
Switch poll / voting system
Awesome Advance UI
Result Dashboard
---
Responsive Poll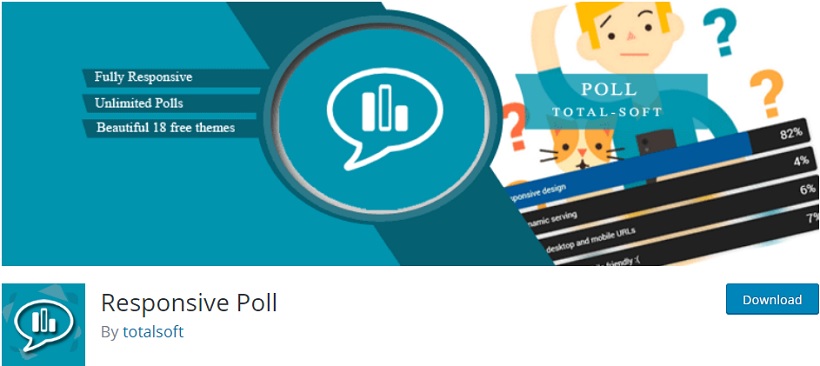 Responsive Poll Plugin has been developed by totalsoft is one amazing WordPress plugin for setting a voting polls in a website. Creating a survey system via this plugin is very interesting and different. Just a simple click  and a rich functional voting poll will appear on your website in a minute. The plugin consists of a library where all of the records you have created will be stores. So, you can always them like updating them or removing them whenever desired.
Major Features:
Responsive
Unlimited number of surveys
SEO friendly
Ability to add images
User friendly back-end
---
Finishing Up,
So coming to the end, we hope you find the above article interesting. Do you know a voting polls has a significant value in a website? Many visitors are attracted to them and are curious to provide their opinion and choice. Hence, the above wordpress voting plugins is something to try with to advance the functionality of your website.
Any thoughts or suggestions regarding the article above? Please share it with us in the comment section below: