6+ Best Free WordPress Weather Plugins 2023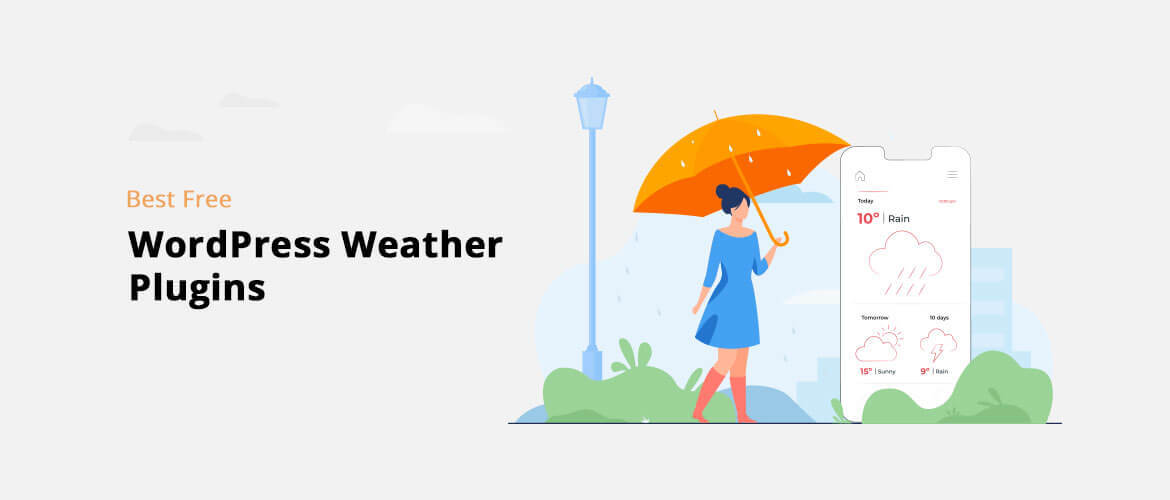 We often find varieties of incredible widgets in today's websites that makes it look advanced one abolishing the traditional design. One of the popular kind of widget happens to be weather widget. Yes, weather widget is very famous these days and most website owners have them in their site. And if it is WordPress website then many kinds of trendy plugins are available. Here in this article we have collected some of the best free WordPress weather widget plugins from WordPress.org to make things quick.
Well, weather widget one can showcase weather forecasts of a particular place. It has several benefits such as letting your customers or viewers get updated with latest weather condition, enhancing the overall look of your website and making it eye-catchy with such widgets. So, let's not wait any longer and check out what in store for weather widget plugins.
---
Best Free WordPress Weather Plugins for 2023
---
Awesome Weather Widget

Awesome Weather Widget is one of the best plugin developed for displaying weather widget in your website. Create a functional and creative weather widgets. Just after getting the API key you will need to insert it in the WordPress admin panel just under the option 'Settings'. Your website is certainly be going to look great with this widget. It works automatically so you no need to check it regularly.
Key Features:
Easy to Implement
Use Shortcode & Widgets
Custom Templates Available
Extremely Responsive
Supports Other Languages
---
Location Weather

Location Weather is yet another impressive plugin made for weather widget. Set modern and awesome weather widgets in your site in any section you like. Being an responsive plugin it works perfectly in any hand-held devices like your smartphones and tablets. Users can set different city and country according to their requirements and modify them anytime.
Major Features:
Real-time weather forecasts
Supports Major Browsers
Compatibility with other Theme
Highly Responsive
Minimalist & lightweight
---
Weather Station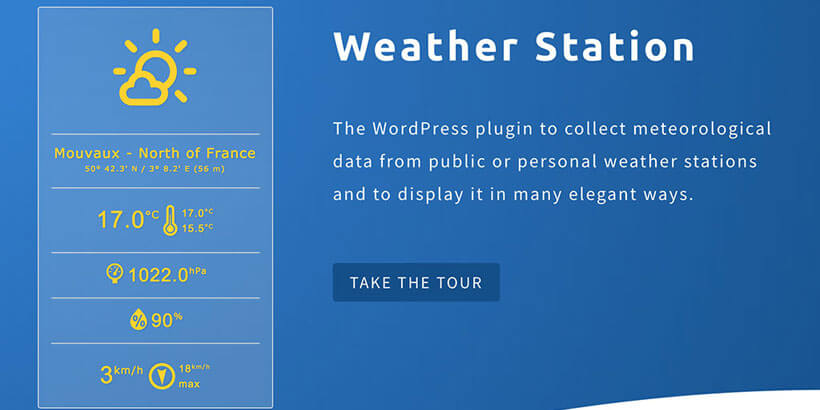 Weather Station is one plugin made for weather that is highly recommended one. Users only need to insert the shortcode in WordPress and the weather widget will appear in your site instantly. It consists of various kinds of features and functionalities that makes it even more attractive for modern websites.With amazing and dedicated support service customers can be ensured to get proper guidance in each and every step. Hence, this plugin is worth to try out for.
Major Features:
Simple to Use
Requires no coding knowledge
Mobile-friendly
Supports multilingual
---
Weather Atlas Widget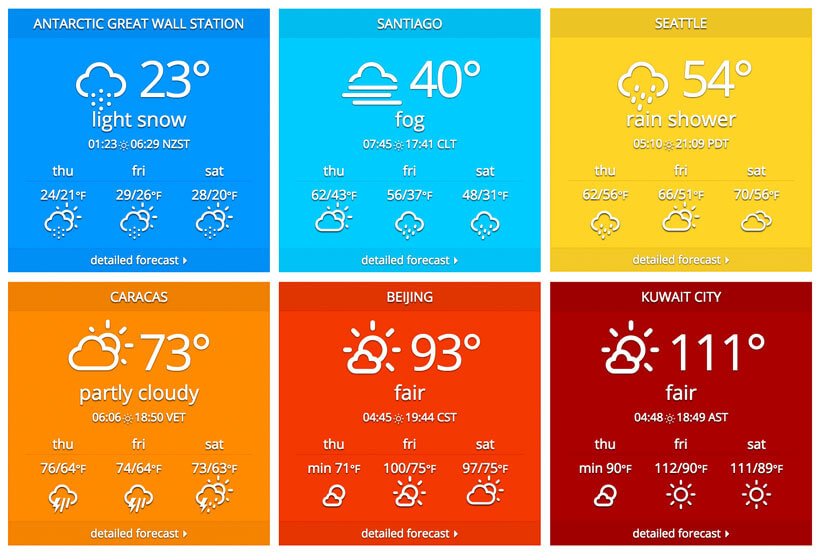 If there is one simple plugin for weather then Weather Atlas Widget is highly suggested. Not only it's very easy to use but it has user-friendly functions that lets any kind of users to implement the plugin. Set weather widget in the best place in your site while you can utilize its customization tool to enhance its design. The lovely icon designs are just mesmerizing and you can make your choice and get the look you want.
Major Features:
Multiple widgets option
Detailed forecast
Weather icons
Any location worldwide
Responsive
---
wp-forecast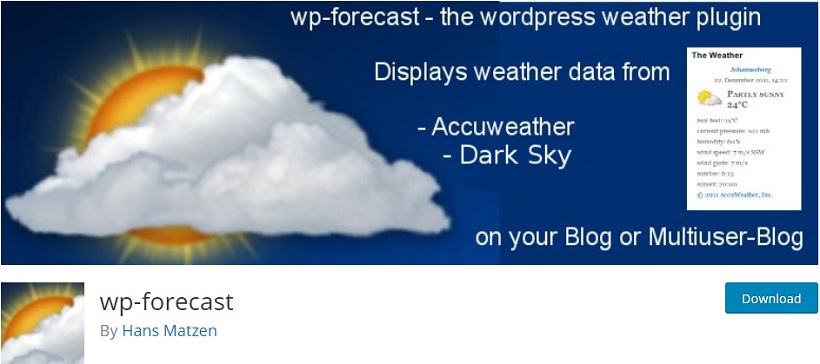 With WP-forecast you can showcase the weather data from AccuWeather.com and or WeatherBug.com. Since it is customizable so you can enhance the original look of the widget and enrich its appearance. You can choose the location by yourself freely from different parts of the world. Users can also modify the look of the widget as they desire. It is probably most impressive one among other free wordpress weather widget with loads of charismatic features.
Major Features:
Easy Customization
Displays OpenUV.io data
Get accurate result
Translation Ready
---
Weather Effect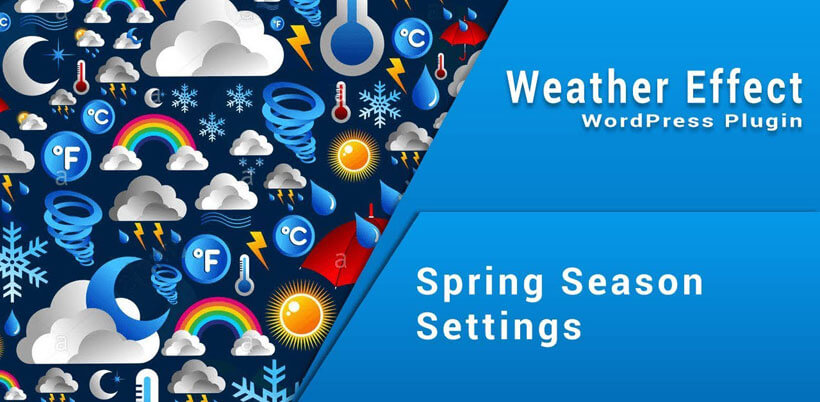 Weather Effect is yet another worthy plugin for weather. One of the main thing that makes it a distinct one is that it contains falling objects mainly related to different kinds of weather. Some of the examples of such object are snow, flakes, candy, stars, sleigh, snowman, ball, Christmas bells, Halloween bats, autumn and spring leaves, raindrops and umbrella, valentine heart and rose, thanksgiving day turkey, new year balloon and stickers.
Major Features:
Setting Panel
Multiple Weather
Few Falling Objects
Seasons And Occasions
Live Preview Button
---
ICIT Weather Widget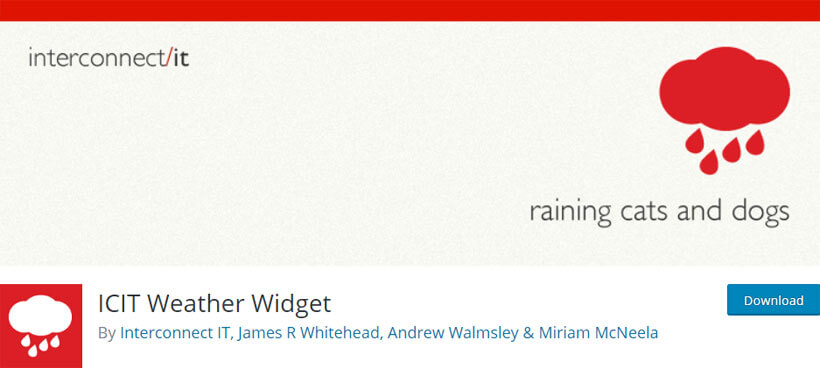 ICIT Weather Widget is again a cool plugin for weather. Once you install the plugin you can simply placing the shortcode in pages or posts of your site. For this plugin the accurate data and information has been pulled through the OpenWeatherMap API. Besides that it has several kinds of rich features and functionalities that users can enjoy implementing it to enhance their site.
Major Features:
Simple to Use
CSS customization
Browser Compatibility
Highly Responsive
---
Finally,
All the above plugins works differently and have their own importance. Each of them have their own unique features so you might try out with them and choose whichever you find the best one that suits your need. Your website will definitely look much better and innovative by integrating weather widget plugin. Therefore, we suggest you to apply the given free wordpress weather widget plugin in your site.
Do you have any questions regarding this article? If yes then don't hesitate to write in the comment section below: