5 + Best WordPress Recipe Plugins 2023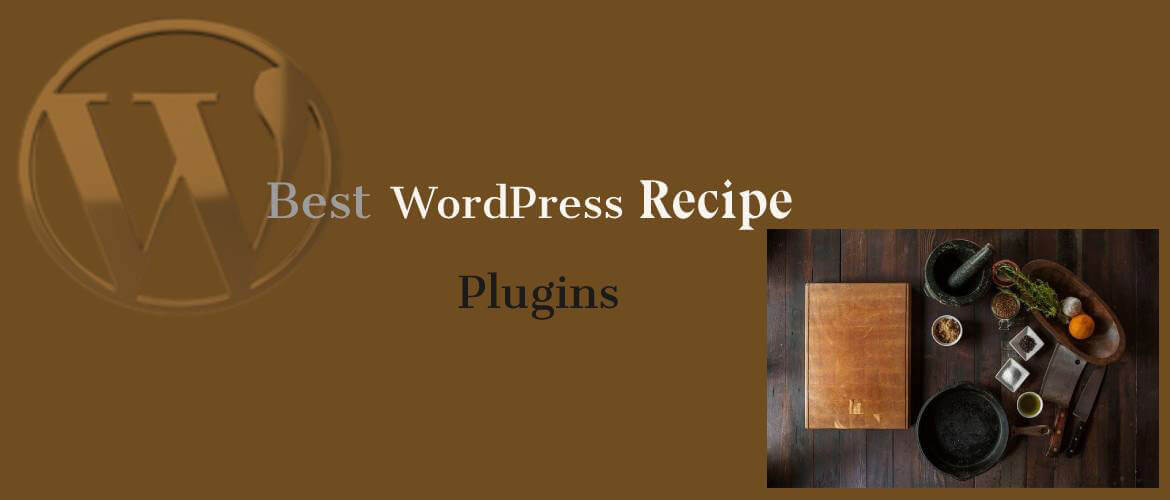 Would you like to add a recipe plugin to your website?
Cooking and recipe blogging is a popular niche on the internet. However, creating and publishing a recipe on a website requires more than just the recipe itself. It requires beautiful presentation, SEO optimization, and the ability to easily manage recipes. This is where WordPress recipe plugins come in handy. These plugins help you create, organize, and display your recipes in a professional and user-friendly way. Whether you run a food blog or just want to share your favorite recipes with others, there is a WordPress recipe plugin that can make your life easier.
In this article, we will discuss the best WordPress recipe plugins available in the market. From recipe card display options to nutritional information, these plugins have everything you need to take your recipe content to the next level.
Why are these recipe plugins fruitful?
Recipe plugins can be extremely helpful for food bloggers, chefs, and anyone who runs a website that features recipes. They provide a range of features and benefits that can make it easier to manage and display recipes on a website. These plugins often come with customizable recipe templates that are optimized for search engines and social media sharing, making it easier to attract more visitors to the site. They can also help with recipe organization, allowing users to categorize and tag recipes based on various criteria such as ingredients, cooking methods, and dietary restrictions. Some recipe plugins even come with features for meal planning and grocery list creation. Overall, recipe plugins can save time and effort by automating many of the tedious tasks associated with recipe management and providing a user-friendly interface that enhances the reader's experience.
Hence, whether you're a professional chef or just someone who loves to cook, read on to find the perfect recipe plugin for your WordPress website.
---
Best WordPress Recipe Plugins 2023
---
WP Recipe Maker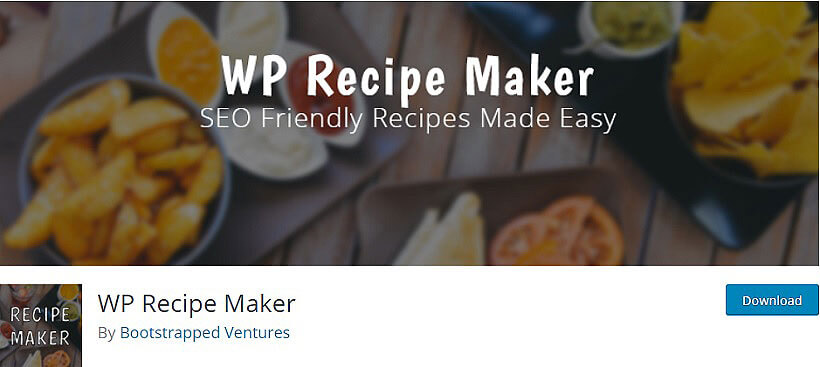 WP Recipe Maker is a powerful plugin for creating and managing recipes on your WordPress site. With features like a recipe template editor, nutrition data support, and customizable recipe cards, WP Recipe Maker makes it easy to create professional-looking recipes that are easy to read and use. This plugin also includes built-in support for popular recipe sites like Pinterest and Yummly, making it a must-have for food bloggers and recipe creators.
Key Features:
Easy workflow to add recipes to any post or page
Google AMP compatible
Full-text search for your recipes
Compatible with RTL languages
Highly Responsive
---
Recipe Card Blocks by WPZOOM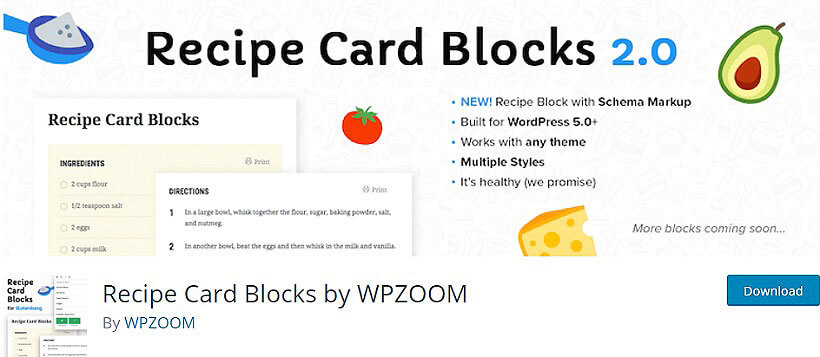 Recipe Card Blocks by WPZOOM is a powerful and user-friendly recipe plugin for WordPress. It offers a variety of customization options and layouts to create professional-looking recipe cards. The plugin includes features such as recipe rating, print option, nutritional information, and much more. The plugin is compatible with Gutenberg editor and can be integrated with various recipe search engines. With Recipe Card Blocks by WPZOOM, creating and sharing recipes on your website has never been easier.
Major Features:
AMP Support
Gutenberg-ready
Video integration
GDPR-compliant
Bulk Add Ingredients and Directions
---
Cooked – Recipe Plugin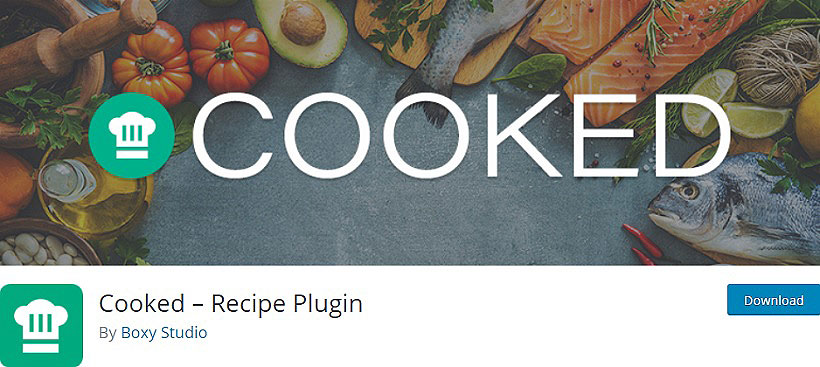 Cooked is a powerful recipe plugin for WordPress that lets you create beautiful and functional recipes with ease. With Cooked, you can create recipes, add ingredients and directions, and even display nutritional information. The plugin also comes with a built-in recipe search, custom widgets, and more. Plus, Cooked is fully responsive and mobile-friendly, so your recipes will look great on any device. Whether you're a food blogger or a restaurant owner, Cooked is the perfect plugin to help you showcase your delicious recipes.
Major Features:
Prep & Cooking Times
Nutrition Facts
Very developer-friendly
SEO Optimized
Drag & drop ingredients and directions.
---
Recipe Maker For Your Food Blog from Zip Recipes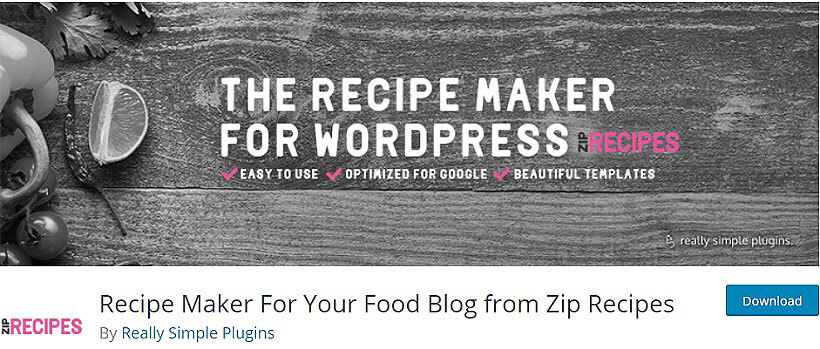 Recipe Maker is an easy-to-use plugin that allows food bloggers to create beautiful recipes in minutes. With a user-friendly interface and a wide range of customization options, this plugin makes it easy to showcase your recipes in a professional manner. Features include recipe templates, recipe categories, nutritional information, and more. Plus, it's optimized for SEO and fully responsive, so your recipes will look great on any device. Get started with Recipe Maker from Zip Recipes today and take your food blog to the next level!
Major Features:
Flexible Editor
No coding required
Featured Image Support
WYSIWYG Editors
Extensive support
---
Delicious Recipes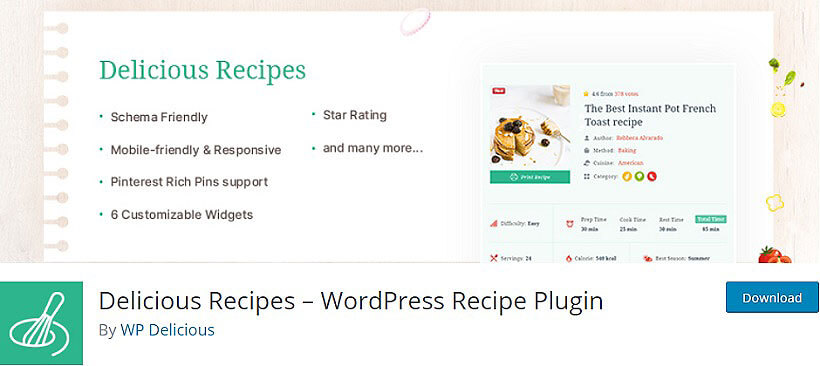 Delicious Recipes is a WordPress plugin that allows you to easily create and display recipes on your website. With customizable recipe templates, this plugin lets you showcase your culinary creations with mouth-watering photos and detailed instructions. It also includes features like nutritional information, ingredient scaling, and the ability to categorize and tag your recipes. The plugin is responsive and optimized for search engines, making it a great choice for food bloggers and recipe enthusiasts. Get cooking with Delicious Recipes today!
Major Features:
Beautiful Recipe Card
6 Customizable Widgets
SEO Friendly
Unlimited recipes
Star Rating
---
Blossom Recipe Maker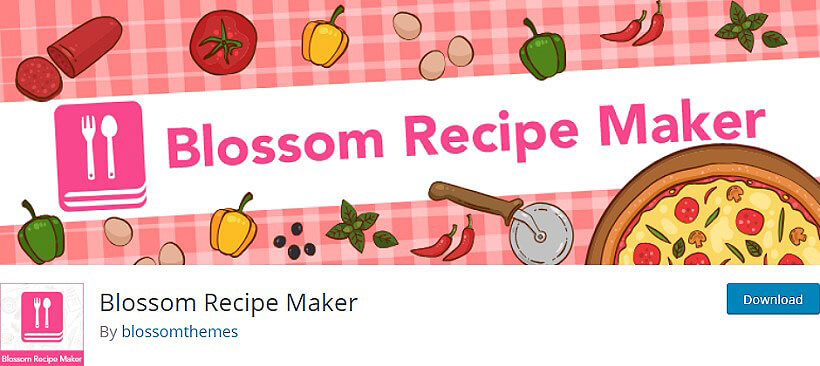 Blossom Recipe Maker is a plugin designed for food bloggers and recipe websites. It enables users to create and publish recipes with ease. The plugin provides a user-friendly interface to add ingredients, cooking instructions, nutrition facts, and more. It comes with multiple recipe templates, including a print-friendly option. Users can also add photos and video tutorials to their recipes. The plugin is optimized for SEO, is mobile-friendly, and integrates with social media. Blossom Recipe Maker also provides recipe schema markup to improve search engine visibility.
Major Features:
Translation Ready
Add a recipe gallery to the recipe posts
Add & Sort Ingredients and Instructions
Demo recipe post to demonstrate the workflow
Add an image to all the taxonomy terms
---
To Conclude,
There are many great recipe plugins available for WordPress users. From WP Recipe Maker to Blossom Recipe Maker, there's a plugin to fit every need and budget. Whether you're a professional food blogger or just starting out, these plugins can help you create beautiful, easy-to-use recipe cards and improve your overall user experience. Try one today and see the difference it can make for your food blog!
Let's hear from you about your thoughts on this article: