5 + Best WordPress Landing Page Plugins 2023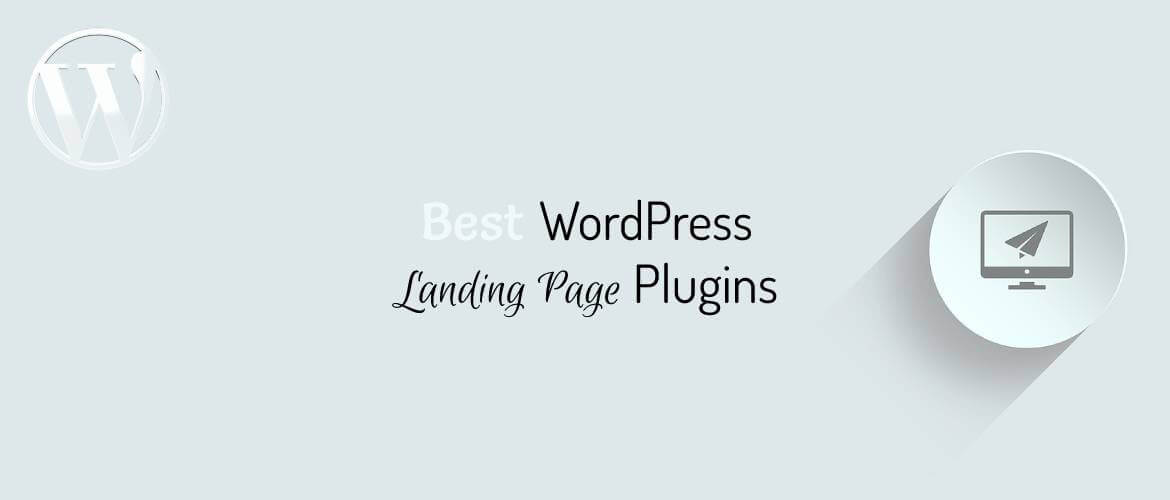 Do you want to add a landing page plugin to your website?
In today's digital era, having an appealing landing page is crucial to drive conversions and sales. WordPress offers a range of landing page plugins that are easy to use and don't require any coding skills. With these plugins, you can create beautiful landing pages that not only look great but also encourage visitors to take the desired action. However, with so many options available, it can be challenging to pick the right one for your needs.
What is a landing page?
A landing page in WordPress is a standalone web page that is designed to capture the attention of visitors and encourage them to take a specific action, such as signing up for a newsletter or making a purchase. Unlike a typical website page, a landing page is focused on a single goal or objective, and it is usually created to support a specific marketing campaign or promotion. Landing pages are often used to drive traffic to a particular product or service, and they are optimized for conversions using techniques like persuasive copy, compelling images, and prominent calls-to-action.
In this article, we will explore the best WordPress landing page plugins that can help you build a stunning landing page quickly and efficiently. We will cover everything from free to premium plugins, drag-and-drop builders, and landing page templates. Whether you're looking to capture leads, promote your products, or drive traffic to your website, our comprehensive guide will help you find the perfect landing page plugin for your business. So, let's dive in and explore the world of WordPress landing page plugins.
---
Best WordPress Landing Page Plugins 2023
---
Coming Soon Page, Maintenance Mode & Landing Pages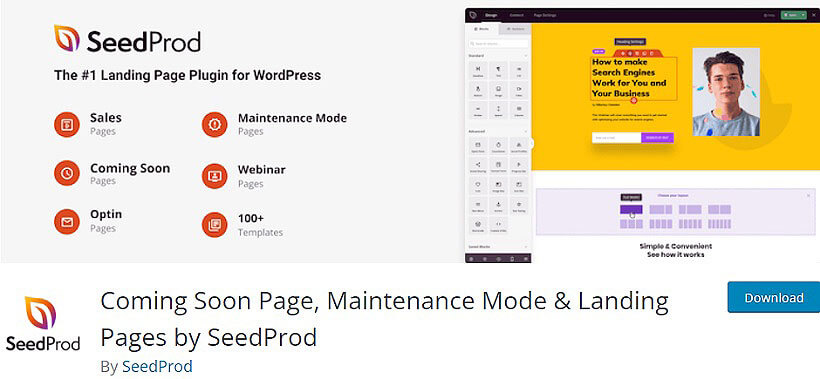 The Coming Soon Page, Maintenance Mode & Landing Pages plugin helps you to create an elegant landing page, coming soon page, and maintenance mode page easily. It comes with several pre-designed templates and allows you to customize them according to your preferences. With this plugin, you can collect emails, show countdown timers, and add social media links. It also has SEO settings and supports Google Analytics, making it an ideal choice for website owners who want to maintain their online presence while working on updates.
Major Features:
Mobile Ready
Multisite Support
Translation Ready
Contact Form Block
---
Landing Page Builder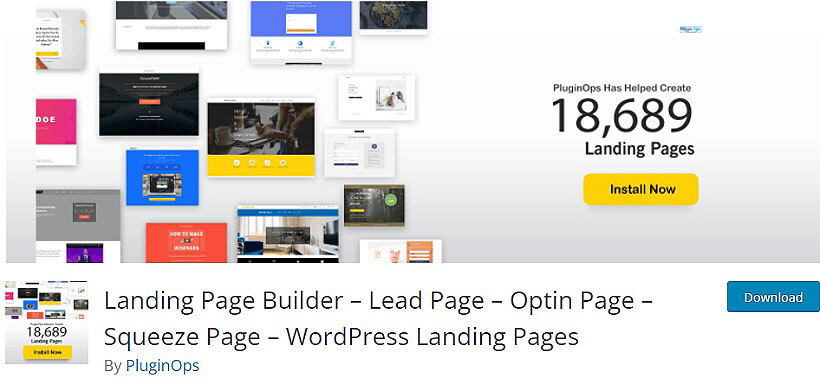 The Landing Page Builder plugin for WordPress allows users to create custom landing pages with ease. It provides a drag-and-drop interface that lets you add and arrange various elements such as images, text, and videos to create an engaging page. The plugin also offers a variety of pre-built templates that you can use as a starting point. Additionally, you can customize the design of your landing page to match your website's branding. The Landing Page Builder plugin is a great tool for businesses that want to create effective landing pages to drive conversions and increase engagement.
Major Features:
Visual Page Editor
OptIn popups
Pre-designed page templates
WooCommerce Products
---
Unbounce Landing Pages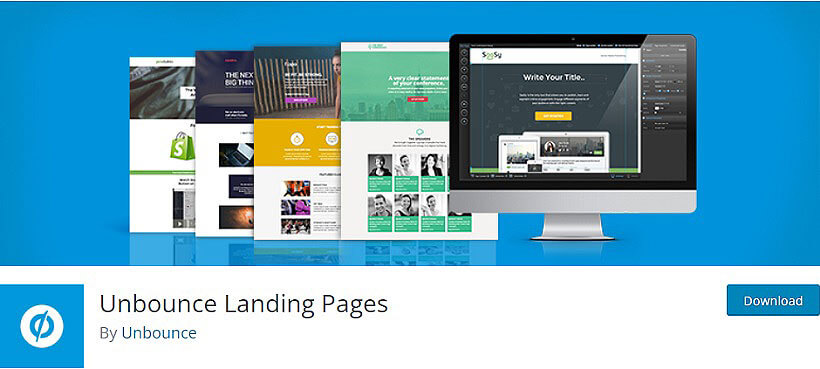 Unbounce Landing Pages are a plugin by Unbounce that helps create high-converting landing pages without coding. With a drag-and-drop interface, it allows users to create custom landing pages tailored to their brand's needs. It comes with over 100 customizable templates that can be used to build pages quickly. The plugin also integrates with popular marketing tools, allowing users to track page performance and optimize conversion rates. It's a great choice for businesses looking to improve their online presence and generate more leads.
Major Features:
80+ free templates
Built-in A/B testing features
Easy Google Analytics tagging & event tracking
Integrations with the tools marketers use
---
Infusionsoft Landing Pages

The Infusionsoft Landing Pages plugin is a powerful tool that helps businesses create beautiful and high-converting landing pages. With its drag-and-drop builder, users can easily customize their pages to fit their brand and messaging. The plugin also offers a variety of templates and integrations with Infusionsoft's CRM and marketing automation tools. Whether you're promoting a new product, collecting leads, or hosting a webinar, the Infusionsoft Landing Pages plugin can help you create a landing page that converts.
Major Features:
70+ free templates
Mobile responsive pages
Easy Google Analytics tagging
Facebook Pixel tracking
---
Landing Page Builder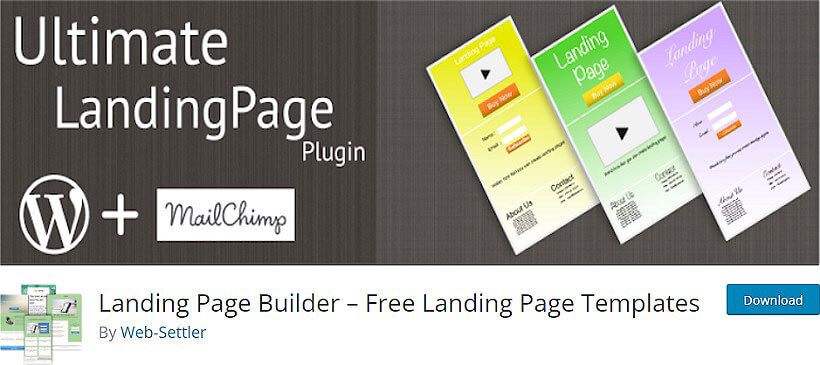 Landing Page Builder is a powerful WordPress plugin that lets you create beautiful and high-converting landing pages in minutes. With its intuitive drag-and-drop interface, you can easily customize every aspect of your landing page, from the layout and design to the content and call-to-action buttons. The plugin also comes with a wide range of pre-built templates and blocks to help you get started quickly. Whether you're looking to build a landing page for a product launch, event registration, or lead generation, Landing Page Builder has everything you need to create a stunning and effective landing page.
Major Features:
Responsive template.
Pre Designed Templates
Custom SEO for landing pages
Integrated 250+ Google fonts
---
Sunny: Free Landing Page Builder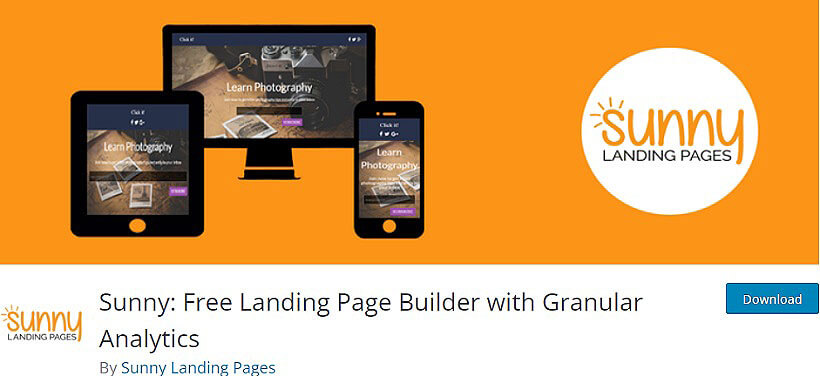 Sunny is a free landing page builder plugin for WordPress that lets you create beautiful and responsive landing pages easily. With a simple drag-and-drop interface, you can add images, videos, and text to your landing pages, and customize them to match your brand. Sunny also offers a variety of pre-designed templates to choose from, so you can create a professional-looking landing page in minutes. Plus, it's SEO-friendly and optimized for conversions, making it the perfect tool for any marketer looking to boost their online presence.
Major Features:
Fast Loading
100+ landing page templates
Drag and drop landing page builder
Mobile friendly
---
Closing Up,
Landing pages play a crucial role in driving conversions on your WordPress site. With the right landing page plugin, you can easily create professional and effective landing pages that engage your visitors and boost your conversion rates. Whether you're looking for a simple, free solution or a feature-rich, premium plugin, there are many options available to meet your needs. Take some time to evaluate your options and choose a landing page plugin that suits your business and marketing goals.
We shall appreciate it if you share your thoughts or suggestions regarding the article above and write it in the comment section below: