5 + Best WordPress Inventory Management Plugins 2023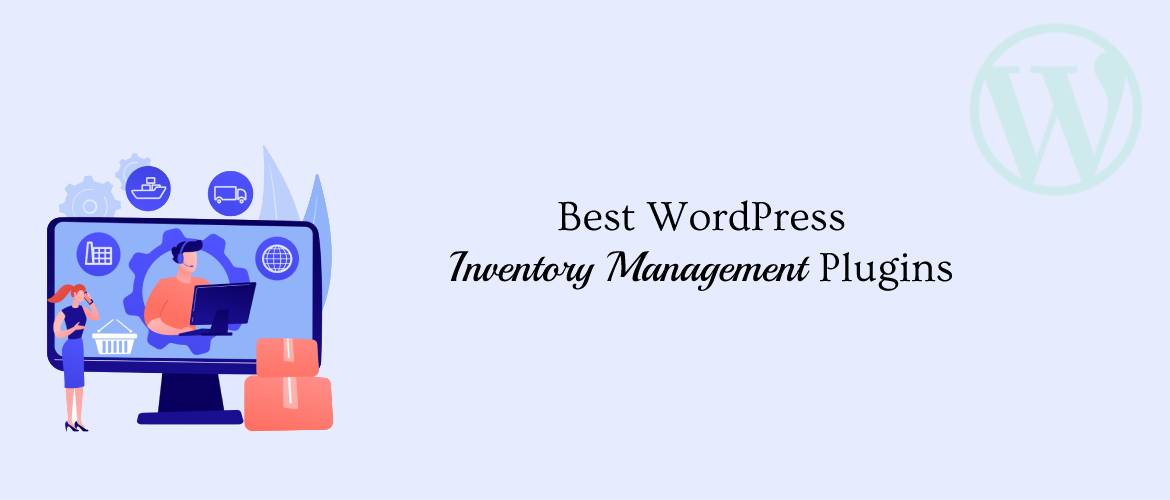 Are you looking for Inventory Management Plugin?
Managing inventory can be a daunting task, especially for businesses that deal with large amounts of products. Thankfully, with WordPress inventory management plugins, the process can be streamlined and made much more efficient. These plugins offer various features like inventory tracking, stock management, order fulfillment, and more. Whether you are a small business or an enterprise-level company, these plugins can help you save time and resources while ensuring that your inventory is always up to date.
In this article, we will be highlighting some of the best WordPress inventory management plugins that can help you manage your inventory with ease. From WooCommerce extensions to standalone inventory management systems, we will cover a range of options that are suitable for businesses of all sizes. So, whether you are looking to track inventory levels, automate reordering, or manage stock across multiple locations, keep reading to discover the best inventory management plugins for your WordPress site.
Let's see them below:
---
Best WordPress Inventory Management Plugins 2023
---
ATUM Inventory Management for WooCommerce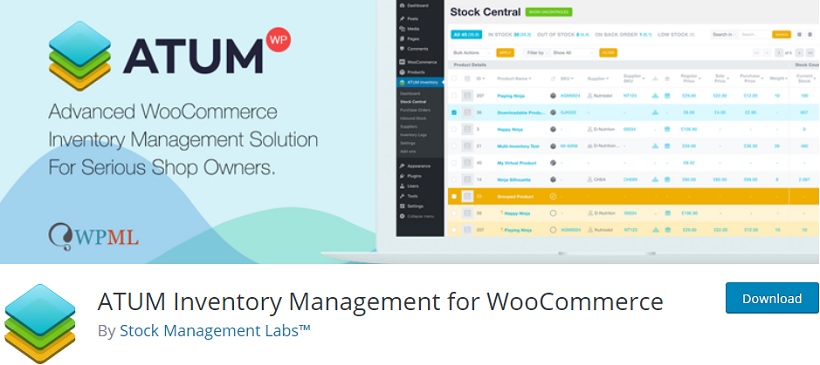 ATUM Inventory Management for WooCommerce is a powerful inventory management plugin that allows you to manage your stock and streamline your business processes. With ATUM, you can easily create and manage products, track stock levels, and set up custom notifications to alert you when stock is running low. The plugin also includes advanced features like batch editing, barcode scanning, and inventory forecasting, making it an essential tool for any WooCommerce store owner looking to improve their inventory management practices.
Key Features:
ATUM ground-breaking Stock Control system
Advanced search with an auto-fill feature
Intelligent settings for easy inventory/stock management
Full inventory PDF export directly from Stock Central
Complete location hierarchy tracking
---
WooCommerce Stock Manager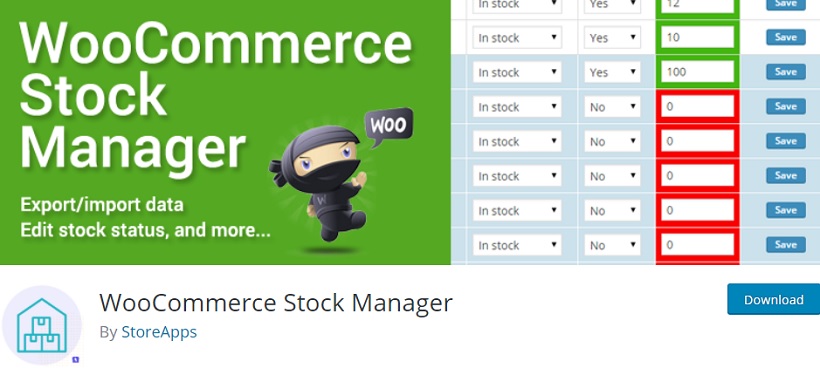 WooCommerce Stock Manager is a popular plugin that enables users to easily manage stock levels and inventory for their WooCommerce store. The plugin provides a simple and intuitive interface for adding, editing, and updating product stock quantities, and supports bulk management of stock levels. In addition, the plugin includes various filtering and sorting options, allowing users to quickly find and manage specific products. With WooCommerce Stock Manager, store owners can effectively manage their inventory and ensure that their products are always in stock.
Key Features:
Display product thumbnail image
Sort products by name
Search products by name or SKU
Show/hide columns for better usability
Save each product or variation separately
---
WooCommerce POS Inventory Count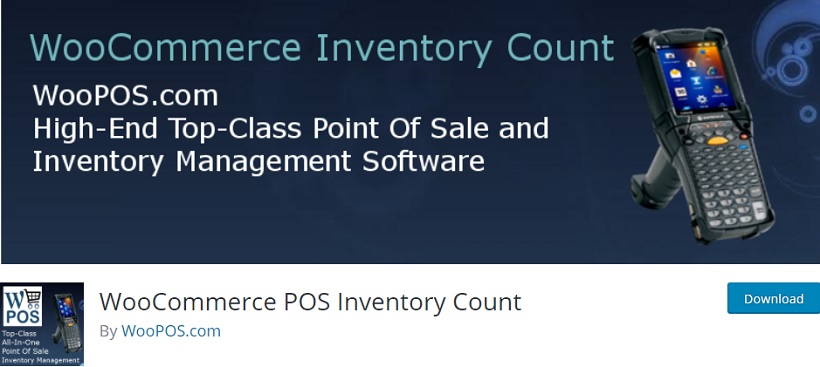 WooCommerce POS Inventory Count is a plugin designed to help manage inventory levels for WooCommerce. It offers a user-friendly interface to track stock levels in real-time and make adjustments as needed. With this plugin, users can perform inventory counts, add new stock, and update existing stock levels. It is an essential tool for businesses with physical stores and online shops, enabling them to keep track of inventory levels across all channels to prevent stockouts and overstocking. The plugin also offers robust reporting tools, making it easy to identify trends and optimize inventory management strategies.
Key Features:
CRM loyalty points
Cloud database
Barcode designer
Multi-vendor & Store
---
Order and Inventory Manager for WooCommerce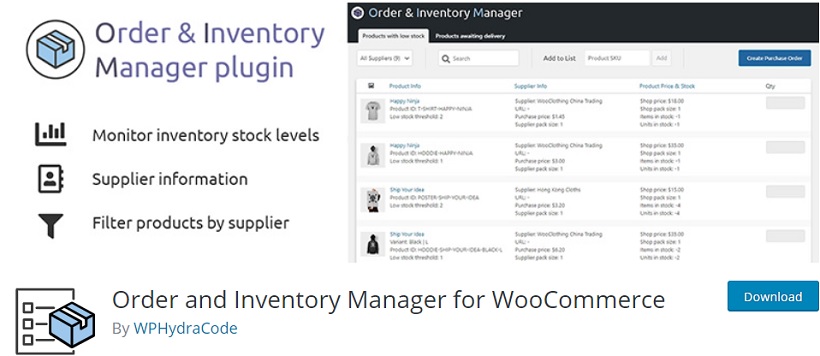 Order and Inventory Manager for WooCommerce is a plugin designed to simplify inventory management on WooCommerce stores. With this plugin, you can track inventory levels and stock statuses, receive notifications for low-stock products, and manage your orders efficiently. The plugin also allows you to filter and sort orders by different criteria, and export order data to CSV files. With its user-friendly interface and comprehensive features, Order and Inventory Manager is an excellent choice for managing your WooCommerce store's inventory and orders.
Key Features:
Filter products by supplier
Create your suppliers and fill out all information
Save your time and resources
Regularly release updates to the anti-spam module
---
Car Demon

Car Demon is a powerful automotive inventory management plugin for WordPress. It allows car dealerships and automotive dealers to create and manage their inventory directly on their websites. With Car Demon, users can easily add new vehicles, update existing ones, and showcase their inventory with beautiful car listings. The plugin is highly customizable and offers a range of features, including customizable fields, multiple image uploads, and even a finance calculator. Car Demon is perfect for dealerships looking to streamline their inventory management and showcase their cars online.
Key Features:
User friendly
Manage Inventory Control
Notify admins by e-mail about incoming spam
Validate the IP address of commenters
---
Woocommerce Multi Warehouses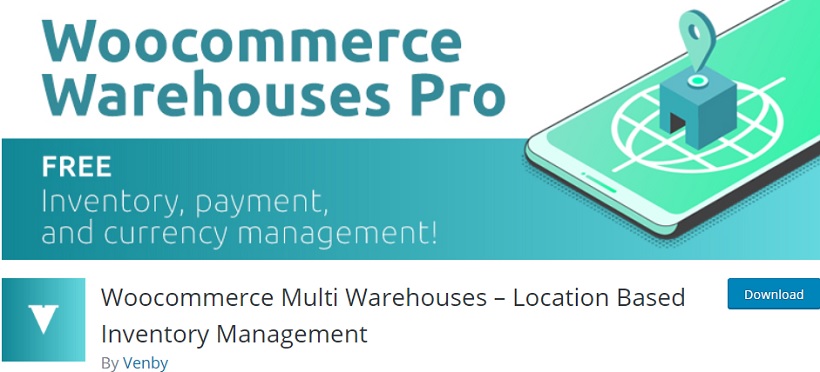 The Woocommerce Multi Warehouses plugin is an ideal inventory management solution for businesses that have multiple warehouses. It allows businesses to manage their inventory across multiple locations, track stock levels, and monitor stock movements in real time. With this plugin, businesses can easily set up and manage their warehouses, transfer stock between locations, and assign product inventory to specific warehouses. Additionally, businesses can automate inventory replenishment, set minimum stock levels, and generate detailed reports to keep track of inventory levels.
Key Features:
Set additional location-based warehouses for special retail events
Offer site visitors prices in local currency
Pay your affiliates directly
Partner with international distributors
---
To Conclude,
Managing inventory can be a daunting task for any online store. However, with the right tools and plugins, it can become a seamless process. The above-mentioned WordPress inventory management plugins can help streamline your inventory management, reduce errors, and provide a better experience for both you and your customers.
We would love to hear from you! Please share your thoughts and feedback in the comment section below.