6 + Best WordPress Cookie Consent Plugins 2023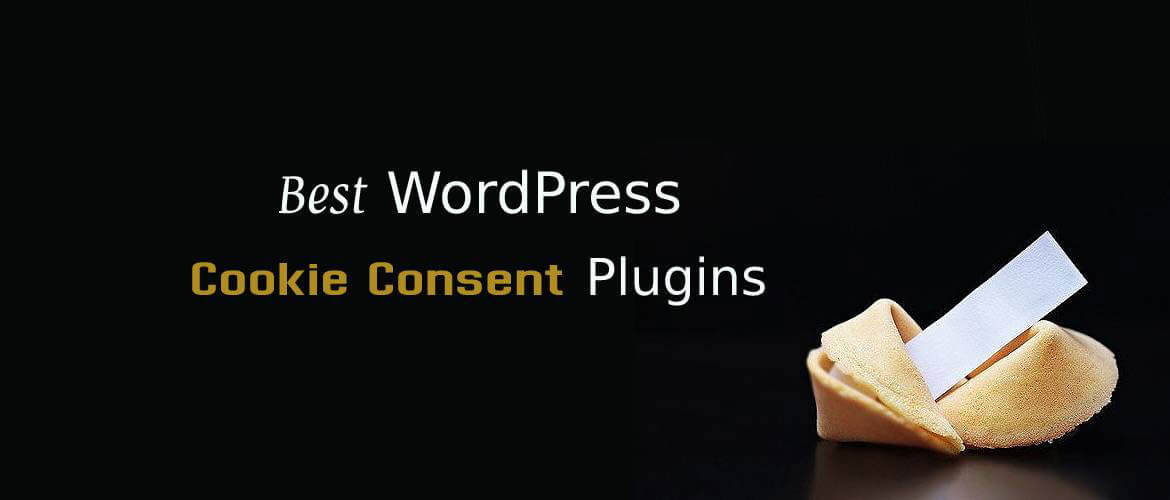 Do you want to add a Cookie consent plugin to your site?
In today's digital age, websites are required to obtain user consent before placing cookies on their devices. A cookie consent plugin is an essential tool to comply with privacy laws and provide a smooth user experience. With so many options available, choosing the right one can be a daunting task. That's why we've compiled a list of the best WordPress cookie consent plugins to make your decision easier.
These plugins offer a variety of features, including customizable cookie notices, automatic cookie blocking, and more. By using a cookie consent plugin, you can ensure that your website is GDPR and CCPA compliant, and also protect user privacy. Whether you have a personal blog or a business website, a cookie consent plugin is a must-have tool for every website owner. So, let's dive in and explore the best cookie consent plugins available for WordPress.
Below we have listed the plugins :
---
Best WordPress Cookie Consent Plugins for 2023
---
CookieYes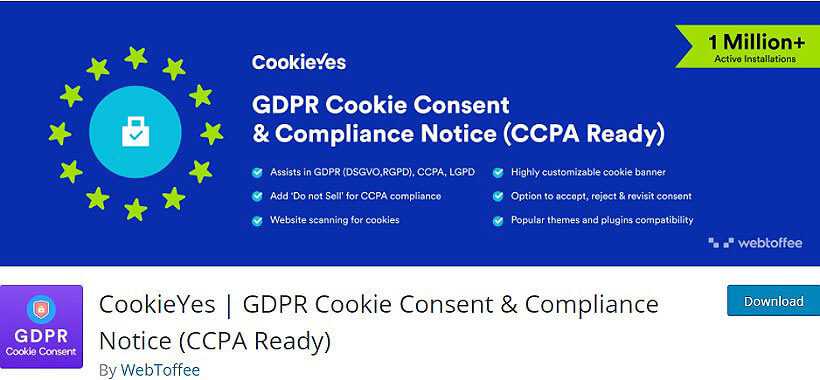 CookieYes is a WordPress plugin that helps website owners comply with global cookie laws. It enables website owners to create and customize a cookie consent banner with ease. The plugin also provides website visitors with an option to withdraw their consent at any time. It supports multiple languages and integrates with popular page builders and e-commerce platforms. With CookieYes, website owners can easily manage their website's cookies and ensure that they are GDPR and CCPA compliant.
Key Features:
Allows single-click automatic scanning of cookies.
Cookie Audit module
Assists in compliance with CNIL
Fully customizable
WPML compatible
Adds a subtle cookie banner
---
Complianz – GDPR/CCPA Cookie Consent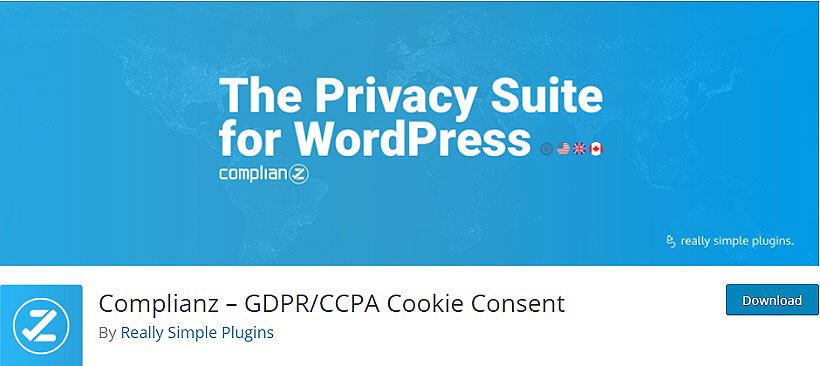 Complianz – GDPR/CCPA Cookie Consent plugin is a powerful and comprehensive solution to manage your website's cookie consent and compliance needs. With a user-friendly interface, Complianz allows you to customize your cookie consent banner, policies, and settings to meet your specific requirements. It is designed to comply with GDPR, CCPA, and other data privacy regulations. Additionally, the plugin features automatic cookie scanning, cookie blocking, and provides comprehensive reports on your website's cookie usage. Complianz is a reliable and effective tool for ensuring your website's cookie compliance while maintaining a positive user experience.
Major Features:
Automatically detects if you need a Cookie Notice
Integration with the WP Consent API
Integrates seamlessly with Gutenberg, Elementor etc
Gutenberg Blocks enabled
Shows placeholders for blocked iFrames
---
Cookie Notice & Compliance for GDPR / CCPA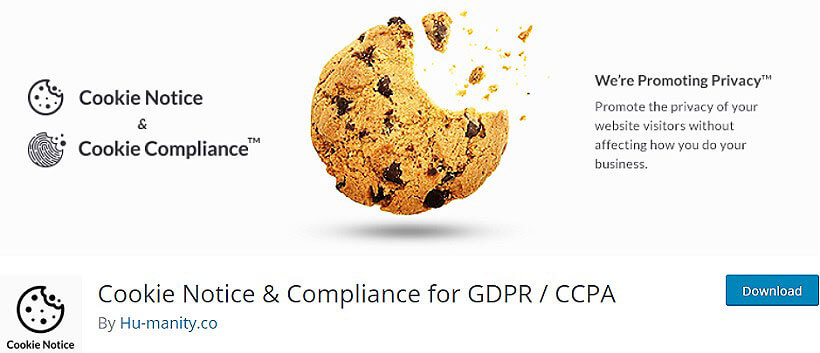 Cookie Notice & Compliance for GDPR / CCPA is a WordPress plugin that helps website owners comply with cookie regulations. It adds a customizable cookie banner to the website, which allows visitors to accept or reject cookies. The plugin is fully GDPR and CCPA compliant and provides an automatic cookie scan feature to detect and categorize cookies on the website. It also includes options to customize the banner appearance, language, and position. With Cookie Notice & Compliance for GDPR / CCPA, website owners can ensure their website complies with global privacy laws.
Major Features:
Customizable notice message
Consent on click, scroll, or close
Customizable GDPR & CCPA notice templates
Multiple new banner positions
Multiple cookie expiry options
---
GDPR Cookie Compliance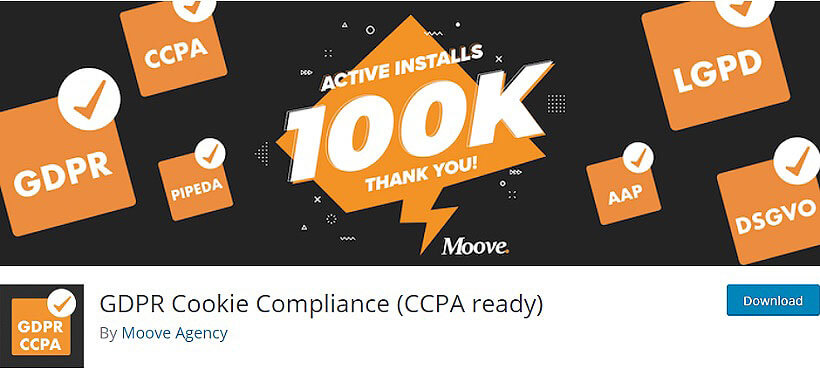 The GDPR Cookie Compliance plugin helps website owners to comply with the EU GDPR cookie law by displaying a customizable cookie consent banner. It automatically blocks cookies before consent is given and also provides an option to allow users to change their consent later. The plugin also offers several customization options to match the banner with the website's theme and style. Additionally, it supports multiple languages and works well with most popular caching plugins.
Major Features:
Fully customizable
Flexible
Includes both 'Accept' and 'Reject' buttons
Consent expiration settings
Optimized for WCAG/ADA compliance
---
iubenda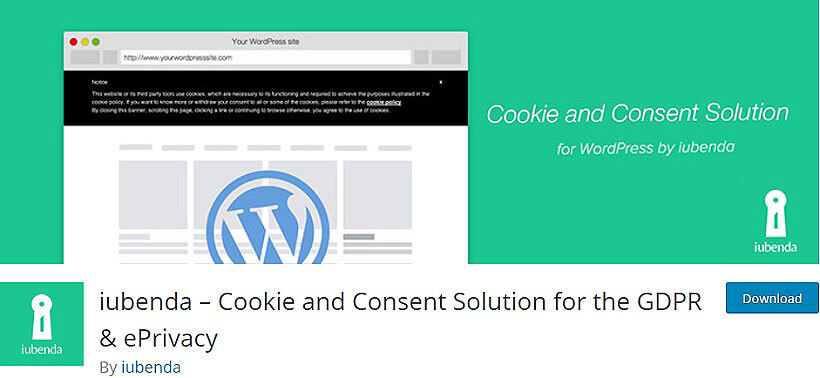 Iubenda is a powerful cookie consent and legal compliance plugin for WordPress websites. With this plugin, you can easily generate a custom privacy policy, cookie policy, and terms and conditions for your website. It also offers cookie consent banners, pop-ups, and cookie-blocking features that can be fully customized to match your site's branding. Additionally, iubenda provides legal compliance services, ensuring that your website is fully compliant with GDPR, CCPA, and other privacy laws. With its comprehensive features and ease of use, iubenda is an excellent choice for website owners looking to maintain legal compliance and build trust with their users.
Major Features:
Compatible with Google's Accelerated Mobile Pages
California Consumer Privacy Act (CCPA) Support
Allows you to automatically or manually block scripts
Features an easy-to-use interface
Provides API input field for quick and easy activation
---
Cookiebot

Cookiebot is a WordPress plugin that provides comprehensive cookie consent management solutions. The plugin is GDPR, CCPA, and ePrivacy-compliant, ensuring that your website is fully compliant with global data privacy regulations. Cookiebot offers automatic cookie scanning, categorization, and declaration, as well as customizable cookie consent pop-ups that are easily integrated into your site. The plugin provides real-time cookie consent reporting and analytics, as well as easy integration with major third-party services. With Cookiebot, you can manage your website's cookies and user consent with ease, ensuring a smooth and compliant user experience.
Major Features:
A highly customizable consent banner
Supports 45 languages in consent banner
Execution of cookie-setting scripts
Unique Cookiebot feature of automatic cookie blocking
An automatically generated and updated cookie policy
---
WP AutoTerms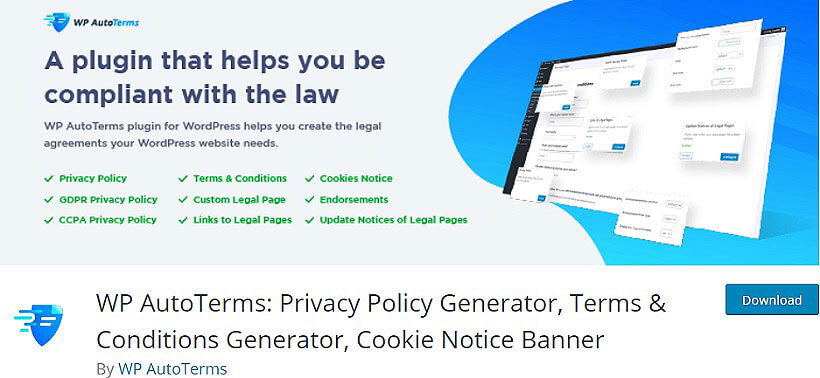 WP AutoTerms is a legal compliance plugin that helps you create and display privacy policy, terms of use, and cookie policy pages on your website. The plugin generates legal texts and provides easy-to-use shortcodes to add them to your site. With WP AutoTerms, you can also comply with GDPR and CCPA regulations, customize policies to suit your needs, and keep them up-to-date automatically. The plugin is easy to use and suitable for both beginners and advanced users.
Major Features:
Create GDPR & CCPA Privacy Policy
User-friendly
Compliance Kits
---
To Conclude,
Incorporating a cookie consent plugin on your WordPress website is crucial for both legal compliance and user experience. With the above-reviewed plugins, you can easily comply with GDPR and CCPA regulations while also providing an excellent user experience for your website visitors.
Let us know your thoughts or suggestions regarding the article above. If yes then share it with us in the comment section below: