5 + Best WordPress Anti Spam Plugins 2023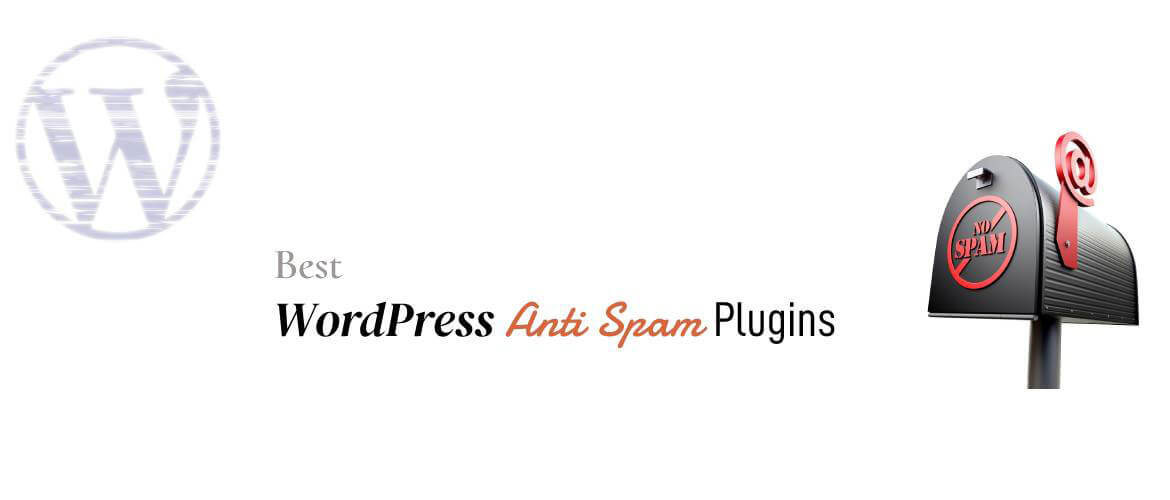 Do you want to control the spam on your website?
WordPress websites are highly vulnerable to spam attacks, which can be a significant issue for website owners. Spam can come in many forms, including comments, contact form submissions, and registration attempts by bots. This not only wastes your time and resources but also negatively affects your website's user experience and search engine ranking. Fortunately, there are many powerful anti-spam plugins available for WordPress that can help you combat spam effectively. These plugins use various methods to identify and block spam, such as CAPTCHA, honeypots, and machine learning algorithms. They also offer advanced features like reporting and blacklisting to enhance your website's security further.
In this article, we'll explore the best WordPress anti-spam plugins available in the market. We'll provide you with detailed information about each plugin's features, benefits, and pricing. Whether you're running a personal blog, an eCommerce store, or a corporate website, you'll find a plugin that fits your specific needs. By using these plugins, you can protect your website from spammers, save time and resources, and ensure a seamless user experience for your visitors. So, let's dive into the world of anti-spam plugins and find the one that suits you the most.
---
Best WordPress Anti Spam Plugins 2023
---
Akismet Spam Protection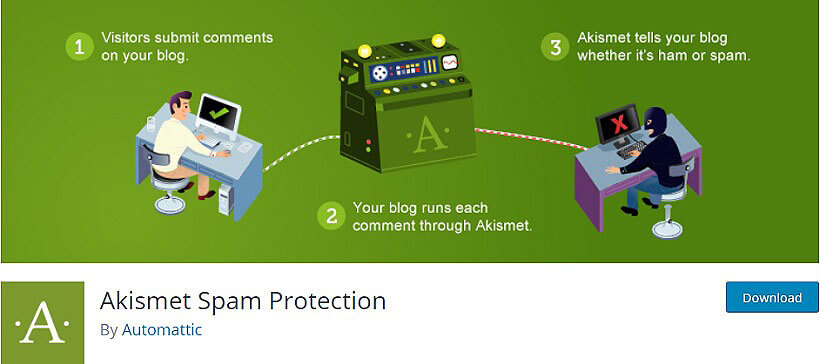 Akismet Spam Protection is a highly effective WordPress plugin that prevents spam comments on your site. This plugin checks each comment and filters out any spammy ones. It is free for personal use and also has paid plans available for commercial use. Akismet uses advanced machine learning algorithms to learn and adapt to new forms of spam, making it one of the most reliable spam protection plugins on the market. With over 5 million active installations, Akismet is a popular choice for WordPress users who want to keep their site spam-free.
Key Features:
Automatically checks all comments
URLs presented in the comment body
Moderators can manage the comments
Improves the speed of a website
---
WP Cerber Security, Anti-spam & Malware Scan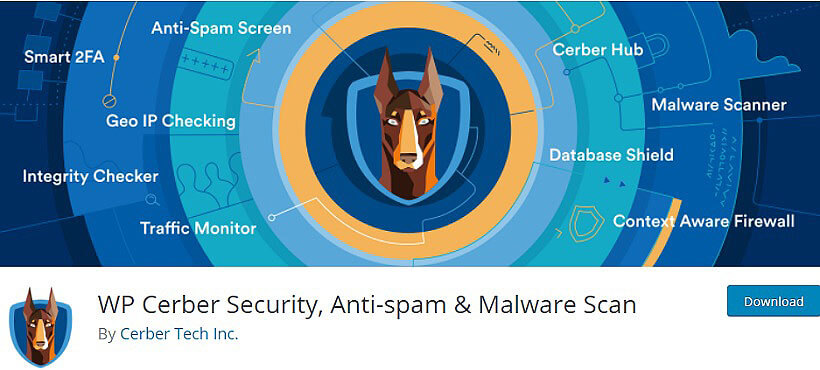 WP Cerber Security is a comprehensive security plugin for WordPress that provides anti-spam and malware scanning capabilities. Its advanced algorithms can detect and block suspicious activity, including spam comments, bot attacks, and brute-force attacks. WP Cerber Security also includes powerful tools for customizing security settings, such as IP blocking and country restrictions. With easy-to-use configuration options and continuous updates, WP Cerber Security is an effective solution for protecting your WordPress site from spam and other security threats.
Major Features:
Create Custom login URL
Protects contact and registration forms
Advanced users' sessions manager
Block access to WordPress REST API
---
Spam protection, AntiSpam, FireWall by CleanTalk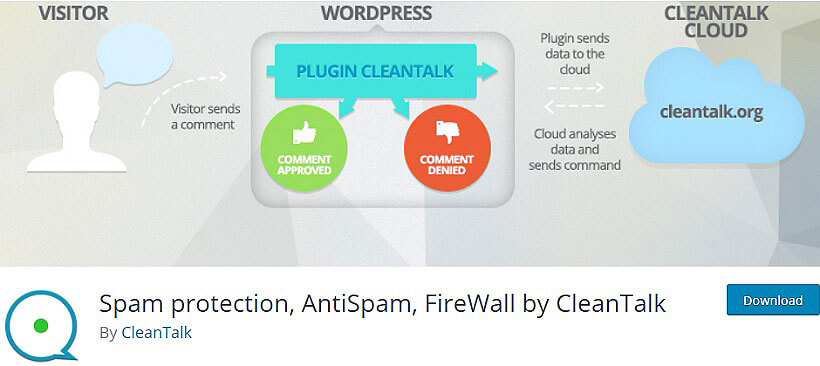 The "Spam protection, AntiSpam, FireWall by CleanTalk" plugin provides comprehensive protection against spam bots and hackers with its advanced firewall, anti-spam, and malware scanner features. It automatically blocks spam comments, registrations, and contact form submissions, while also protecting your website from brute-force attacks and malware injections. With real-time spam protection and automatic updates, you can ensure that your website stays secure and spam-free.
Major Features:
Mobile friendly Anti Spam & FireWall
Stops spam in Search Form
Compatible with General Data Protection Regulation (GDPR)
Stops spam contact emails
---
Titan Anti-spam & Security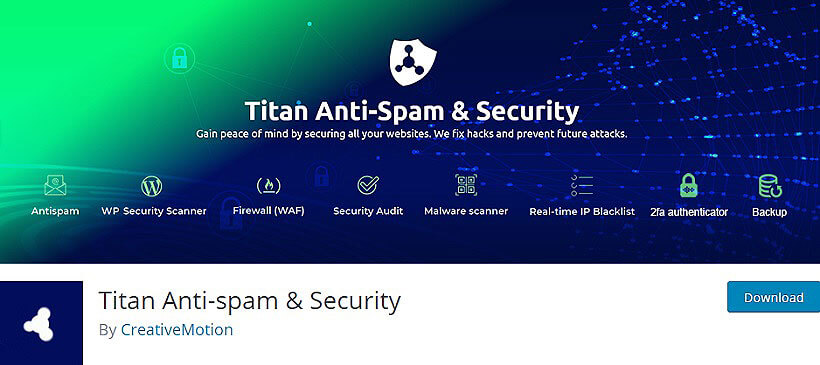 Titan Anti-spam & Security is a WordPress plugin designed to protect your website from various forms of online threats, including spam, malware, and hacking attempts. It features advanced security algorithms that analyze user behavior to identify and block suspicious activity. The plugin is also equipped with a powerful anti-spam system that blocks spam comments and form submissions. With its easy-to-use interface and reliable security features, Titan Anti-spam & Security is a great choice for website owners looking to secure their site against malicious attacks.
Major Features:
Simple to Use
No captcha
Save your time and resources
Regularly release updates to the anti-spam module
---
Antispam Bee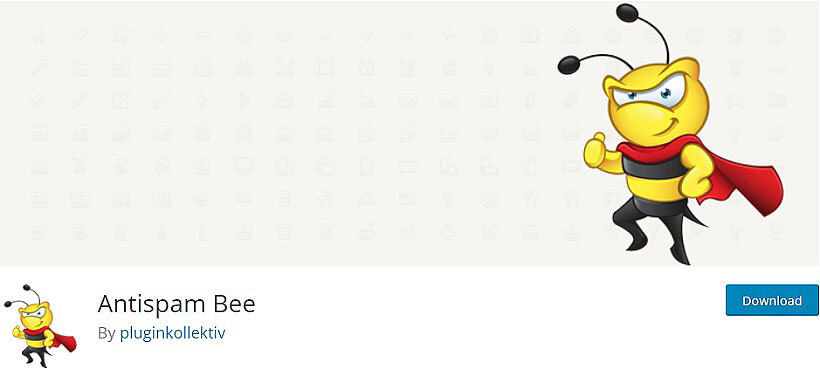 Antispam Bee is a free anti-spam plugin for WordPress that blocks spam comments and trackbacks effectively. With its advanced algorithms and customizability, it filters out unwanted content and reduces the number of spam comments on your website. Antispam Bee is easy to install and use, with no configuration required. It also provides statistics on blocked spam and allows you to whitelist or blacklist specific IPs and countries. Overall, Antispam Bee is a reliable option for website owners looking to reduce spam and enhance the user experience for their visitors.
Major Features:
Trust approved commenters
Delete existing spam after n days
Notify admins by e-mail about incoming spam
Validate the IP address of commenters
---
Stop Spammers Security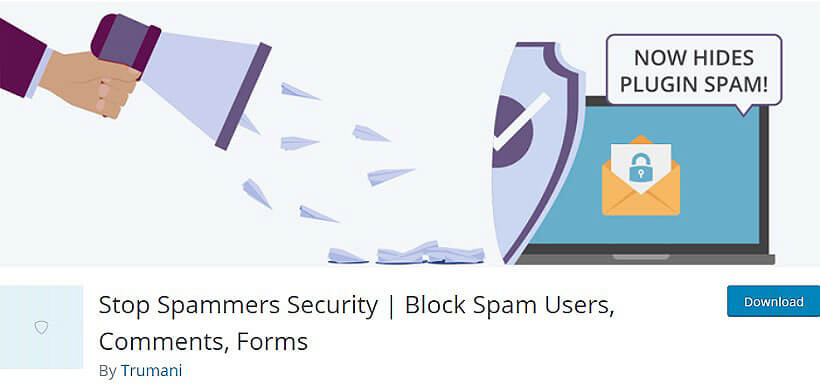 Stop Spammers Security is a powerful WordPress plugin that provides protection against spam and unwanted users. It offers multiple layers of security, such as blocking IP addresses, filtering spam comments, and monitoring login attempts. This plugin also allows you to blacklist specific countries, domains, or email addresses. With its user-friendly interface and customizable settings, Stop Spammers Security can effectively safeguard your website from malicious attacks and unwanted visitors. Whether you are a novice or an experienced WordPress user, this plugin is an excellent choice for enhancing your site's security and reliability.
Major Features:
Block suspicious behavior
Connect third-party spam defense services
Block/allow IPs, emails, and usernames manually
Members-only mode
---
To Conclude,
Protecting your website from spam is crucial, and these anti-spam plugins can help. From Akismet to WPBruiser, each plugin has its unique features and capabilities to filter out spam effectively. Choose the one that fits your needs and preferences to ensure your website is spam-free and your users have a positive experience.
We are eager to hear your thoughts on this article. Please write it down in the comment section below: