10 + Best Free WordPress Contact Form Plugins 2023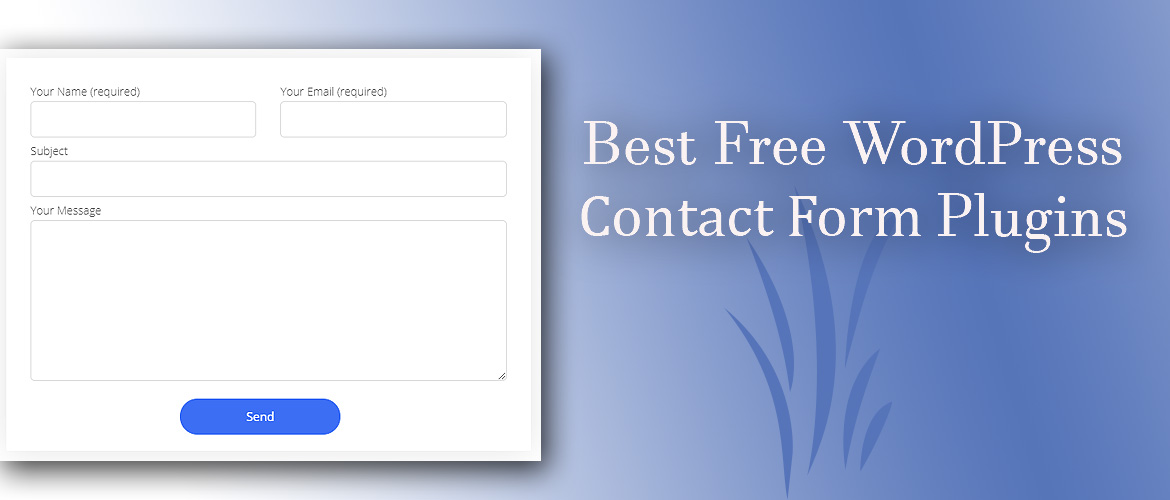 Contact Form has always been a very popular and integral part of a website. A website is incomplete without a contact form. It makes communication very easy between site owners and visitors. Visitors can post their queries through the contact form so that a web owner can understand what our client's demand and need. Hence, a contact form plays an important role in uplifting business communication smoothly. In WordPress, there are some wonderful plugins developed for creating contact forms.
After doing some thorough research, we have come up with the collection below. Some of the Free WordPress Contact Form Plugins have been listed in the given article. Every single plugin are user-friendly and very easy to implement. In modern days, people tend to have various tastes in contact form designs with some outstanding features. So, these plugins are definitely something to be lookout for.
Now, let's check them out below:
---
Best Free WordPress Contact Form Plugins for 2023
---
Contact Form 7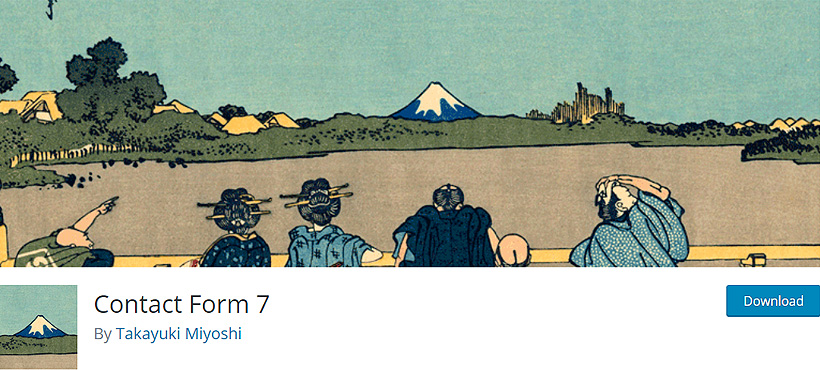 Contact Form 7 is one of the best WordPress plugins for a contact form. It is one of the simplest plugins for updating your site with contact form. Just enter the short-code in the section where you want to have the contact form and you are done. It works perfectly and will look the best on your site. You will always get a free support service via forum or email with the plugin. The plugin is seemingly the one that most WordPress users use in their site and is also the finest among  Free WordPress Contact Form Plugins.
Major Features:
Support Slideshow in Full-width
Drag and drop Slider
Responsive & SEO optimized
Compatibility with Multisite
---
WP Form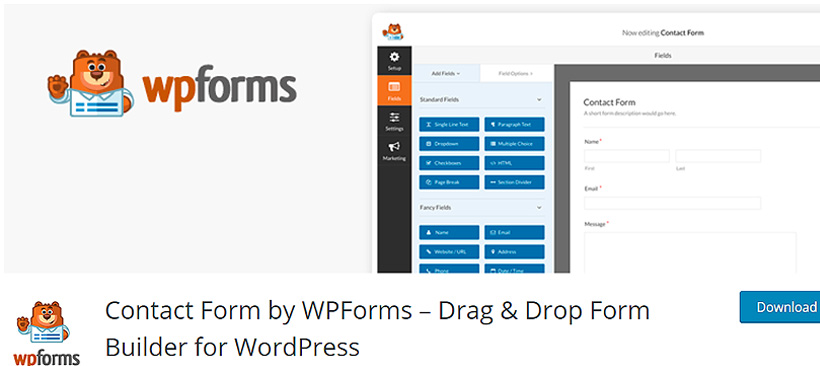 WPforms is a well-known plugin for making a contact form on your website. The plugin is absolutely user-friendly and you can easily create a professional online contact form. Not just a contact form but can also have a feedback form, subscription forms, payment forms, and many others. Being a mobile-friendly plugin it guarantees to have the contact form look fit and great in mobile devices and tablets. It is also a promising one regarding its speed.
Major Features:
Responsive
Easy to Use
SEO Optimized
Compatible with other plugins
---
Form Maker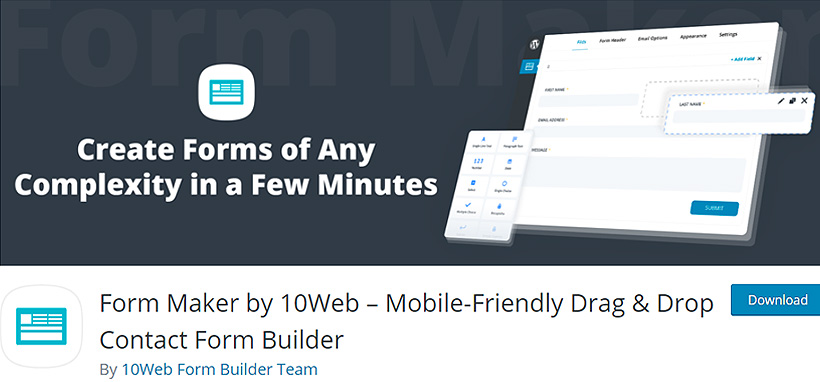 Form Maker by 10Web is also one form building plugin to watch out for. The plugin is very simple and a contact form can be easily inserted in your site with trouble-free. It comes with various options for template design. So, you can have multiple options to design the form. Yes, it saves your time and has your contact form ready instantly.
Major Features:
Mobile Friendly
Intuitive Interface
Pre-built Templates
Fully Customizable
---
Formidable Form Builder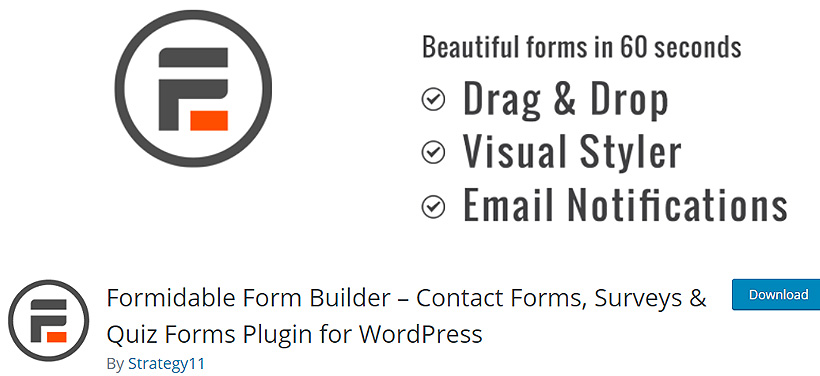 Formidable Form Builder is a precisely distinct plugin for creating contact forms on your website. It is different because users can now make advanced contact form with extra features and amazing fields. The plugin uses the simplest method which is the drag and drop method. Being a responsive plugin, the contact form will undeniably look awesome in hand-held devices like mobiles and tablets. Moreover, the plugin is just great in terms of speed performance.
Major Features:
Uses Drag & Drop
100% GDPR-friendly
Cascading Fields
Datepicker fields
Email Routing
---
Contact Form 7 Database Addon – CFDB7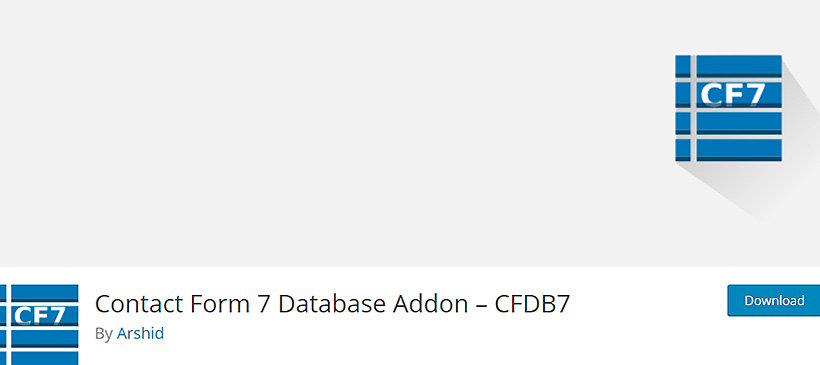 Contact Form 7 Database Addon – CFDB7 is one amazing plugin based on Contact Form 7. Installation is very easy and anyone can set up the plugin in their WordPress admin panel easily. You can easily save all the Contact Form 7 data to your WordPress database. Besides that, you can even display the available address from the list stored in the form.
Major Features:
Doesn't require configuration
Single database table
Lightweight
Export CF7 DB data in CSV file
---
Recaptacha v2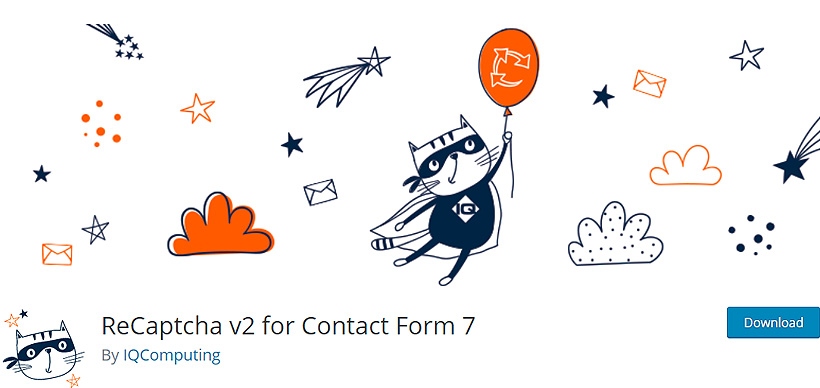 ReCaptcha v2 for Contact Form 7 is easy to use a contact form plugin. Basically this plugin is used for having the reCaptcha v2 tag in your contact form. Since reCaptcha v2 was unavailable in Contact Form 7 in previous years. The plugin is highly responsive and your form will look great in all kinds of hand-held devices such as mobiles and tablets.
Major Features:
Uses reCaptcha
Extremely Responsive
User-Friendly
---
Ninja Form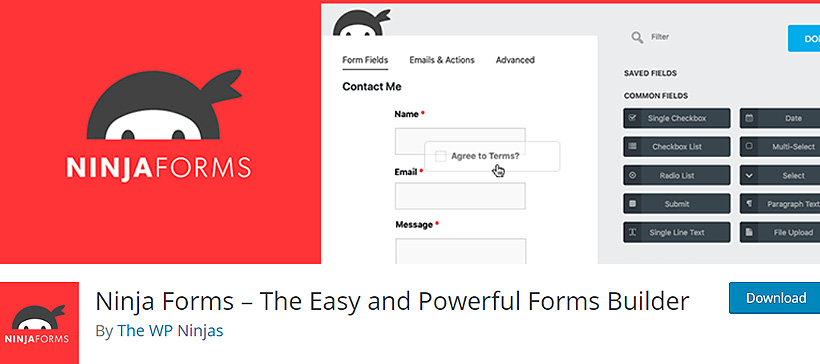 Ninja Forms is one awesome form building plugin that every WordPress user must-have. It's absolutely easy to build a form on website with Ninja Form. No, you don't have to be a tech expert to build one. It has more than 1+million active installs in WordPress.org. Plus the amazing features offered by the plugin are what make it more popular and engaging between users.
Major Features:
Export and Import forms
No Limitations on fields
Validate required fields
Form submission via AJAX
Increased functionality and integrations
---
WPEverest Forms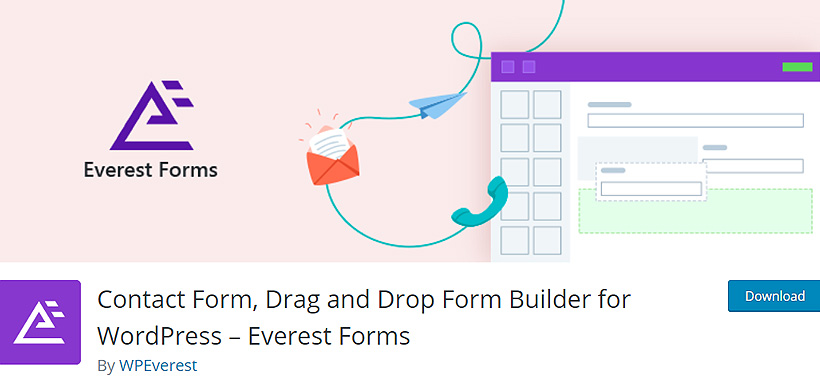 Building contact form is a very easy and seemingly layman task now with the help of plugins like WP Everest. Users will be very excited to use the plugin as it contains all the necessary fields such as radio button, dropdowns, checkboxes, date, and others. Get the form ready with shortcodes. As the plugin is also a mobile-friendly one so it will look great in all kinds of smartphones and tablets.
Major Features:
Very Responsive
Fast & Lightweight
Supports Shortcode
CSV exporter for entries
Google Recaptcha
V2 and V3 Supported
---
Honey Pot for Contact Form 7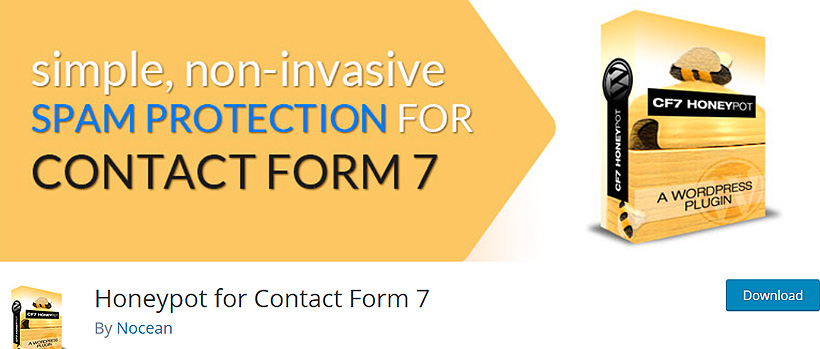 If you are looking for some of the finest contact form plugins then Honeypot for Contact Form 7 is one you can rely on. This awesome WordPress plugin has around 300,000+ active installation on WordPress.org. So, you can be familiar with the popularity of the plugin. Basically it is extended plugin or addons for the Contact Form 7 plugin. It mainly works improving the result of form and checks if any spam received. It consists of an additional field in the form that will control the validation of any form.
Major Features:
Anti-spam functionality
User-friendly
Responsive
---
Caldera Form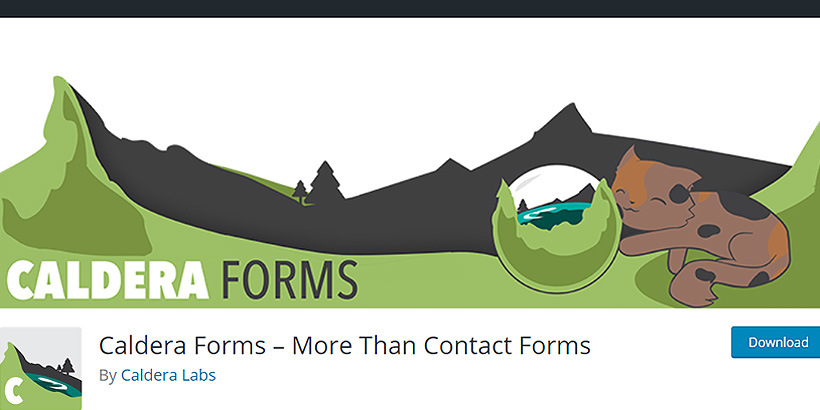 Caldera Forms uses an easy method to implement a lovely contact form on your website. Design the whole layout of the form as you like using the functionalities of the plugin. The plugin uses simple drag and drop method to create an attractive form in your site. Some awesome features are included in the plugin such as Anti-spam, AJAX, notification emails, database entry and much more.
Major Features:
Unlimited auto-responders
Export entries to CSV
Free CDN
Amazing great field types
Easy to use
---
Advanced Contact Form form 7DB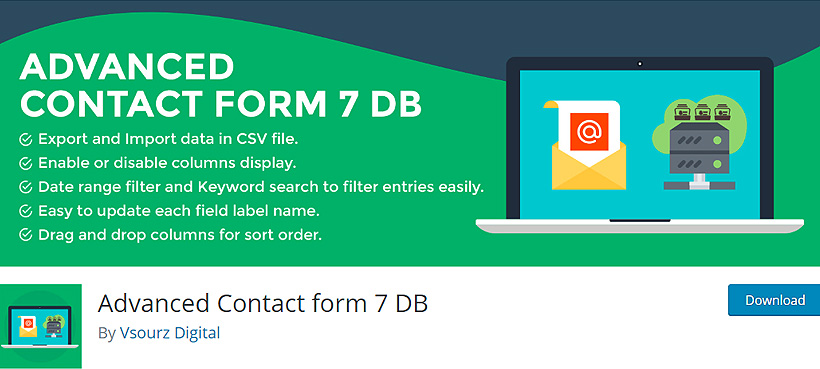 One of the best Contact Form plugin you will ever encounter is Advanced Contact Form 7 DB. It has a manageable system for keeping proper records of all the received forms from clients. By typing any specific keyword, you can filer the needed form from the list. You can easily export the contact form in CSV, Excel or PDF format. The plugin also offers advanced pagination feature through which users can shift from one page to another to get their preferred particular entries.
Major Features:
Multisite feature
Easily modify inquiry data
Securely stores form data into database
Import form details using CSV
Generate shortcode
---
To Conclude,
A contact form has a meaningful part in a website. People often have millions of queries when they visit a website for the first time. So, the contact form is the only way that makes it possible for them to share their queries. Thus, we assure you that the above plugins will be very helpful. Since the list is quite big so you can make your choice and select the best out of them.
Do you have any thoughts or suggestions regarding the article above? Please share it with us in the comment section below: