8 + Best Free WordPress Review Plugins 2023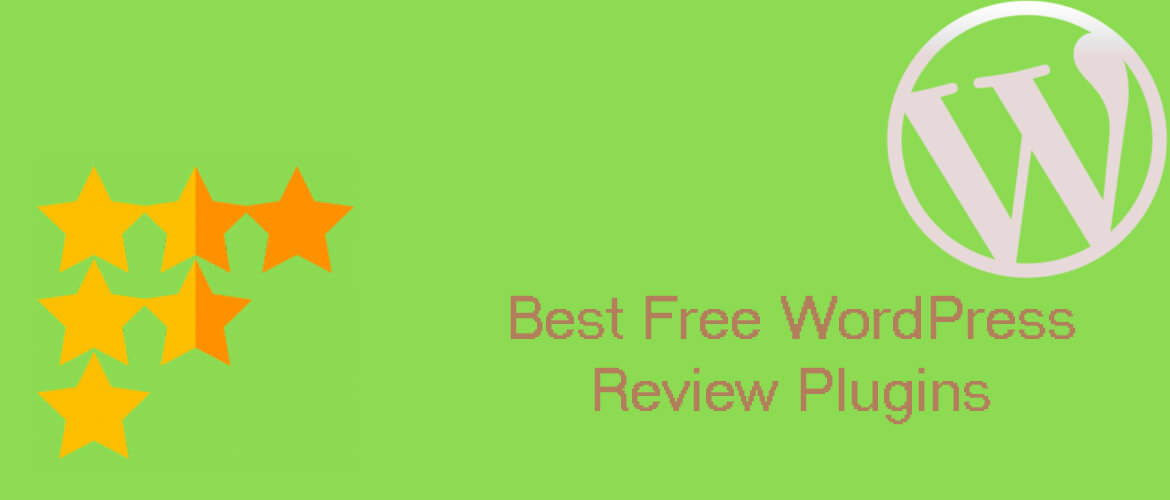 People in today's time are more concerned about the quality assurance of certain products and services. A review is the first thing that they look for before deciding about their purchase. Yes, a review feature is a huge necessity for a website. Normally, a user rating feature is not available in default WordPress editor. Luckily, there are plugins developed to get the review functionalities ready for your site.
Why WordPress Review plugin is useful for your website?
User review or ratings is a modern approach for a website. It holds high significance and has lots of benefits for both site owners and visitors. A site owner can have a record of reviews from clients coming from different parts of the world. With the help of such pieces of information, owners can determine the overall popularity of their site and also helps to make a decision in further improvement. On the other hand, visitors can have a quick check on-site review. Let them know what other people think about the products and services a company has to offer. Hence, people can be able to compare different companies and make the correct decisions.
Though there is a countless number of the plugin available in the market you can't always be assured about it. Of course, you want to have the most popular or effective ones and it may take lots of time to search for them. Here, in this article, we have made a list of some of the best WordPress review plugins. All of the plugins are from reliable plugin development companies and have the maximum number of active installations in WordPress.org.
---
Best Free WordPress Review Plugins for 2023
---
Google reviews widget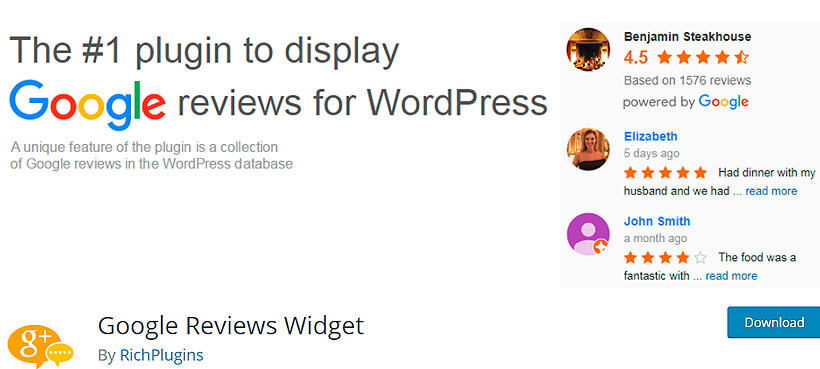 Google Reviews Widget is one of the best reviews of WordPress plugins. It's very easy and effective to use. Simply enter the shortcode and you can have the feature ready for your website instantly. Basically, you can showcase around 5 Google business reviews for a particular place. Plus, all the reviews will be kept safe in the database which you check any time you want. The reviews are absolutely accurate that comes from google plus.
Major Features:
Stars, percentage and point rating system
Fast & Quick
Extremely Responsive
Translation Ready
No limitation on the color option
---
WP Review
WP Review is one of the easiest and user-friendly plugins for creating user ratings on your website. Get a review of your website in the simplest way. There are varieties of options to give your ratings that include stars, percentages, and point ratings. Find the option for updating the colors and positions of individual reviews on your website. The plugins come with a tabbed widget to display recent reviews and popular reviews. You can place them above or down the content as you desire.
Major Features:
Responsive
Easy to Use
SEO Optimized
Compatible with other plugins
---
Rich Review by Starfish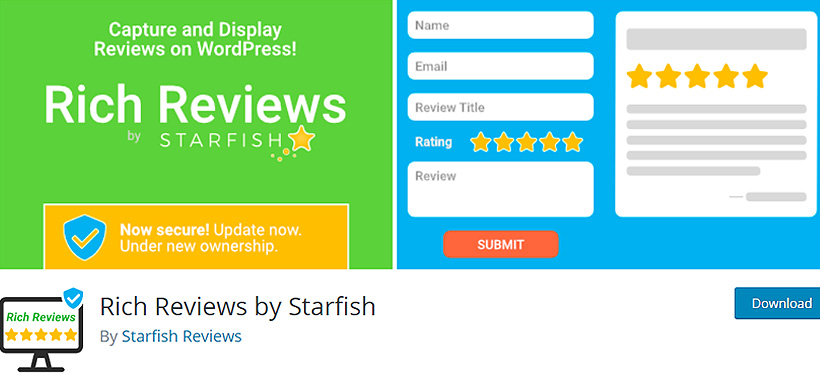 Rich Reviews is one of the most highly popular WordPress review plugin. Let the world find out what people think of your website and your services. User review is one of the most effective tools to promote your website to a mass number of people. By entering one simple shortcode into your website you can have user rating or review section ready. You can choose where you want to put ratings for like it is for products, categories, and the website itself.
Major Features:
Simple & Lightweight
Used with Shortcode
CSS customization
Three choices for reviews
---
Site Reviews
Site Reviews is a fully functioning review WordPress plugin. With the help of this modern tool, visitors can provide their rating for your website, products or any other part of your website. You can use shortcodes, blocks, and widgets to set the review on a website.
Major Features:
Easy to use and implement
Supports Multisite
Protection from Spam
Widgets & Templates
Notifications
---
Ultimate Reviews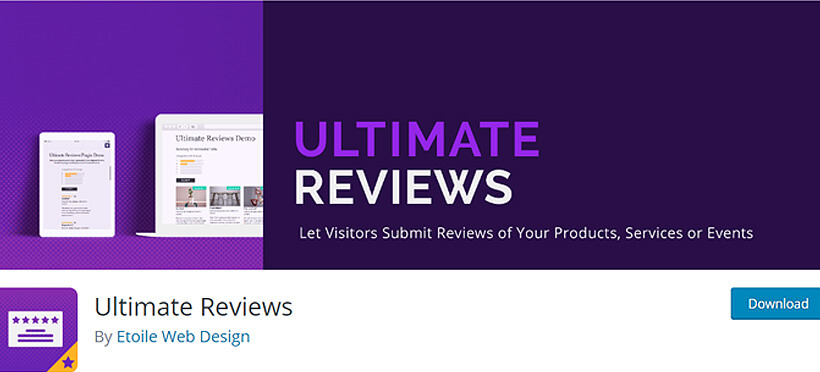 Ultimate Reviews is one widely used WordPress plugin for providing your reviews for a certain website or product. To use this plugin one can setup the shortcodes in the admin panel and have the review ready in your site. It is such a plugin that comes with a wide range of features. Showcase your ratings in different forms such as points and percentages. Get any review ready promptly as you can filter it via product name, author and score in ratings.
Major Features:
Well Managed User Reviews
Multiple rating systems
Flexible
Review pagination
Manage comments & flag reviews
---
Social Reviews & Recommendation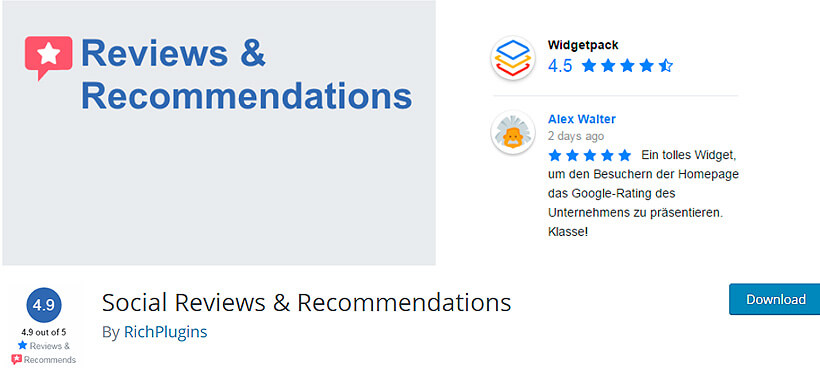 Made especially for facebook we give you Social Reviews and Recommendations. Now you can share your reviews on Facebook with friends and families.Let the world know about what you feel about certain companies and products.This amazing plugin supports all kinds of page builders such as Elementor, Site Origin, Gutenberg and many others.It has a "Read More" link which lets users to make their reviews short in the front page so people can click on it to read the full content.
Major Features:
SEO Friendly
Supports Shortcode
Validate required fields
Form submission via AJAX
Increased functionality and integrations
---
Customer Review widget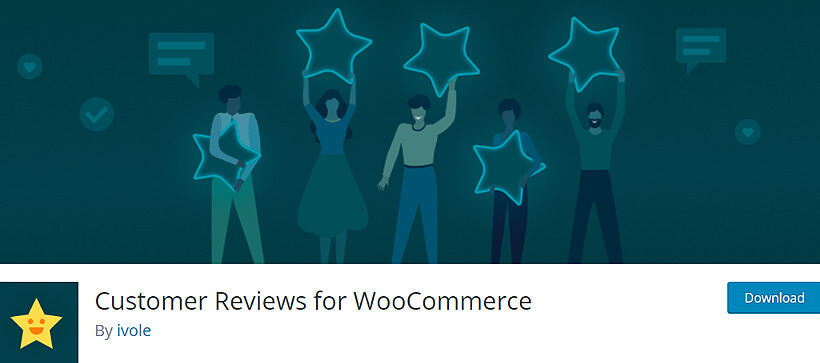 Customer Reviews for WooCommerce is an awesome plugin build for WooCommerce. So, with this plugin customers all around the world can now visit your website and leave their reviews. The lovely interface has been designed smoothly and attractively so people will be fascinated to go through your website.
Major Features:
Very Responsive
Fast & Lightweight
Supports Shortcode
CSV exporter for entries
Google Recaptcha
V2 and V3 Supported
---
WP Product Review Lite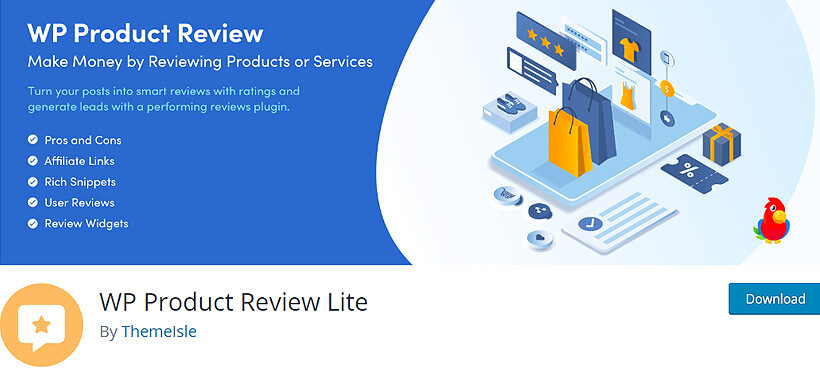 WP Product Review Lite is one of the best plugins for product or website reviews. The plugin is fully featured and lets you lots of things. You can customize the plugin like changing its colors, icon, and other factors. It also supports rich snippets. So, people will be more attracted to your site and feel encouraging to visit your website and showcase their reviews.
Major Features:
Anti-spam functionality
User-friendly
Responsive
---
Finishing Up,
Hope you enjoyed reading the above article. A review plugin not only gives extra functionality for your website but also enhances its looks. So, do try to experiment with them on your site.
If you have any queries regarding the article above then share it with us in the comment section below: