8 + Best WordPress Free Mega Menu Plugins 2023

People in modern times prefer to have a dynamic and astonishing look for their website. One of the most important parts of a website is the menu or navigation section. Visitors are likely to have their eye directly on the menu area of a website whenever they visit a site for the first time. If the navigation is attractive one then it may get visitors to stay on your site for a longer period of time. One of the most stunning and extended features for navigation is the Mega Menu. For a WordPress website, you will find numerous plugins for creating mega menus on a website. But it's definitely a time-consuming process to find the best one. To make it easy, we have made a list of WordPress plugins based on Mega Menu. In this article, you will find an awesome collection of Best Free WordPress Mega Menu Plugins.
A Mega Menu is basically a drop-down menu style designed for giving your website a distinct and eye-catchy look. Each plugin has its own features and functionalities. So, you need to implement differently for each plugin. Moreover, these plugins are free so you can simply download them and start using them.
So, let's not wait further and check this magnificent list.
---
Best Free WordPress Mega Menu Plugins for 2023
---
Max Mega Menu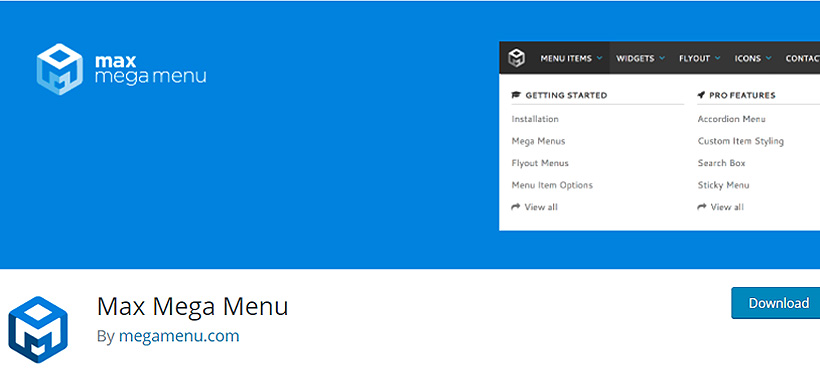 Max Mega Menu is one of the popular plugins which provides the awesome feature of the mega menu for your website. A Mega menu can give your website an attractive and interesting look. It also allows you to edit the overall design of the menu or give changes to its style. It's very flexible and helps to design the website look such as adding animations and many other things. Among the other best free WordPress mega menu plugins this plugin is undeniably the best and popular one.
Major Features:
Off-canvas feature
Various sub-menu transitions
Add icons to menu items
Align menu and sub-menu items
Supports multiple menu locations
---
WP Mega Menu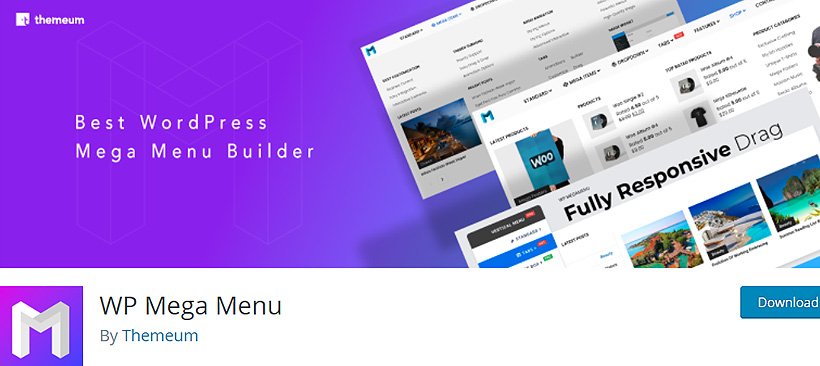 WP Mega Menu is one of the best plugins for creating a mega menu on your website. The plugin is very easy to use and can be implemented with ease. Build an astonishing and mesmerizing navigation menu for your website. As the plugin contains various options for adding and updating styles on the menus users can get most out of it. Alter the color, size of fonts, menu, widgets, etc as you desire.
Major Features:
Multiple themes/skins choice
Menu labeling/badge
Responsive
Menu background image
Google Fonts
Search bar in the menu
---
Quad Mega Menu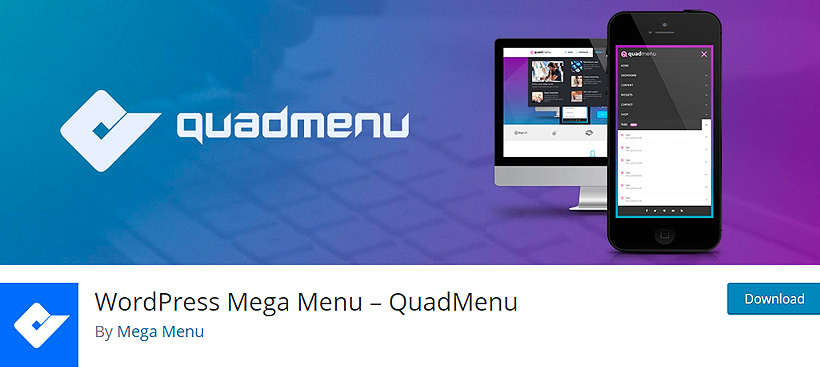 Another powerful WordPress plugin for the mega menu is Quad Mega Menu. For making fascinating and modern megamenu this plugin is the ultimate choice for you. Get amazing mega menus in the most simple manner. Being a very responsive plugin the mega menus will look perfect and great in smartphones and tablets also. Build horizontal and vertical menus in a proficient way. The plugin also includes a distinct feature of having a collapsible or off-canvas menu in mobiles and tablets.
Major Features:
Drag and Drop Feature
Supports multiple menu locations
Automatic and manual menu integration
Sticky Menu
Support for Font Awesome icons
---
MegaMenu for WordPress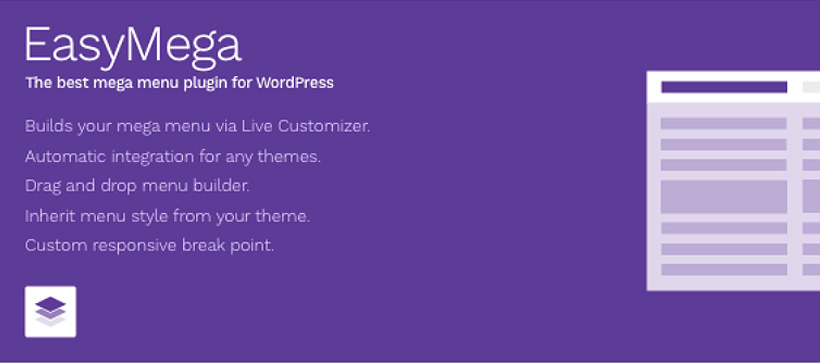 Easy Mega is one simple plugin for a mega menu. It is user-friendly and absolutely trouble-free to use the plugin. Mega Menu is something that every people wants to have for their site. Easy Mega is one plugin you can use for making it happen. The wide range of features offered in Easy Mega is just so exciting it gives you so many things to implement.
Major Features:
Magazine layout
Drag and Drop Mega Menu
Custom responsive breakpoint
Full with layout
Custom mega menu
---
Max Mega Menu – StoreFront Integration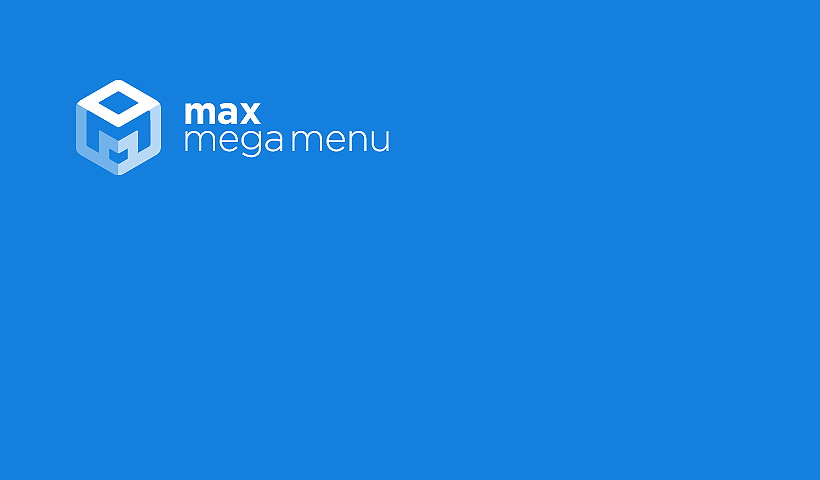 Max Mega Menu has been particularly designed for the theme StoreFront. So, it's necessary that you have the theme installed in your WordPress admin panel to use the plugin. The plugin works effectively and has amazing features to offer. It will give the navigation menu of the theme a new and fresh look. As Storefront has a simple look you can use this plugin to enrich its design and make it more attractive.
Major Features:
Responsive
Flexible
Background Image
---
Clever MegaMenu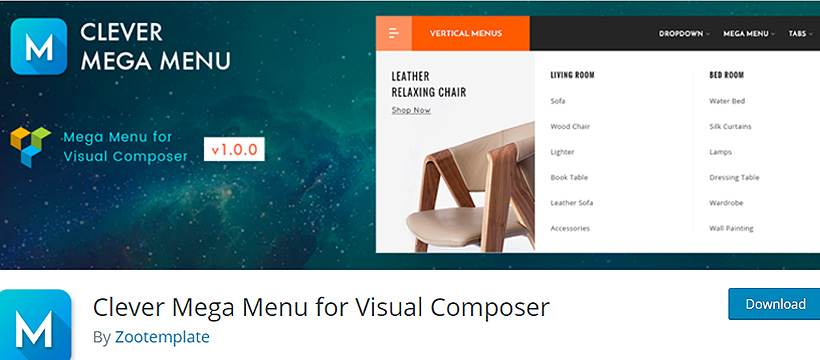 Clever Mega Menu is a plugin with some unique and exciting features made particularly for Visual Composer. No wonder it been named Clever Mega Menu. As the menu is the most attractive section of any website the plugin will let you make sure that you can have the best tools to make it remarkable. You can simply use its astonishing features with which you will be able to re-design the mega menu of the site. Users are free from the need to have any coding knowledge to carry out any action. You can easily use the CSS codes and the transition effects to get the versatile and modern look for the menus. With around 100 menu theme options to choose from you can make the most out of this awesome plugin.
Major Features:
Choose Menu icons, skins & layouts
Import/Export menu themes
Touch, retina, and accessibility-ready
Multiple CSS3 menu transition effects
Multiple locations for menu
---
Clever MegaMenu for Elementor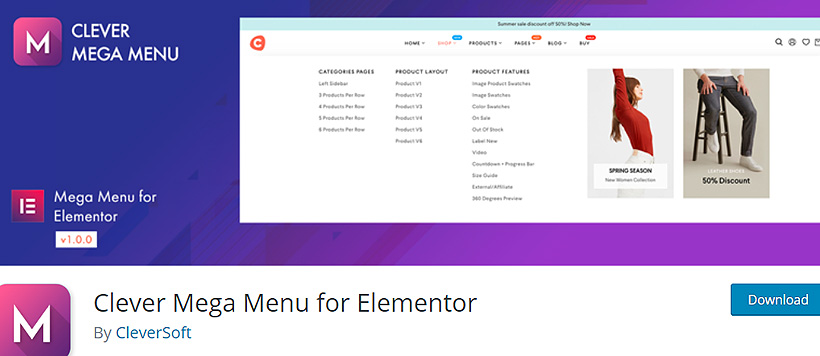 Clever Mega Menu for Elementor has been developed associating with Elementor. Though it not guaranteed to work with Elementor Pro. It consists of some great features to design the menu in the most creative way. You can use widgets, shortcodes, and raw HTML for adding mega menus on your site. Design different items of the menu perfectly like the menu icons, skins, and layouts.
Major Features:
Show/Hide menu item
RTL ready
Touch, retina, and accessibility-ready
Multiple CSS3 menu transition effects
Drag and drop content builder
Multiple menu locations
---
Cool Mega Menu Plugins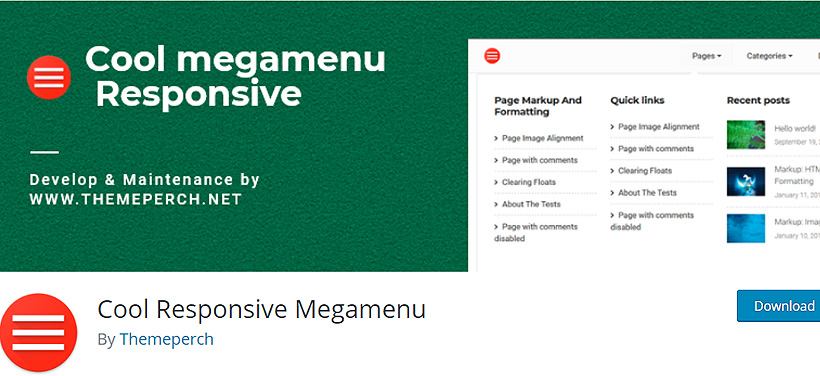 Cool Megamenu is one useful plugin for making megamenus. This mega menu plugin is very effective and practical to use. Users who are a newbie to WordPress will also be able to use this plugin without any difficulty. You can create some really beautiful mega menus with the help of this plugin. You can use some efficient codes to set mega menus on your site.
Major Features:
Well Responsive
Easily Customizable
Creative & Powerful
---
Opal Mega Menu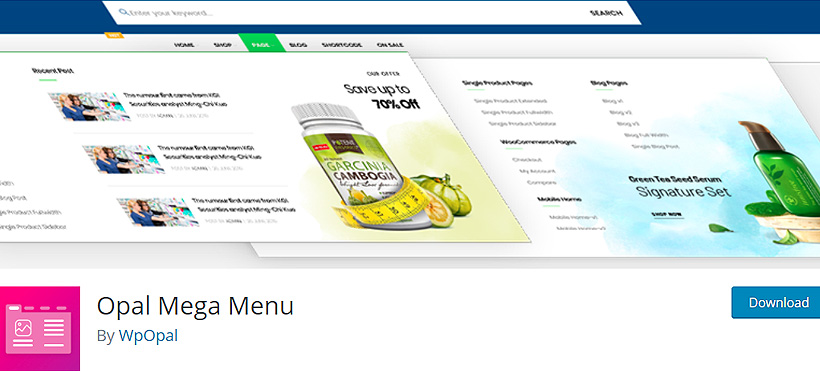 If you are using the Elementor plugin than Opal Mega Menu is the best choice for you. This easily customizable mega menu plugin works incredibly and users can have a modern and stylish designed mega menu for their website. The plugin is absolutely responsive and SEO friendly as well so the menu section will look amazing in your hand-held devices and works effectively in terms of search engine.
Major Features:
Mobile-friendly
Simple to Use
SEO Optimized
Good compatibility with Themes & Frameworks
Can be integrated Easily
---
Closing Up,
As we come to an end we hope the above collections benefit you in enhancing your website. A Mega Menu is very popular among WordPress users and has also been successful in wooing visitors. You can make your choice and use any one of them to get that desired look for your navigation.
If you want to share anything in regards to this article then please share it with us in the comment section below: