8 + Best Free WordPress Google Map Plugins 2023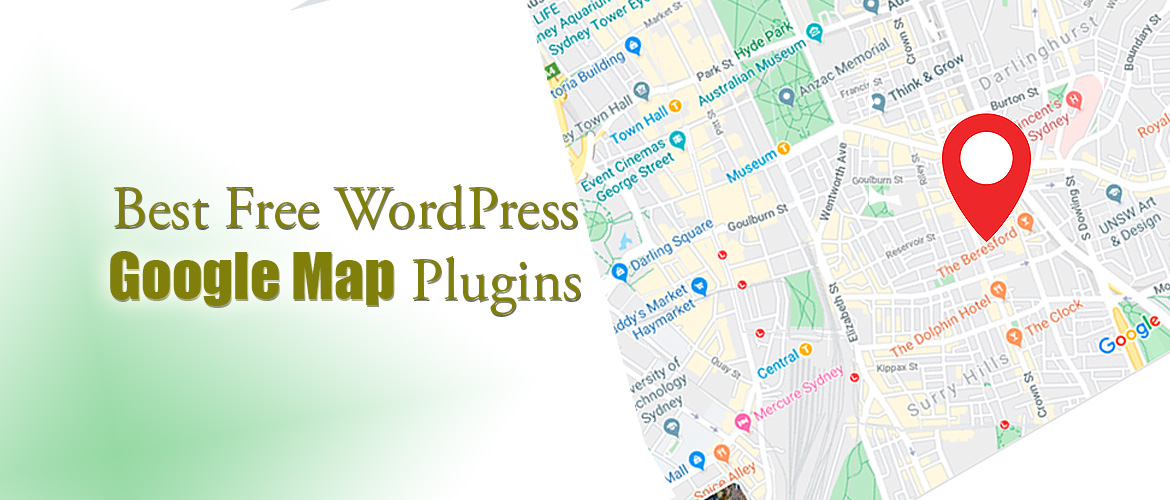 If you are a tech or web lover then you must be familiar with Google Map. In fact, it's a must need feature for every emerging website. A map can give your website a innovative and informative look. In WordPress, it is commonly seen a google map being used in most of its website. Generally, there are many themes which has in-built google map functionality which makes it easy for users to create map on their website. On the other side, WordPress also offers variety of plugins that can extend the functionality of implementing a Google Map. And in this article we are going to check out these best WordPress google map plugins.
Why is Google Map Plugins necessary?
Well, if you are running any website for your business or any organization then it's obvious that you would like to explore it to people worldwide. A contact address is the major section of any website and with the feature of google map things get more interesting. Yes, your site will not only look beautiful but also gives people a glance to find the location of your office accurately. Consequently, it will uplift your business to a higher level.
We have very carefully handpicked these plugins from the official website WordPress.org. Plus, they are free to use so why not experiment it with your own site? So, here we present this amazing list of plugins for google maps.
---
Best Free WordPress Google Map Plugins for 2023
---
WP Google Maps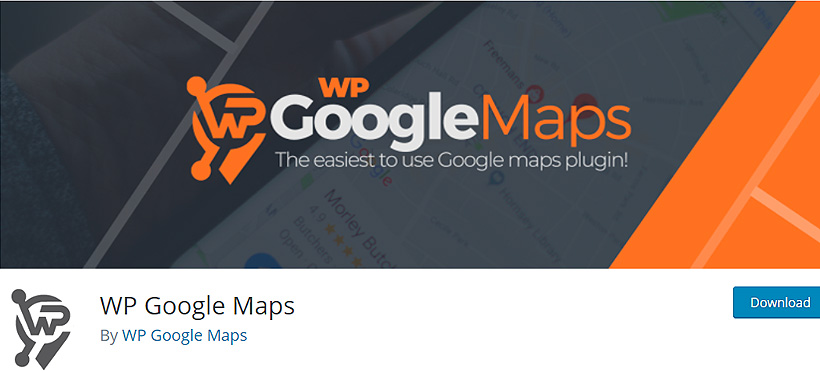 WP Google Maps is one of the powerful and widely used WordPress plugins for showcasing Google Map on your website. You can place the shortcode of Google Map in any section of posts, pages and also on the homepage of the side. The plugin is very simple to use and just normal steps for its installations. You can use map markers to make it easy for people to know the places instantly. The Google Map Streetview is another aspect of the plugin that can be fully utilized so people can have a clear view of the map.
Major Features:
Simple to use
Extremely Responsive
Supports Streetview
Store locator functionality
Google Maps Transport Layer
UTF-8 character support
---
Google Maps Easy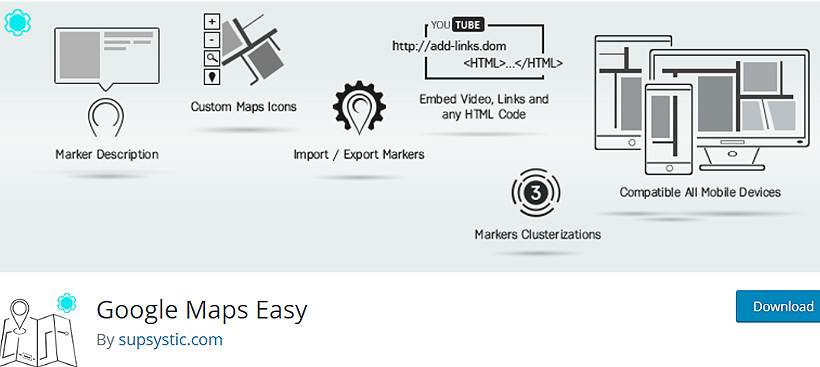 This amazing plugin Google Maps Easy is one plugin that is highly recommended for presenting a Google Map on a website. Get the Google Map on your site with less effort. Take full advantage of the varieties of map markers for enhancing the location and make it more attractive. It works with a shortcode and even with a PHP code and within a seconds you will get a complete Google Map ready. Enrich your website by drawing unique figures and path on the map which makes it more appealing.
Major Features:
Easily Customizable
Highly Responsive
Map with Social Share Buttons
Front-end map and markers editing
Map style custom themes
---
Google Maps Builder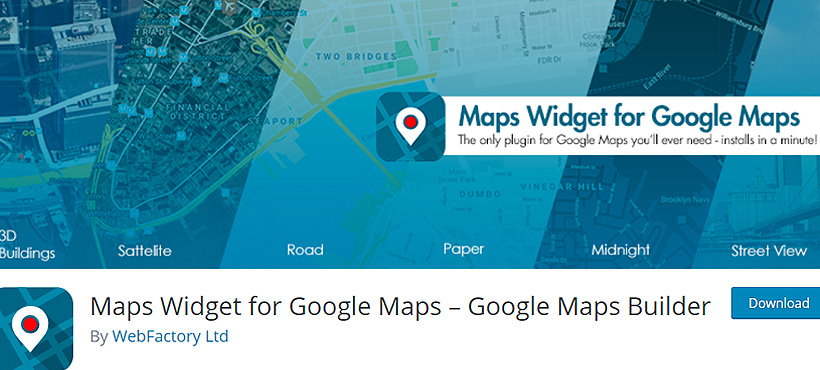 Google Maps is undeniably one of the most important for today's website. Google Map Builder is well-known among WordPress users and also has an attractive number of downloads in WordPress.org. This user-friendly plugin has a specialty of quick installation and implementation. Modify the overall size, the shape of the map like adjusting its width, height, etc. Alter the color, size, label for the pin in the Google Map.
Major Features:
Custom google map size
Google map color schemes
Custom map pin icon
Image format
Google Map Language
Lightbox features
---
WP Google Map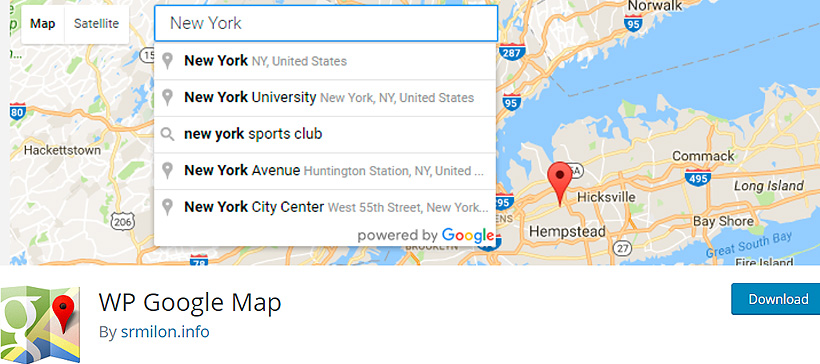 Another effective WordPress plugin for Google Maps is WP Google Map. No need to be a tech expert to use the plugin into your website. You can enter the shortcode in the widget and have a fully made Google Map into your website. Since the plugin is immensely responsive the map will look great and organized on your website. Use the available map marker to the exact location you desire. The plugin comes with a well-made documentation for guidance along with dedicated support service.
Major Features:
Easily Customizable
Alter zoom level
Add a widget by Shortcode
Supports UTF-8 font encoding
Automatic Google Map location identification
---
WP Google Map Plugin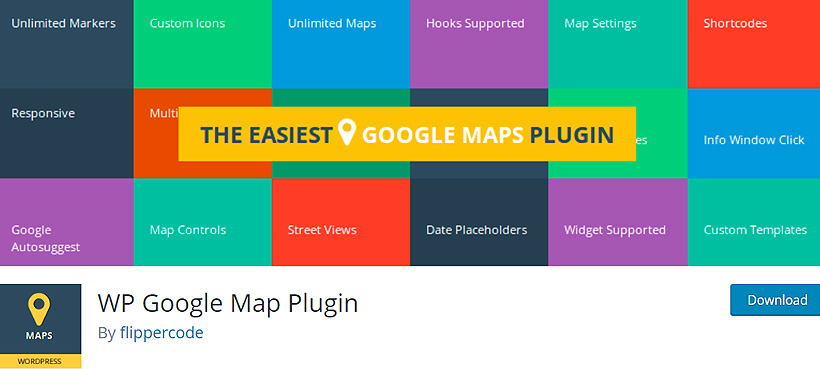 WP Google Map Plugin is again one famous and useful plugin for a Google Map. It is one of the easy to use plugin through which one can create a Google Map on a website. You can place the Google Map in any section of the website like posts, page and any other part. The plugin includes unique four kinds of maps Satellite, Terrain, Roadmap, and Hybrid. It is draggable and can update the height and width of the map.
Major Features:
Extremely Responsive
Supports Street view
45° imagery functionality
Update map functionality
Supports Multi-lingual
---
Google Map Plugins by Intergeo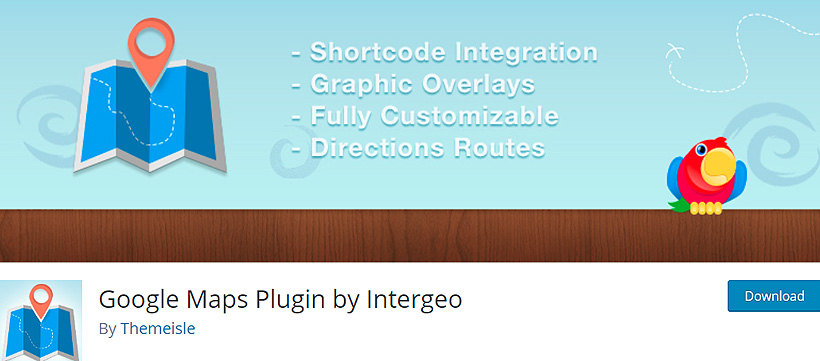 Google Maps Plugin by Intergeo is one amazing WordPress plugin for setting a Google Map to a website. Creating a map via this plugin is very interesting and different. Just a simple click on the Intergro Map link and a lovely map will appear on your website promptly. The plugin consists of a library where all of the maps you have created will be stores. So, you can always them like updating them or removing them whenever desired.
Major Features:
Setup initial position and zooming level in Maps
Add multiple locations
Adjust controls settings and positioning
WordPress location custom map
Setup map color styles
Add markers
---
10Web Map Builder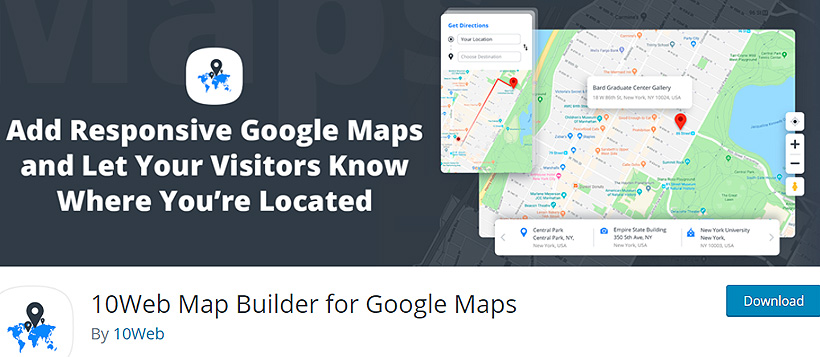 If you want a easy to use plugin for google map then 10Web Map Builder is here for you. This plugin is amazing and works effectively for constructing google map in a website. It is composed with robust and flexible features. Though it's a free version but the features it provides are just awesome and lets users do so many things. Customize the overall look of the map like enhancing the icon design, colors of marker and many others.
Major Features:
Multiple Map Layers
Supports all Map Types
Responsive Maps
Supports all Google Map Controls
Custom Marker Icon Builder
Store Locater
---
Maps Marker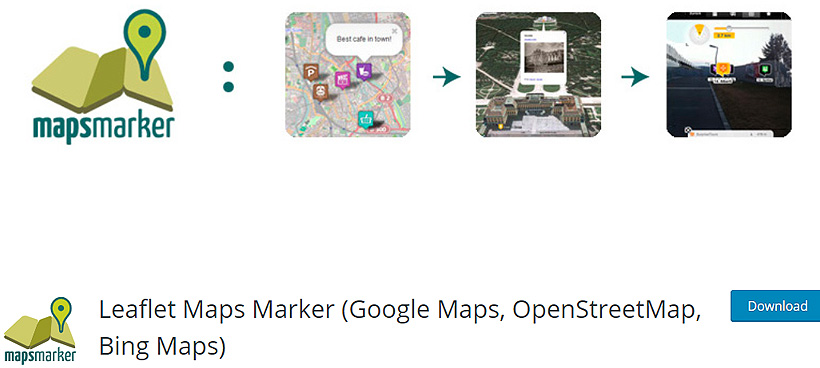 Leaflet Maps Marker is one of the powerful plugin for showing maps in your website. A map is one of the most important section of a website so a well made google map plugin is needed. So, we suggest you this plugin for reaping out best result for a complete map. . You can now show directions in your site in the most convenient way. Set up pop-up text for a certain location in the map. Modify the look of the marker by changing its color and style.
Major Features:
Show direction for locations
Varieties of Customizable icons
Make QR codes for standalone maps
Markers to Pin any place
Automatically generated Geo sitemap
---
Ultimate Maps by Supsytic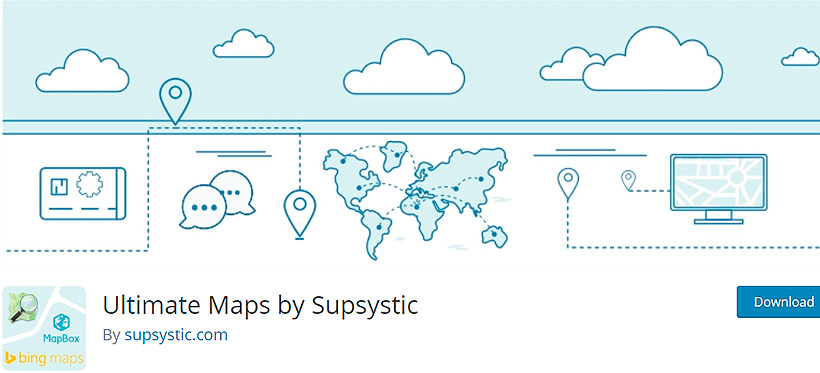 Supsystic Ultimate Maps plugin has developed for letting user have the features of Google Maps. With this plugin, you can can create maps of bing maps, openstreetmap, leaflet maps and many others. Design and customize your map in your own preferred way. You will have a variety of option to gave a modern look in your website. Update the icons along with theme style and design as you want.
Major Features:
Unlimited Markers
Add map via shortcode or PHP code
Map with Exposition slider
Easily Customizable
Map Markers Clustering
---
Closing Up,
These powerfully featured plugins are very easy to use. An attractive and well-made google map can give your website a modern touch and also acts as a medium to boost your business. People around the world can easily find your location with the help of maps.
Do you have any suggestions regarding this article? You are always welcome to share it with us in the comment section below: