5 + Best WooCommerce Authorize.net Plugins 2023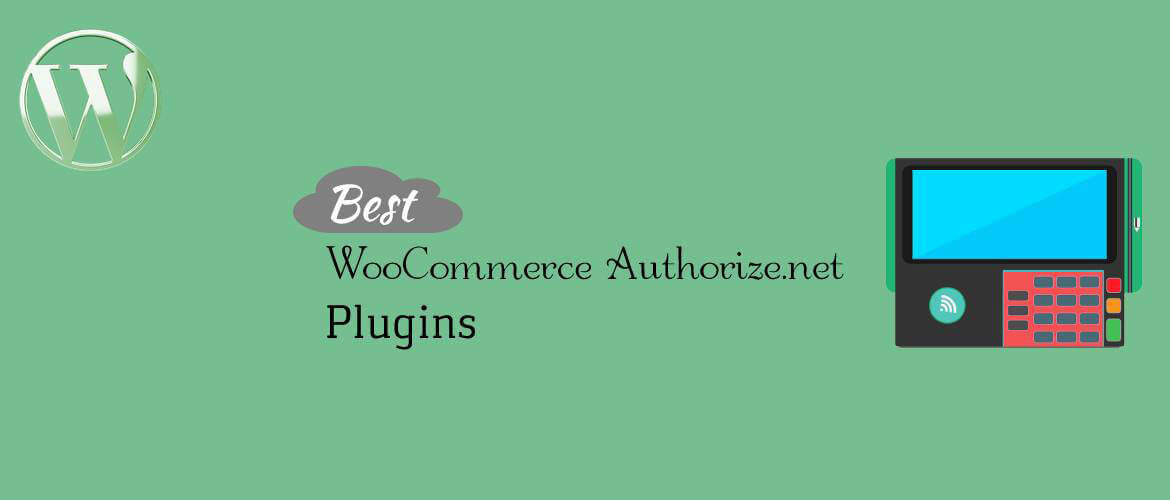 Searching for the best WooCommerce Authorize.net Plugins?
Online payment is a crucial factor for an eCommerce website. Generally, we have many online payment methods such as credit cards, debit cards master, and visa cards. But what's more important is that we need a payment gateway to make transactions for online payments. Authorize.net is one of the best and most well-known payment gateway that will let users make online payments on your website. In WordPress, there are numerous plugins based on Authorize.net.
Why do we need an Authorize.net Plugin?
Authorize.net is a widely used payment gateway that enables businesses to securely accept credit card and electronic check payments. By integrating an Authorize.net plugin with your WordPress website or WooCommerce store, you can easily accept payments from customers and ensure their transactions are secure. Using an Authorize.net plugin eliminates the need for manual payment processing, reducing the risk of errors and making the checkout process faster and more convenient for your customers. Additionally, Authorize.net plugins often provide advanced features such as recurring payments and fraud detection to help protect your business and ensure payment security. Overall, an Authorize.net plugin can streamline your payment process and provide a more seamless and secure experience for your customers.
In this article, we have made a very good collection of the Best WooCommerce Authorize.net Plugins. Hence, here's the list goes below :
---
Best WooCommerce Authorize.net Plugins for 2023
---
Authorize.net Payment Gateway For WooCommerce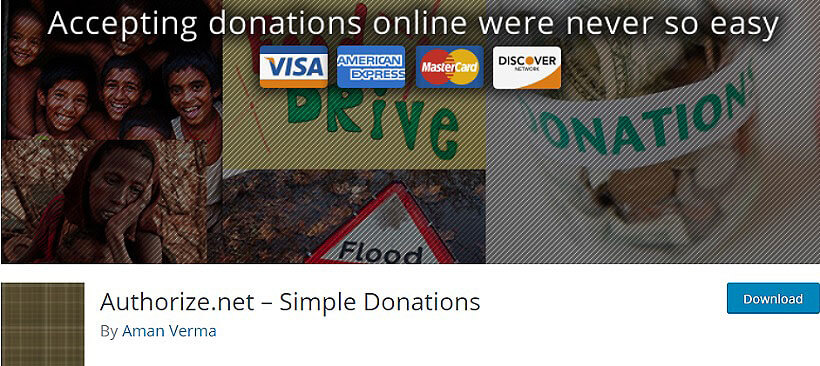 Authorize.net Payment Gateway for WooCommerce is a payment plugin that allows merchants to accept credit card payments securely on their WooCommerce store. This plugin integrates with the WooCommerce payment gateway system, providing a seamless checkout experience for customers. With this plugin, you can accept payments from all major credit cards, including Visa, MasterCard, American Express, and Discover. Additionally, you can use features like automatic refunds, fraud detection, and tokenization to enhance the security of your transactions. This plugin is easy to set up and configure, making it an ideal payment solution for WooCommerce store owners who want to expand their payment options.
Key Features:
No SSL required
Easy to install and configure
No PCI required
Use hosted solution provided by Authorize.net
---
Authorize.Net Payment Gateway For WooCommerce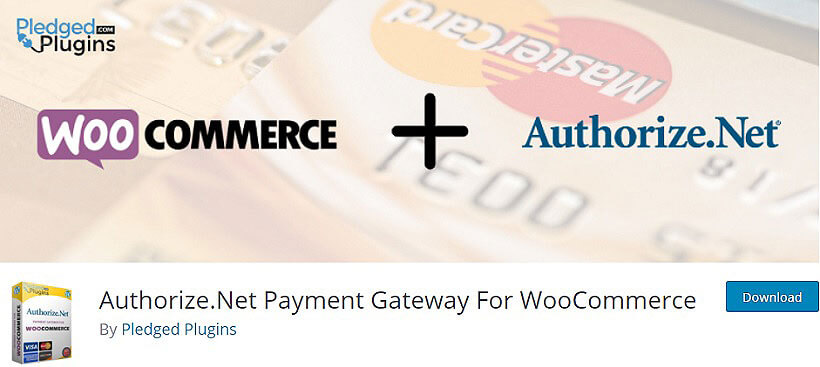 The Authorize.Net Payment Gateway For WooCommerce is a plugin that enables online stores to accept payments through the Authorize.Net payment gateway. With this plugin, users can securely accept credit card payments, eChecks, and other payment options. The plugin offers various features such as fraud detection, customer information storage, and recurring billing. It also provides support for multiple currencies and languages. The plugin is easy to install and configure, and it integrates seamlessly with WooCommerce. With this plugin, online merchants can offer their customers a safe and reliable payment processing solution, thereby improving their online shopping experience.
Major Features:
Secure Credit Card Processing
Refund via Dashboard
Restrict Card Types
Gateway Receipts
---
Authorize.Net CIM for WooCommerce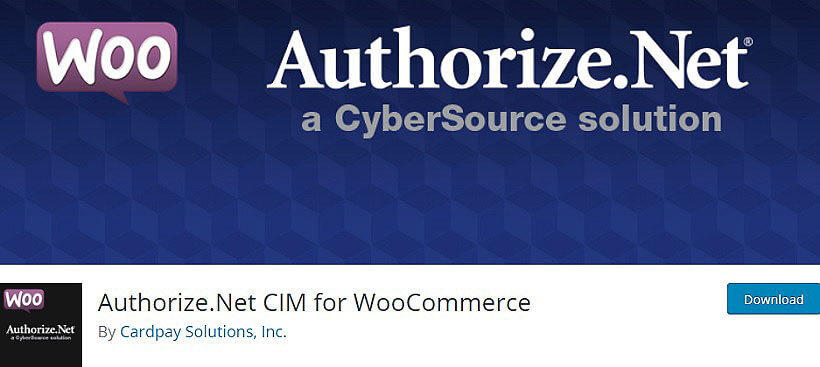 The Authorize.Net CIM for WooCommerce plugin provides a secure and easy way to process payments on your WooCommerce store. With this plugin, customers can store their payment information securely on Authorize.Net's servers, simplifying the checkout process for future purchases. This plugin also supports a variety of payment methods, including credit cards, eChecks, and Apple Pay. With robust security features and support for the latest payment technologies, the Authorize.Net CIM for WooCommerce plugin is a reliable choice for any online store.
Major Features:
Supports WooCommerce 2.2+ automatic refunds
Stored credit cards are securely tokenized
Supports WooCommerce Pre-Orders
AVS and CVC responses are shown on Order Detail page
Save credit card information
---
WP Service Payment Form With Authorize.net

WP Service Payment Form With Authorize.net is a plugin that enables users to integrate Authorize.net payment gateway to their websites. It allows users to create payment forms easily, and customers can easily make payments through credit cards or bank accounts. The plugin is suitable for businesses that provide services or sell products online, and it ensures secure and fast payment transactions. With this plugin, users can track their payments, and it offers a user-friendly interface for both customers and website owners. It's an excellent choice for those who want to add Authorize.net payment processing functionality to their WooCommerce store.
Major Features:
Simple to Use
reCAPTCHA system
Add more custom fields via coding
Enable/disable send customer receipt setting
---
Authorize.net – Simple Donations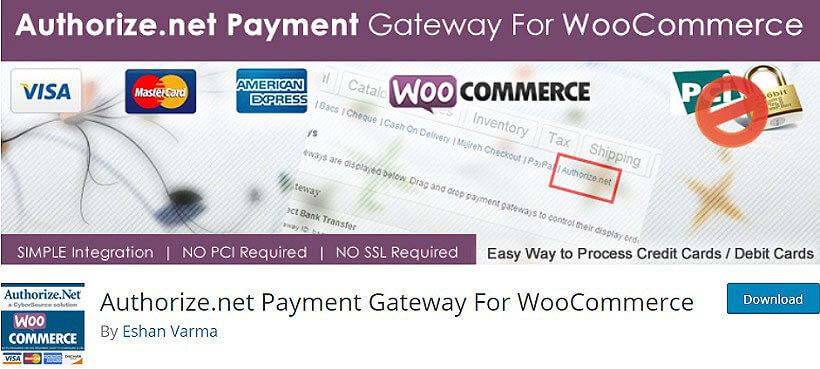 Authorize.net – Simple Donations is a plugin for WordPress that enables easy and secure online donations using the Authorize.net payment gateway. The plugin comes with a simple and user-friendly interface that makes it easy to create donation forms that can be integrated seamlessly into your WordPress website. It supports a range of donation options, including one-time and recurring donations, as well as the ability to set custom donation amounts. The plugin also offers robust security features, including SSL encryption and a fraud detection suite, to ensure that your donors' information is kept safe and secure.
Major Features:
Easy to configure in admin section
List of all donations and their details
Add this [wds_donate] shortcode
Easy shortcode to use
---
Accept Authorize.NET Payments Using Contact Form 7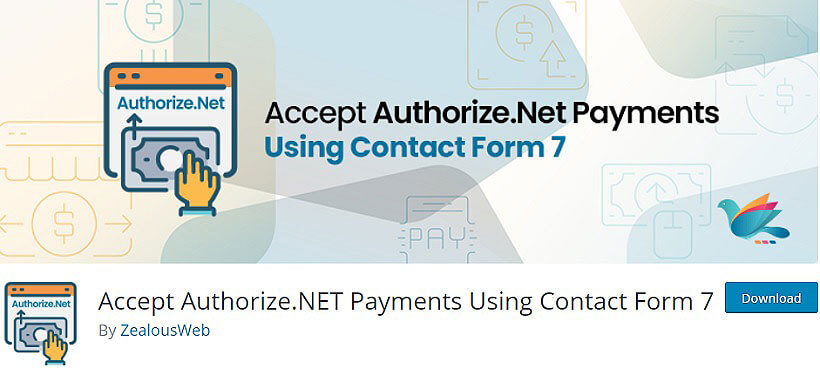 The "Accept Authorize.NET Payments Using Contact Form 7" plugin allows users to easily integrate the Authorize.NET payment gateway into their Contact Form 7 forms. This plugin supports both one-time and recurring payments, making it perfect for accepting donations, membership fees, or any other type of payment. Users can customize the payment form to match their website's design and easily track payments through the plugin's dashboard. Additionally, the plugin supports multiple currencies, making it a great option for businesses operating internationally.
Major Features:
Add 'Success Return URL' and 'Cancel Return URL' pages
Admin can view and delete the payment data
Export Payment data in Contact Form 7 to CSV
Filters and search facility at the Admin side
Supports multiple forms on a single post or page
---
Lastly,
The WooCommerce Authorize.net plugins listed above offer a range of features to help you accept online payments seamlessly. Choose the one that best suits your needs and enhances your customers' shopping experience.
Do you have any thoughts or suggestions regarding the article above? If yes then share it with us in the comment section below: