5 + Best WordPress News Plugins 2023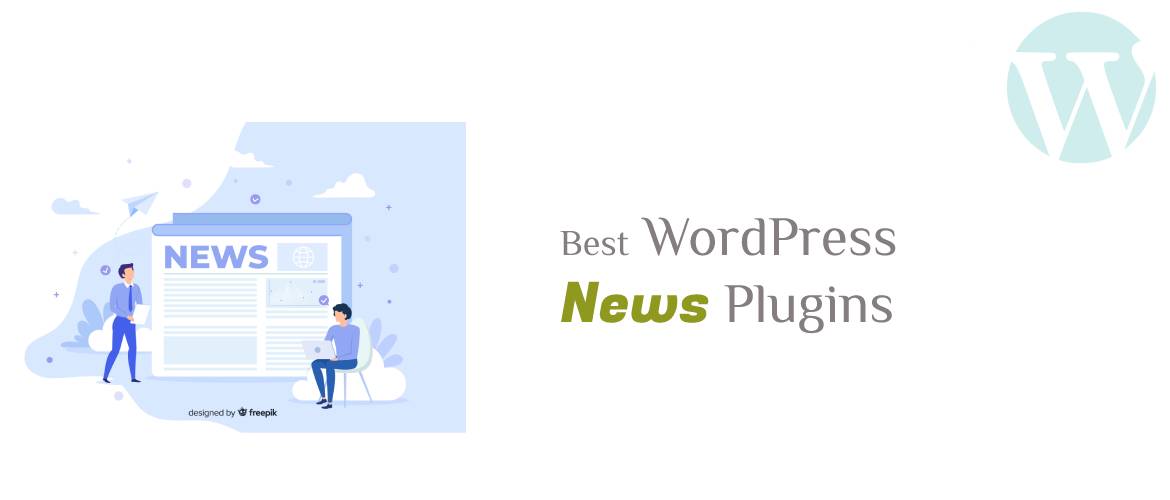 Want to add News widgets into your website ?
If you have an existing news website or would like to create one then this article has some wonderful thing to offer. Well, we find many websites based on news and magazines in the market. Mainly people use the WordPress theme designed particularly for news industry. Even though the theme has all the thing necessary for a news site but there are some additional things that will add another level of elegance into your website. Here, we are talking about the best WordPress news plugins.
News plugina are such a kind of plugins that will let users implement some amazing functionalities into their site. Things such as news ticker, widgets and scroller. It can be possible that you can find them in any news or magazine theme. But using these plugins you can actually add the features in an more advanced way. You can even customize them as needed.
So, what are these plugins. Let's see them below:
---
Best WordPress News Plugins 2023
---
WP News and Scrolling Widgets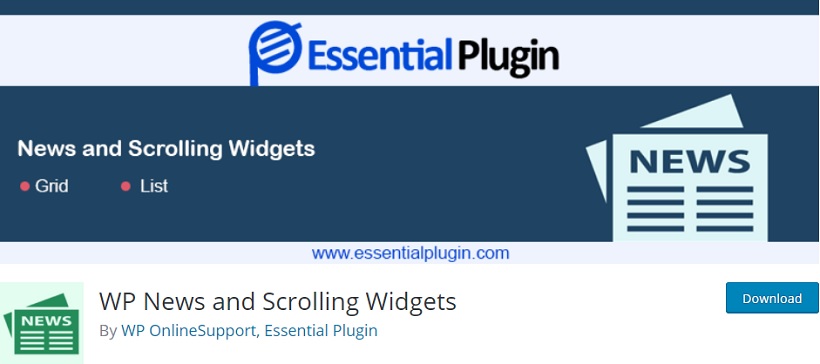 WP News and Scrolling Widgets is one of the fantastic plugin designed for implementing news ticker or scroll into your website. It is a very easy to use plugin and let you have your desired design for spreading news list.
Key Features:
Translation Ready
Added List view
Category wise News Sports
Added pagination
Added shortcode parameter
---
New User Approve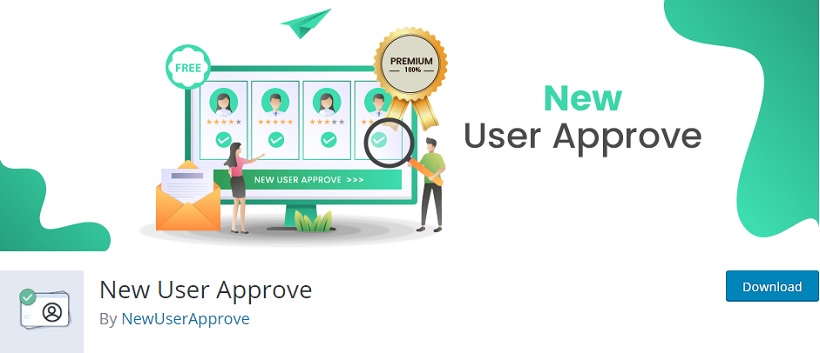 New User Approve is one of the best ones for quotes. You can do various kinds of things within the dashboard like changing its design and functionalities. Add rearrange the menu items in the panel and also play with its look like changing. Customize the appearance of the menu and sub-menu design. Users will also be able to hide or show the elements of the menu without any difficulty.
Major Features:
User-friendly
Translation Ready
Impressive User-interface
Simple & straightforward
---
Simple News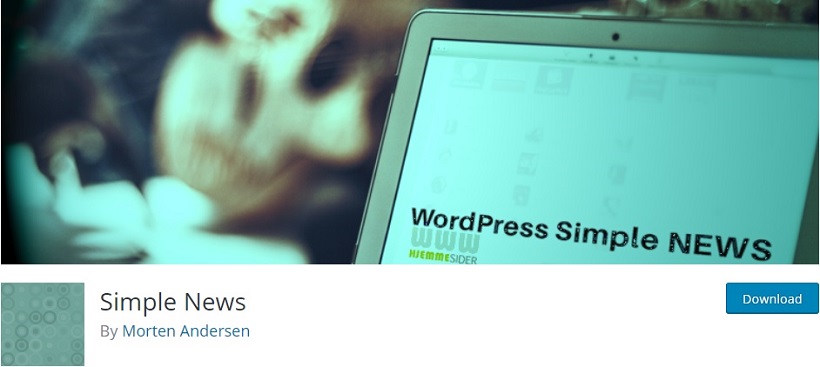 Simple News is one of the best plugin designed for news ticker and widgets. Install the plugin and get a modern look for the dashboard easily. Enhance the entire appearance of the dashboard as you have always wanted. Set logo in your dashboard and change its color and also maintain the whole look of the admin panel in a mesmerizing way.
Major Features:
Shortcodes
Two new Widget areas
On the options page
A post type "NEWS" is added
News are order by pub date
---
News Announcement Scroll

News Announcement Scroll is one of the most simple and easy-to-use plugins. By just a quick installation of this plugin, users can have the support forum feature on your website. Share your queries and answers with as many people as you like. Being very easy to use most users will quickly get used to it. Plus the features are amazing and highly helpful. You can have strong control over the user roles and other factors.
Major Features:
Easy style-override feature
Responsive admin layout
Supports localization
Hide the news temporarily
---
Vertical News Scroller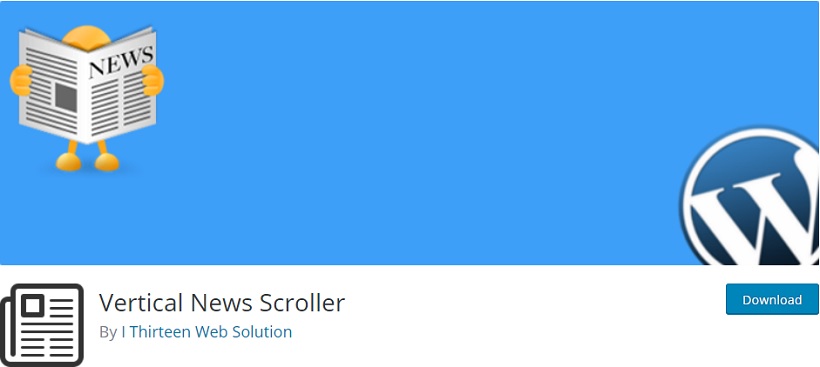 Vertical News Scroller is one finest WordPress plugins build for upgrading job vacancies on a website. Users will be able to update the design of every section of the admin dashboard. Things like login, register, forgot password, and many others. Modify the whole appearance of the templates as you want to and experiment with its look using colors and fonts.
Major Features:
Responsive admin layout
No Need Of Knowledge of PHP, HTML
Display desired number of news to users
Add any number of news
Admin can manage scrolling news speed
---
T4B News Ticker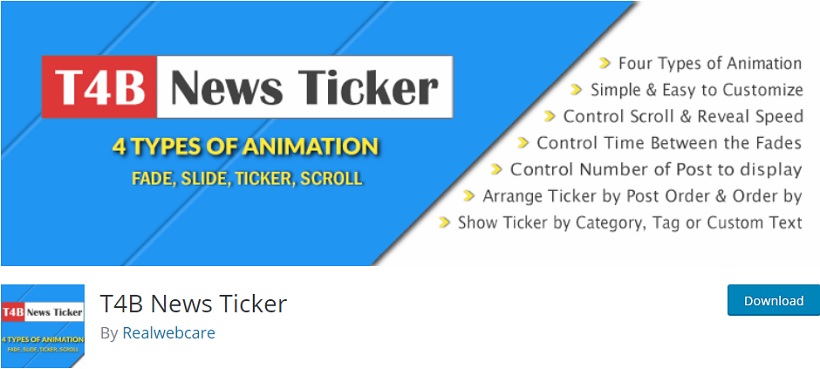 T4B News Ticker is one plugin that offers a wide range of features. The striking feature of the plugin will hide automatically when the page is fully loaded. Update calculating features in the admin panel and also be able to enqueue your own Google Web Fonts. You will be able to add shortcodes in widgets on the front page of your site.
Major Features:
7 types of animation effects
Scroll continuously without breaks in loops
Create more than one News Ticker
RTL support
Set the ticker height, radius, font, border, etc.
---
Lastly,
These plugins are surely something to try with a website. Hope you will use them for making your site and images secure and protecting them from theft.
We welcome you to share your thoughts or suggestions regarding the article above and write them in the comment section below: