15+Best Free WordPress Themes for Freelancers 2023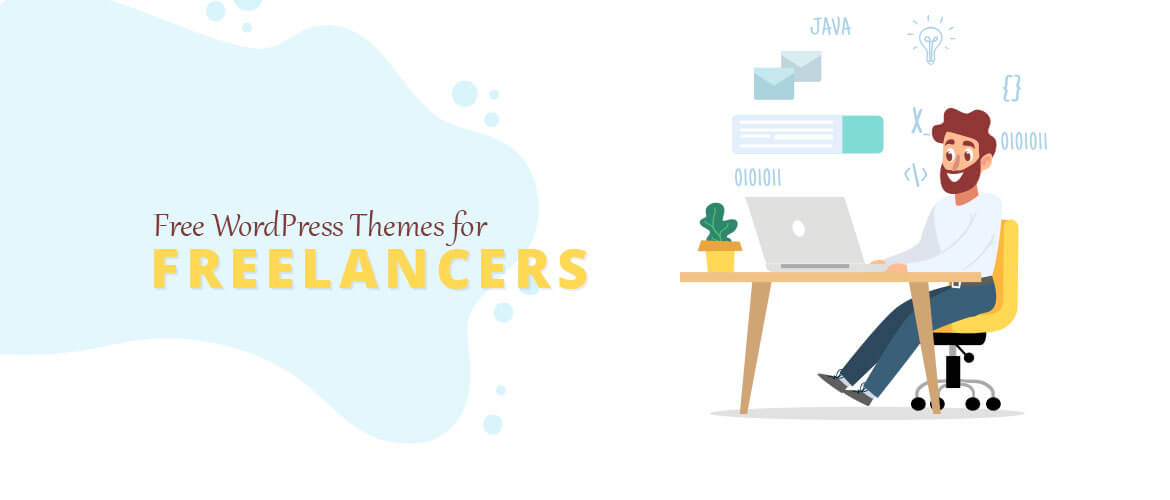 In an online world, we all are familiar with freelancers. Freelancers can be defined as people or professionals who work from home and don't have normal fixed office hours to perform their tasks. Though freelancers have their own working schedule and are able to make fruitful money an online presence is essential for them. Having an online presence not only lets them known among different people in the world but also helps a lot in gaining more works and showcase your professional skills. In this article, we have made a small collection of the best free WordPress themes for freelancers. The collection has been prepared with the best and wonderful themes to let freelancers make an ideal choice for their website.
For freelancers, a well-made, sophisticated and professional layout design in what is needed to create an impact. It is important to keep in mind that the design is simple so that they can display their portfolios in an organized and supreme manner. And what better can anyone think of than a lovely WordPress theme? Hence, below we give you an interesting list of best free WordPress themes for freelancers to build their personal or professional website.
---
Best Free WordPress Themes for Freelancers 2023!
Get the finest WordPress Theme for your website
---
Corporate Plus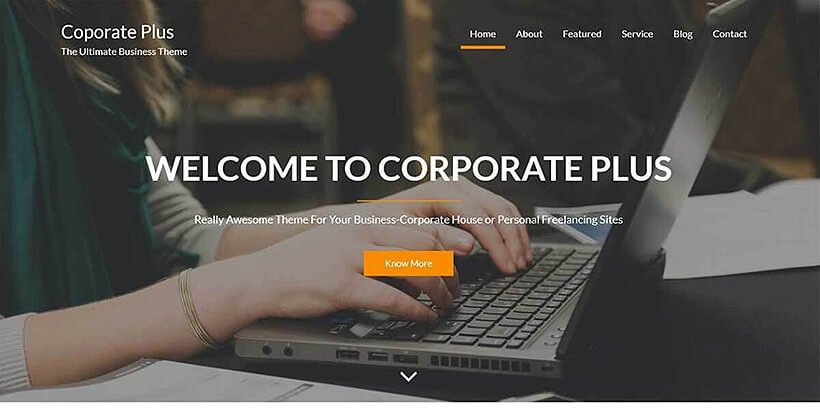 Corporate Plus is a sleek and modern free WordPress theme. Generally, freelancers mostly prefer to have a simple layout design for their website. It makes easy for them to showcase your services, portfolios and other stuff in a creative manner. It is fully a translation ready WordPress theme which lets you have your website in different languages. The theme is highly responsive and flexible. It looks good in any modern hand-held devices such as smartphones and tablets.
Key Features:
Awesome Featured Section
Header Image
Custom Widgets
Custom Sidebar Areas
Layout Controls
Advanced Slider Options
Translation Ready
Browser Compatibility
---
Mercantile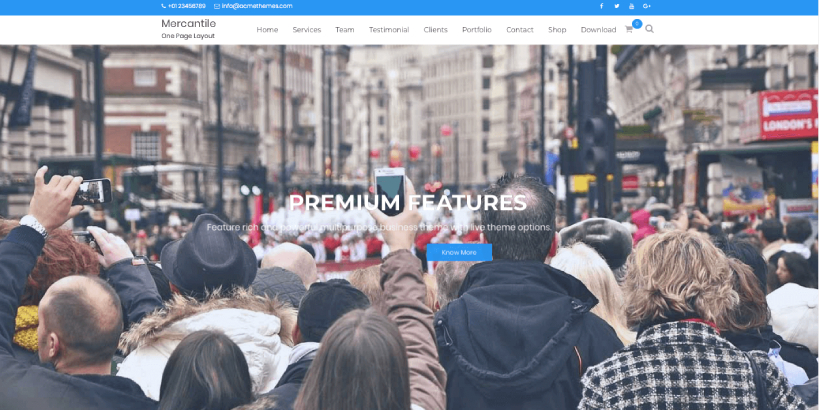 Mercantile is one of the ideal WordPress themes for freelancers. With very easy customization it is definitely popular and admired one among freelance users. Modify some of the minimal parts of the theme such as header, footer, sidebar, slider, etc. There is a huge number of distinct features available in the theme that will let you do more enhancement with your website.
Key Features:
Awesome Featured Section
Header Image
8 + Custom Widgets
Social Media Integration
WooCommerce Compatible
Layout Controls
Breadcrumb Options
Cross-Browser Compatible
---
Specia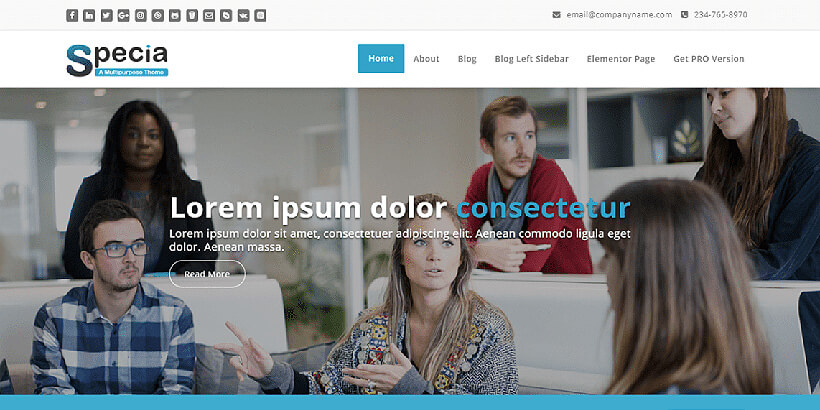 If there is one theme that has the most charismatic and astonishing look with less content and fits very well for any freelancers wanting to build a website. It adapts well to any modern electronic gadgets such as smartphones and tablets. So, you can view your website easily in your hand-held devices. The features included in the theme are unique and are very interesting to utilize. The theme is absolutely flawless and works well in all modern web browsers in the market.
Key Features:
Fully Responsive Template
Built with Html5 & CSS3
Clean & Unique Design
Powerful Bootstrap v3+
Flat UI with Clean Style
Sticky Menus
---
Classy Lite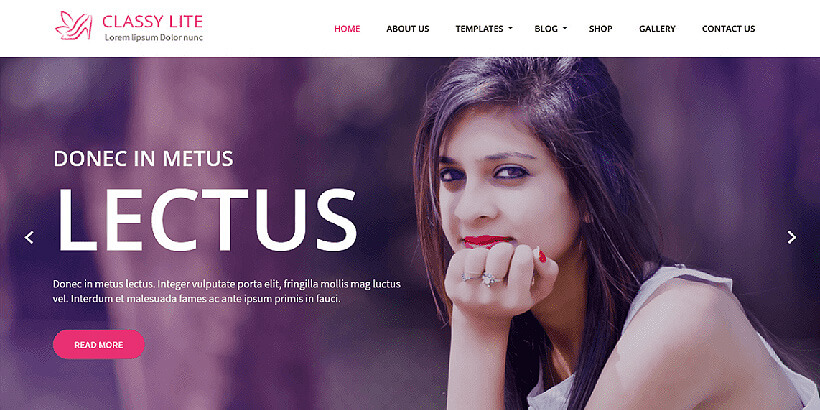 Classy Lite is a lovely and enchanting WordPress theme for multi-purposes. Freelancers who are in search of the finest WordPress theme for their site can pick this one. The clean appearance of the theme simply mesmerizes every new visitor. The theme is absolutely responsive and you will find it well fitted in every electronic device so you will not have any problem in viewing your site in them. Features like Google fonts and social option makes it more exciting for people like freelancers to enhance their websites.
Key Features:
Responsive Design
Custom Widget
Page Templates
Google Fonts
Social Buttons
Number of Slides
---
Cenote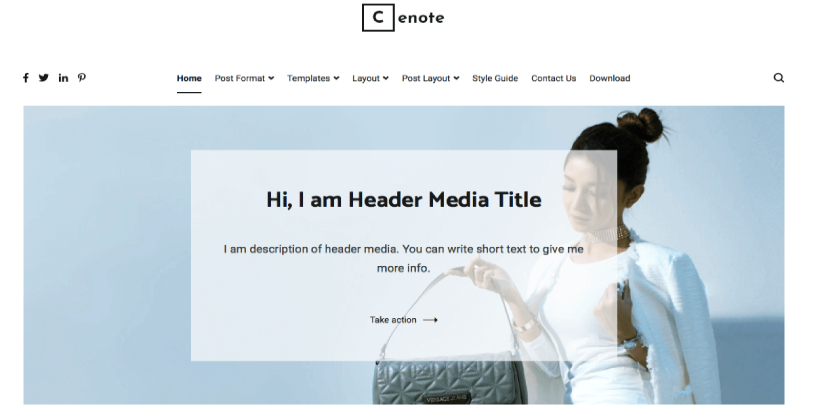 Cenote is a simple, elegant, sweet WordPress theme and has everything that a freelancer needs for their website. Since most go for a WordPress theme in terms of designing a website Cenote is the right choice. Make your website more presentable with its innovative and powerful features. If you have any social media accounts such as Facebook, Twitter, Linkedin you can simply link them to your website through its social link feature.
Key Features:
Header Layout
Menu Layouts
BreadCrumb
Social Icons
Post Slider
Standard Fonts
Primary Color
---
BlogStart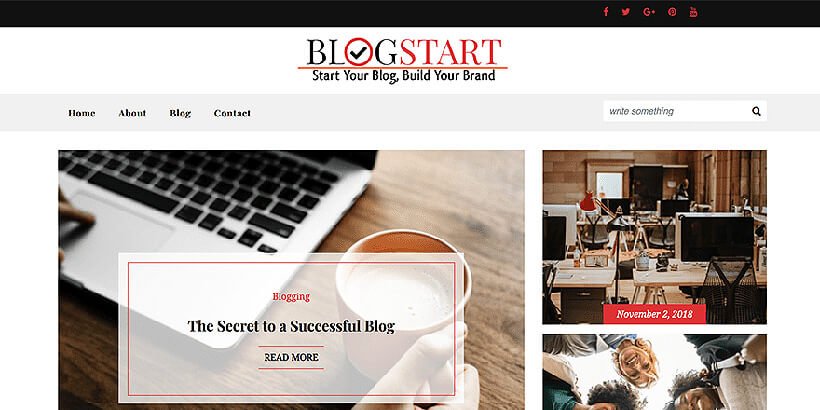 BlogStart is a sophisticated and modern WordPress theme designed particularly for blogging.  If you are someone who likes to blog and are working as a freelancer then this is the one you can go for. The design of the theme is mesmerizing and ready to grab the attention of viewers promptly. It is very easy and comfortable to customize the theme and modify each and every section. As it is also compatible with almost all kinds of plugins so you can use page builder plugins to create layout design in your own desired way.
Key Features:
Responsive Design
Easy to Customize
User-Centric Design
Traffic Friendly
Blogger Friendly
---
Activello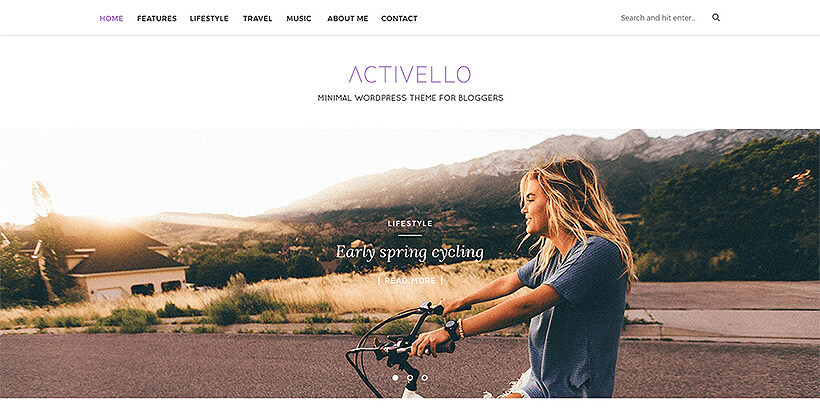 Activello is a smooth, plain and modern WordPress theme. The calm look of the theme is eye-capturing and is among the best ones for freelancers With its simple customization, users can get small changes in the theme such as updating the new logo, modifying the layout design, applying new colors in the font, font size, font style and font -family, etc. The theme has very good browser compatibility. So, your website looks good on any modern web browsers.
Key Features:
Font Awesome Icons
Translation Ready
Unlimited Color Options
Infinite Scroll
Custom Sidebar Areas
Retina Ready
Responsive & Flat Design
Featured Slider
---
Travel Way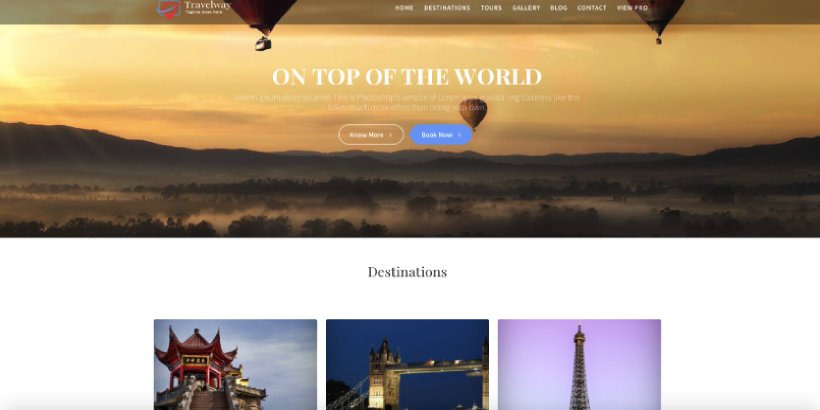 Travel Way is a splendid WordPress theme that has been designed for a travel website. Mainly travel agencies and travel bloggers can use this theme for their needs. Freelancers who are into traveling can utilize this theme to build their portfolio or travel blog website. As state before, the appearance of the theme is perfect for a travel-focused website. You will find varieties of widgets to make your site more informative and complementing. It is highly optimized with SEO so there is a high chance that your website will look come in a good place at google ranking.
Key Features:
Speed Optimized
Custom Widgets
Retina Ready
Header Image/Video
RTL Ready
Custom CSS
SEO Optimized
Copyright Text
---
Minimal Lite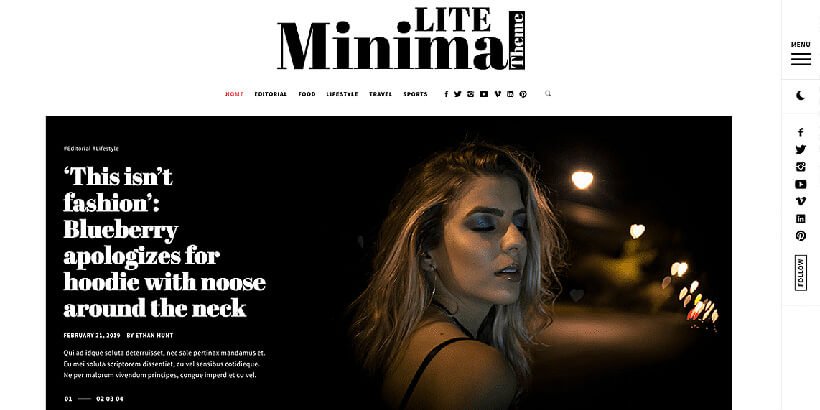 Minimal Lite is a classy, astonishing WordPress theme. The theme is an utterly stylish, responsive and ideal one for every freelancer. You can check the website on smartphones, tablets, and other gadgets and find it adjusting well and organized. One of its most important features includes being a translation ready WordPress theme. It means you can easily develop your website some other language. This makes it possible for native people around the world to understand your website.
Key Features:
Fully Responsive
High-Speed Performance
SEO Optimized
Translation Ready
---
Elegant Magazine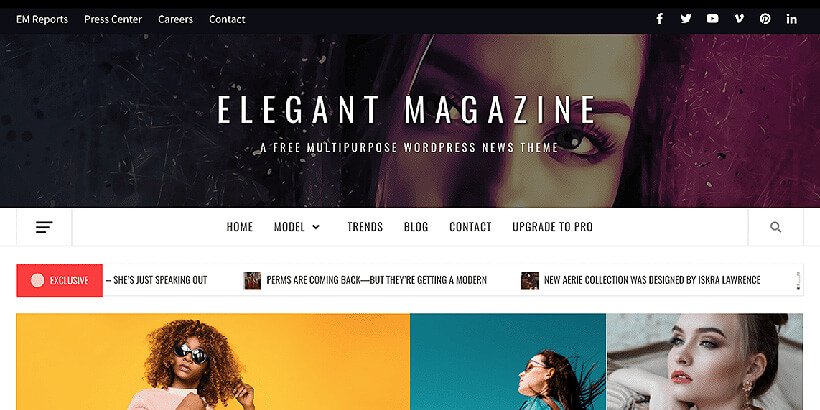 Elegant Magazine is an impressive and well-organized free WordPress theme for news and magazine websites. Freelancers are often seen interested in displaying blogs and articles of their own or for any companies. This beautifully designed WordPress theme is a good choice for such freelancers. The theme offers a huge list of features that can be used to make your website more interesting. Furthermore, it is highly compatible with plugins like WooCommerce so you can open an online store on your website to sell products and services.
Key Features:
Live editing in Customizer
Preloader Option
Featured Posts on Banner Section
WooCommerce Compatibility
Custom Widgets
Author Biography
Post Carousel Widget
---
Yogasana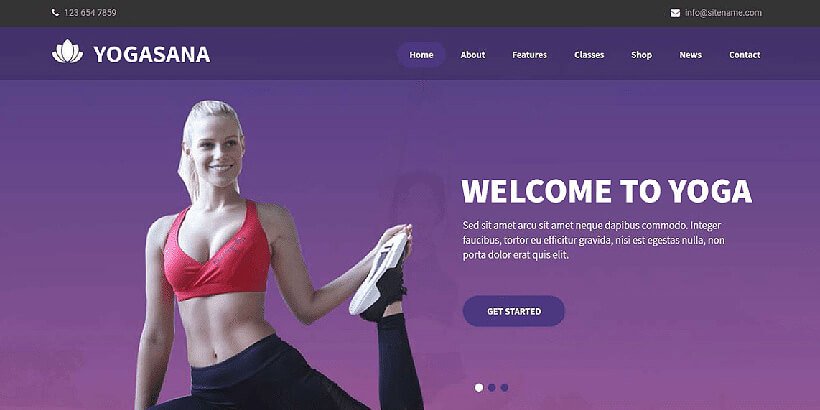 Yogasana is an attractive, polished WordPress theme for freelancers all around the world. Being a simple, enchanting WordPress theme that can be used for multi-purposes. Though it suits best for fitness, meditation, gym club it can also be used for portfolio, blogs, fashion, travel, etc. It works well in all kinds of browsers such as Mozilla Firefox, Google Chrome, Safari, etc.
Key Features:
Multiple color options
Comes with FontAwesome icons.
Cross-browser compatible
Comes with 600+ Google Fonts
Premade Shortcodes
Responsive design
Pre-built page layouts
---
Portfolio Web
Portfolio Web is a simple and clean free WordPress theme. A perfect looking theme for freelancers and bloggers. Though it mainly focuses on the portfolio but can be used for other purposes as well. It is built with amazing features that give your website a more refreshing and trendy look. Generally, the theme is easily customizable. For small sections like header, body, footer, sidebar you can modify them will less effort. You can also alter the entire look of your website by adding CSS code in the custom CSS option.
Key Features:
Easy install 10-minute setup Themes
Multiple Domain Usage
FREE Shortcodes
Responsive
Multiple page templates
Google Font Integration
Customizable Colors
---
Safha One Page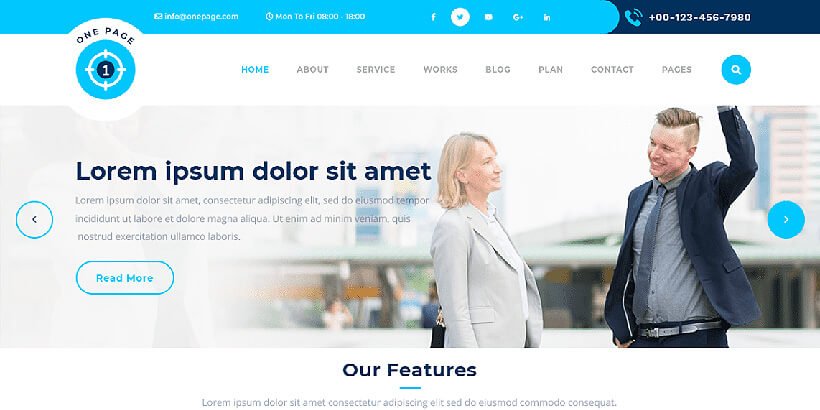 Safha One Page is a fresh, engaging WordPress theme. Most freelancers go for a plain-looking and comfortable design so this theme suits perfectly. It is highly responsive and adapts well in every electronic gadget like mobiles and tablets. The website loads at a quick speed making it easy for visitors to go through each page in a short period of time. Even if you have no technical knowledge you can modify each part of the theme with very much ease. By using the live customizer, you can alter the header image, top header text, footer section, slider image and text, and many other aspects.
Key Features:
Responsive
Translation Ready
Advanced Masonry Layout
Breadcrumb Options
Advanced Pagination
Fast Loading
SEO Friendly
---
Futurio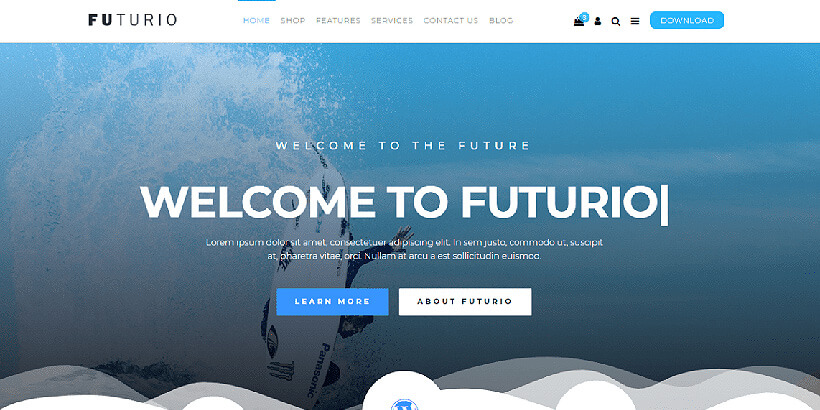 Futurio is a simple WordPress theme with an outstanding appearance. An ideal theme for freelancers who wants to build a supreme website for blogging or business promotion. Besides its modest and sleek look, it also magnifies its users with its awesome features. Experiment with google fonts and give your website a unique look. Add new header, footer, slider, etc to your website along with colors and others.
Key Features:
1 Click Demo Import
Custom Header
Google Fonts
Yoast SEO Support
Menu Layouts
Social Icons
---
Chic Lifestyle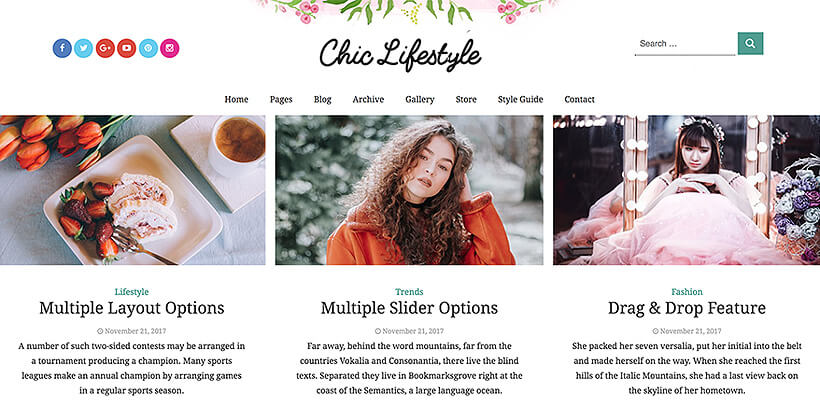 Chich Lifestyle is a stylish, graceful and modern WordPress theme suitable for every freelancer. Its built-in Live Customizer makes it possible for you to make minimal changes on your website. The theme's layout is simple yet chic and people are more likely to get promptly attracted to your site. This highly responsive WordPress theme will make your website easily adaptable to any modern electronic device. Besides that, you can change the font and other important parts comfortably with ease and a painless manner.
Key Features:
Header Options
Banner Slider
Font Options
Powerful Option Panel
Responsive Layout
Social Media
Breadcrumbs
---
Business Way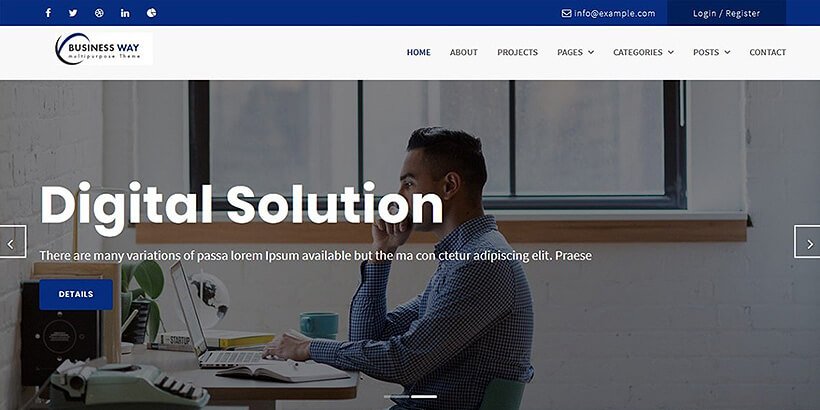 Business Way is a modest and sophisticated free WordPress theme. Freelancers all around the world can use the theme for their website. It can be used extensively for lifestyle, travel, blogs, and many others. The magnificent appearance of the theme gives its visitors a wonderful experience. You can alter the layout design of the theme if you desire with very much ease. With so many exciting widgets available you can utilize them and change the overall look of your website.
Key Features:
Theme Options
Responsive
Color Options
Slider Options
Navigation Options
WooCommerce
Google Map
9+ added custom widgets
---
Wrapping Up,
This ends our collection for the best free WordPress themes for freelancers. Freelancers are often in need of perfect professional presence to showcase their talent and services. Hence, this list will be very helpful to all freelancers around the globe.
We hope that you find this article helpful. Let us know what your thoughts are and please write to us in the comment section below: