7+ Best Free WordPress Tab Plugins 2023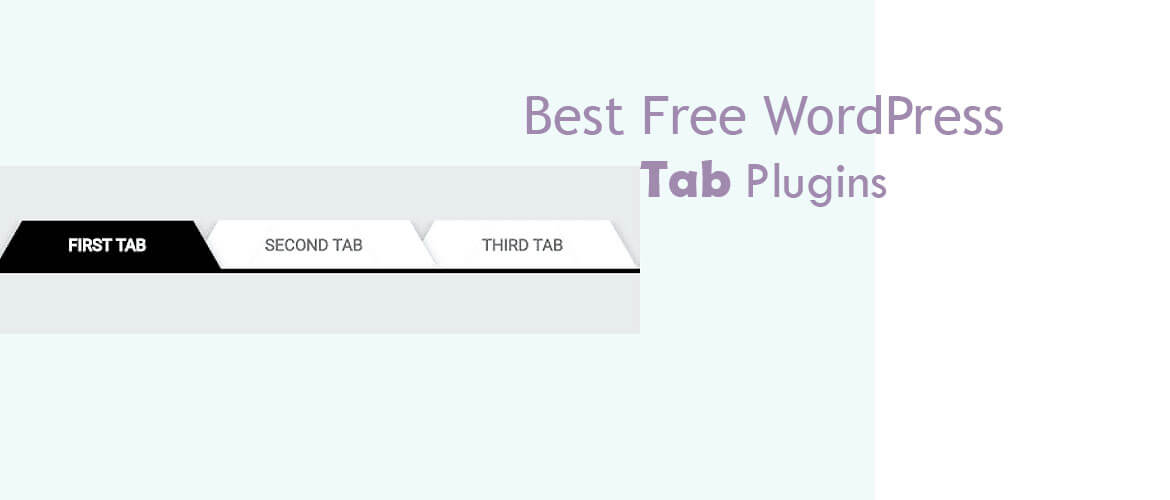 Every user is familiar with tabs in a web browser. Tabs are basically a button present at the top of the page which takes to a specific website or webpage. Wouldn't it be awesome to have well-designed, customizable and feature-rich tabs for your site? In WordPress there are some quality plugins that can make it happen. And in this article, we are going to list them out.
Why are tab plugins are useful?
The varieties of tab plugins in the given collection are helpful and productive in many ways. It can give you a unique experience in working with new and innovative tabs. Plus, you can have it's design modified and fully enhanced. Having default tabs can be sometimes boring so experimenting with these plugins is a good way to explore new tabs.
Hence, let's explore them below:
---
Best Free WordPress Calendar Tab Plugins for 2023
---
Custom Product Tabs for WooCommerce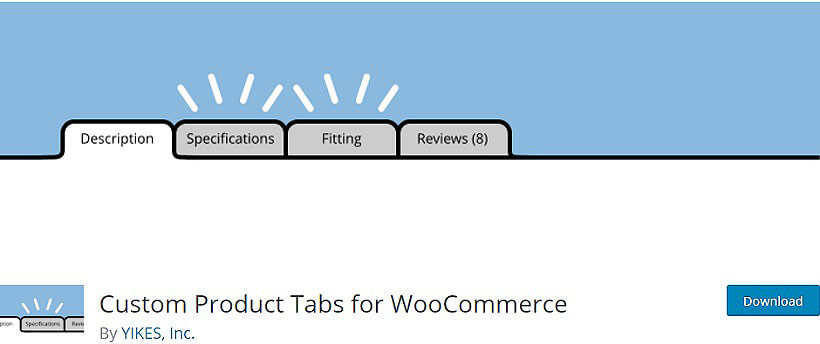 Custom Product Tabs for WooCommerce is a popular WordPress plugin made for WooCommerce. It adds more tabs to your default pages in WooCommerce. You can customize them as well without any technical knowledge. Manage them accordingly by adding more, editing them and removing them whenever required.
Major Features:
User-friendly
Easily Customized
Compatible with other plugins
---
Tabs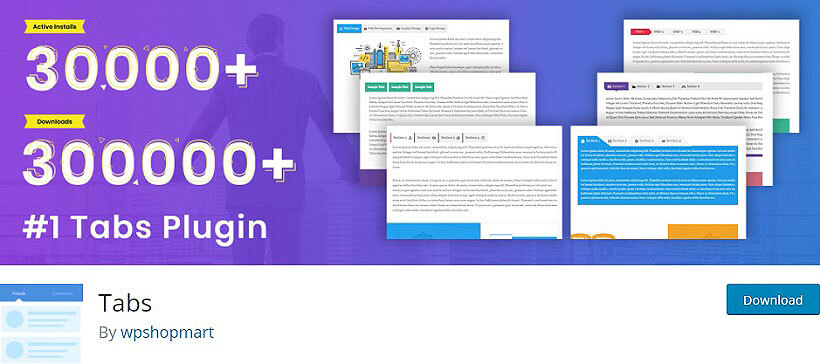 Tabs has been developed by wpshopmart. It is one of perfect and well-made plugin for updating new tabs feature in your website. Just using the drag and drop functionality you can set attractive tabs in the site. The plugin is extremely responsive so it works well in all kinds of hand-held devices.
Major Features:
Responsive Design
Unlimited color option
Drag and Drop builder Api integrated
Draggable box items for easy sorting
Awesome input field for Tabs content
---
Tabby Responsive Tabs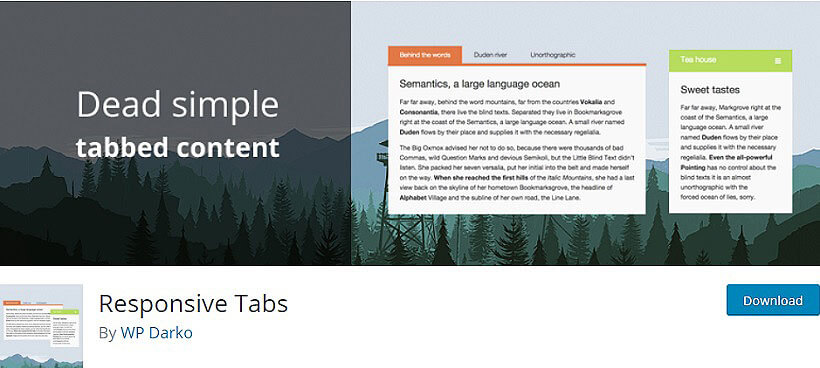 Tabby Responsive Tabs has been made especially for a WordPress site to have functionalities that load tab on your website. Unlike other plugin, users will able to have both CSS and JS. In the plugin, you can have the code inside the header, footer or any other section of the website. Since the plugin is very user-friendly so even a layman can use it and get the action done smoothly without any destruction. You are not restricted to have a limitation on inserting tab in the admin area.
Major Features:
Create Tabs and Accordion
Semantic header and Content markup
Adds a set of horizontal tabs
Screen reader accessibility
---
Tabs – Responsive Tabs with Accordions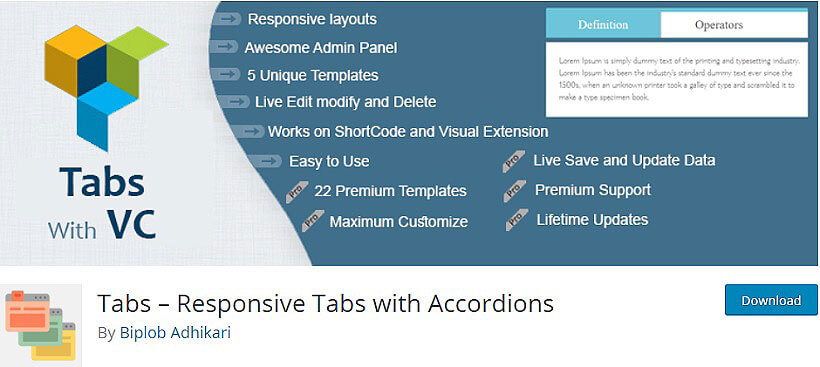 Web designer or anyone who wants to add or change the tab on a WordPress site Tabs – Responsive Tabs with Accordions is an ultimate choice for you. Widgets are important part of any website and often people wish to alter the design of widgets. And this plugin works wonder for them. In addition to excellent features, the plugin also consists of filters and hooks through which the output can be customized along with class names.
Major Features:
Fully live design and custom interface
Multiple style and layouts
Built in Visual Composer Extension
Mobile Editing and Canvas
SEO-friendly
---
WP Tab Widget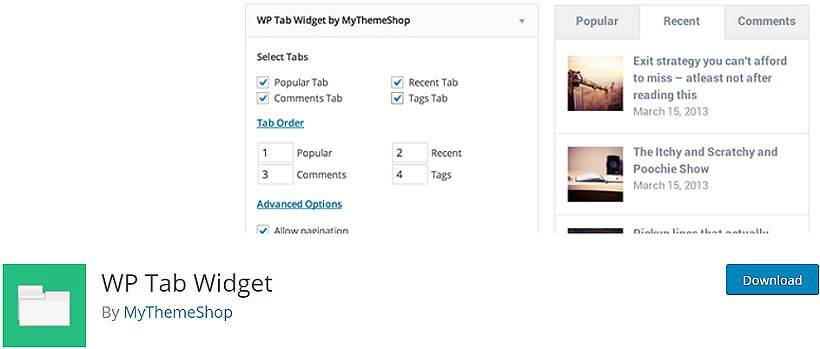 WP Tab Widget is one cool plugin for designing a website. It simply provides a extended interface where users can add new and improved designed tab to enhance the look of a website. The feature included in the plugin will give you an amazing experience.
Major Features:
Fully Responsive
In-built Pagination System
Loads the content by demand
Super light weight
Show/Hide post date
Change the number of tabs to show
---
YITH WooCommerce Tab Manager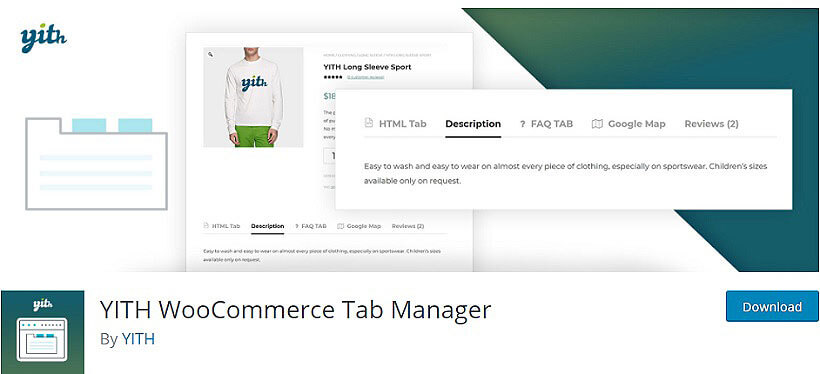 YITH WooCommerce Tab Manager is highly suggested for users who want to make their WooCommerce website more operative and exciting. It will let you add more tabs in your product page and other pages. You can add tabs without any limitation. Modify the overall look of the tabs and even remove and delete them whenever you want.
Major Features:
User-friendly
Create Infinite Tabs
Customized Tabs
---
Simple Side Tab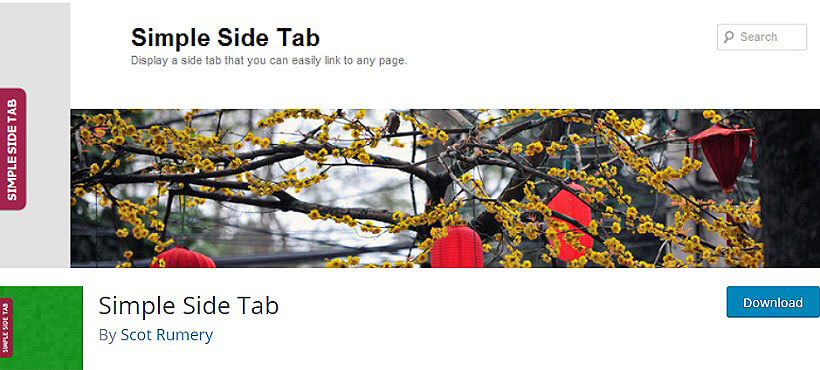 The name of the plugin says everything, Simple Side Tab is a simple plugin for adding new and customizable tabs in your WordPress website. Every functionality of the plugin can be work out with ease. You can also modify the appearance and overall design of the tabs with fonts and colors of your own.
Major Features:
Unlimited colors for tab elements
Change vertical position of your tab
Set the URL your tab links to, internal or external
Choose fonts
Set the text for the tab
---
Finishing Up,
We hope the above  plugins are helpful for you. If you are running any modern website then you might want to try new things to make your website more creative and functional.
Any thoughts or suggestions regarding the article above? Please share it with us in the comment section below: