6 + Best WordPress Sticky Header Plugins 2023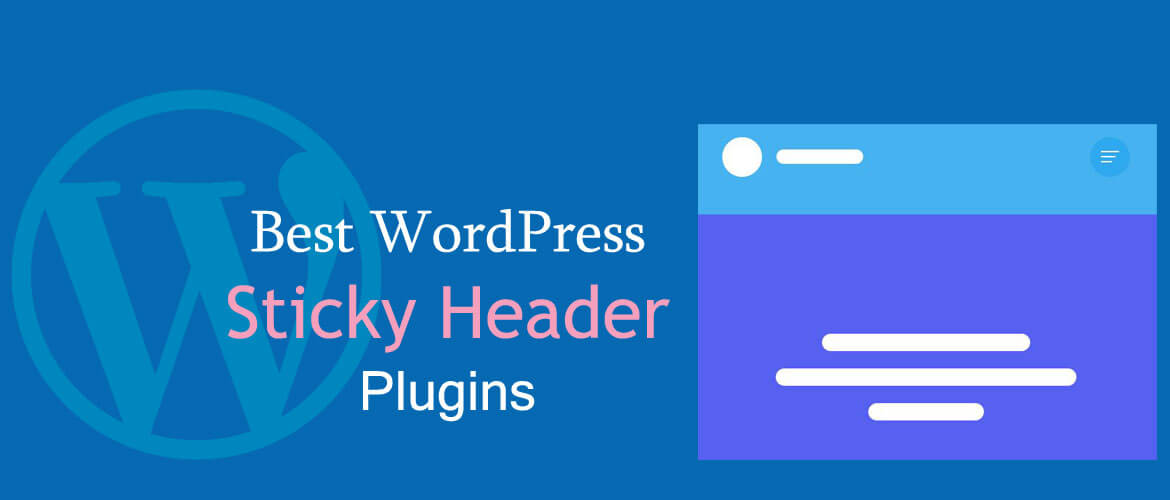 Are you interested to create a sticky header in your website ?
You might have seen or heard of sticky menu in a website. Basically, there are attractive looking animated design that makes the navigation section stick to your site as you scroll it down. Though, it's a simple feature but are popular among most people. And if you are a WordPress lover then, it is something you will find within a WordPress themes free or premium. Even if it's not there then no need to be worried as there are some plugins made for adding the feature of sticky menu to your site.
What are the best things about Sticky Header ?
Well, sticky header menu has lots of pros then cons. Firstly, it will give your site a captivating and catchy look. This feature is quite modern so maximum number of people prefers to have this feature into their site. Besides that it is also a good thing to have for SEO purpose. And, undeniably visitors from anywhere will love it and be willing to come upon your site more.
Now, let's check them out below:
---
Best Free WordPress Sticky Header Plugins for 2023
---
Sticky Menu, Sticky Header (or anything!) on Scroll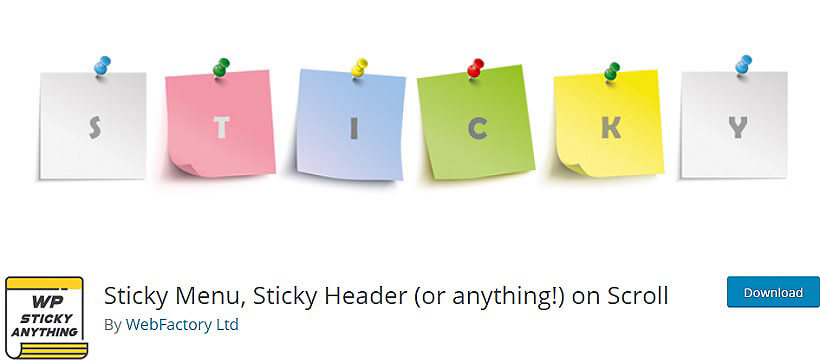 Sticky Menu, Sticky Header (or anything!) on Scroll is one cool plugin you should watch out for having a sticky navigation menu in a website. One interesting thing about this plugin is that you can not only make the menu section sticky but also other element of the site get sticky. To implement this feature it's a high necessary that you are familiar with HTML and CSS coding. The other functionalities are amazing and very easy and is sure to help you create a fascinating website.
Major Features:
Positioning from top
Push-up element
Z-index
Debug Mode
Legacy Mode
---
Sticky Header Effects for Elementor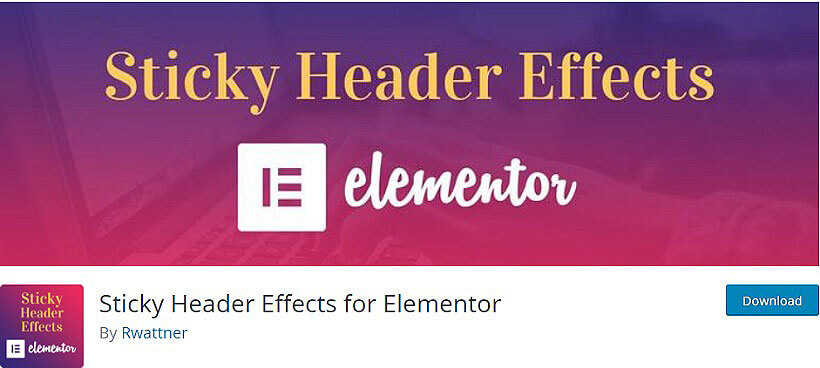 Sticky Header Effects for Elementor has been build particularly for Elementor page builder. The plugin is like a add-ons for the Elementor plugin and will let users have extra effects on the sticky menu. Some popular aspects which you can modify or update is the background color and height of any elements. Use the blur effect to and make any desirable section to get blurred. It's an mobile-friendly plugin so you can use them to fit perfectly in smartphones and tablets.
Major Features:
Apply options on scrolling
Transparent Header
Header Background Color
Shrink Header
---
myStickymenu

myStickymenu is a feature-rich plugin to let your website have sticky navigation design. It is one of the most famous plugin and best choice among many WordPress users. The code for operating sticky menu in your site actually comes as a CSS code. You can just add element class ".navbar" as "Sticky Class" and instantly the sticky menu option will be there in the customizer panel. Besides that you can use the other editing option that comes with the plugin and experiment with its design.
Major Features:
Show sticky header on scroll down/up
Disable at small screen
Fade or slide effect
Display your floating bar at top position
Show the closing X on desktop/mobile
---
Fixed And Sticky Header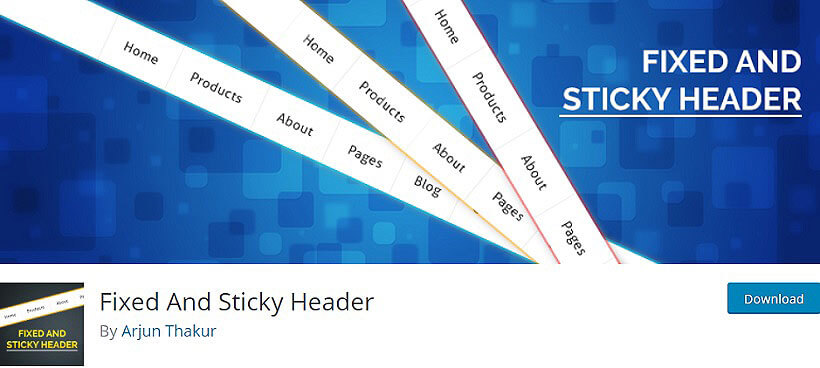 Fixed And Sticky Header is one wonderful plugin developed for fonts everybody must try. But it is to be remembered that the plugin is compatible with Astra theme, Beaver theme/Builder and  Elementor. It has a very attractive number of active installs in WordPress.org which shows that many people prefer this plugin for updating new fonts in their websites.
Major Features:
Add background color for fixed header
Add text color
Fixed header on given scroll
Add Background Color
---
Oceanwp Sticky Header

Oceanwp Sticky Header is basically a kind of plugin that will set visiting counter in a webpage and set its font-display to swap. Since, Google Fonts supports setting font-display via a new query parameter everything will work easily and perfectly. Users will only need to font-display to swap, the browser will use the fallback font and when downloading actual font is complete. It will simply swap the font.
Major Features:
---
Simple Sticky Header on Scroll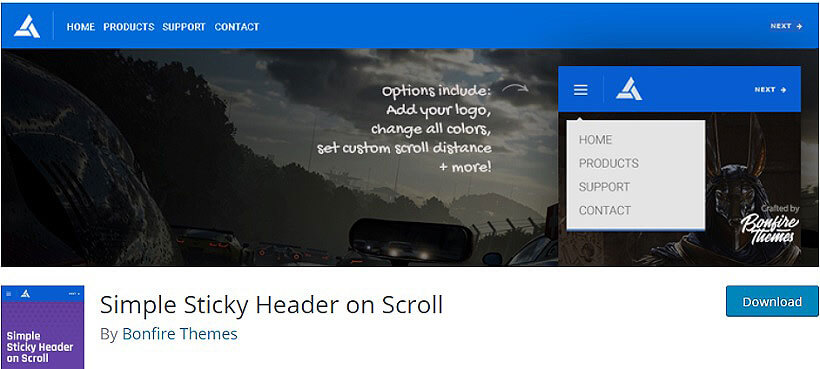 Simple Sticky Header on Scroll is undeniably one of the most popular plugin for visitor counter among WordPress users. Add new and latest google fonts in your site and enjoy making new changes. As the plugin add the required Google code, you will also be given the ability to assign the Google fonts to specific CSS elements of your site from within the WordPress admin.
Major Features:
Quick and simple setup
Add your logo and menu
Color customize every element
Easy Setup and customization
---
Sticky Header 2020

Sticky Header 2020 has been developed specifically for visiting counter in your website. The name itself says everything that users can properly set visit counter in their website with just a simple installations of this plugin. It is very easy to use and require less efforts to implement it in your site. The plugin is highly recommended for Japanese and also very helpful for them as well.
Major Features:
Wonderful settings
Compatible with all themes
---
Finishing Up,
Experimenting with different plugins is always a good thing to do. And sticky header menu plugins is one you should not miss. The above plugins are well-functioning and highly famous among WordPress users so let's not stay behind to implement them to your site.
Would you like to share any thoughts or suggestions regarding the article ? Go ahead and write it in the comment section below: