5 + Best WordPress Pop Up Plugins 2023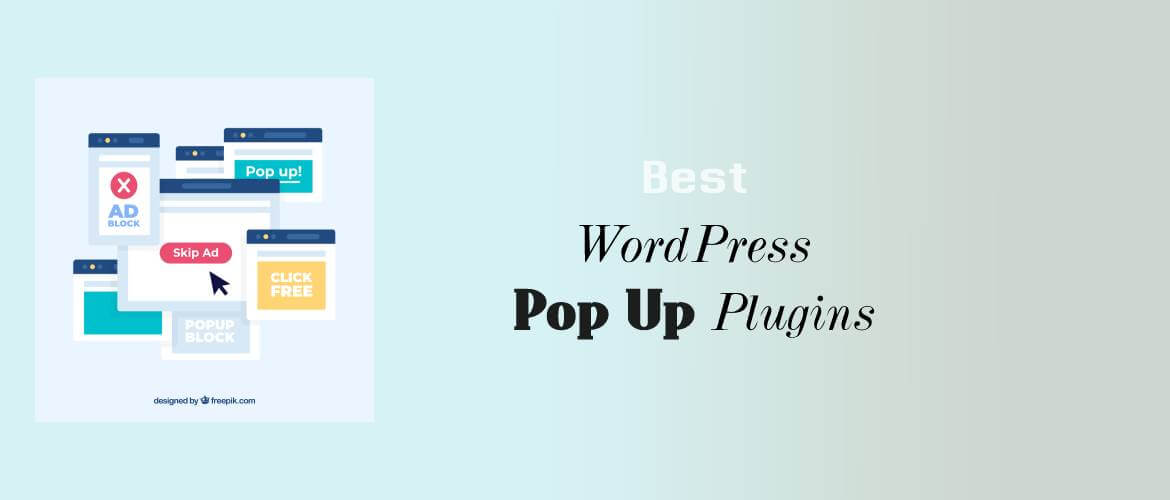 Do you want to add a pop-up feature to your website?
Pop-ups have become an essential element in modern web design and marketing strategies. They are an effective way to grab the attention of your visitors and encourage them to take action. WordPress Pop Up plugins offer a wide range of options to create and customize pop-ups that can enhance the user experience and increase conversion rates. With so many options available, it can be challenging to choose the right plugin for your website.
In this article, we will explore the best WordPress Pop Up plugins that can help you create engaging and effective pop-ups for your website. We will review the features, pros, and cons of each plugin to help you make an informed decision. Whether you're looking to capture leads, promote a product or service, or simply provide important information to your visitors, we have got you covered.
We will also provide you with tips and best practices to make the most of your pop-ups without annoying your visitors. We understand the importance of maintaining a balance between promotion and user experience, and we'll help you strike that balance. Whether you're new to pop-ups or looking to improve your existing strategy, our comprehensive guide to the best WordPress Pop Up plugins will provide you with the information you need to make an informed decision and enhance your website's performance.
---
Best WordPress Pop Up Plugins 2023
---
Popup Builder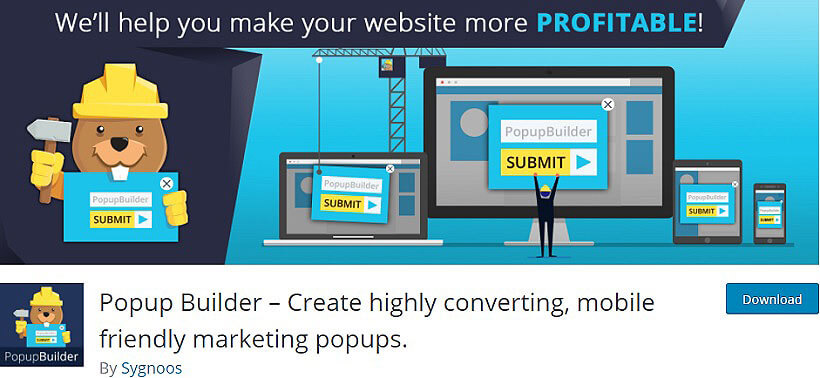 Popup Builder is a WordPress plugin that enables users to create custom popups for their websites. It offers various popup types such as modal popups, slide-in popups, full-screen popups, and more. The plugin provides a drag-and-drop interface that makes it easy to create and design popups. It also offers features like targeting and scheduling options, exit intent triggers, and analytics to track popup performance. Popup Builder is compatible with popular email marketing services and integrates with other WordPress plugins like WooCommerce. With this plugin, website owners can effectively engage with their visitors and increase conversions.
Major Features:
Customize the look and feel
Set popup animation effect
Set popup location on the screen
OnClick/OnHover popup
Responsive popup
---
Social Media Share Buttons Popup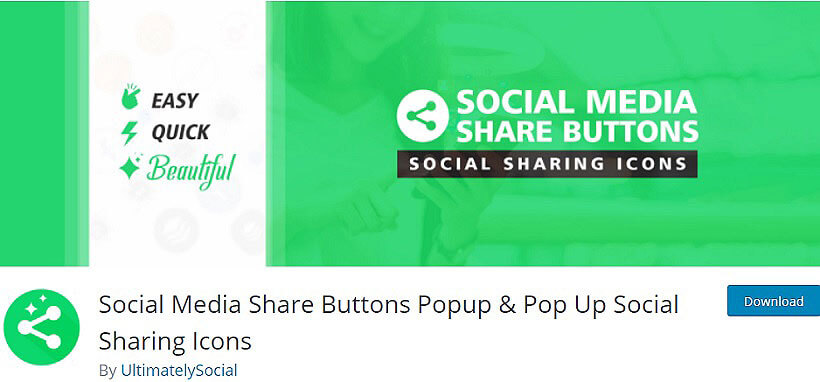 Social Media Share Buttons Popup is a WordPress plugin that allows website owners to add social media sharing buttons to their website. With this plugin, visitors can easily share website content on popular social media platforms. Additionally, the plugin comes with a popup feature that displays share buttons as a popup when visitors click on a button or link. The plugin supports popular social media networks, including Facebook, Twitter, LinkedIn, and Pinterest. The plugin is easy to use and can be customized to match your website's design.
Major Features:
Pick from 16 different designs
Make your social media icons 'float' or 'sticky'
Add 'counts' to your social media buttons
Display sharing-buttons
Allow visitors to subscribe
---
CM Pop-Up banners for WordPress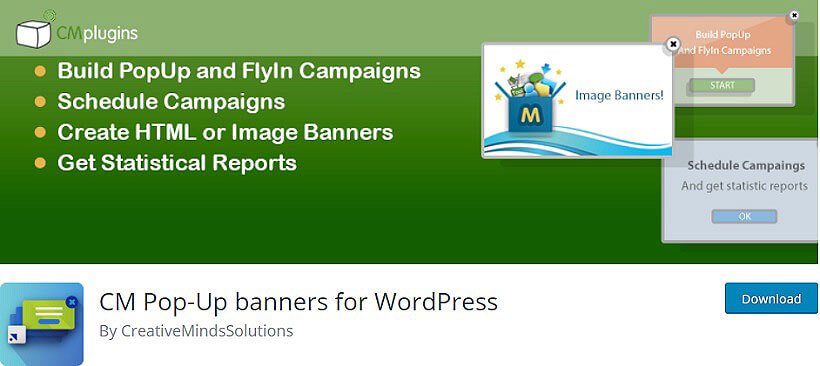 CM Pop-Up Banners for WordPress is a powerful plugin that lets you create and customize pop-up banners with ease. With its intuitive drag-and-drop interface, you can add any content to your pop-ups, including images, videos, forms, and more. The plugin also offers various trigger options, such as time delay, scroll, and exit intent, and allows you to target specific pages and visitors. With its responsive design, you can rest assured that your pop-ups will look great on any device. Plus, you can track the performance of your pop-ups with built-in analytics and A/B testing.
Major Features:
Create Banner Campaigns
Customize popups with HTML and images
Display popup ad on center or footer of page
---
Popup Maker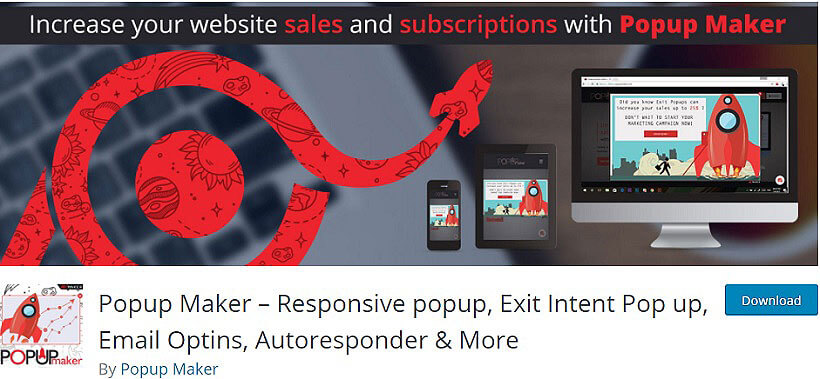 Popup Maker is a powerful and versatile WordPress plugin for creating customizable popups. With its easy-to-use drag-and-drop interface, you can create popups that suit your specific needs, including email sign-up forms, contact forms, and product promotions. You can customize the look and feel of your popups using the built-in themes or create your own design. The plugin also includes a range of targeting options, including cookie-based targeting and display triggers based on user behavior. With Popup Maker, you can easily create effective and eye-catching popups to engage your audience and drive conversions.
Major Features:
Popup look and feel customization
Beautiful opt-in forms
Mailchimp popup
Contact form popup
PayPal popup
---
PopTin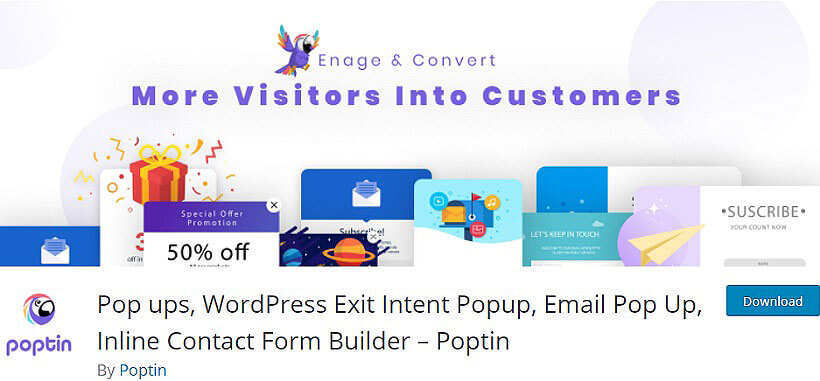 PopTin is a powerful popup builder plugin for WordPress that enables you to create eye-catching popups for your website. With its user-friendly drag-and-drop interface, you can design custom popups, add various triggers, and set up targeted campaigns. The plugin provides a variety of templates to choose from, or you can create your own design from scratch. Plus, PopTin offers advanced targeting options based on user behavior, location, and device, ensuring that your popups reach the right audience at the right time. Increase your conversions and grow your email list with PopTin.
Major Features:
Grow your email list
Recover cart abandonment
Beautiful popups
Responsive
Ultra-lightweight
---
Pop-Up Chop Chop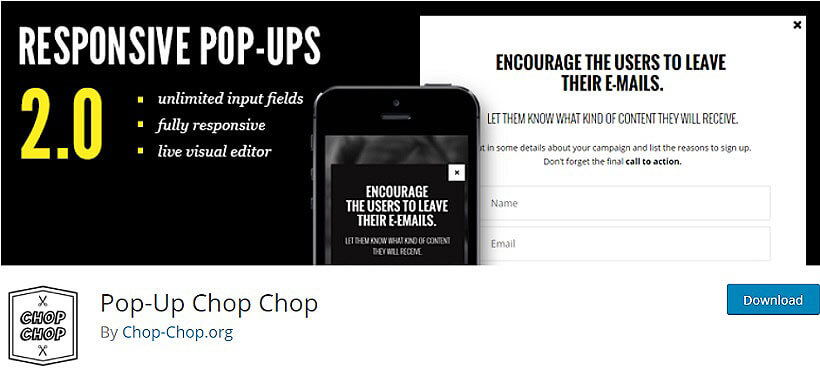 Pop-Up Chop Chop is a WordPress plugin that allows you to create beautiful pop-ups and modals for your website without any coding skills. With this plugin, you can create various types of pop-ups such as announcement pop-ups, email opt-in pop-ups, exit intent pop-ups, and more. The plugin offers a range of customization options and integrations with email marketing services and CRMs. With its intuitive drag-and-drop interface, you can create and publish pop-ups in minutes and start converting your visitors into subscribers or customers.
Major Features:
Unlimited pop-up number
Two pop-up sizes
Quick and easy pop-up setup
Highly customizable content
Email notifications
---
To Conclude,
There are various powerful WordPress popup plugins available that can help you boost your conversion rates, increase email subscribers, and improve your website's user experience.
Please share your thoughts or suggestions regarding the article above and write them in the comment section below: