5 + Best WordPress PDF viewer Plugins 2023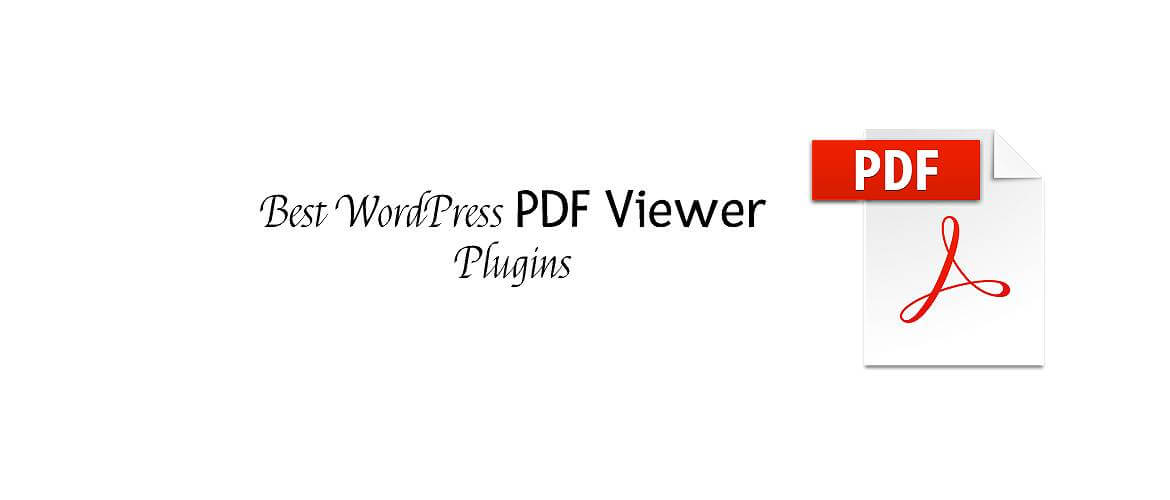 As WordPress users, it is quite common that embedding PDF document is a problem in pages and posts. As for the default of WordPress, it doesn't support any kind of PDF files. Though it is possible to insert PDF files but will only work as a link that opens on another page. The only way to add PDF files in WordPress is by using a plugin made specifically for integrating PDF documents.  Luckily, there are many options for such plugins. However, it is important to keep in mind that the plugin you choose is the best or trustable one. So, in this article, we shall provide you some handpicked plugins for integrating PDF files onto your website page or posts.
Below are these plugins. Let's check them out:
---
Best WordPress PDF viewer Plugins 2023
---
PDF Embedder

PDF Embedder is one of the best plugins based on PDF. Integrating any PDF document to your website is very easy and simple with this plugin. Users simply need to insert the shortcode in page or post than instantly a PDF will show up in the website.
Major Features:
Flexibility
Use via short-codes
Easy to Use
---
PDF.js Viewer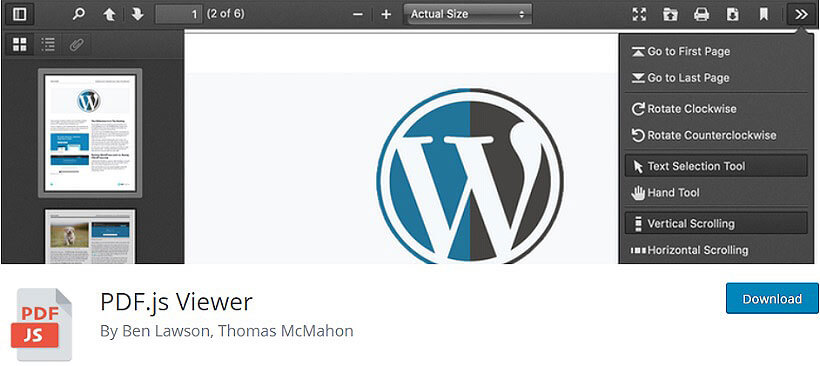 PDF.js Viewer developed by Ben Lawson is a highly popular one with a huge number of active installations. Users can add PDF files anywhere desired place on WordPress. Its mobile-friendly feature makes it more interesting as users can set their website look proper on smartphones and tablets. Make the Accordion more attractive with a stylish font design and background color.
Major Features:
Customizable buttons
Advanced search functionality
Page navigation drawer
Advanced zoom settings
Support for mobile devices
---
PDF Poster – PDF Embedder Plugin for WordPress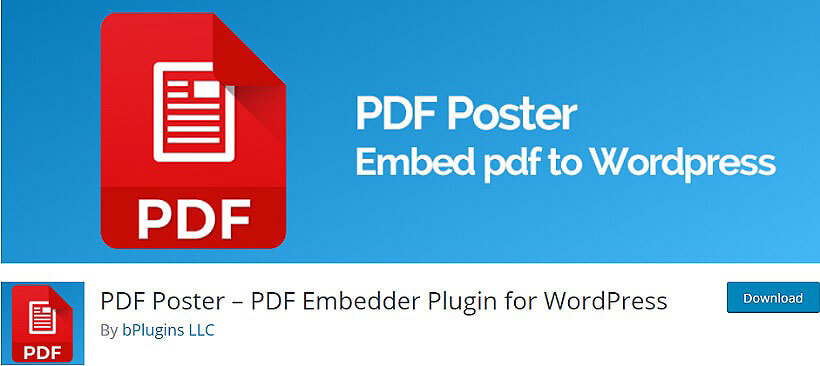 PDF Poster will let you insert PDF documents in pages and posts in WordPress pages and posts. Design and modify the dashboard as per your need and want. Have complete control over all the settings and get the desired look of the dashboard. It is one of the most simple and user-friendly WordPress dashboard plugins to have for your website.
Major Features:
User-friendly
Easy to Install
Highly Responsive
---
Embed PDF Viewer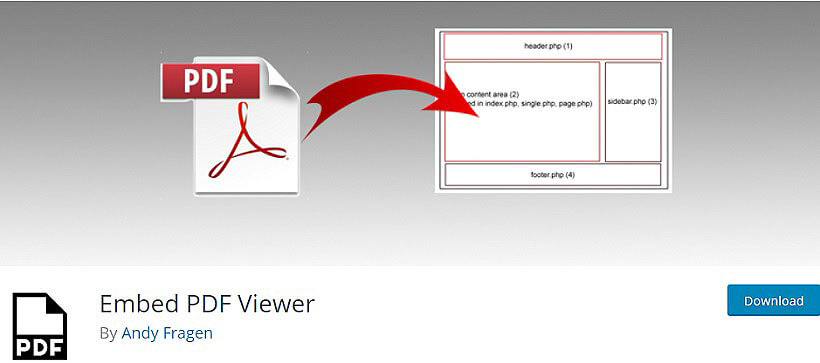 Embed PDF Viewer is one finest WordPress plugin build for adding PDF files to a website. Users will be able to update the design of every section of the admin dashboard. Things like login, register, forgot password, and many others. Modify the whole appearance of the templates as you want to and experiment with its look using colors and fonts.
Major Features:
Mobile ready
Lightweight,
Fast and Robust
---
Algori PDF Viewer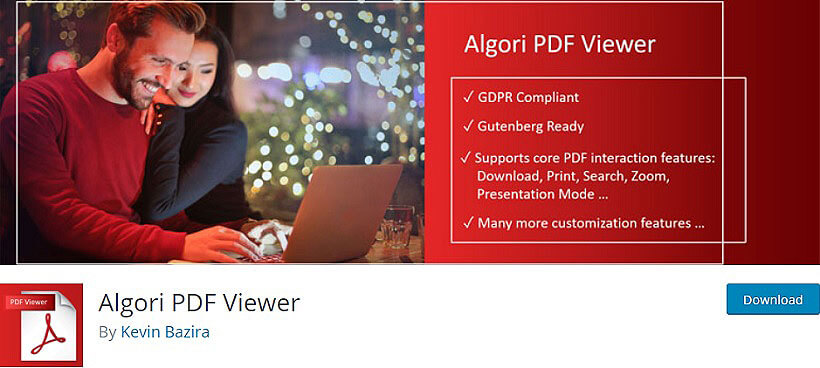 Algori PDF Viewer is one plugin that offers a wide range of features. The striking feature of the plugin will hide automatically when the page is fully loaded. Update new fonts in the admin panel and also be able to enqueue your own Google Web Fonts. You will be able to add shortcodes in widgets on the front page of your site.
Major Features:
Compatible with Modern Browsers
Supports Printing PDF document
Translatable into 100+ languages
Supports presentation mode
---
Wonder PDF Embed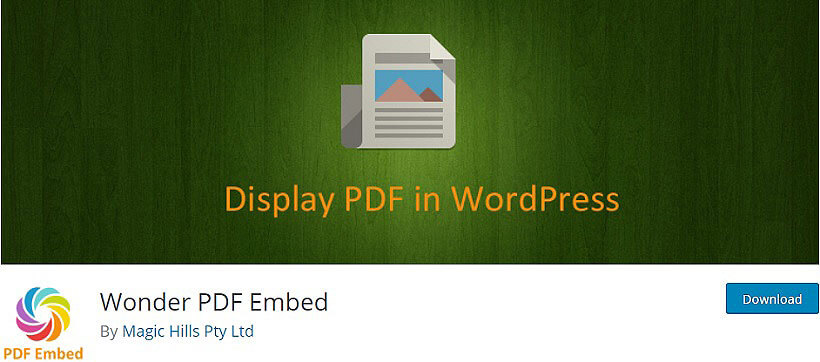 Wonder PDF EMbed is the best PDF plugin around. Because of its amazing features, users will be happy to use it. You can add Accordion as a block in the pages and posts of your site. The plugin is very responsive and the accordion will look good on any kind of hand-held device.
Major Features:
Responsive PDF viewer
Hide the download button
Use CSS and JavaScript code
Compatible with Wonder Lightbox
---
Lastly,
Hope you had enjoyed reading the above article. A PDF viewer is a very effective feature to have on a website. Visitors can easily view, download or print them without any hesitation. With the help of the above plugins, things can get much easier so it's a great idea to try them out.
Do you have anything to share regarding this article? Then be free to write it in the comment section below: