8+ Best WordPress Maintenance Mode Plugins 2023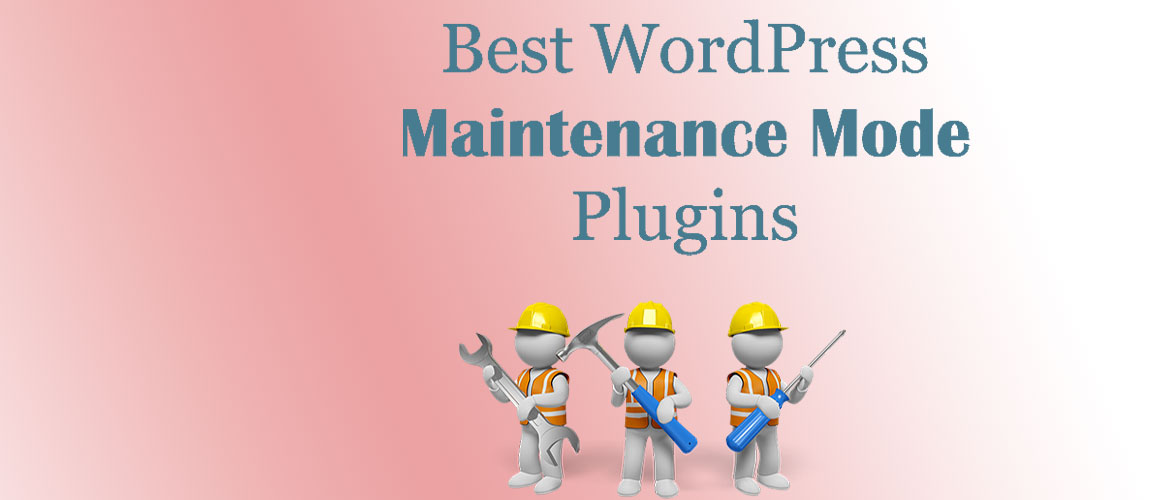 Are you searching for the best WordPress Maintenance Mode Plugins for your site?
If you are then, you reached the correct place. Though there are many plugins for maintenance mode in WordPress.org we have took some time and handpicked the best and mostly used plugins out of the huge list. So, you will find the finest plugins in the collection with the highest number of downloads.
What is a Maintenance Mode Plugin and why is it important?
A maintenance mode plugin is such as a plugin which provides pre-designed templates that can be used for displaying  in the front page of your website before it goes live. It is simply a one-page made for letting visitors know that your website is in under construction mode and will be ready soon.
Talking about its importance, firstly a maintenance mode page is extremely useful if you have your domain is ready but your website is still in process. By setting up a coming soon page viewers will get the hint and will wait till your site is fully completed. Secondly, you might be requiring to work on your website while it is already live like making some big changes. So, in such cases, taking a pause in the site and placing a maintenance mode page will be a good decision. By doing this it will create a good impression in your current and new visitors and will definitely stand by while you have your site updated.
So, let's go ahead and explore them below:
---
Best Free Maintenance Mode Plugins WordPress 2023
---
Maintenance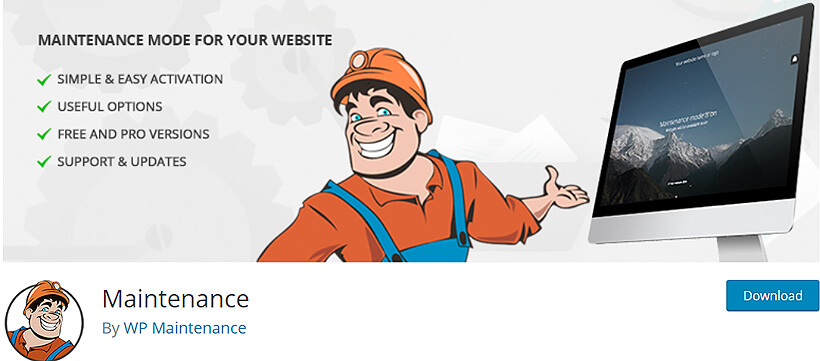 Maintenance is one of the best WordPress plugin for creating a maintenance mode page for your website. With active installs of more than 400,000 it is widely used by vast number of people around the world. You can easily set the '503 Service temporarily unavailable' page in your site for your visitors. You can also customize the overall look of the page like changing its color, font, images and other aspects. Since, it is integrated with MailOption users can even receive emails from valuable customers. It also consists of some astonishing features that makes users more prone to use the plugin.
Major Features:
Retina Ready
Blur background effect
Configurable colors: fonts, icons, background
Customize title, headline, text
Login for User in homepage
---
Comingsoon Page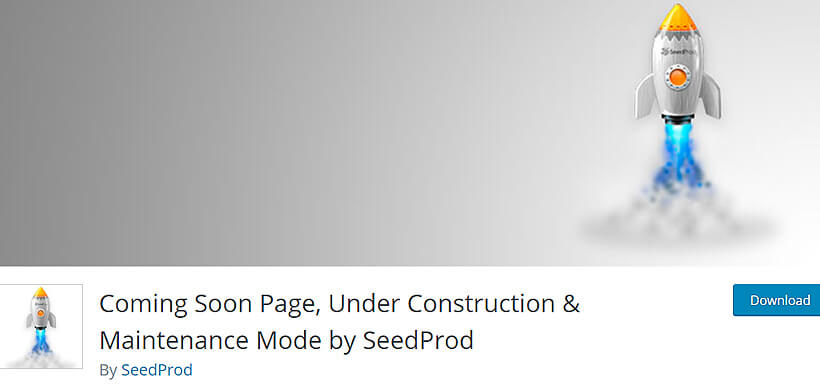 Set an attractive Coming Soon or Maintenance Mode page for your site with this wonderful plugin. This plugin Coming Soon Page, Under Construction & Maintenance Mode has been developed by SeedProd. It has everything and all kinds of features a user wants for their website. As the plugin is extremely responsive you can easily access perfectly in devices such as smartphones and ipads. You can also modify the overall design of the maintenance page with the help of CSS and JS.
Major Features:
Responsive
Uses HTML5 & CSS3
Translation Ready
Supports Multisite & BuddyPress
Add Custom CSS and HTML
---
WP Maintenance Mode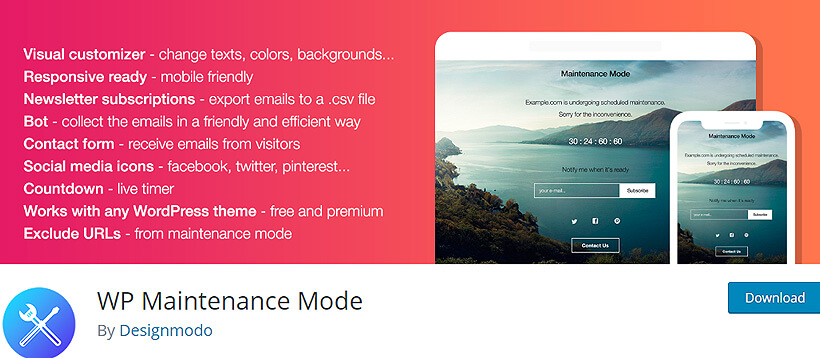 Yet another stunning plugin build for maintenance page for your website is WP Maintenance Mode. This strong plugin comes with best features and let users create a perfect coming soon page for their site. The page is easily customizable so you can modify the page as you desire. You will get the widget such as countdown timer through which visitors can know the time remaining for your site to be ready.
Major Features:
Compatible with other themes
Highly Responsive
Social media icons
Exclude URLs from maintenance
Countdown timer
---
CMP- Coming Soon & Maintenance Page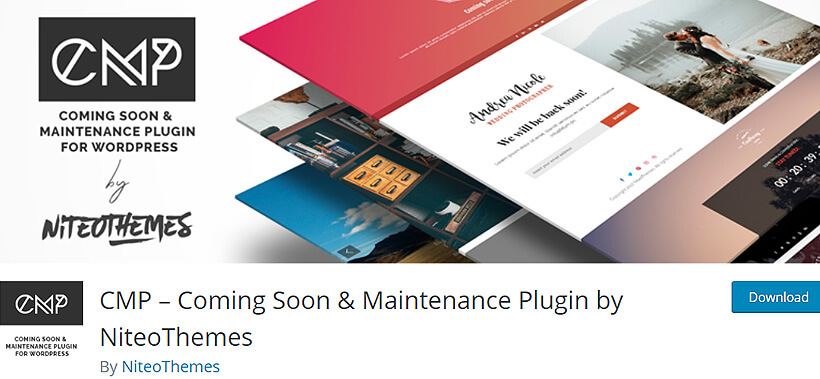 CMP – Coming Soon & Maintenance Plugin is one most widely used plugin for maintenance page. This plugin has been developed by NiteoThemes. It is a supreme an feature-rich plugin and has above 90,000 WordPress users globally. It consists of free templates so you will have wide range of choices for the front page. Modify the appearance of the theme with font and colors of your choice and even add graphics and YouTube videos in them.
Major Features:
Display Social Network Icons
CMP Landing page
Configurable Countdown Action
Fullscreen background media
Configurable SEO meta tags
---
Minimal Coming Soon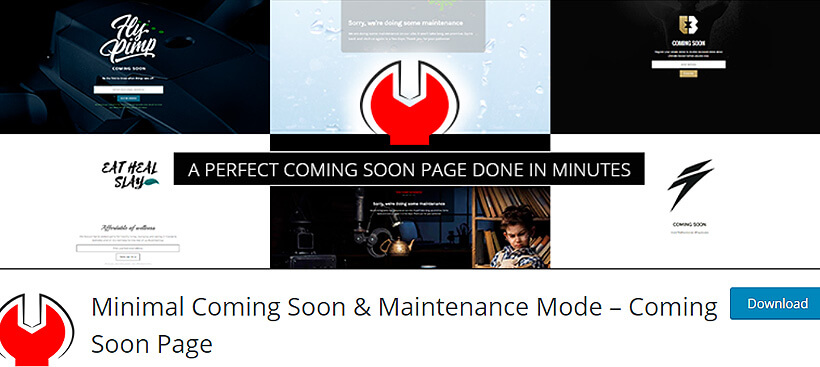 Minimal Coming Soon & Maintenance Mode is one amazing plugin every WordPress users must have. Often users are in search for the best maintenance mode page for their website and this one is something highly recommended. It's very user-friendly and is immensely flexible. Having integrated with MailChimp now users can gather emails from different customers visiting their website. Some lovely pre-built templates are included in the plugin and more in the premium version. It has good compatibility with all themes and plugins so you can use it with anyone.
Major Features:
Compatible with other Themes & Plugins
Configure Maintenance Page
Easily add Custom CSS and HTML
GDPR compatible
Supports Custom Login URL
Track visitors via Google Analytics
---
WP Maintenance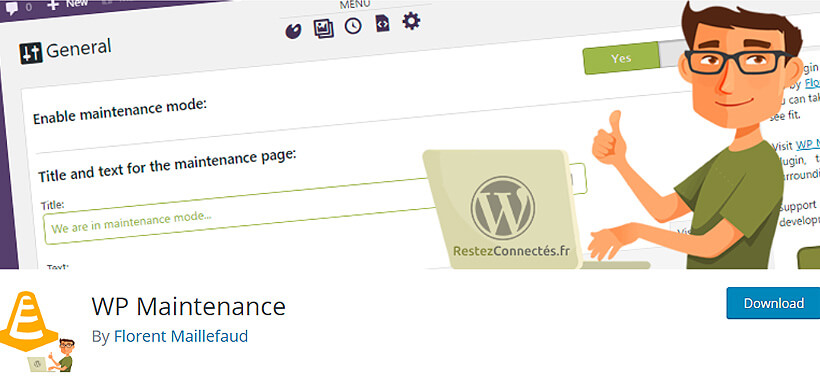 WP Maintenance is one of the finest plugin for a maintenance mode page. Whether you are a tech expert or non-technical person this simple plugin is best for you if you want to have a coming soon page for your website. Set the countdown button in the maintenance page to let your visitors be updated when your site is going to be ready. Wide range of features included allowing users to customize the overall design of the site like adding new colors and fonts any many other interesting things.
Major Features:
Google Analytics ready
Insert for shortcode
Enable "503 Service temporarily unavailable"
Upload picture or pattern in the background
Social Networks ready
---
Ignite Up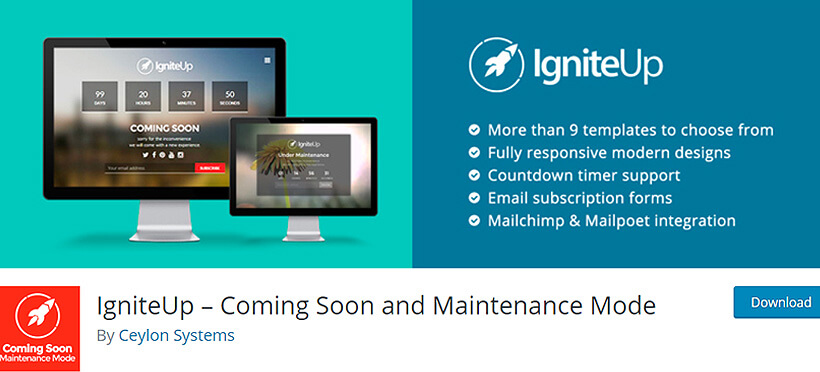 IgniteUp is a well-known WordPress plugin for users looking to create an under construction or coming soon page for their website. Simply install the plugin and have your maintenance page ready in just few minutes. One interesting feature included in the plugin is that you can control and let particular chosen visitors to visit your site through whitelisted IP Adresses. The 503 response in available in the plugin to let serach engine know that your website is down due to maintenance.
Major Features:
100% Mobile Responsive
Mailchimp API v2 Integration
Contact Form Support
Translation Ready
7 Templates Available
Fully Customizable Templates
---
Offline Maintenance Mode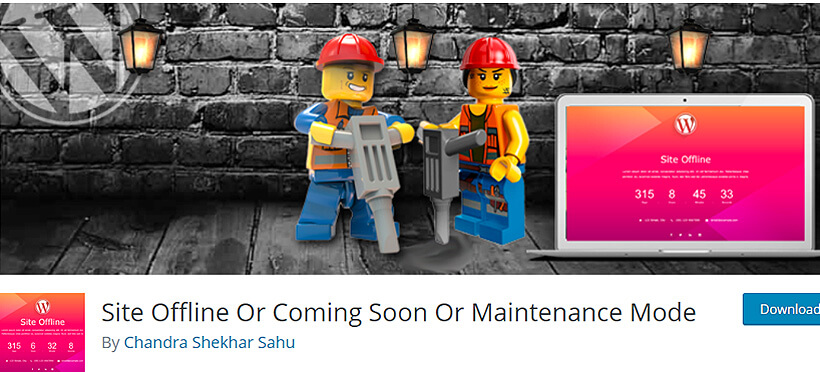 Site Offline is one easily manageable plugin developed for providing maintenance page for your website. The plugin is highly responsive so it assures you to fit well in smartphones and tablets. Being easily customizable users can play with it and change new colors and fonts in the main page. Even update the appearance of the theme to look more advanced with the help of CSS3 Animations.
Major Features:
Responsive Design
Countdown Timer
Background Image Supported
Unlimited color Scheme
4 Social Profile Integrated
Cross-Browser Support
---
Coming Soon or Maintenance Mode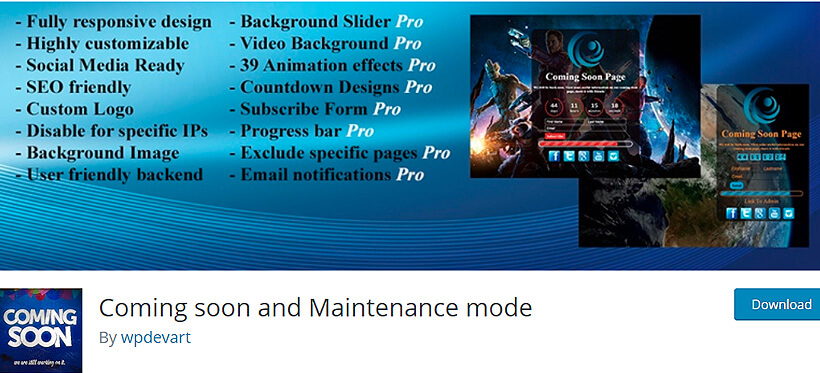 Coming Soon and Maintenance Mode is a fast and flexible plugin for setting up a maintenance page. You can modify the look of the page as you wish to with less efforts and time. Being an SEO friendly plugin you can improve your site's position in SEO rankings. It has great compatibility with all themes and plugins so you use the plugin with any theme.
Major Features:
Extremely Responsive
Ability to set Meta description and keywords
Social Media Ready
Set background image and color
Customizable Construction Page
---
To Conclude,
An maintenance or coming soon page is very vital for any website. It is important to make sure that it looks attractive and eye-catching so that visitors will be pre-excited and wait for your website to launch. Hence, with the help above WordPress maintenance mode plugins you can definitely pick out anyone and start building your maintenance mode page today.
Do you have any thoughts or opinion regarding the article above? Go ahead and and share it with us in the comment section below: