5 + Best WordPress Google Drive Plugins 2023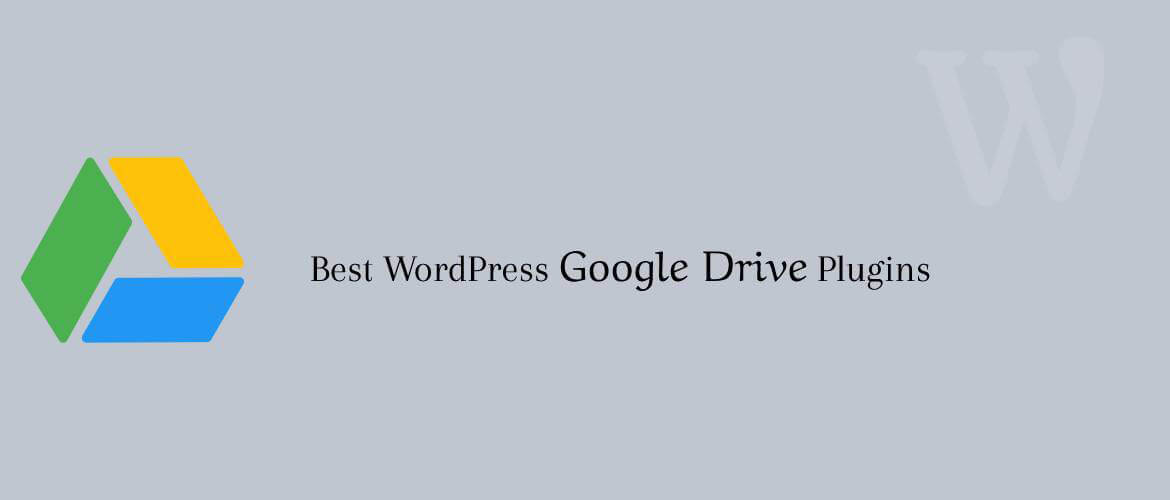 Are you looking for a Google Drive plugin?
Google Drive is a powerful cloud storage solution that offers many benefits, including easy file sharing and collaboration. With the help of WordPress plugins, you can integrate Google Drive with your website and simplify your file management process. Whether you're running a blog, an e-commerce store, or a corporate website, a Google Drive plugin can help you streamline your workflow, save time, and increase productivity.
In this article, we'll review some of the best WordPress Google Drive plugins on the market, including their features, pricing, and user reviews. From file synchronization to document embedding and automatic backups, these plugins offer a variety of functionalities that can enhance your website's performance and user experience. Whether you're a beginner or an advanced user, our guide will help you choose the right plugin for your needs and take your website to the next level. So let's dive in and explore the best WordPress Google Drive plugins of the year!
Below we have explained all the plugins. Let's check them out.
---
Best WordPress Google Drive Plugins for 2023
---
Google Drive Embedder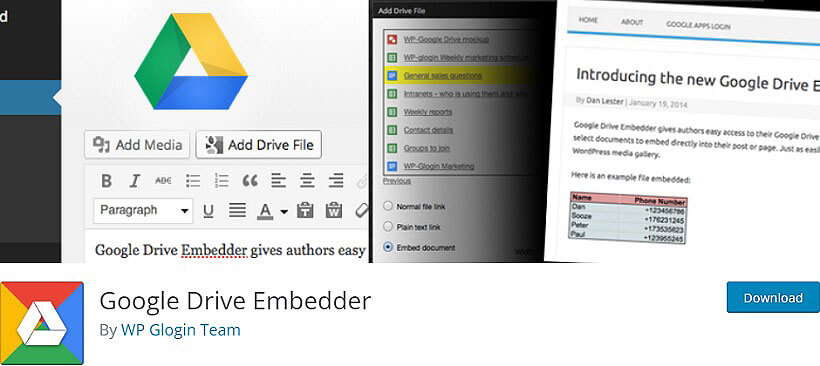 Google Drive Embedder is a powerful plugin that allows you to easily embed files and folders from your Google Drive account onto your WordPress website. With this plugin, you can display documents, images, and other file types directly on your site, without the need for users to download or open them in a new window. The plugin also provides advanced customization options for embedding, making it easy to control the appearance and functionality of your embedded content. Plus, it supports responsive design, ensuring your embedded files look great on all devices.
Major Features:
Simple  to use
Translation-ready
WooCommerce REST API support
Brands json import/export
Customizable brands slug
---
Image and video gallery from Google Drive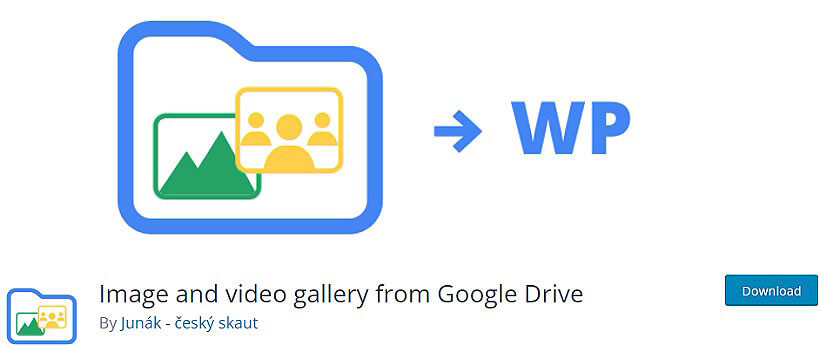 The Image and Video Gallery from Google Drive plugin is a user-friendly and feature-rich solution for displaying your images and videos in a beautiful gallery. With this plugin, you can easily create a gallery from your Google Drive folders and share it on your website. The gallery supports various image and video formats and offers multiple customization options such as layout, lightbox, captions, and more. It's a great choice for anyone who wants to showcase their media files in a professional and organized way.
Major Features:
Assign a logo, a name, and a description
Manage brands hierarchically
View brands of a product on a single product page
View archive page for each brand
Tassonomy "Brands" will be added
---
XCloner Google Drive

XCloner Google Drive Plugin allows you to back up your WordPress site data to Google Drive. It provides automated backups and remote storage capabilities to keep your website data secure. With easy-to-use setup and scheduling options, you can easily configure backups to ensure you never lose your critical data. The plugin also offers backup encryption and incremental backups to save storage space. The Google Drive integration enables you to store backups remotely, ensuring your data is always secure and available when you need it. It is a must-have plugin for any WordPress website owner looking for an easy and reliable backup solution.
Major Features:
Creating, editing and deleting brands
Assigning a brand to a product
Shortcode for displaying the list of brands
Semantic markup for the brand
Widget for displaying selected brands
---
Connector for Gravity Forms and Google Sheets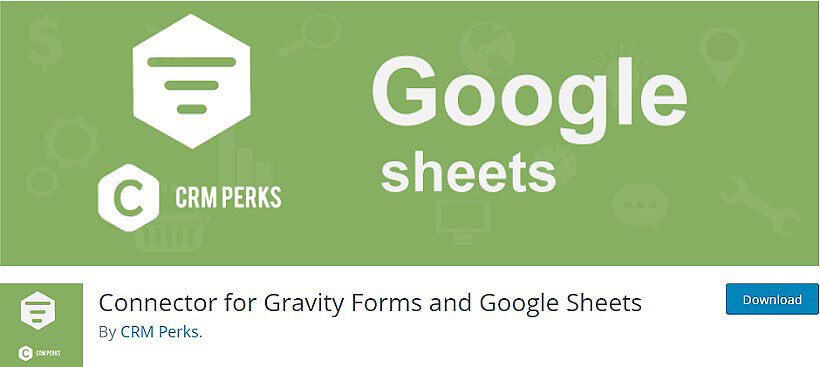 The Connector for Gravity Forms and Google Sheets plugin allows you to automatically export Gravity Forms submissions to Google Sheets. With this plugin, you can easily create spreadsheets that are populated with data from Gravity Forms, and keep all your data organized in one place. It comes with a simple interface that makes it easy to configure and manage, and it supports custom field mapping so you can choose exactly which fields to export. This plugin is a must-have for anyone who wants to streamline their data collection and management process.
Major Features:
---
WordPress Download Manager

WordPress Download Manager is a file management plugin that allows you to manage, track, and control file downloads from your WordPress site. With this plugin, you can easily create and manage download categories, set download limits, and restrict access to certain downloads. The plugin also comes with built-in stats and reporting tools, making it easy to monitor your downloads and track user activity. Plus, you can integrate WordPress Download Manager with Google Drive, Dropbox, and other popular file hosting services to store and manage your files. Overall, this plugin is a must-have for any website that offers file downloads.
Major Features:
Responsive Design
Uses Shortcode
---
EmbedPress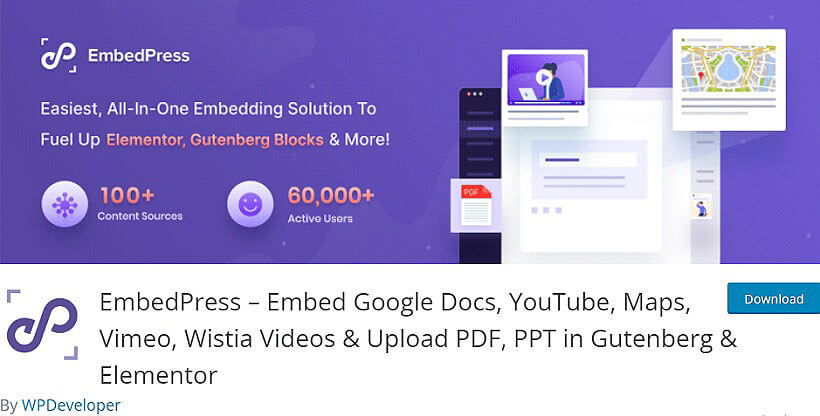 EmbedPress is a powerful plugin for WordPress that allows you to embed and display different types of content on your website. With EmbedPress, you can easily embed videos, images, social media posts, and more from various sources like YouTube, Facebook, Instagram, Twitter, and more. The plugin supports over 75+ different content sources, giving you the flexibility to embed any type of content on your website. Plus, EmbedPress offers advanced customization options to help you style and display your embedded content in the way you want. Try EmbedPress today and add dynamic and engaging content to your website with ease.
Major Features:
Custom image for brands
Shortcode to display products by brand ID
Widget with links for brand pages
Custom pages for brands
Slider for brand links
---
Lastly,
These Google Drive plugins for WordPress offer users an easy and convenient way to manage their files and media assets. Whether you need to back up your website, collaborate with others, or simply enhance your workflow, these plugins offer a range of features and capabilities that can help. By selecting the right plugin for your needs, you can streamline your processes and improve your overall productivity. So why not give one of these plugins a try and see how it can benefit you and your WordPress site?
Have anything to share with us? If yes then share it with us in the comment section below: