5 + Best WordPress Crowdfunding Plugins 2023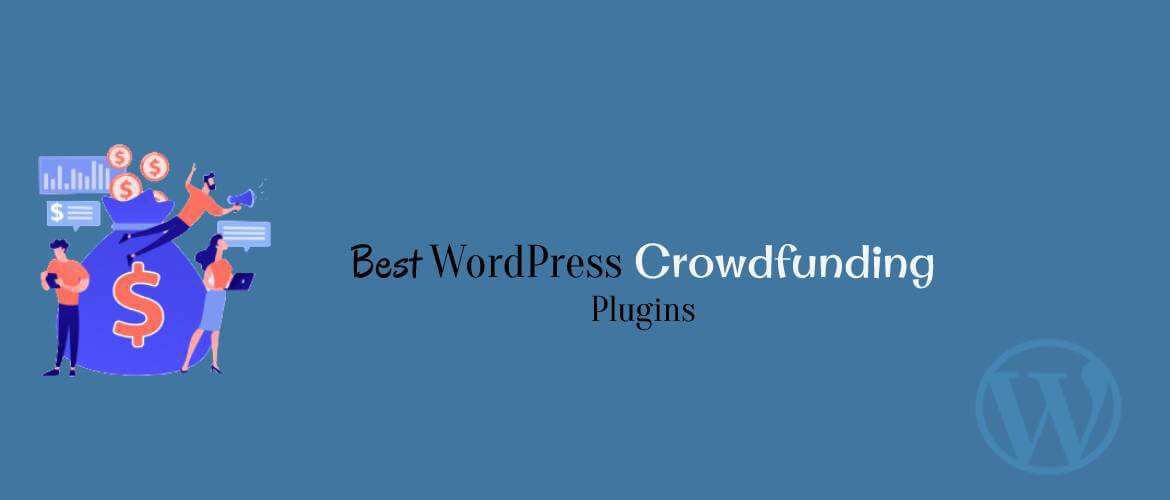 Do you want to have Crowdfunding features on your site?
Have you ever heard of Crowdfunding? It generally means a campaign to receive donations or funds from different people, companies, or any other means. It is very simple to set up a crowdfunding website. You will only need a beautiful theme designed specifically for crowdfunding. The only thing that matters is the functionality of letting users join your program and contribute. For this, a worthy and secure online payment system is required. Hence, in this article, we share with you some of the best WordPress crowdfunding plugins.
Why is the crowdfunding plugin important?
Crowdfunding is something effective plugin to have for a website made for crowdfunding. These plugins contain all the necessary functionalities like online payment, user trackings, and others. If you want to create a complete crowdfunding site then this plugin is definitely needed.
So, now let's go ahead and find out what are the plugins.
---
Best WordPress Crowdfunding Plugins 2023
---
WP Crowdfunding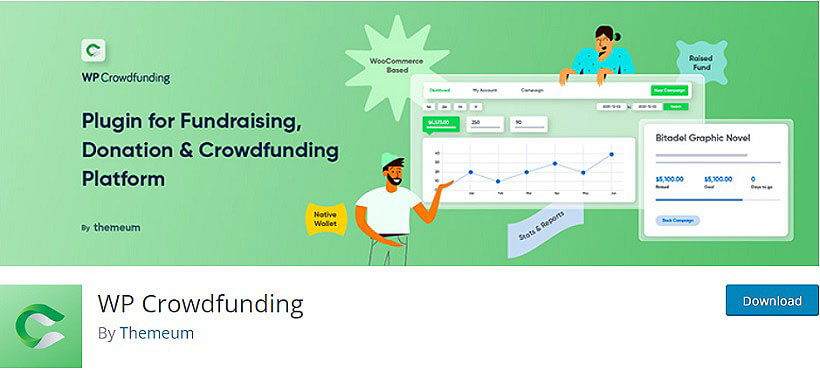 WP Crowdfunding is a powerful plugin that enables you to create a crowdfunding platform on your WordPress website. It provides advanced features such as campaign management, payment processing, and multiple payment gateways. This plugin is easy to use and offers customization options for campaigns, user profiles, and rewards. With WP Crowdfunding, you can launch and manage your own crowdfunding website, whether it's for a personal project or a community-driven initiative.
Major Features:
Frontend project submission form
Project start & end date options
Minimum & maximum price options
Declare a funding goal
---
WP Fundraising Donation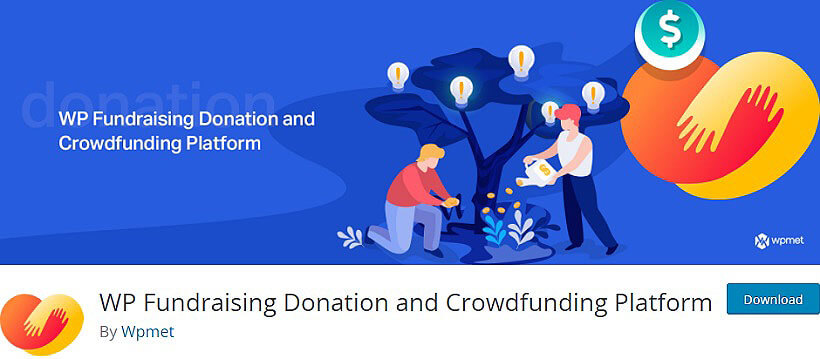 WP Fundraising Donation is a powerful WordPress plugin for accepting donations and raising funds for your projects or causes. With this plugin, you can create multiple campaigns, customize donation forms, set donation goals, and track your progress with detailed reports. It offers a secure payment system, supports various payment gateways, and integrates with popular WordPress themes. Whether you're a non-profit organization, charity, or individual looking to fundraise, WP Fundraising Donation makes it easy to receive and manage donations on your website.
Major Features:
Show/Hide Backer Table
Create Unlimited Rewards
Campaign Update Status tab
Recommended Price
---
IgnitionDeck Crowdfunding & Commerce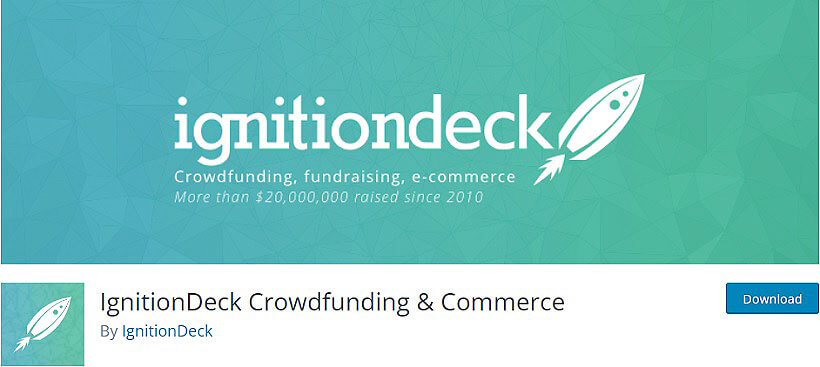 IgnitionDeck Crowdfunding & Commerce is a powerful WordPress plugin that enables you to launch and manage a crowdfunding campaign with ease. The plugin offers a wide range of features, including customizable campaign pages, payment gateways, rewards, and more. With IgnitionDeck, you can set up a professional-looking crowdfunding campaign that attracts backers and helps you achieve your fundraising goals. The plugin is easy to use and offers a range of customization options, making it an excellent choice for businesses and individuals looking to raise funds for a project or cause.
Major Features:
Shortcodes for every piece of data
Manual order entry and updates
Parent/child project relationships
Custom project taxonomies for categorical data
---
Crowdfundly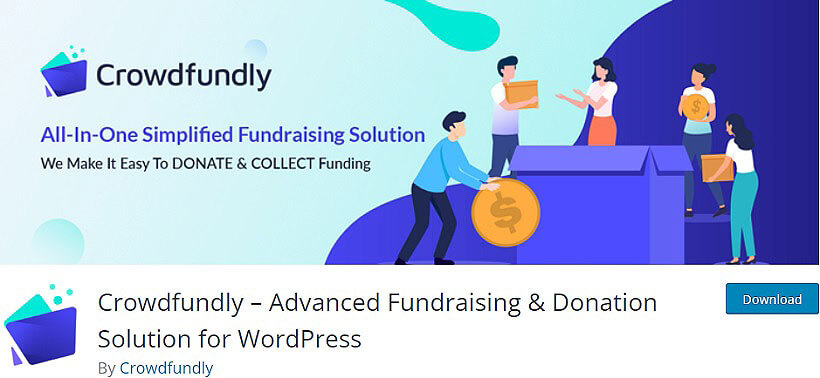 Crowdfundly is a powerful WordPress plugin for creating and managing crowdfunding campaigns. It allows you to set up a fully customizable campaign page, accept donations, and manage your campaign with ease. With Crowdfundly, you can create multiple campaigns, set funding goals, offer rewards to donors, and more. The plugin also comes with a dashboard that gives you real-time campaign analytics, so you can track your progress and make informed decisions. Plus, it integrates with popular payment gateways like PayPal and Stripe, making it easy to collect donations securely.
Major Features:
Allow Anyone To Raise Fund
Manage Escrow with Duration
Stripe & PayPal Integrated
Multi-language Support
---
Crowdfunding for WooCommerce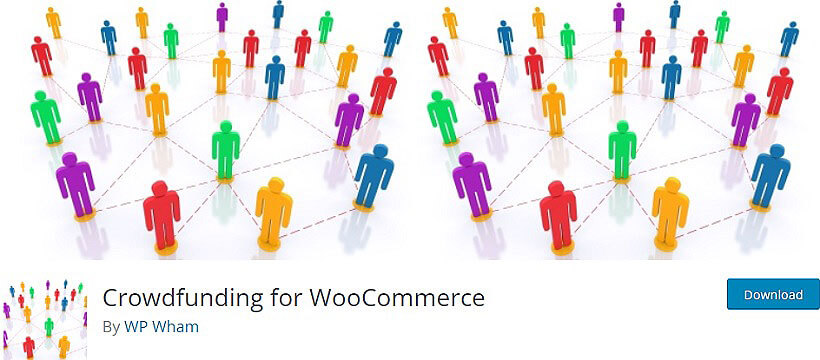 Crowdfunding for WooCommerce is a plugin that enables you to run a crowdfunding campaign directly from your WooCommerce store. It comes with a simple and intuitive interface that lets you create campaigns, set funding goals, and collect contributions from your audience. With its advanced features, such as reward tiers, goal tracking, and flexible payment options, you can run successful crowdfunding campaigns without any hassle. Plus, it integrates seamlessly with your WooCommerce store, making it easy to manage everything in one place.
Major Features:
Enable/disable emails on a crowdfunding campaign
Style progress bars for the time remaining
Set custom HTML to show when the project
Choose when and if to end the campaign
---
Whydonate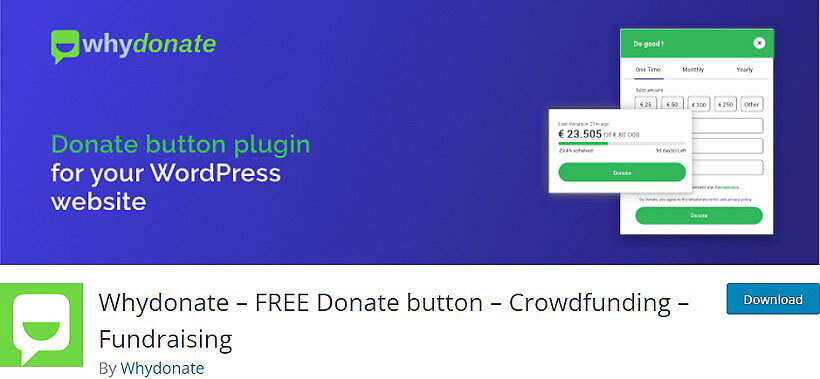 Whydonate is a WordPress plugin that enables you to create custom donation forms and accept donations securely. With Whydonate, you can set up recurring donations, accept donations in various currencies, and integrate with payment gateways like PayPal, Stripe, and more. The plugin comes with pre-built templates for quick setup and customization options for designing your own forms. It also offers donor management features like reporting and analytics to help you track donations and donor activity. Whydonate is a user-friendly and reliable solution for anyone looking to accept donations on their WordPress site.
Major Features:
Multiple payment options
Completely customizable
Create new fundraisers
Peer 2 peer fundraisers
Interact with donors
---
Lastly,
Choosing the right crowdfunding plugin for your WordPress site can be a crucial decision in your fundraising journey. With the plugins we've listed, you can easily create, manage, and track your campaigns while engaging your supporters in a seamless experience.
We want to know if you have something to share with us. Please write it down below in the comment box: