5 + Best WordPress Chatbot Plugins 2023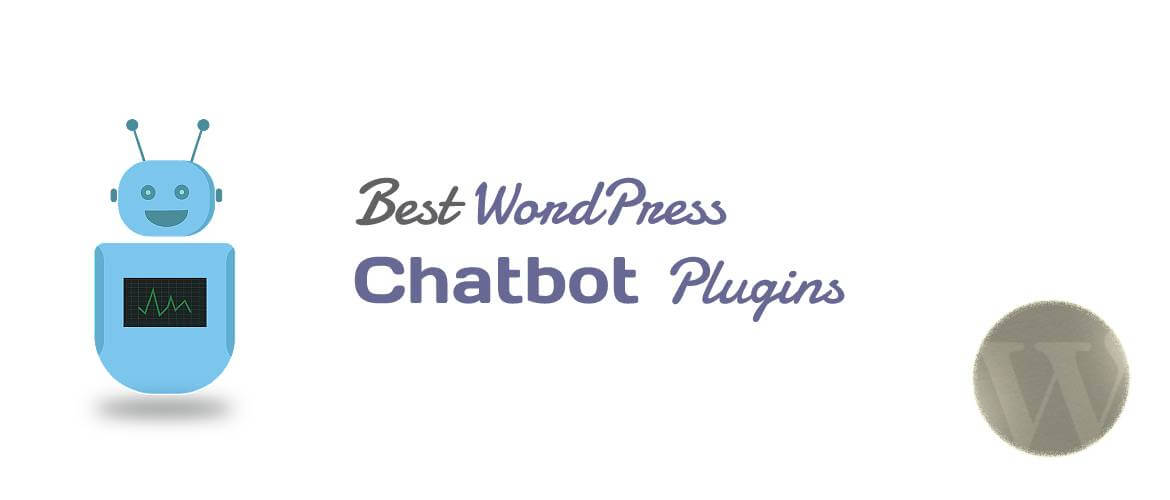 Chatbots have become increasingly popular in recent years as a way to automate customer service and improve user engagement on websites. With the rise of artificial intelligence (AI) and machine learning, chatbots have become more intelligent and effective in handling customer queries, generating leads, and collecting data. In the world of WordPress, there are several plugins available that allow website owners to easily integrate chatbots into their sites without any coding skills. These plugins come with a variety of features such as AI-powered chatbots, custom chat flows, data collection and analytics, and more. Whether you are looking to improve your website's customer service, generate leads, or simply provide a better user experience, there is a chatbot plugin out there for you.
In this article, we will explore some of the best chatbot plugins available for WordPress and discuss their features, benefits, and drawbacks. We will also provide some tips on how to choose the right chatbot plugin for your website based on your specific needs and budget. By the end of this article, you will have a better understanding of the chatbot landscape in WordPress and be able to make an informed decision on which plugin to choose for your website.
---
Best WordPress Chatbot Plugins 2023
---
Chatbot for Lead Generation and Data Collection – Collect.chat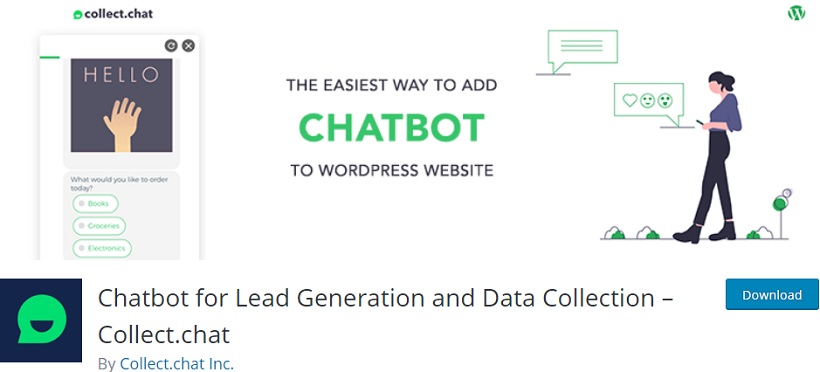 Collect.chat is a powerful chatbot plugin that helps businesses engage with website visitors, generate leads, and collect data through automated conversations. With an easy-to-use drag and drop interface, Collect.chat enables you to create chatbots in minutes and customize them to match your branding. The plugin integrates with popular platforms such as WordPress, Zapier, and Google Sheets, making it a great choice for businesses of all sizes. The chatbots created with Collect.chat can be used for a wide range of purposes, including lead generation, customer support, and feedback collection.
Major Features:
Chat with visitors 24/7
Allow contacts to set appointments
Notify the sales team about hot leads
Engage your visitors
100% customer support
---
Cliengo – Chatbot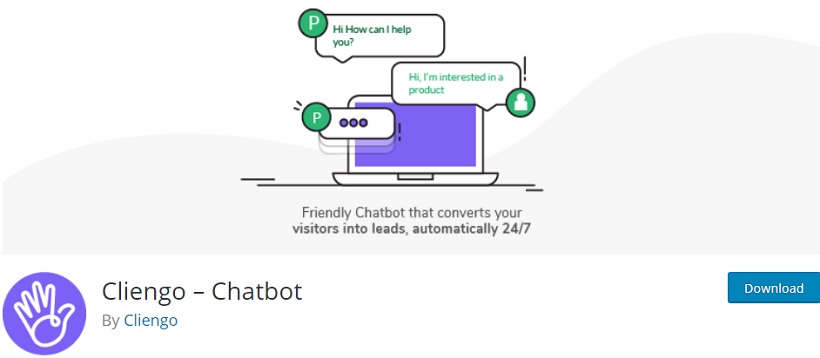 Cliengo is a chatbot plugin that can help businesses to automate their customer service, generate leads, and increase sales. With its intuitive drag-and-drop chatbot builder, creating a chatbot is easy and hassle-free. It offers various templates for different industries, and its AI-powered chatbots can respond to customer queries in real-time. Cliengo also integrates with popular CRMs, email marketing tools, and other apps, making it a powerful tool for automating your business processes. With its affordable pricing plans, Cliengo is a great option for businesses of all sizes looking to streamline their customer service and sales processes.
Major Features:
Integrated to Facebook
Connected to Google Analytics etc
---
Chatra Live Chat + ChatBot + Cart Saver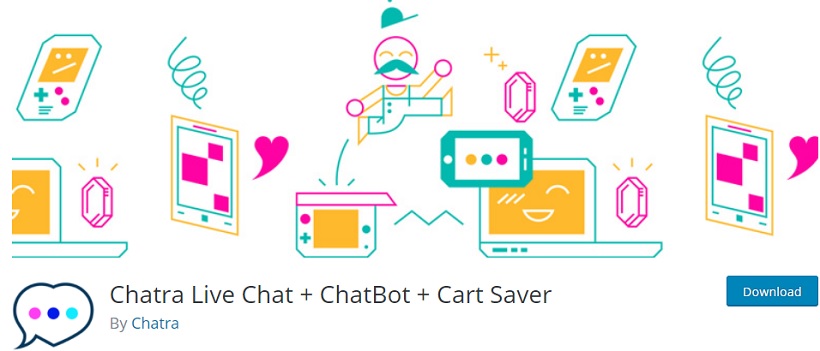 Chatra Live Chat + ChatBot + Cart Saver is a powerful plugin that offers live chat, chatbot, and cart saver features for your website. With this plugin, you can engage with your website visitors, answer their questions, and provide them with a personalized experience. The chatbot feature allows you to automate responses to frequently asked questions and capture leads. The cart saver feature helps you recover abandoned carts and boost your sales. Chatra is easy to use and customizable to match your website's branding.
Major Features:
Email integration
Intelligent form bot
Full Woocommerce support
Targeted chats
Real-time visitor list
---
WP-Chatbot for Messenger
WP-Chatbot for Messenger is a WordPress plugin that enables you to create a chatbot for your website using Facebook Messenger. With WP-Chatbot for Messenger, you can easily automate customer support, sales, and lead generation processes. This plugin allows you to create customized messages for your visitors and engage with them in real-time. It also helps you to collect customer data, analyze it, and improve your services. With its easy-to-use interface, WP-Chatbot for Messenger is the perfect solution for businesses looking to enhance their online customer experience.
Major Features:
One-click installation
Live chat with visitors 24/7
Single inbox for all incoming messages
Zero-hassle integration
100% integration with Facebook
---
AI ChatBot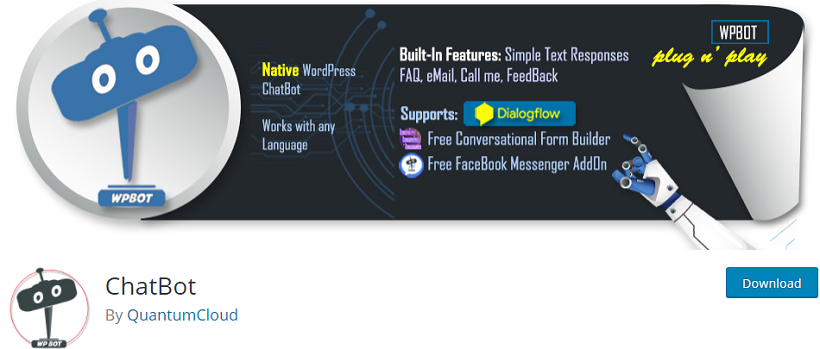 The AI ChatBot plugin by QuantumCloud is an advanced conversational interface for your website that uses artificial intelligence to provide personalized responses to your visitors. With this plugin, you can create custom chatbots that can handle a wide range of tasks, including customer support, lead generation, and sales. The AI ChatBot plugin is easy to set up and can be customized to match your branding and design. With features like natural language processing and machine learning, the AI ChatBot plugin provides a seamless experience for your visitors, making it an essential tool for any website owner.
Major Features:
Built-in, plugin n play features
Supports any languages including RTL
Upload Custom Icon
Integrate with FaceBook messenger
Rearrange the Start Menu
---
Chatbot with IBM Watson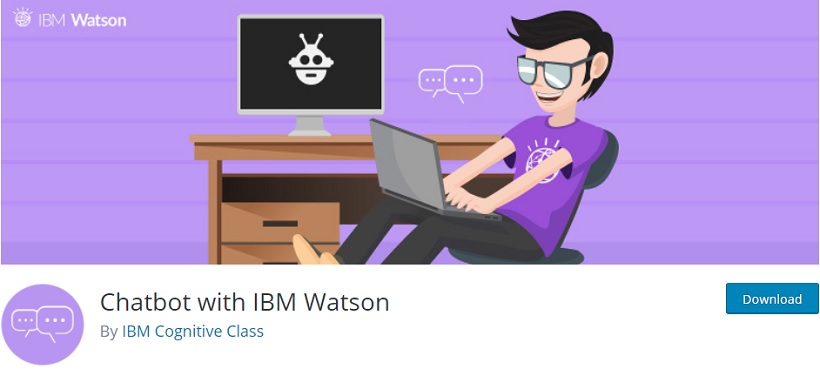 The Chatbot with IBM Watson plugin allows users to create chatbots that can understand natural language and provide personalized responses. This plugin integrates with IBM Watson's powerful AI and machine learning technology to provide a seamless user experience. With this plugin, businesses can automate customer service, generate leads, and streamline their workflow. Whether you're a small business or a large corporation, the Chatbot with IBM Watson plugin can help you provide top-notch customer support while freeing up your time to focus on other important tasks.
Major Features:
Easy VOIP calling powered by Twilio
Watson Assistant chatbot available
Choose the pages and posts for Visitors
Customize the appearance of the chat box
---
Lastly,
These top Chatbot plugins for WordPress offer a wide range of features to enhance your website's user engagement and lead generation. Each plugin has its unique advantages, but all of them can help you automate your customer service and save you valuable time and resources.
Any thoughts or suggestions regarding the article above? Please share it with us in the comment section below: