6+ Best Free WordPress Catalog Plugins 2023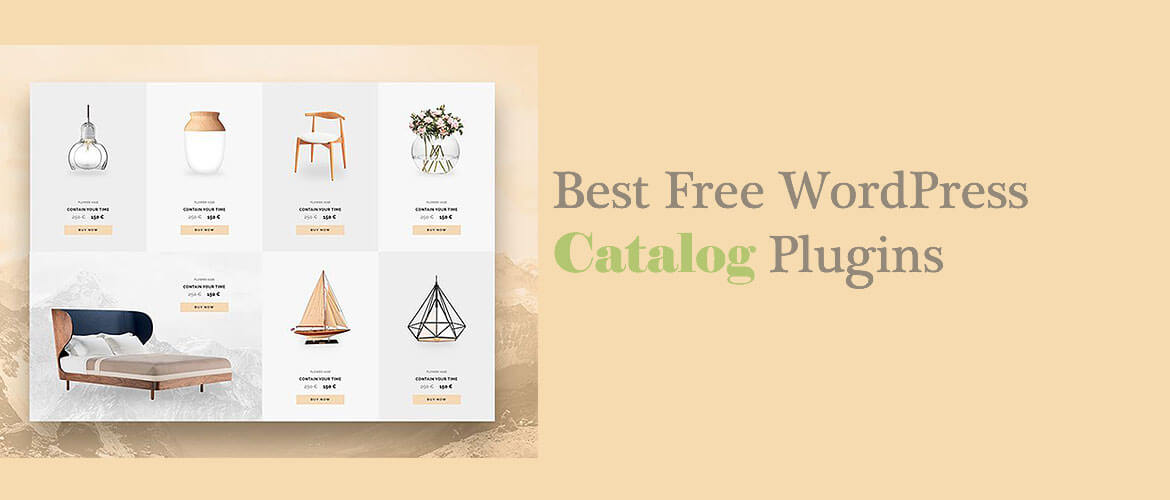 An Ecommerce website is highly on demand in today's time. Almost most of the websites build on WordPress are based on ecommerce. Although WooCommerce themes are available for ecommerce purpose, there are still other things offered by WordPress. There are different plugins made on WordPress for creating product catalog within a website.
These plugins have comes with outstanding features and functionalities. With the help of these plugins, users will be able to create a well designed and organized catalog for their website.
Here in this article, we are going to showcase a huge lists of free WordPress Catalog plugins. Let's have a quick look on them.
---
Best Free WordPress Catalog Plugins for 2023
---
Ultimate Product Catalog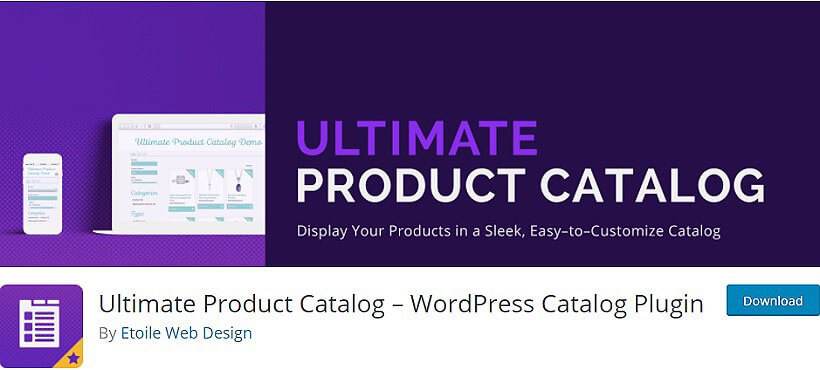 Ultimate Product Catalog is a powerful pack of Plugin based in building Product Catalog. Create modern and attractive looking catalog of varieties of products. The plugin happens to be a mobile-friendly one so you can update information through smartphones and tablets. Experiment with several layout design for catalogs and even customize some of its minimalist looks.
Key Features:
3 product catalog layouts
Dynamic product catalog search
Product catalog widgets
Upload and import products from a spreadsheet
Search product catalog functions with AJAX
---
eCommerce Product Catalog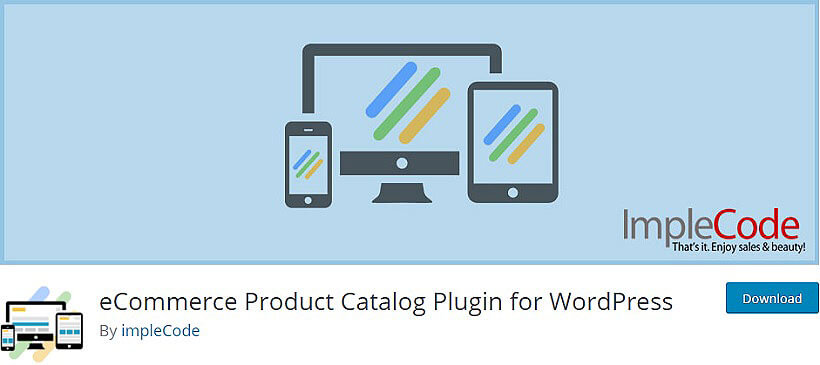 Create majestic and lovely catalog for different products with eCommerce Product Catalog. Manage the catalog well by updating multi-level categories, tags, and multiple product catalogs. Customers going through your site can now send quotes for their desired products from the catalog list. Really interesting features are included in the plugin and many more in the premium ones.
Major Features:
Display products anywhere
Fully customize product display
Enable full WordPress eCommerce functionality
Import & Export your products
Request a quote for Visitors
---
YITH WooCommerce Catalog Mode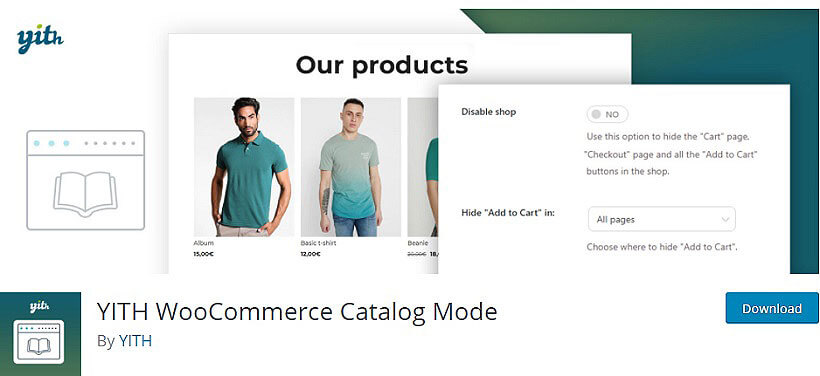 YITH WooCommerce Catalog Mode is yet another useful plugin for creating catalog within a website. This user-friendly plugin will make it easy for anyone whether professional or not to build an awesome product catalog into a webpage. The plugin is responsive and is also very good in terms of SEO.
Major Features:
Hide "Add to Cart" button on all product pages
Translation Ready
Hide "Add to Cart" button on other pages
SEO friendly
Hide WooCommerce "Cart" and "Checkout" pages
---
WC Catalog Enquiry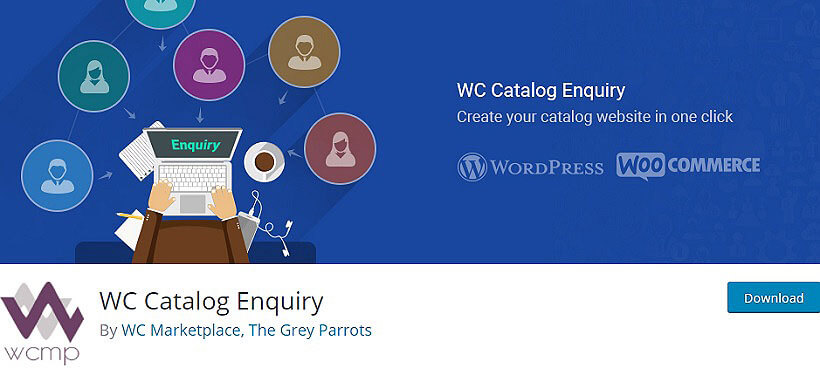 Web designer or anyone who wants to make a product catalog list in a website WC Catalog Enquiry is an best choice for you. Widgets are important part of any website and often people wish to alter the design of widgets. And this plugin works wonder for them. In addition to excellent features, the plugin also consists of filters and hooks through which the output can be customized along with class names. It is also extremely compatible with Widget Logic, Widget Context, and WP Page Widget plugins.
Major Features:
Hide product price for all users or guests
Responsive product enquiry form
Customizable form fields
Admin can restrict the store for selected users
Captcha support on enquiry form
---
Catalog for Woocommerce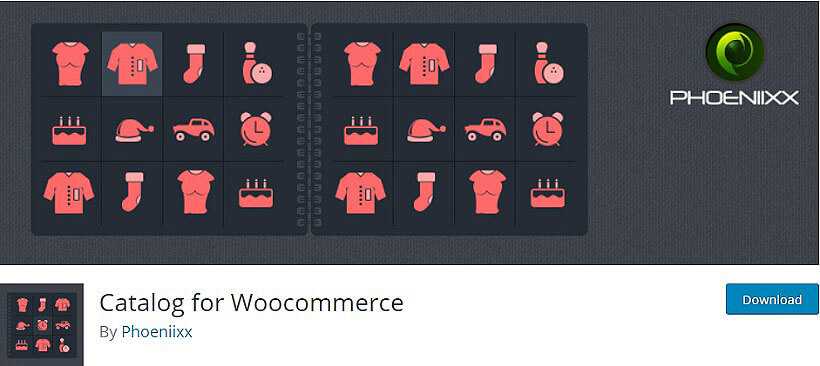 Catalog for Woocommerce  is the best and simple plugin that will let you build product listing catalog in any part of a website. It's features will make you even more enthusiastic in using the plugin and reap more benefits. Play with its available functionalities and modify the overall catalog of the site.
Major Features:
Hide Add to cart button from shop page
Compatible with Support Ticket System
Hide Price tag from shop page and product page
Add customized button by giving link
Open the link in new window
Stylize customized button
---
ELEX WooCommerce Catalog Mode
ELEX WooCommerce Catalog Mode is an add-on for the WooCommerce plugin that extends the functionality of the WooCommerce store. It has been designed specifically for product display. You can make your products display in a more advanced and professional way. With the added field you can make your products more informative and attractive to gain customer's attention.
Major Features:
WooCommerce Catalog Mode
Remove Add-to-Cart button
Hide product prices
Turn WooCommerce Store into catalog mode
Customize Add-to-Cart button
---
Product Catalog – Catalog for WordPress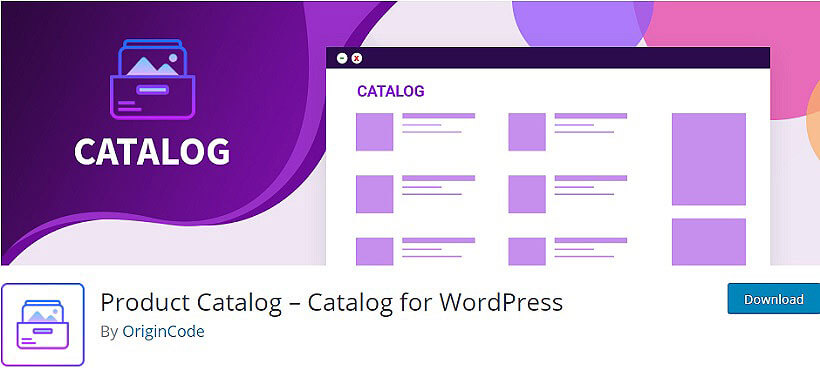 Product Catalog – Catalog for WordPress is a package of feature-rich and crucial plugins for WooCommerce. It has the best collection of plugins related to WooCommerce. As it is a responsive plugin so you will be able to update details via any kind of hand-held devices. Infact, visitors can visit your site and catalog through smartphones and tablets.
Major Features:
Zooming options
Add an unlimited number of products
Easily customizable
Responsive
---
To Conclude,
Hope this article has been a worthy one in finding out the best list of WordPress catalog plugins. Make your selection and start building awesome and impressive product catalog today.
Any thoughts or suggestions regarding the article above? Please share it with us in the comment section below: