5 + Best WooCommerce Email Follow Up Plugins 2023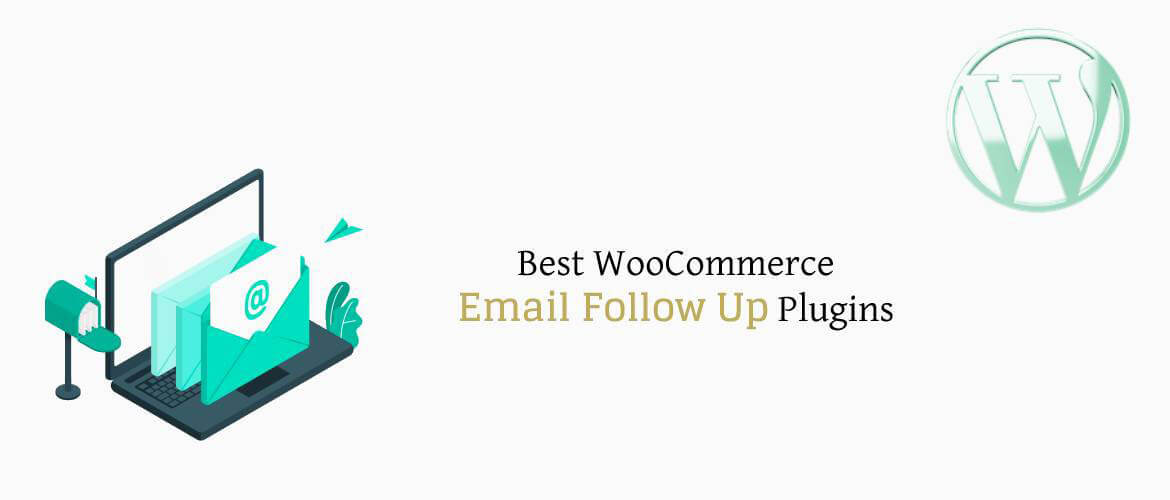 Do you want to add the WooCommerce Email Follow-Up plugin to your site?
In the world of e-commerce, it's not enough to just acquire customers, you also need to retain them. One of the most effective ways to do this is through email follow-ups. With WooCommerce email follow-up plugins, you can automate and personalize your email communications with customers, resulting in increased sales and improved customer loyalty.
In this article, we'll take a look at some of the best WooCommerce email follow-up plugins available. We'll explore their features and benefits, as well as provide some insight into which types of businesses each plugin might be best suited for. Whether you're a small business owner or a large enterprise, implementing a strong email follow-up strategy can help you drive more revenue and build long-term relationships with your customers. So, let's dive in and discover the best WooCommerce email follow-up plugins that can help take your e-commerce business to the next level.
Let's see them below :
---
Best WooCommerce Email Follow Up Plugins 2023
---
Post SMTP Mailer/Email Log

Post SMTP Mailer/Email Log is a WordPress plugin that enables you to connect to various SMTP servers for sending emails from your website. It provides reliable email delivery by logging every email sent from your WordPress site, including SMTP errors. The plugin also allows you to send test emails to ensure the setup is correct. With Post SMTP Mailer/Email Log, you can customize email templates and easily view email logs from your WordPress dashboard, making it an excellent tool for managing your email communication.
Major Features:
Easy-to-use
Commercial-grade Connectivity Tester
Log and resend all emails
Supports forced recipients
Security Support
---
ShopMagic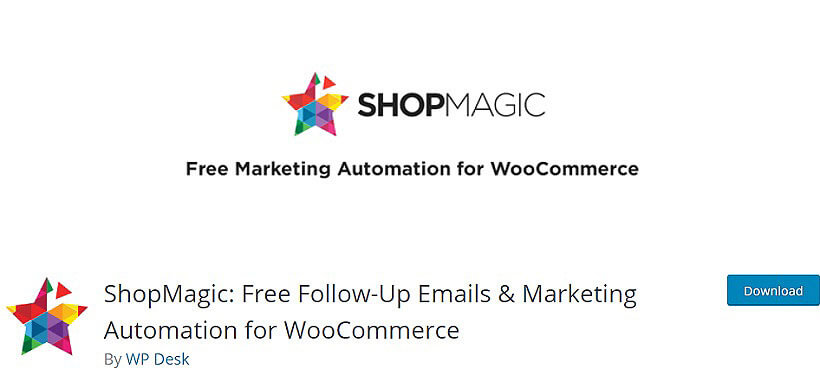 ShopMagic is a powerful and easy-to-use automation and marketing tool for WooCommerce. It lets you create personalized email campaigns and automate your marketing tasks. With ShopMagic, you can send targeted emails based on customer behavior, segment your audience, and track your campaigns' performance. It also offers advanced features like abandoned cart recovery, customer win-back campaigns, and integration with popular email marketing tools. ShopMagic helps you increase customer engagement, retention, and sales, making it an excellent tool for WooCommerce store owners looking to streamline their marketing efforts.
Major Features:
Integration with Mailchimp
GDPR compliant lists
Advanced guests handling
WooCommerce follow-up emails
Email queue
---
WP Mail SMTP by WPForms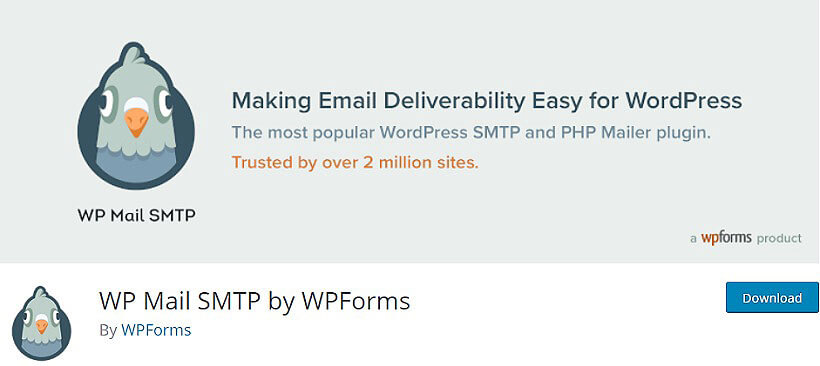 WP Mail SMTP by WPForms is a powerful plugin that allows you to send WordPress emails using a proper SMTP mailer. With support for Gmail, Yahoo, and other email providers, you can configure your email settings easily. Additionally, it provides detailed email logs to ensure your emails are delivered to your customer's inbox. It is the perfect solution for businesses and individuals looking for reliable email delivery with their WooCommerce store.
Major Features:
Email Log
Multisite Network Settings
Awesome Security
---
Hustle – Email Marketing, Lead Generation, Optins, Popups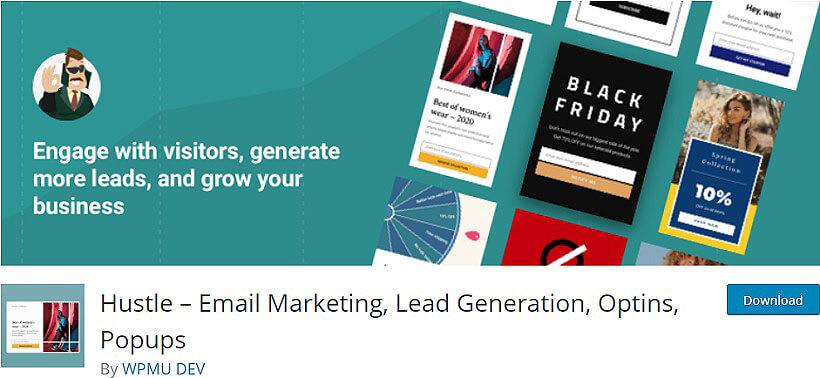 Hustle is a comprehensive email marketing and lead generation plugin for WordPress. It comes with a range of features to help you build your email list and grow your business. With Hustle, you can create custom opt-in forms, pop-ups, slide-ins, and more. The plugin also includes advanced targeting options, A/B testing, and analytics to help you optimize your campaigns. Plus, with integrations for popular email marketing services like Mailchimp and Constant Contact, you can seamlessly connect Hustle to your existing workflows.
Major Features:
Responsive
Form Builder Integration
Recaptcha Spam Warrior
4 default layouts
Easy management dashboard
---
HubSpot – CRM, Email Marketing, Live Chat, Forms & Analytics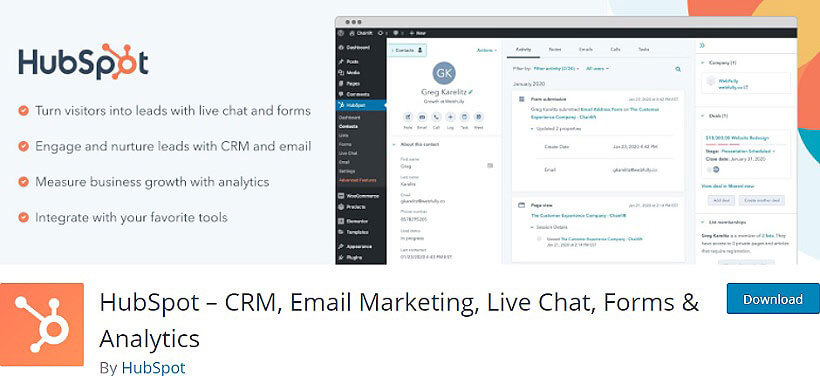 HubSpot is one plugin that offers a wide range of features. The striking feature of the plugin will hide automatically when the page is fully loaded. Update new fonts in the admin panel and also be able to enqueue your own Google Web Fonts. You will be able to add shortcodes in widgets on the front page of your site.
Major Features:
Contact Management Platform
Build beautiful & Responsive Email
Forms & Popups
Livechat & Chatbots
---
MailPoet – emails and newsletters in WordPress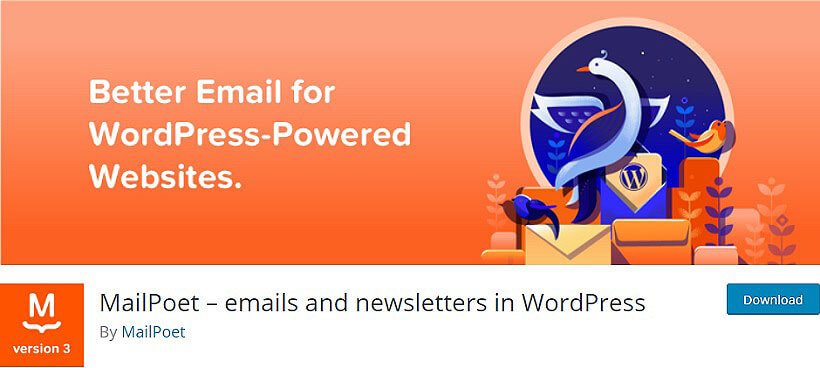 MailPoet is a powerful email marketing and newsletter plugin for WordPress. With MailPoet, you can easily create and send newsletters to your subscribers, as well as automate your email marketing campaigns. The plugin comes with a drag-and-drop email editor, pre-designed email templates, and advanced analytics to help you track your email campaigns. MailPoet also integrates with popular WordPress plugins like WooCommerce, Contact Form 7, and Gravity Forms.
Major Features:
Send automated welcome emails
Free WooCommerce email customizer
Insightful stats on your audience engagement
Build and send newsletters with WordPress
Beautiful responsive templates
---
Wrapping Up,
Having an effective email follow-up strategy is crucial for any WooCommerce store to increase customer engagement and drive sales. With these top email follow-up plugins, you can easily automate your email marketing and achieve better results.
Have any thoughts or suggestions regarding this article? Then be free to share it with us in the comment section below: