10+ Best Free Social Media Sharing Plugins for WordPress 2023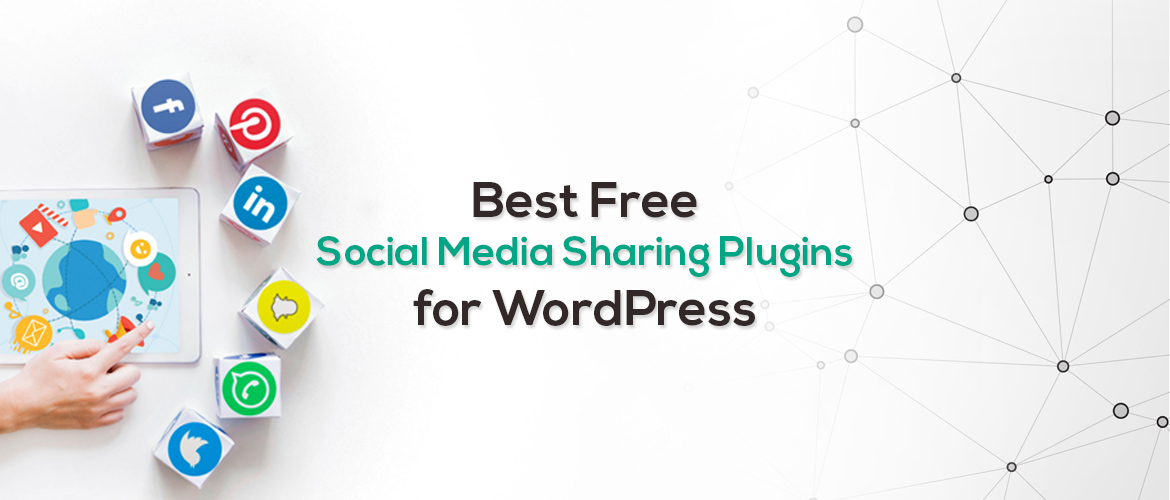 Social Media has become a vital part of our daily lives. Facebook, Twitter, Linkedin, Instagram, Reddit, etc. are some of the most popular social media platforms. And it's pretty sure that every individual has their own separate social media account. Well, besides having its personal use it is equally useful for other purposes such as sharing information, promoting one's business and website. WordPress website has come along way in making a powerful online presence for any business. Moreover, there are some great free social media sharing plugins for WordPress that link your social media account with your website.
According to many recent surveys, social media has a high potential in growing any business and drive more traffics and visitors for a particular website. Simply it is one of the best forms of digital marketing tools that are used widely by a huge number of people. Just a single click on the share button and your business page will reach out to millions of people around the globe. In this article, we have personally handpicked some of the best plugins for social media sharing. They are strong, feature-rich, fully functioning and plugins with a very good active installation as stated in WordPress.org. Using these plugins you share your latest social media news and other important things via your website.
---
So, let's explore the Best Free Social Media Sharing Plugins for WordPress
---
Social Media Share Buttons

Social Media Share Buttons are popular and often widely used WordPress plugin for social media sharing. It consists of amazing features that will share your social media links interesting. The plugin is very easy to use and doesn't require any technical skills. It offers a wide range of charismatic designs for its icons. Share the links of your favorite social media such as Facebook, Twitter, Linkedin, Instagram and others through your website.
Customize the share buttons with size, shape, and color of your choice and make them look even more attractive. Consequently, it enhances your website's appearance and makes it more engaging.
Main Features:
16 unique design for Icons
Get Float or Sticky Social Media Icons
Add 'counts' to social media buttons
Animated Social Media Icons
---
Sassy Social Share

Another vital social sharing plugin is Sassy Social Share. Being an absolute user-friendly plugin you can simply install the plugin and start using it with ease. The beautiful vector icon offered by the theme is what users going to love. And of course, these catchy icons will give your website an attractive look.
One thing to keep in mind that this plugin doesn't work on local servers and you will need to have your website live to let the plugin work fully. It is also very responsive and adapts well to all kinds of mobile devices and tablets. You can even share products stored in WooCommerce with various social media.
Main Features:
Compatible with BuddyPress, BBPress, WooCommerce
Multisite Compatible
Widgets and Shortcodes
Customizable Target Url
Compatible with myCRED
Official Like Buttons
Responsive
---
Super Socializer

Social Socializer is also a social sharing plugin useful for sharing your links, images and other important things on a social media platform. Its features are almost similar to other social sharing plugins. You will amazing icons for social media follows and likes. Moreover, you will also be able to customize these icons like modifying their shape, size, color, background color, etc. Social Media Platforms such as Facebook, Twitter, Linkedin, Instagram will look even better with these astonishing icons.
As it is extremely compatible with plugins such as bbPress, BuddyPress, WooCommerce you can share their links and products through your social medias.
Main Features:
GDPR Compliant
Supports HTTPS-enabled websites
Compatible with AMP and Gutenberg Editor
Social Media follow icons
Free Icon Customization Options
Supports HTTPS-enabled websites
---
Add to any sharing buttons

AddToAny Share Buttons developed by AddtoAny is one of the effective plugins for sharing information and links via social media. The plugin consists of various social sharing buttons. In other words, different shades of button design like standard, floating, animated, etc. It is also possible to customize these icon buttons in your own desired way. This responsive plugin makes easy for sharing information via smartphones and tablets.
You can easily decide where you want this AddtoAny icon to appear in any section of your website. Whether you place it in the header, menu or in the footer you can do it without any hesitation.
Main Features:
Custom Placement & Appearance
Analytics Integration
WordPress Optimized
Mobile Optimized & Retina Ready
Customizable & Extensible
Wide Support
---
WordPress Social Login

WordPress Social Login is a social sharing plugin for sharing social media activities within a website. It is very easy to set up this plugin on your WordPress website. With this plugin, you can straightaway login to your social media accounts like Facebook, Linkedin, Twitter and share any of your important stuff.
Modify the design of the icons. The way they look, it's color and size, background color, etc. You will receive immense support from its team.
Main Features:
Icon Customizations
Add Social Comments
Horizontal Social Sharing Widget
Floating Vertical Social Sharing Widget.
---
Social Media Feather

Social Media Feather is a delicate social sharing plugin for social sharing. This simple plugin is very easy to use and implement. You can add social media buttons automatically to all kinds of posts, pages, or any other custom post types. Sharing social media links and pages is very straightforward with this plugin comparing with other plugins.
It comes with sharing and following buttons through which you can share your social media stuff through your website. It offers widgets and shortcodes with which you can place in any section of your website. Having a very good active install in wordpress.org, it is definitely one of the best among free social media sharing plugins for WordPress.
Main Features:
Retina and High-Resolution Displays
Fast Unobtrusive Social Bookmarks
Supports all major providers of social features
Default Modern Icon Set
Makes social sharing easy
---
Social Warfare

Social Warfare has been developed by Warfare Plugins. It is one of the best and fastest WordPress Social Sharing plugins comparing to other ones. Because of its quick and effective performance, it is very popular among WordPress users and has amazing active installs. It offers very interesting and beautiful share buttons that will add much beauty and attractiveness to your site.
You can place the social icons anywhere in your site whether it's on the header or in any other parts of your website. There is a shortcode available in the plugin so you can simply insert them at any part of your site and have the sharing buttons ready.
Main Features:
Popular Posts Widget
Click To Tweet Quotes
Use Shortcodes To Manually Place Social Share Buttons
Content Protection
Minimum Social Proof
---
Grow By Mediavine

This amazing social sharing plugin Grow By Mediavine is another recommended and well-made plugins for social sharing. It works well with a WordPress theme and is also very compatible with other plugins also. You can get share and follow buttons that will let you share your social media feeds to people via your website.
It provides you with a wonderful option to customize the shape, size, color of the share buttons. A share count is also available for users to have a proper record of total no. of shares for different social media accounts like Facebook, Twitter, Linkedin, Instagram, and many others.
Main Features:
Easy Installation and Setup
Multiple Share Button Locations
Customizable Button Labels
Retina Ready Sharp Social Sharing Icons
Responsive
GDPR Compliance
Social Share Counts and Total Share Counts
---
Hustle Marketing and Social Share

Hustle is generally a marketing tool plugin embedded with social sharing features. This plugin has been developed by an award-winning team of WPMU Dev. It has the best marketing schemes such as building a mailing list with opt-in forms, targeted marketing popups, lead generation, etc. It also includes social share icons for your social networks. Add followers to your site by using the floating social widgets and shortcodes.
Main Features:
Pop-ups, slide-ins, widgets, embeds
Built-in Designs Editor
Smooth Display Animations
Gutenberg WordPress Editor Block
Recaptcha Spam Warrior
---
Simple Social Buttons

Simple Social Buttons is a very simple plugin for sharing social media files to your website. The plugin has an advanced set of social media sharing buttons to your WordPress sites, such as Facebook, WhatsApp, Viber, Twitter, Reddit, LinkedIn, etc.  The features included in the plugin are just outstanding and will allow you to experiment with lots of new things. You can have share buttons above the post content, under the post content, hide social share buttons on mobile devices and many others. Much more advanced features are included in the premium version of the plugin.
Main Features:
Stunning Animations
Display Total Share Counts
Social Share Buttons
Hide Social Share Buttons
---
Ocean Social Sharing

Ocean Social Sharing plugin is a social share plugin developed by OceanWP. This plugin is very simple and easy to install and work. It requires the OceanWP theme to be installed on your site to make the plugin work properly. Link your favorite social media accounts like Facebook, Twitter, Linkedin, Instagram, etc. Also, modify the design of the social icons as you desired.
Main Features:
Add Social Networks
Alter the Social Sharing Buttons
Choose between three styles
Add the Social Names
Choose the Heading Position
Add or edit the Social sharing via a Child Theme
---
Lastly,
I hope you enjoyed reading this article and perhaps you can pick any one of them and give it a try. Social sharing is something that is trending in the internet world today. It has been successful in exploring the business worldwide gaining new potential clients. So take the benefits of these splendid free social sharing plugins for WordPress and advance your business to the next level.
We would like to hear about your thoughts on this. If any suggestions and feedback please share it in the comment section below: