8 + Best Free WordPress Pricing Table Plugins 2023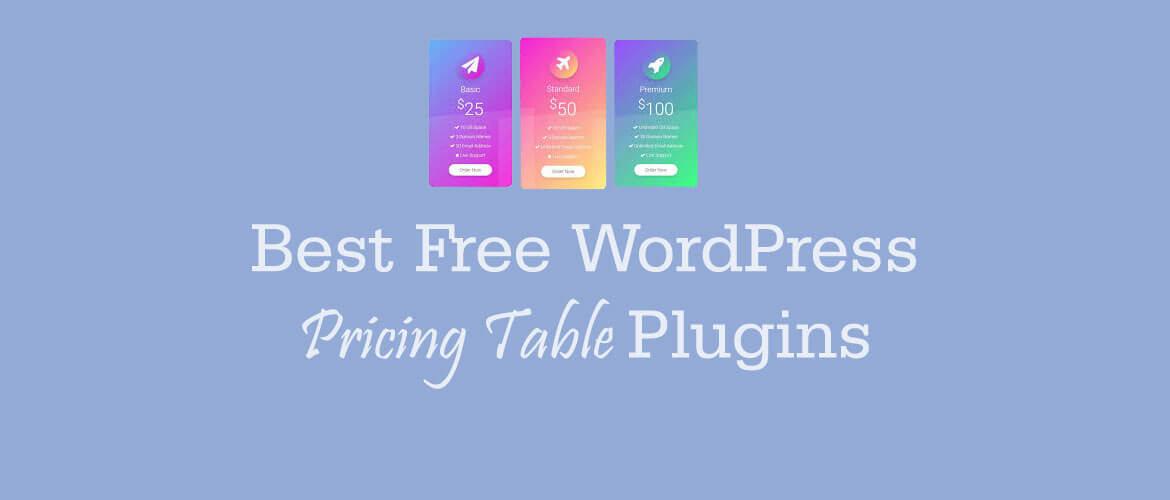 A simple website has never been quite exciting. People are always looking for new and compelling features to make their website a unique one from the rest. One of the feature which has been popular is pricing table. A pricing table is a vital thing for a website especially if your website focuses on selling product and services. For WordPress users there is several reason to be grateful as it offers some great plugins for adding stylish and lovely pricing table in your website.
Importance of Pricing Table
A Pricing table is fairly valuable for any website. You can set up a professional pricing table with complete contents to let visitors know the pricing scheme of your business. Using a pricing plugin you can have multiple ways to present information in a stunning way. You can showcase the wide range of price set for your products which can be the interesting part of your site that will grab the attention of viewers.
We have done a deep research on these plugins and handpicked the listed plugins from WordPress.org. So, let's  have a view on them.
---
Best Free WordPress Pricing Table Plugins for 2023
---
Pricing Table by Supsystic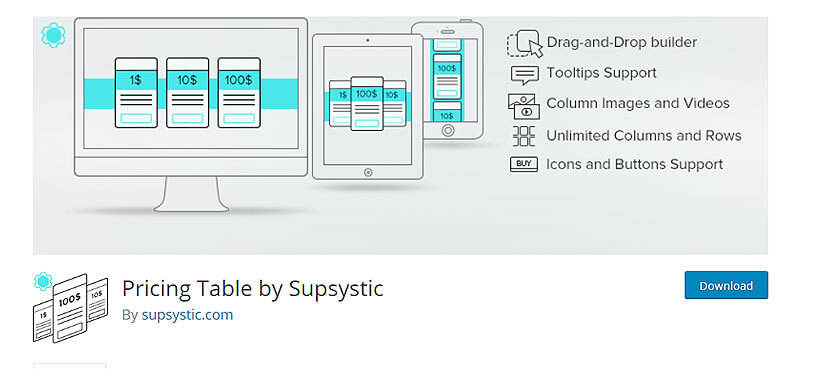 Pricing Table By Supsystic is one of the well-known pricing table plugin with amazing number of active installations. Users can set the pricing table into their site in any section whether it is page, post or any other section. There is no limitation for creating tables you can insert as many as you want. As there are many pre-built templates in the plugin so you can use any of them you like. Enhance the design of the pricing table using the available editing tools.
Key Features:
Responsive
Unlimited pricing tables, columns and rows
Pre-built Templates
Tables Export/Import
Hover Animation
---
Responsive Pricing Table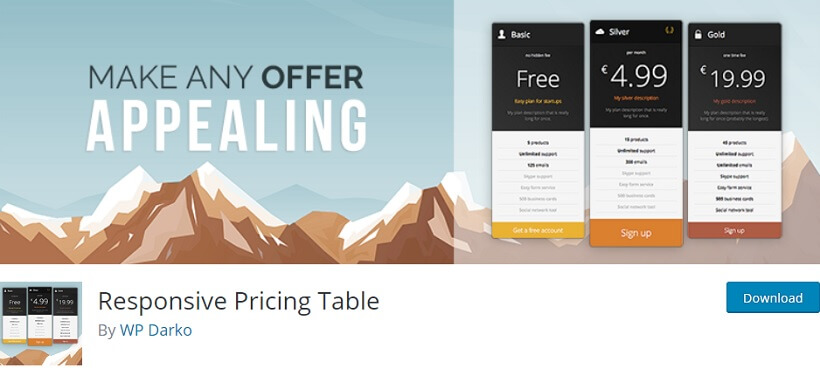 One of the most simplest plugin for creating pricing table for your website is Responsive Pricing Table. The plugin is very easy to use and users can display a pricing table in their site at any section. Just copy paste the short-code and you are done. Besides that it a responsive plugin so the pricing table will come in a fit and structured way in any of your favourite hand-held devices like smartphones and tablets.
Key Features:
Custom CSS
Font Option
Links behavior
Font size presets
Force original fonts
---
Pricing Table Plugins

This amazing plugin Pricing Table Plugins has been developed by Fatcat Apps. Users can use the plugin for displaying attractive pricing table for their site. You can simply insert the shortcode and put the pricing table in your favorite place. Though it comes with a simple design you can use the available customization features to enhance the appearance of the table.
Key Features:
Compatible with any WordPress Themes
Mobile-friendly
Beautiful User Interface
Easy Customization
Uses Drag & Drop
---
WRC Pricing Tables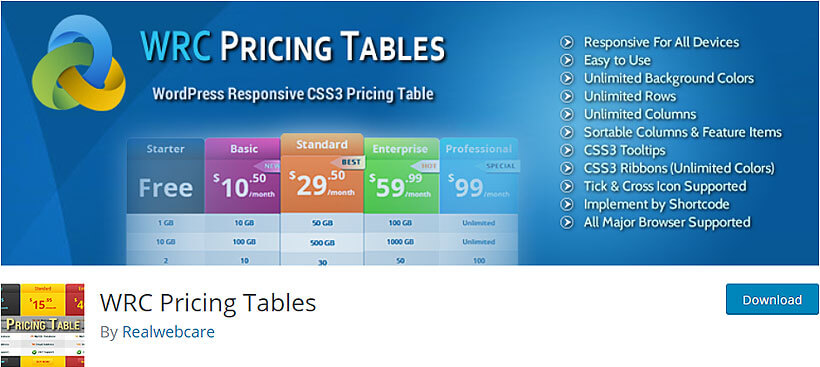 One of the well-known plugin for creating pricing table is WRC Pricing Tables. This amazing plugin works well with any kind of theme and plugins. One of the best thing about using the plugin is the customization feature of CSS3. Yes, with CSS3 you can modify the overall look of the pricing table and make it look stunning. Add as many rows and columns in the table as you want and use other option like button and icons to add more beauty.
Key Features:
Unlimited Background Colors
Sortable Columns & Feature Items
CSS3 Tooltips & Ribbons
Supports Major Browsers
Unlimited Rows & Columns
---
Pricing Tables by Pick Plugins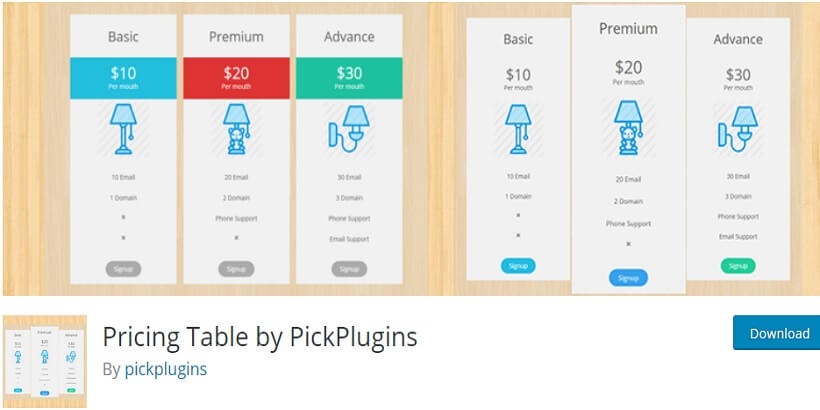 Pricing Tables by Pick Plugins is one cool plugin for designing a website. It simply provides a extended interface where users can add CSS code to enhance the look of a website. Create awesome pricing tables in your site and mesmerize visitors. Make good use of the features offered in the plugin and add some more attractiveness in the pricing design.
Key Features:
User-friendly
Unlimited pricing table
Display image for each column
Slider on mobile
Unlimited ribbons
---
Pricing Table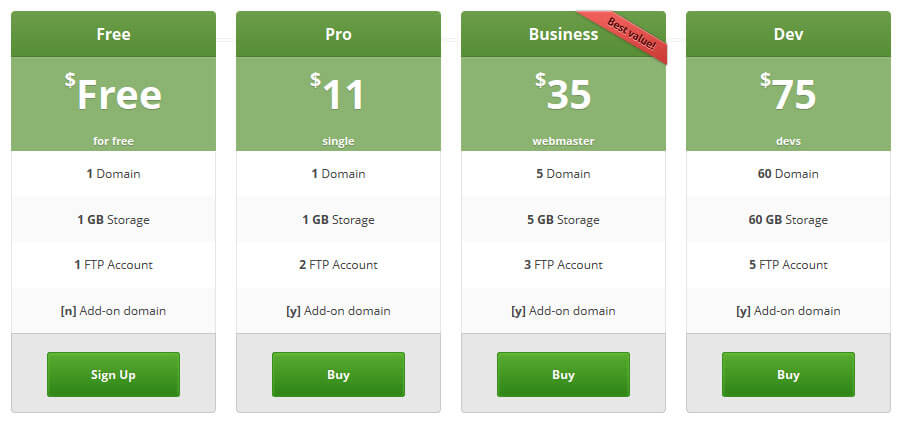 Pricing Table is a  feature-rich and crucial plugins for Pricing Table. The huge collection of inbuilt design makes it a striking one so you need to think about the right design. This user-friendly plugin can be easily install without any tech knowledge and in a fastest way. So, website owners can create beautiful pricing table to showcase their pricing scheme and special offers in a highly professional manner. Also, customize them in your own desired way with different colors and fonts.
Key Features:
Responsive Tables
5 different table templates
Translation ready
Tooltip support
Drag and drop feature
---
Pricing Table Plugin

Pricing Table Plugin is one of recommended and popular among people for pricing table plugin. It is completely user-friendly and easy to implement. Users can view your image in a larger size which is more convincing to buy. It also has a pro version with extended features. Hence, if you are looking to showcase the pricing and features listing of your products ans services then ARPrice is the best one for you.
Key Features:
Realtime Pricing Table Editor
Unlimited color options
Multiple Pricing table templates
Translation Ready
Multi Site Compatible
Lightweight & Resource saving
---
Pricing Table

Abc Pricing Table is ofcourse one of the finest pricing tables solutions available, and you can change your tables using the drag and drop page builder. Users only need to do is click on a field to change it. Column size can be adjusted without any difficulty. Change the look of the pricing table by modifying the background colors and font colors of each section.
Key Features:
Fully responsive
Add and remove Pricing Table
Button Color Option
4 Templet Design
Columns Settings
Supports All Browser
---
Finishing Up,
Those were our collection of best free WordPress pricing table plugins. We hope you liked them and find them useful. But the choice is yours so you can pick up anyone from them for your website. If you need better and more advanced features then you can go for the premium ones.
Any thoughts or suggestions regarding the article above? Please share it with us in the comment section below: