5 + Best WordPress Mailchimp Plugins 2023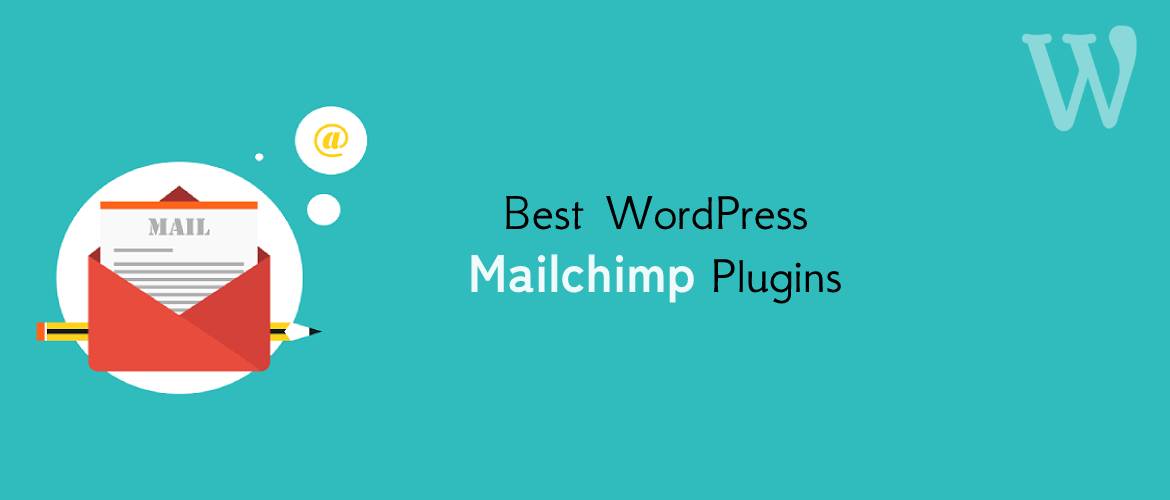 Are you looking for a Mailchimp plugin for your website?
Email marketing is a crucial aspect of any successful business. It allows you to stay in touch with your customers and keep them informed about your products, services, and updates. Mailchimp is one of the most popular email marketing tools available, and luckily, there are several excellent WordPress plugins available that integrate with Mailchimp.
In this article, we will review some of the best WordPress Mailchimp plugins that can help you streamline your email marketing campaigns and grow your subscriber list. Whether you need a simple subscription form or a complex automation setup, there is a Mailchimp plugin available for you. So, let's dive in and explore the top Mailchimp plugins for WordPress.
Why do you need a Mailchimp plugin?
A Mailchimp plugin is useful for integrating Mailchimp email marketing services with your WordPress website. With a plugin, you can easily create and manage mailing lists, subscribe forms, and email campaigns directly from your WordPress dashboard. This saves time and simplifies the process of building and maintaining your email marketing strategy.
Additionally, using a Mailchimp plugin allows you to track subscriber activity and analyze campaign performance all in one place. With so many benefits to using a Mailchimp plugin, it's no wonder that it has become a popular choice for businesses and website owners looking to optimize their email marketing efforts.
Now, let's go ahead and find out the plugin in the list below:
---
Best WordPress Mailchimp Plugins 2023
---
MC4WP: Mailchimp for WordPress

MC4WP: Mailchimp for WordPress is a feature-rich plugin that seamlessly integrates Mailchimp with your WordPress website. Easily create customizable opt-in forms and connect them to your Mailchimp lists to grow your email subscriber base. Automate the process of syncing user data and sending newsletters. Benefit from advanced features like GDPR compliance, popup forms, analytics, and more. Streamline your email marketing efforts with the powerful MC4WP plugin for WordPress.
Major Features:
Automatically add new users to Mailchimp
Track email campaign activity and analytics
Advanced targeting and segmentation options
GDPR compliant with opt-in settings and data management
Choose which form fields to sync with Mailchimp
---
Mailchimp for WooCommerce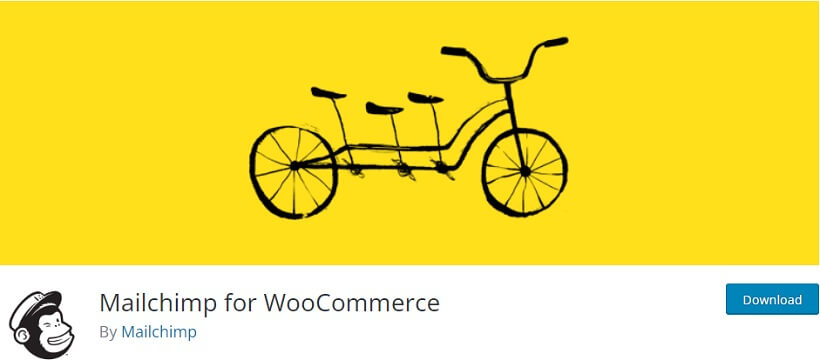 Mailchimp for WooCommerce is a powerful plugin that connects your WooCommerce store with Mailchimp, enabling you to streamline your email marketing efforts. Sync your customer data and purchase information to create targeted email campaigns and automation workflows. Design and send beautiful newsletters, abandoned cart reminders, and product recommendations to drive conversions and boost sales. Take advantage of advanced features like segmentation, product retargeting, and personalized content. Maximize your WooCommerce store's potential with the Mailchimp for WooCommerce plugin.
Major Features:
Offers customizable email templates
Enables automated emails based on customer behavior
Syncs WooCommerce customer data with Mailchimp
Provides detailed campaign reports and analytics
Provides options for product retargeting emails
---
MailChimp List Subscribe Form

MailChimp List Subscribe Form plugin allows you to easily integrate MailChimp subscription forms into your WordPress website. Capture visitor emails and grow your mailing list effortlessly. Customize the form design, fields, and messages to match your branding. Use various form display options, including pop-ups, embedded forms, and widgets. Seamlessly sync subscriber data with your MailChimp account for efficient email marketing. Boost your list-building efforts with the MailChimp List Subscribe Form plugin for WordPress.
Major Features:
Customizable form fields, labels, and messages
GDPR compliant with built-in consent checkboxes
Easily create and add subscription forms
Automatically add subscribers to your mailing list
---
MailChimp Forms by MailMunch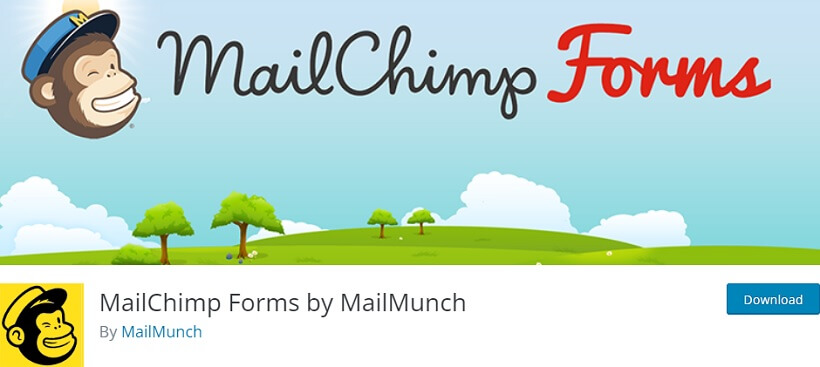 MailChimp Forms by MailMunch is a WordPress plugin that helps you to create custom forms and landing pages to grow your email list. It integrates with MailChimp to automatically add subscribers to your list. With drag and drop functionality and customizable templates, creating opt-in forms, popups, and landing pages is easy. The plugin also comes with advanced targeting options, A/B testing, and analytics to help you optimize your campaigns. Boost your email marketing efforts with MailChimp Forms by MailMunch.
Major Features:
Easy and intuitive drag-and-drop form builder.
A/B testing to optimize conversion rates.
Customizable and responsive form templates
Sync subscribers and campaigns
Analytics and reporting to track form performance
---
Contact Form 7 Extension For Mailchimp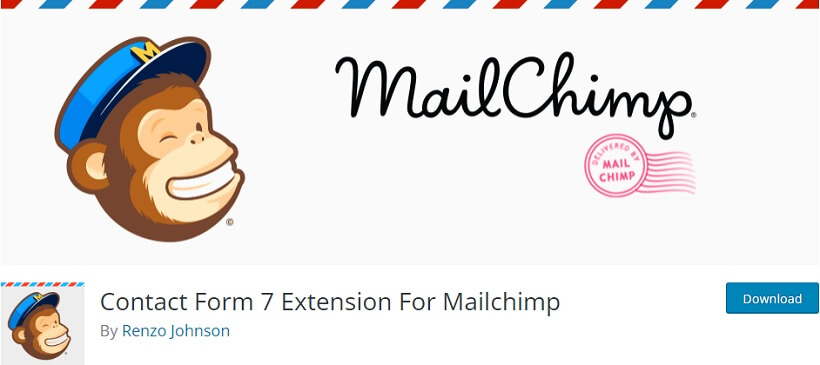 Contact Form 7 Extension For Mailchimp plugin enables you to integrate your Contact Form 7 forms with Mailchimp effortlessly. Easily map form fields to Mailchimp list fields and ensure accurate data capture. Automatically add contacts to your Mailchimp lists upon form submission. Customize subscription settings, including double opt-in and update existing subscriber options. Streamline your lead generation and email marketing with the Contact Form 7 Extension For Mailchimp plugin for WordPress.
Major Features:
Option to map form fields to Mailchimp fields
Supports Mailchimp API 3.0 for reliable and efficient integration
Double opt-in subscription option for added confirmation
Option to add subscribers to specific Mailchimp lists
Regular updates and support from the developer
---
Easy Forms for Mailchimp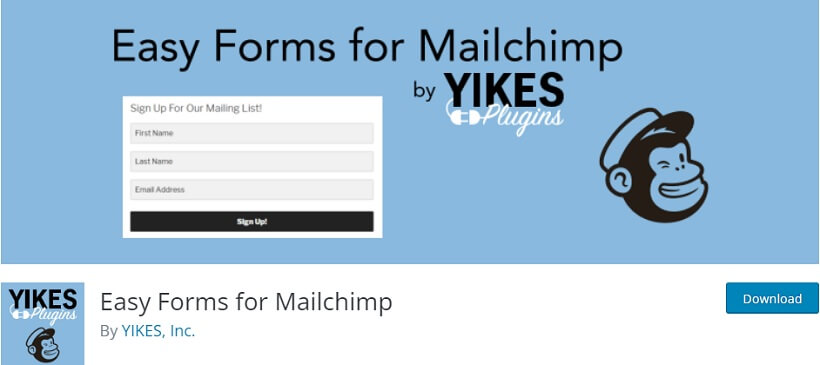 Easy Forms for Mailchimp is a user-friendly WordPress plugin that allows you to connect your Mailchimp account with your website. The plugin provides an easy way to create custom subscription forms, add them to your website, and manage your subscribers directly from the WordPress dashboard. With Easy Forms for Mailchimp, you can also set up email automation campaigns, segment your subscribers, and track the performance of your email campaigns, all without leaving your WordPress website.
Major Features:
Seamlessly integrates with Mailchimp
Provides multiple form styles and themes
Tracks form submissions and displays analytics
Offers GDPR compliance tools
Segment your subscribers based on form responses
---
To sum it up,
These WordPress Mailchimp plugins offer a wide range of features and functionalities to enhance your email marketing strategy. From seamless integration with Mailchimp to advanced subscription form management, these plugins provide the tools you need to grow your subscriber list and engage with your audience effectively. With their user-friendly interfaces and reliable performance, these plugins are essential for any WordPress website looking to leverage the power of Mailchimp for successful email campaigns.
We would love to hear your thoughts! Please leave a comment below and let us know what you think.