5 + Best WordPress Autoblogging Plugins 2023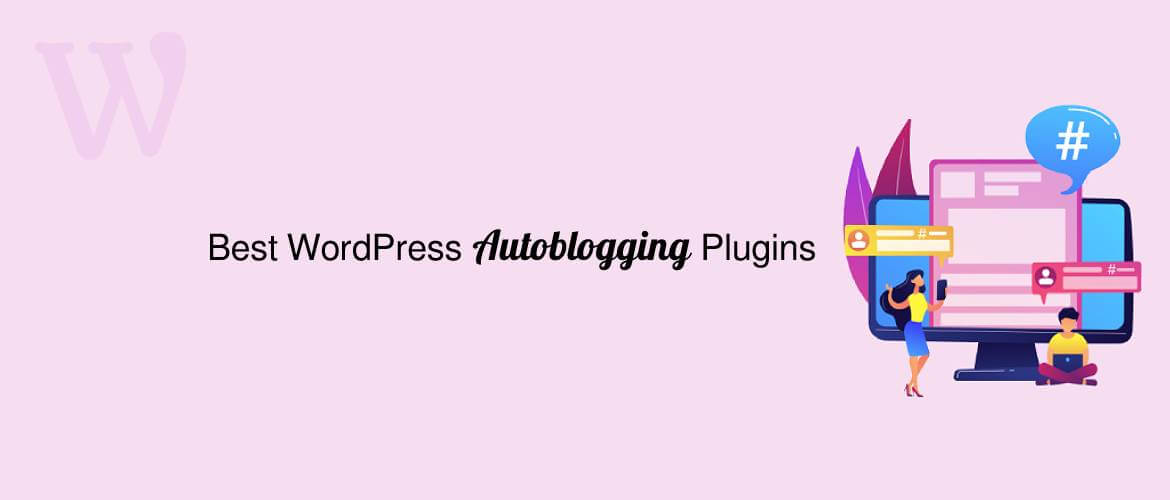 Are you searching for a WordPress auto-blogging plugin?
Bloggers can have a great time working on their blog sites. However, it is quite time-consuming to update their blog site. There are huge many numbers on blog websites and there is no control over the SEO ranking. But like everybody would want to have their blog site stay in a very good position. So, one of the best steps that we can take is auto blogging. You can actually take partial data or say newsfeed from any other site and include it in your site. This process is simply called auto blogging where one's site collaborates with another relevant site.
In WordPress, we will find some plugins that have been developed for auto blogging. These plugins have been selected from the huge market of WordPress plugins.
We share with you such plugins below. Let's have a quick look at it:
---
Best WordPress Autoblogging Plugins 2023
---
WP RSS Aggregator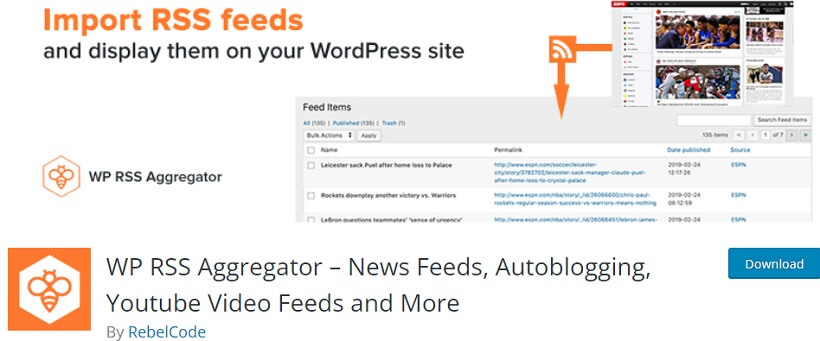 WP RSS Aggregator is one of the best plugins for retrieving RSS newsfeeds from another site to your website. It will automatically bring all the newsfeeds from any site once a user sets the source for RSS. The plugin is absolutely user-friendly and will let anyone without any technical skills work with in the site.
Major Features:
Manage all your RSS feed sources
Extendable via action and filter hooks
Import unlimited content
RSS feed auto-discovery for sources
---
RSS Aggregator by Feedzy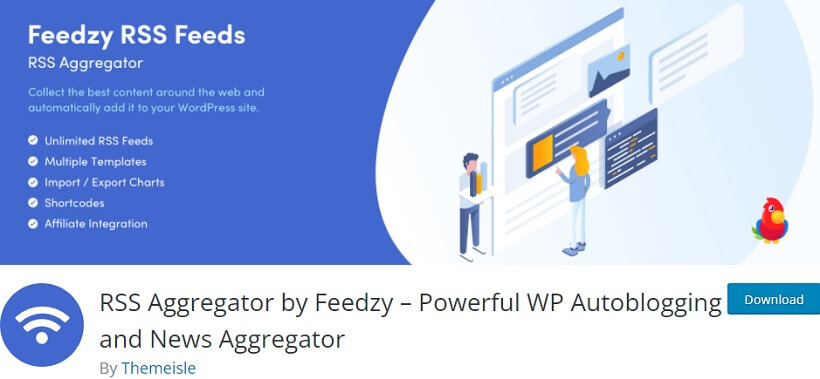 RSS Aggregator by Feedzy is one of the best ones for quotes. You can do various kinds of things within the dashboard like changing its design and functionalities. Add rearrange the menu items in the panel and also play with its look like changing. Customize the appearance of the menu and sub-menu design. Users will also be able to hide or show the elements of the menu without any difficulty.
Major Features:
Easily display RSS feeds
Responsive content across platforms
Import images with your RSS feeds
Control which meta fields
---
WP Content Pilot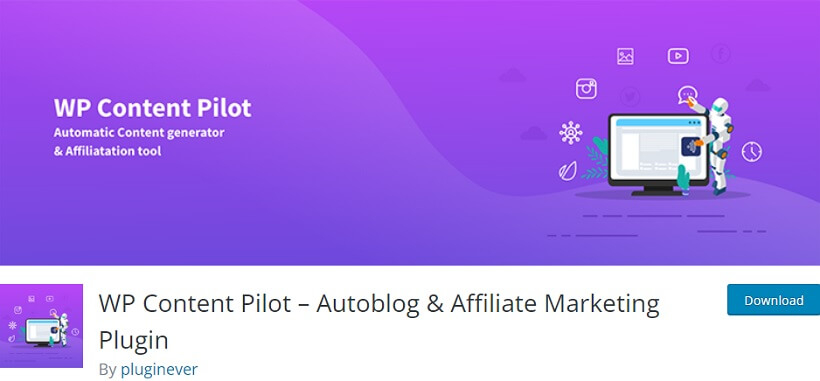 WP Content Pilot is best for job users wanting to have a customized calculator. Install the plugin and get a modern look for the dashboard easily. Enhance the entire appearance of the dashboard as you have always wanted. Set logo in your dashboard and change its color and also maintain the whole look of the admin panel in a mesmerizing way.
Major Features:
Content Spinner
Post Categories
Template Editor
Post Tags
---
Auto Robot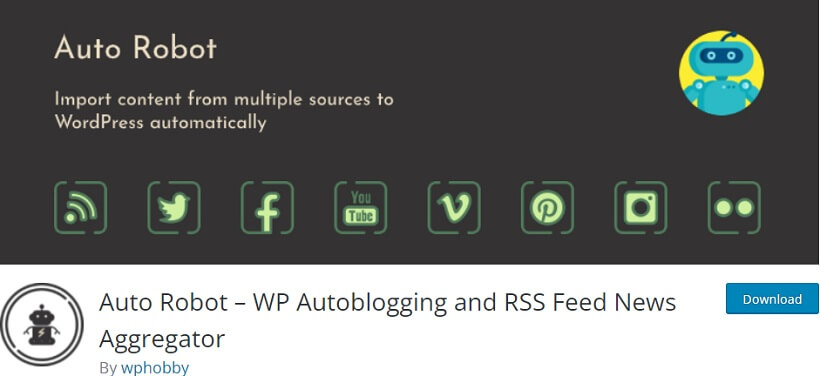 Auto Robot is one of the most simple and easy-to-use plugins. With just a quick installation of this plugin, users can have the support forum feature on your website. Share your queries and answers with as many people as you like. Being very easy to use most users will quickly get used to it. Plus the features are amazing and highly helpful. You can have strong control over the user roles and other factors.
Major Features:
Bulk import and organize multiple feeds
Set post author for an auto blogging system
Autoblogging with long-tail keywords supported
No Duplicate Content
---
WPeMatico RSS Feed Fetcher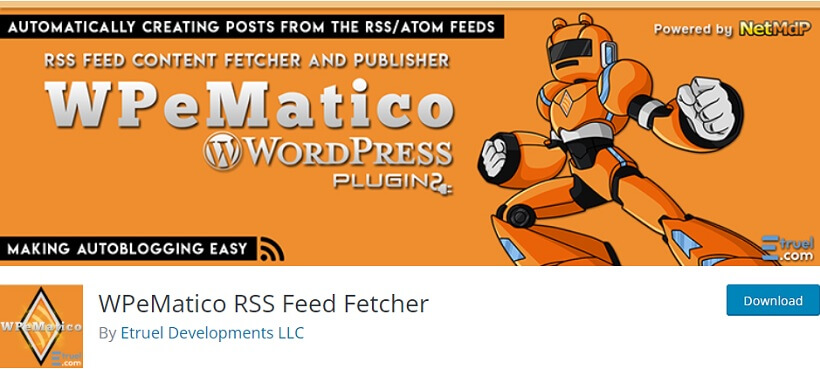 WPeMatico RSS Feed Fetcher is one finest WordPress plugins build for upgrading job vacancies on a website. Users will be able to update the design of every section of the admin dashboard. Things like login, register, forgot password, and many others. Modify the whole appearance of the templates as you want to and experiment with its look using colors and fonts.
Major Features:
Auto-add categories from source posts.
Multilanguage ready
Dashboard Widget with campaigns summary
Multiple feeds / categories / tags
---
WP Pipes

WP Pipes is one plugin that offers a wide range of features. The striking feature of the plugin will hide automatically when the page is fully loaded. Update calculating features in the admin panel and also be able to enqueue your own Google Web Fonts. You will be able to add shortcodes in widgets on the front page of your site.
Major Features:
Auto Social Poster
RSS Feed to post
iTunes Podcast creator
RSS Feed Creator
---
Finishing Up,
These plugins are definitely worth one to try with a website. Hope you will use them for making your site and implementing auto blogging on your website.
We look forward to hearing from you regarding this article. Please comment below about it.