5 + Best WooCommerce PDF Catalog Plugins 2023
Are you looking for the best WooCommerce PDF Catalog plugins?
In the ever-evolving landscape of e-commerce, standing out from the crowd is no small feat. Online shoppers are discerning, and to captivate their attention, your store needs to offer more than just great products. The presentation and accessibility of your offerings play a pivotal role in attracting, engaging, and retaining customers. This is where WooCommerce PDF Catalog Plugins step in, transforming the way you showcase your products and content.
In the realm of e-commerce, convenience, and user experience reign supreme. Shoppers often prefer to have access to product information in a tangible and offline-friendly format, such as a catalog. While your WooCommerce store serves as a virtual storefront, offering a beautifully designed and easily accessible product catalog can be a game-changer. It not only adds a professional touch to your store but also provides your customers with a familiar and convenient way to explore your product offerings.
In this comprehensive guide, we embark on a journey to explore the realm of WooCommerce PDF Catalog Plugins. These plugins hold the key to creating professional and visually appealing product catalogs that cater to your customers' preferences. With a variety of features and customization options, you can tailor your catalog to match your brand identity and ensure it aligns with your e-commerce objectives.
How is the plugin helpful for a website?
The best WooCommerce PDF Catalog Plugins offer a myriad of benefits that are instrumental in enhancing an online store's performance and user experience. Firstly, these plugins empower e-commerce businesses to create visually appealing and professionally designed product catalogs effortlessly. By converting their product listings into PDF catalogs, store owners can provide customers with an offline-friendly, tangible version of their product offerings. This not only adds a touch of sophistication to their brand but also caters to a wide range of customer preferences, ensuring that potential buyers can easily access and browse through their products, even without an internet connection.
Additionally, WooCommerce PDF Catalog Plugins often come with a range of customization options, allowing businesses to tailor the catalog's design and layout to match their brand identity. This versatility ensures that the catalog seamlessly integrates with the rest of the website, offering a cohesive and aesthetically pleasing shopping experience. Moreover, these catalogs can be an excellent tool for marketing and promotions, enabling businesses to showcase their top products and special offers to customers. In summary, the best WooCommerce PDF Catalog Plugins are incredibly helpful for e-commerce businesses as they enhance product presentation, cater to customer preferences, and contribute to a more professional and engaging shopping experience.
So, whether you're an e-commerce novice or a seasoned pro looking to enhance your product presentation, this guide is your gateway to the world of WooCommerce PDF Catalog Plugins. Dive in, discover the potential, and empower your e-commerce business to shine.
---
Best WooCommerce PDF Catalog Plugins 2023
---
eCommerce Product Catalog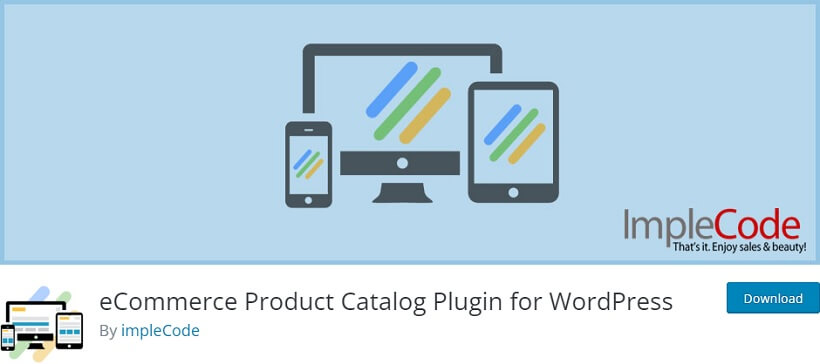 Transform your online store with the eCommerce Product Catalog plugin. Effortlessly create stunning product catalogs, enhancing user experience and boosting sales. Seamlessly integrated with WooCommerce, this user-friendly plugin supports product images, detailed descriptions, and custom layouts, making it a breeze to showcase your products. With SEO-friendly catalog pages and responsive design, you can attract more customers and improve search engine visibility. Say goodbye to dull product listings and hello to an engaging shopping experience.
Major Features:
Customizable catalog layouts
Responsive design
Sorting and filtering options
Quick search functionality
Product comparison features
---
PDF Catalog Woocommerce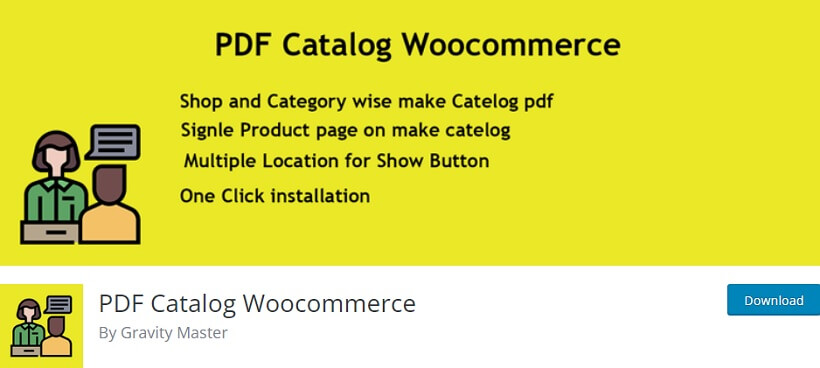 Elevate your e-commerce game with the PDF Catalog WooCommerce plugin. Create captivating PDF catalogs effortlessly, showcasing your products in a professional and user-friendly format. Customizable templates, product images, and descriptions make catalog creation a breeze. Seamlessly integrated with WooCommerce, this plugin supports easy navigation and boosts SEO with search-friendly PDFs. Enhance your product presentation and customer engagement while facilitating seamless downloads and sharing. Say hello to improved sales and SEO rankings. Elevate your e-commerce store with the PDF Catalog WooCommerce plugin – the key to a more engaging and lucrative online presence.
Major Features:
Seamless WooCommerce integration
Page layout customization
SEO-friendly PDFs
Category-based catalog generation
Effortless creation of PDF catalogs
---
flowpaper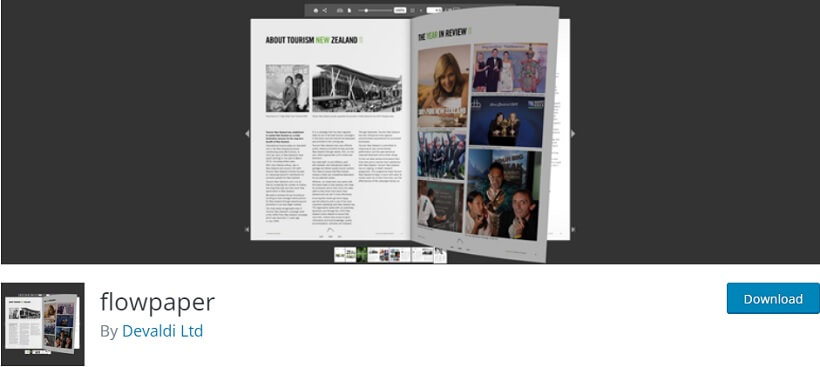 Enhance your document display with the Flowpaper plugin. Transform static PDFs into interactive, responsive flipbooks for a captivating user experience. This HTML5-based plugin supports various document formats, providing zoom and search capabilities. Easily integrate it into WordPress and other platforms for a seamless viewing experience. Customizable appearance, document protection options, and SEO optimization ensure the best presentation. Upgrade your website with the Flowpaper plugin to engage visitors and boost SEO with stunning, interactive document displays.
Major Features:
Customizable viewer appearance
HTML5-based document viewer
Interactive flipbook display
Secure document protection options
Multiple viewing modes
---
Product Shortcode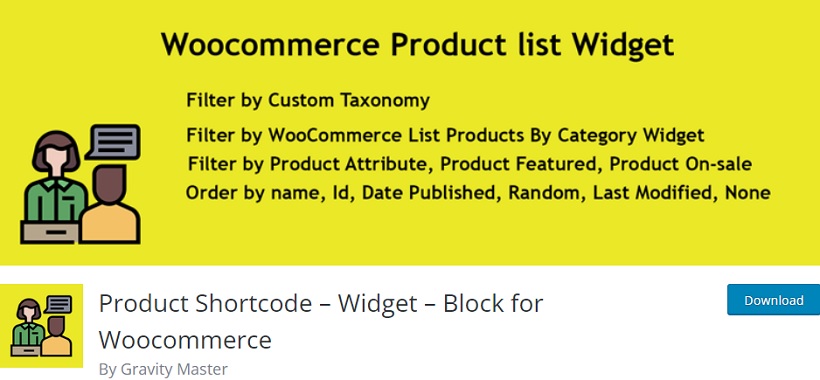 Unlock the power of product display with the Product Shortcode plugin. Seamlessly integrated with WooCommerce, this user-friendly tool allows effortless product showcasing using shortcodes. Enjoy customization options for product layouts, visibility, and more. Effortlessly enhance your online store's presentation and boost user engagement. Improve SEO by offering customers a more interactive and informative shopping experience. With quick and easy placement of products, this plugin simplifies your e-commerce journey. Elevate your online store's performance with the Product Shortcode plugin, offering a dynamic and conversion-boosting approach to product display.
Major Features:
Seamless integration with WooCommerce
Filter and sort products
Enhanced product visibility
Customizable product layout
---
 WooCommerce – Automatic Catalog Maker

Elevate your WooCommerce store effortlessly with the WooCommerce – Automatic Catalog Maker plugin. This versatile tool automates catalog generation from your product listings. Customizable layouts, real-time synchronization, and SEO optimization ensure stunning, up-to-date catalogs that engage customers and boost SEO. Seamlessly integrated with your WooCommerce inventory, it simplifies catalog creation, allowing you to focus on growing your business. Say goodbye to manual catalog updates and embrace a dynamic, user-friendly approach with the Automatic Catalog Maker plugin. Enhance your e-commerce store's performance and SEO visibility.
Major Features:
Automatic catalog generation
Customizable catalog layout and design
Inclusion of product images and descriptions
Advanced filtering and sorting options
---
Wholesale Suite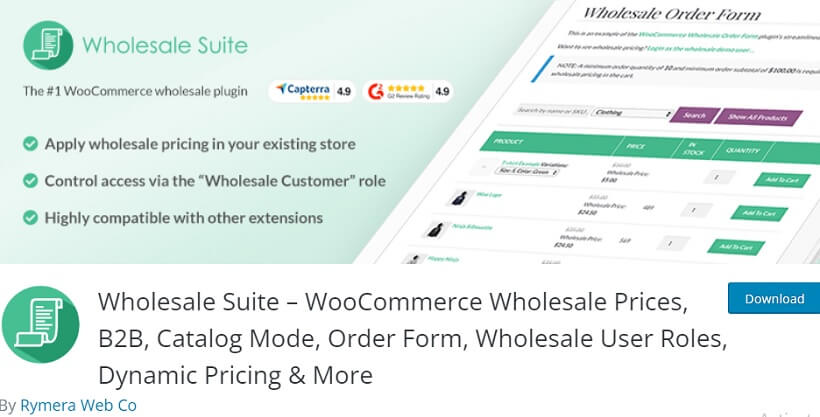 Elevate your e-commerce business with the Wholesale Suite plugin. This robust tool streamlines wholesale pricing, user roles, and permissions, offering a customizable solution for B2B sales. With tiered pricing, quantity-based discounts, and seamless WooCommerce integration, you can efficiently manage your wholesale customers, boosting user satisfaction and sales. Simplify your B2B operations with this user-friendly plugin while enhancing your website's SEO by catering to different user groups. Say goodbye to complex pricing structures and hello to a more efficient, growth-oriented business. Experience the Wholesale Suite plugin today for improved e-commerce performance and search engine visibility.
Major Features:
Tiered pricing structures
B2B registration and pricing options
Pricing visibility control for different user groups
User-specific roles and permissions
---
In conclusion,
The world of e-commerce is continually evolving, and providing your customers with an enhanced shopping experience is crucial. With the top WooCommerce PDF Catalog Plugins discussed here, you have the tools to create captivating product catalogs that can make a substantial difference in your online store's success. These plugins offer customizable solutions to cater to your unique needs. So, take the next step, enhance your WooCommerce store, and watch your business thrive with stunning, user-friendly PDF catalogs."
Share your thoughts below! We'd love to hear from you. Your comments are valuable to us – write something in the comment section now!