Modula WordPress Image Gallery Plugin for your WordPress Website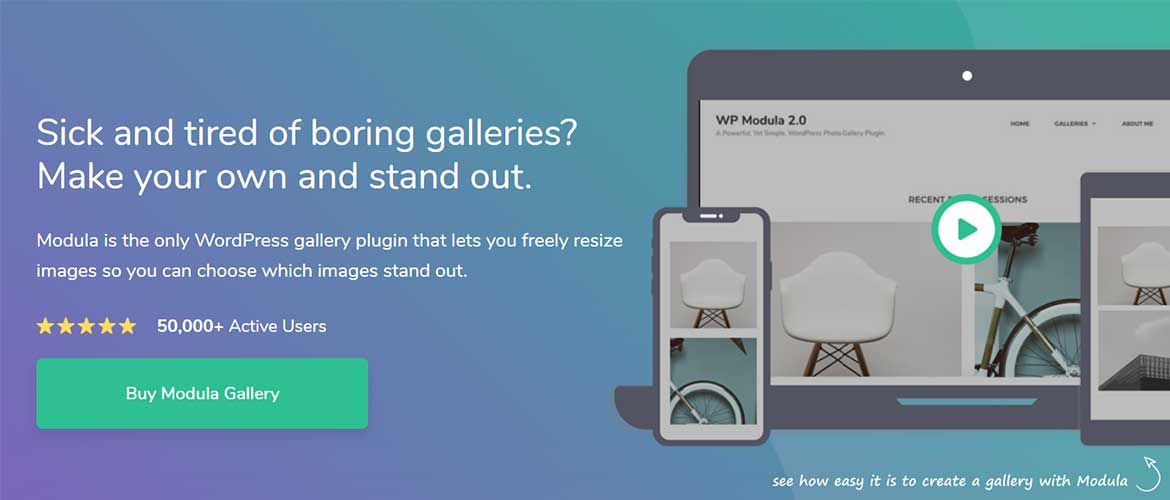 Are you creating your website in WordPress? Then your website must have a gallery. Image is an essential factor for any website which will affect the overall performance of the website. Problems related to a picture like slow loading of the image may affect your site as it slows down its page, which reflects the adverse impact of your website. But it's time to say goodbye to this problem because of the Modula WordPress Image gallery plugin.
Modula is a fantastic WordPress gallery plugin which is not only lightweight and fast but also easy to use. The incredible team developed it in 2015. It is also called a grid gallery plugin because of the way of the appearance of the image in the website. The image gallery is an attraction point of any website so it must appear attractive. The flexibility and multi-features of Modula allow you to display the images in an elegant style in your site. With this plugin, you can get a perfect, unique, and responsive gallery. It is only one which allows you to resize the gallery image freely, which will help choose the right image.
---
Details/Download Live Demo Documentation
---
This gallery plugin is available in both a free and premium version, and both have amazing features. Now it is straightforward to launch your first gallery in a second. While creating a gallery, you just have to declare its name and sizes and upload the photos. Modula will take care of all other hard works for creating a gorgeous grid gallery. Likewise, Modula is fantastic in case of the portfolio; you will love its creation and filter functionality.
To get the basic knowledge about Modula, let's go through its key features.
Key Features
Trusted by 50,000+ satisfied users.
Mesmerizing features and powerful extensions
Ratings: 5 out of 5
Regularly updated
Gutenberg Compatible
Why choose Modula Photo Gallery?
Filterable categories for galleries
Unlimited galleries
12 different hover effect
6(Six) different types of lightbox galleries
Built-in social sharing buttons
Detailed control over margins and another stylish effect
Ability to design custom grids
Freely resizes images within the gallery container
Ability to add image-entry animation
Premium Modula video extension available and a video to your gallery
Develop with creative nature
Resize your images and aspect ratio

---
Main Features
Mobile Friendly Galleries

We do not refer to laptop or PC all the times to search for any galleries or websites. So your website should be mobile friendly; otherwise, your site can lose its sustainability.  But not to worry anymore because the plugin has a responsive layout. It means the photo gallery of your website looks fantastic in all sizes and resolution of the mobile screen.
Shuffle and Image Loaded Effect
Likewise, shuffling an image gives a fresh and new look to the image gallery. With this feature every time you load a model, you can see a new shuffled gallery. The effect of an image increases its attractiveness. With image loaded effect, you can apply an attractive force to the loaded image, which will bring out the best of your gallery. Some of the built-in effects are; slide horizontally/vertically, rotate, or scale. You may think, "will affect slow down the page speed or not?" And the answer is NO. It does not affect your page speed.  You can still load images quickly and smoothly.
Hover Effects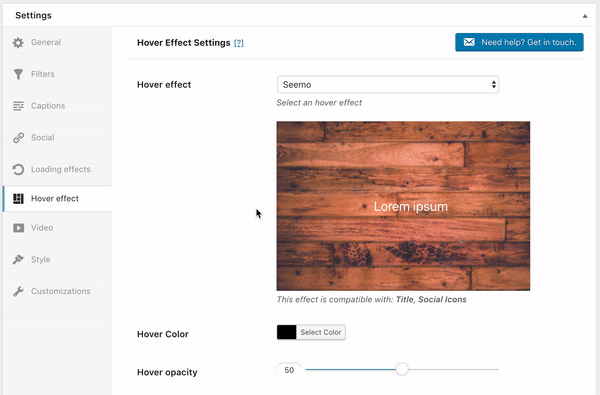 Modula provides you 12 stunning and creative hover effect. Using a hover effect is the best way for increasing traffic to your gallery. These effects make your gallery unique and contemporary and can be used with a title, short description, and social icons. Modula will also work correctly on mobile devices.
Speed
You have to maintain the speed of your website. If it runs slowly, the user may feel irritated while using it and may leave it. So you have to make your website with the best gallery and fast speed. This is only possible with the use of Modula plugin. It helps you in creating an awesome gallery with various attracting effect and similarly maintain the speed of the website.
6 Lightbox Styles
The 6 Lightbox Styles of Modula smoothly integrated with your galleries. As Modula offers you six options for your website, you can choose the right one suitable for your gallery. 6 Lightbox Styles are given below:
FancyBox
LightGallery
LightBox
Magnific Popup
PrettyPhoto
SwipeBox
Proper Documentation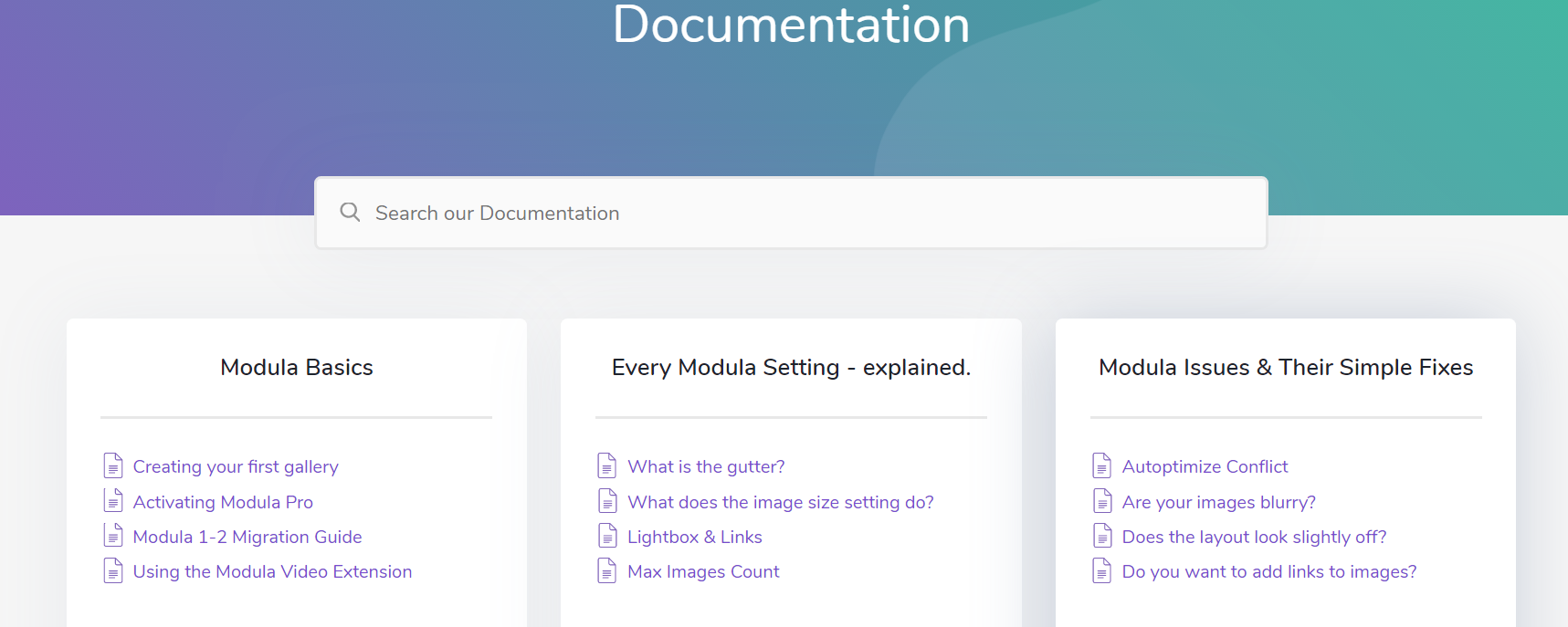 Proper documentation can be taken as a guideline before starting any project. Likewise, Modula also comes with detailed documentation which will help will in dealing with this Plugin. So you can go through it and can solve almost all problem related to installation, customization, setup and many other. The documentation comes in both written and video format.
Easy to Setup
Likewise, you can easily set up a Modula Plugin to your website. It allows you to preview change lively, widgets with meaningful options, demo content imports, and video tutorials. So you don't have to take any headache with its setup process. All can be done with simple steps in a short time.
How to create a gallery with Modula Plugin?
Go to the add gallery of Modula.
Give the gallery name and description.
Choose the gallery width in percentage and height in pixel.
On the next screen, choose whether to display the text title of the image or not. If yes, want where to post.
Choose whether to display the caption of the image or not. If yes, choose where to post.
Choose the hover effect.
Choose the minimum image size.
Finally, add an image from your library and save it.
In this way, you can create your first gallery for your website, which really looks fantastic.
Highlights of Modula WordPress Image Gallery Plugin
Art demo
Modula will help to demonstrate your art and create reasonably somewhat.
Food Blog
With its creative galleries, your meal reflects how much it is delicious and creates a perfect website for your food blog and restaurant.
Architecture
Modula helps to highlight the detail of your website and give an outstanding framework.
Photography Portfolio
Modula can showcase your photography portfolio creatively by adding captions, hover effects, lightbox, and so on.
Similarly, Modula will be a perfect choice if you are about to make a food gallery, pets gallery, travel gallery, wedding gallery, and so on.
---
Wrapping Up
Modula is one of the leading WordPress image gallery plugins in WordPress today. It makes it even easier for creating a stylish gallery. You can demonstrate your picture and videos in the gallery with lots of effects and in an elegant way. It gives a stunning look to your website.
Modula is the best WordPress plugin for photographers, designers, and also for the small business owner. Without any coding knowledge, you can create a compelling and beautiful image and video gallery for your website. You can add so much effect to your gallery, and the best part is it does not slow down your work and page load.
In its premium version, it gives 100% No-Risk Money Back Guarantee. If the plugin does not satisfy your condition or terms then over the next 14 days, you can get back your refund. But with these features, I don't think it will dissatisfy you. So hurry up and make your website with this awesome plugin and give a stunning look to your gallery.
You can use this plugin in any free and premium WordPress themes. So, download the plugin today and start making an awesome gallery on your WordPress site. There is no alternative WordPress image gallery plugin which is powerful than Modula.
---